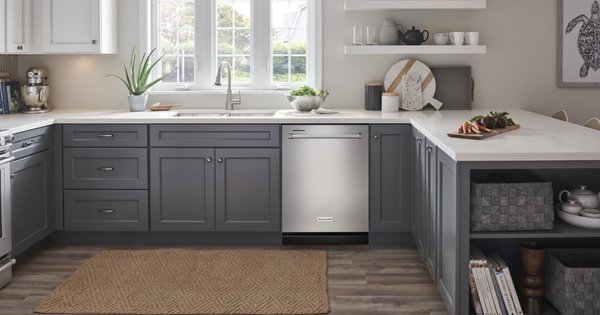 Are you looking to upgrade your old dishwasher in 2023? The dishwasher has evolved a lot over the past decade, becoming sleeker, quieter, and more efficient. We've compiled some of the best dishwashers on the market for 2023 to help you discover some of the amazing options available! With high-quality features like stainless steel wash tubs and third racks, you have more options than ever before! (For more information on buying a new dishwasher, check out our dishwasher buying guide!)
Let's explore some of your choices from a variety of brands and at a range of price points. All of them feature stainless steel tubs, and many have third racks to boost capacity. There are many other cool features. The pricing ranges from $849 up to $1,349 (but keep in mind that promotional periods, package deals, and rebates can knock 20% or more off of the list price).
Table of Contents
Models retailing at under $1,000 are marked with a *. Note that holiday sales and rebates can knock 20% or more off of the retail price.
3 Quick Buying Tips - Features to Consider
Decibel Ratings. Decibel levels are all the rage! As a general rule, any dishwasher under 55 decibels will be quieter than older models from the mid-2000s and earlier, which were typically 60+ decibels. The typical conversation takes place at around 60 decibels, while a whisper is around 35-40 decibels. Dishwashers under 50 decibels will be very quiet, and dishwashers around 43 decibels and below are considered "whisper quiet." Want to learn more? Check out our article on dishwasher decibel levels.

Rack Options. Get a look at the dishwasher interior in person, and consider if you want extra features to boost your dishwasher's capacity and flexibility. Height-adjustable upper racks can make room for tall items above or below, and third racks can increase the overall capacity by 30%. Fold-down tines and stemware holders are useful, too. Some dishwashers even offer nozzles in the upper rack for spraying inside of tall items like vases and water bottles! Learn more with our article on dishwasher racks. If you have thick plates, like earthenware, you'll want to pay extra attention to rack spacing.

Drying Performance. Today's dishwashers mainly use condensation drying, which takes advantage of stainless steel interior tubs to pull moisture off of your dishes. Some brands and models offer additional features to improve drying performance, although heated drying doesn't always outperform other methods. If you often wash plastics, you should consider the drying features since plastic is harder to dry than glass or metal.
If you haven't bought a dishwasher in 10 or more years, you might be surprised by the increased interior tub space!
Learn more about buying a new dishwasher in just 6 minutes!
1. Frigidaire FDSH4501AS - 49 dB - $849
The first option on our list of the best dishwashers for 2023 is an affordable and popular model: the Frigidaire FDSH4501AS, available in stainless steel at $849. It features stylish hidden top controls and a bar handle. Some of Frigidaire's models now come standard with third racks, and this model is no exception!
(Pictured below: The third rack that comes with this dishwasher.)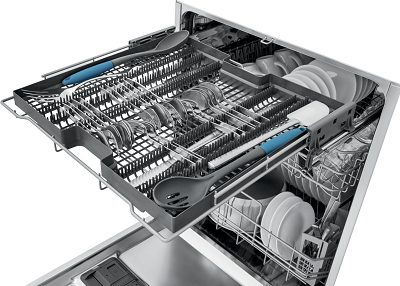 The third level rack provides more space for your silverwares and cooking utensils which also helps in optimizing the time you're spending with your dishes through easy loading and unloading of items. The upper level rack can be adjusted to give more space in the bottom rack for big items. Using the BladeSpray® Arm which rotates in two different directions, you'll be assured that the water can reach every part of the dishwasher so as the dishes. The EvenDry™ system provides an even airflow to make sure that all the dishes are dry even after the first try!
The wash cycles and options allow you to load up just about anything with great results. Frigidaire includes a heated dry option, as well as a Sanitize option and wash pressure and wash temperature options. With its 49 dBA rating (noise level), this dishwasher won't be a hassle in your ear even it is running while you are in your room. This dishwasher offers flexibility, great performance, and quiet operation, making it a great option for a 2023 dishwasher upgrade!
Features:
5 Cycles: China Crystal, Energy Saver, Heavy, Normal, Rinse Only

4 Options: Heated Dry, High Temperature Wash, Sanitize, Delay Start (24 hours)

BladeSpray® Arm

Stainless steel tub

Third level rack

NSF Certified
Click here to read over 970 real customer reviews of this product!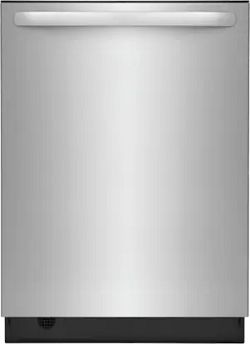 2. Whirlpool WDTA50SAKZ - 47 dB - $929
KitchenAid is Whirlpool's high-end line, often competing for best dishwasher brand with Bosch dishwashers. If you want to step down from premium models to their well-known Whirlpool line, you'll find the next model in our review. Whirlpool is the industry's best-selling dishwasher brand and has had the lowest repair rates for 20 years. The Whirlpool WDTA50SAKZ is one example of their high-quality dishwasher offerings! Featuring a recessed pocket handle and hidden top controls, it's designed to blend in. It's available in fingerprint-resistant stainless steel at $929, premium black stainless at $949, white at $879, and biscuit at $929.
This dishwasher features a stainless steel wash tub, which helps reduce odor buildup, speed up drying, and reduce noise during operation. Its tall tub design means it has more room inside for washing more at once and handling oversized dishes, plates, and other items. The adjustable upper rack lets you wash tall items like water bottles more easily, and an in-door silverware basket frees up more space in the lower rack for place settings. This new model now also comes with a third rack for flatware and other small items.
Options for heated dry and vent dry will get your dishes dry ASAP, and the 1-Hour Wash option is a great feature for quickly cleaning lightly soiled dishes. This quiet dishwasher offers great flexibility for oversized and oddly shaped items, meaning less hand washing for you!
Features:
5 Cycles: Sensor Wash, Heavy, Normal, Quick Wash, Soak & Clean

6 Options: Delay Start (24 hours), Control Lock, Hi Temp Wash, Sani Rinse®, Heated Dry, Extended Dry

In-door silverware basket

Adjustable upper rack

Third rack

LED indicator light shines on the floor during operation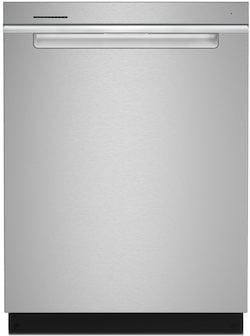 3. GE GDT665SSNSS - 46 dB - $998
Another premium-quality option among the best dishwashers available is the GE GDT665SSNSS, available in 5 colors: GE fingerprint resistant slate or stainless steel at $998, GE fingerprint resistant black slate at $1,098, and in white or black at $898. That's a lot of colors! To learn more, read our complete review of all the new colors. With a tall tub design and stainless steel tub, plus hidden top controls and quiet 46 dB operation, this dishwasher is already shaping up to be a great choice!
A hidden vent with fan dry helps speed up the drying process in an energy-efficient way. The ball bearing glide upper rack can be adjusted to accommodate tall glassware and more while still leaving tons of space in the lower rack. Bottle Jets in the upper rack (pictured below) are a great feature for washing the interiors of vases, tall water bottles, pitchers, thermoses, and other tall, narrow items. There's also a third rack.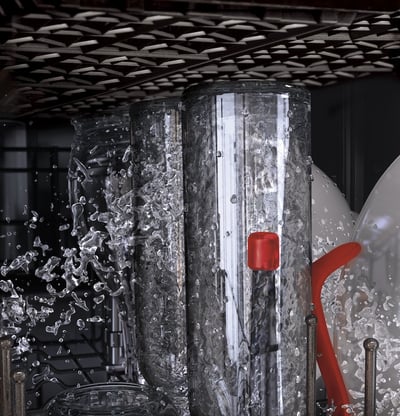 This dishwasher may be a good option for people who want an easy way to ensure tall, narrow items are consistently clean and sanitary thanks to the Bottle Jets. Another cool feature is the Steam + Sani option, which you can add to any cycle to loosen baked-on food while sanitizing your dishes. This model also offers an improved quick wash cycle compared to previous GE dishwashers with a one-hour long wash. GE keeps the cycles simple while offering you a lot of options to choose from to customize the cycle!
Features:
5 Cycles: 1 Hour Wash, Auto Sense, Heavy Wash, Light Wash, Normal Wash

10 Options: Bottle Jets, Child Lock, Delay Start (12 hours), Dry Boost™, Heated Dry, Steam + Sani, Steam PreWash, Wash TempBoost, Wash Zone Lower Only, Wash Zone Upper Only

Bottle Jets in the upper rack for cleaning tall items like vases and bottles

Piranha hard food disposer with removable filter - chops up food particles to prevent clogging of spray arms

Full-extension smooth-glide adjustable upper rack with stemware holders, plus a third rack
Click here to read over 1,030 real customer reviews of this product!
4. Bosch SHPM78Z55N - 42 dB - $1,299
If you have an open floor plan or spend a lot of time in your kitchen, the best dishwashers for you may be the quietest ones. For most people, that means Bosch. The Bosch SHPM78Z55N dishwasher operates at 42 dB, which is close to silent! It's available in stainless steel for $1,299 and includes a flexible third rack and an adjustable upper rack. Bosch's quiet operation and reliability have made them a consumer favorite.
(Pictured below: The third rack that comes with this dishwasher.)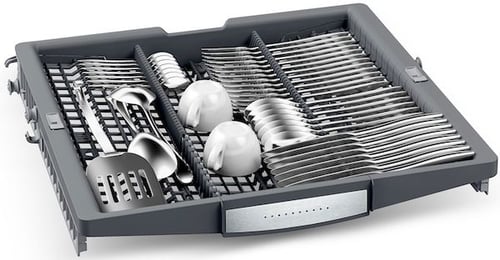 The V-shaped third rack leaves room in the adjustable middle rack for taller items. The RackMatic adjustable upper rack can be adjusted to three different heights. Bosch claims that the third rack boosts the loading area by 30%! It provides extra room for utensils and flatware, and you can also remove it entirely if you need extra space for particularly tall items. Fold-down tines are a must for washing large pots and pans, and you'll find fold-down tines on the upper and lower racks. The silverware basket can be split into two pieces and placed anywhere for extra flexibility.
A few years ago, Bosch has included Zeolite drying technology under the Crystal Dry option. Inside of this Bosch dishwasher is a lab-created mineral called Zeolite that absorbs moisture and releases heat. It produces significantly better drying results, even if you have an upper rack full of plastics, without increasing energy usage! The Zeolite system is completely safe and will last for the life of the dishwasher, too. This feature is definitely going to put Bosch ahead of the game when it comes to drying performance!
The pocket handle and hidden top controls make this dishwasher blend right in with your counters, and an InfoLight LED shines on the floor to let you know when the dishwasher is in operation. The fast one-hour Speed60 cycle plus the third rack make this dishwasher a great choice for busy households. When you want to wash as much as possible in one load, a third rack is indispensable!
Features:
6 Cycles: Auto 53-60°C, Delicate, Economy, Heavy, Rinse, Speed 60

4 Options: Crystal Dry, Delicate, Half load, Sanitize

Flexible third rack adds 30% more loading capacity

RackMatic upper rack adjusts to three different heights

Crystal Dry Zeolite system boosts drying without changing energy consumption

Speed60 1-hour wash and dry cycle
Click here to read over 880 real customer reviews of this product!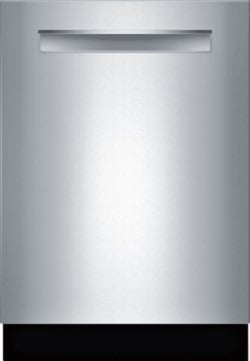 5. LG LDTS5552S - 46 dB - $999
LG is another great brand to consider when shopping for the best dishwasher. If you love smart appliances, the LG LDTS5552S dishwasher with SmartThinQ technology might be for you! This technology allows the dishwasher to send a notification to your smartphone when a cycle is complete, as well as giving you access to the Smart Diagnosis troubleshooting system.
LG has modern color options for your dishwasher upgrade as it is available in PrintProof stainless steel at $999 and in black stainless steel at $1,049. This Energy Star rated dishwasher comes with a bar handle, and it has hidden controls at the top. The adjustable upper rack and third rack help you maximize your washing space, while QuadWash spray arms with two Multi-Motion rotating arms ensure total cleaning coverage. It also boasts LG's TrueSteam, where steam is used during the wash cycle. This helps break up baked-on food while being gentle on delicate items. Plus, this dishwasher is quiet at just 46 dB, so this is good for you if you prefer quiet operation!
This dishwasher is a good option for busy, tech-savvy households. If you want to have your dishwasher unloaded and ready for more dirty dishes ASAP after a cycle is completed, the smartphone notifications can be a great way to keep your kitchen running smoothly. It also comes with a one-year warranty on parts and labor, five-year warranty on the control board and rack parts, ten-year limited warranty on the direct drive motor, and lifetime warranty on the stainless steel door liner or tub. Find out more about the LG dishwasher lineup in our LG dishwasher reviews.
Features:
10 Cycles: Auto, Heavy, Delicate, Refresh, Normal, Turbo, Download Cycle, Machine Clean, Rinse, Express

9 Options: Dual Zone, Half Load, Energy Saver, Steam, High Temp, Extra Dry, Delay Start, Control Lock, Night Dry

QuadWash - four spray arms, two Multi-Motion arms that rotate back and forth while spinning to clean from every angle

LG SmartThinQ technology sends a notification to your smartphone when a cycle is complete

Adjustable third rack and upper rack

Dynamic dry enhanced with TrueSteam - removes water spots and totally dries the dishes
Click here to read over 285 real customer reviews of this product!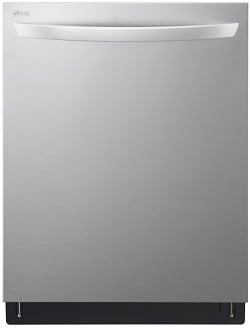 6. Maytag MDB8959SKZ - 47 dB - $999
Maytag focuses on power and durability with the Maytag MDB8959SKZ. Choose from fingerprint-resistant stainless steel or classic black or white at $999. With hidden top controls, a sleek pocket handle, and no brand badge on the front, this model will blend in beautifully with your kitchen.
This dishwasher comes with Dual Power Filtration, a new feature for 2022 that combines Maytag's stainless steel chopper with microfiltration. It's maintenance-free and effective. There's also a new third level rack with room for mugs and bowls, not just flatware! Leak Detect is another great new feature that now comes standard on all Maytag dishwashers.
The PowerBlast® cycle uses high-pressure spray jets plus increased temperature and hot steam to blast away baked-on gunk and debris. This dishwasher also has the most powerful motor on the market among leading brands, handling dried-on egg yolk and peanut butter with no need to pre-rinse. The 2X Life Tested Motor is built to last and the nylon racks feature a premium DuraGuard® heavy-duty coating. Maytag's warranty covers select parts for 10 years!
Pictured below: The spacious premium third rack!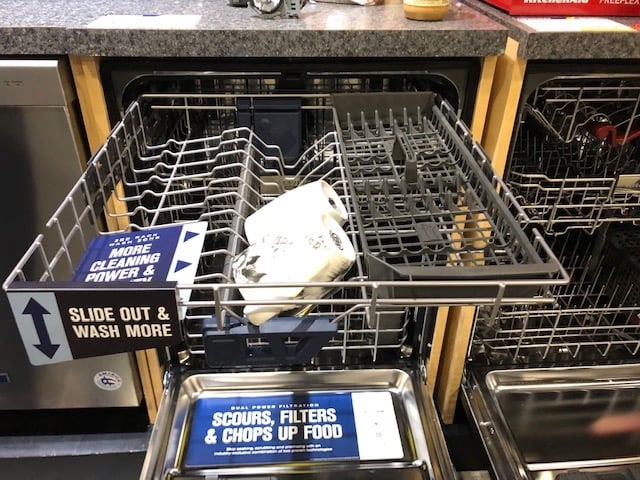 If you're looking for a tough and durable dishwasher that will be in it for the long haul, this Maytag dishwasher is a great choice for your home. Busy families with lots of dirty dishes can have a dishwasher that works as hard as they do! You can read our full review of the Maytag dishwasher lineup here.
Features:
5 Cycles: Auto, Normal, PowerBlast, Quick, Rinse

5 Options: High Temp, Sani Rinse®, Short Heated Dry, Long Heated Dry, Delay

Dual Power Filtration combines hard food disposer with microfiltration

Premium third rack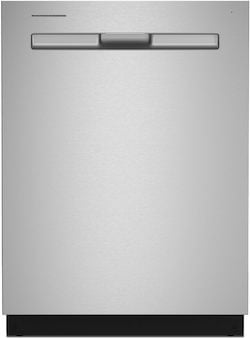 7. KitchenAid KDTM404KPS - 44 dB - $1,349
Last but not least on our list of the best dishwashers for 2023 is the KitchenAid KDTM404KPS, available in PrintShield black stainless steel for $1,299 or PrintShield stainless steel for $1,349. This dishwasher focuses on a thorough clean and dry with the maintenance-free Advanced Clean Water Wash System and options for fan-assisted drying and heat drying.
A new feature is the FreeFlex third rack! Most third racks only have enough height room for spatulas or perhaps espresso cups, but this FreeFlex rack can fit bowls, 6" glasses, and mugs easily! It has a dedicated wash arm as well as a drying bar with tabs that help prevent water marks around the lips of your glasses. The second rack is height adjustable, and you can fit a KitchenAid stand mixing bowl in it!
This model definitely has a premium look and feel! It comes with a two-year warranty on parts and labor plus five years parts only on select parts. It's also available with a pocket handle and sleek stainless steel front controls - check out model KDFM404KPS. Keep in mind that KitchenAid's dishwashers can often be found at significant discounts during holiday sale periods.
Features:
5 Cycles: ProWash, Normal, Express, Tough, Rinse Only

5 Options: Hi Temp Wash, Sani Rinse®, Delay Start (8 hours), Heated Dry, Extended Heat Dry

Advanced Clean Water Wash System

Heat dry and vent dry options

FreeFlex third rack and adjustable upper rack

SatinGlide rails on second and third racks
KitchenAid KDTM404KPS - $1,349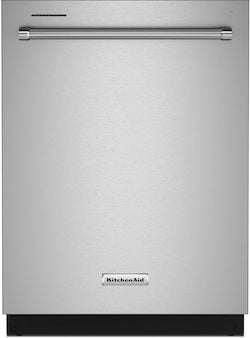 Some of the great features present in all of the dishwashers on our list include stainless steel wash tubs, plus fold-down tines and adjustable upper racks, which help you clean more dishes at a time even if you need to wash bulky or oddly shaped items. If you want a smart dishwasher, the LG model (#5 on our list) may be your favorite. All of the options are very quiet while in operation. If you want a dishwasher with serious drying performance, the Bosch Crystal Dry model (#4) is a must-see. Want bottle jets? The GE model (#3) is a good option!
Which of these options is your favorite? Leave us a comment below - We'd love to hear from you!
Editor's Note: This blog was originally written in January of 2018 and has been completely revamped and updated for accuracy as of the publication date noted above.