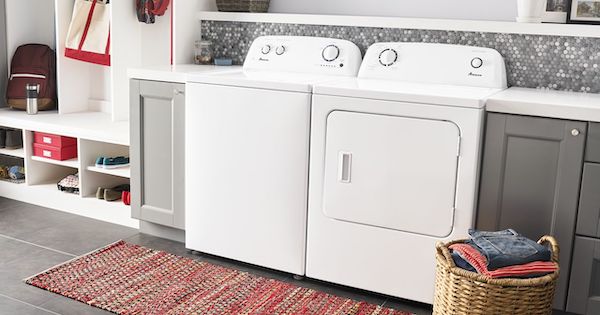 Looking to learn more about Amana dryer models? You've come to the right place. We'll go over the full Amana dryer lineup in both gas and electric models - learn more about gas vs electric dryers in our article!
If you are in the process of researching your options for a new dryer, Amana is certainly a good place to look. Now owned by Whirlpool corporation, Amana is a trusted manufacturer of quality home appliances with a focus on value. They offer a small range of products in each appliance category that have basic features and are easy to use.
In the full size dryer market they offer a very popular traditional dryer (as opposed to a front load style) in both gas and electric. They also offer two compact 3.4 cubic foot models, but we'll focus on the full size models here. Let's take a closer look at this well-priced Amana dryer model. And feel free to check out our dryer buying guide for more info on choosing a new dryer!