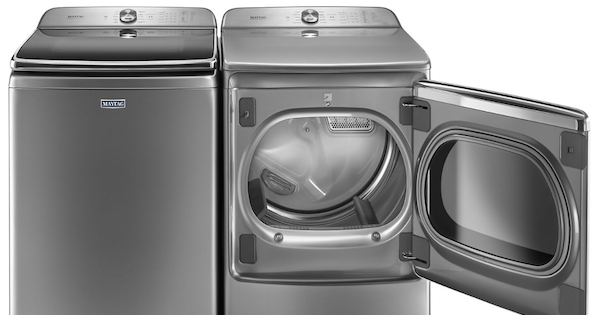 Researching a new dryer can be an involved process. There are many factors to consider, and size is one of the most important ones. Dryer sizes are wide-ranging, but if you have a large family or heavy laundry needs for some other reason, you may be looking for the manufacturer with the largest dryer capacity on the market. Look no further! (Or, if you want to look further: check out our dryer buying guide for more info on choosing a new dryer!)
We've analyzed large capacity dryer options across manufacturers and found two behemoths that may be just what you are looking for. The overall largest dryer on the market right now comes from LG with a 9.0 cubic foot front load style model. Whirlpool is a close second with a 8.8 cubic foot top load style model (learn more about front load vs top load style dryers here). All dryers load from the front, but "front load style" dryers are designed to match a front load washer, usually with controls on the front of the machine and a windowed door, while "top load style" dryers have controls at the back of the machine and can't be stacked.
Let's explore these highly rated top-of-the-line models! Pay special attention to the dimensions if you're buying extra large washers and dryers because they can be a few inches larger in width and depth than standard size models. Make sure they will fit through your doorways and in your laundry space!