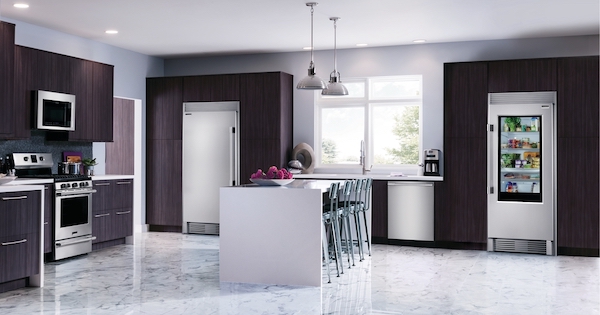 Certain specialty applications call for specialty products. Refrigerators are no different: refrigerators with no freezers, also called "all-refrigerators" or "freezerless refrigerators" may come in compact forms to be installed in offices, pool houses, or where a second refrigerator is needed. Others are intended to replace built-in refrigerators for a high-end look. They range from basic to luxurious, mini to full-size, and there are a lot of options. Here are a few types of all-refrigerators:
Twin Refrigerators or Column Refrigerators: A high-end type of refrigerator with no freezer, usually with a built-in look. They feature a single door and can be paired with a matching column freezer for a custom side by side look, or separated for convenience in a high-end kitchen. They may be panel-ready, built-in, or integrated (read more about built in and integrated refrigerators here). Frigidaire offers freestanding options that look built in but are a lot cheaper.

Freestanding All Refrigerators: These models are useful for apartments, dorm rooms, offices, and other settings. They can be compact at 11 cubic feet or less, or up to 19 cubic feet or so for full-size models.

Beverage Centers/Wine Coolers: These refrigerators are specifically designed for storing beer, soda, wine, and other beverages. They're a great addition to any home bar! They usually have clear glass doors and can be freestanding or built-in models that can be installed under counters.