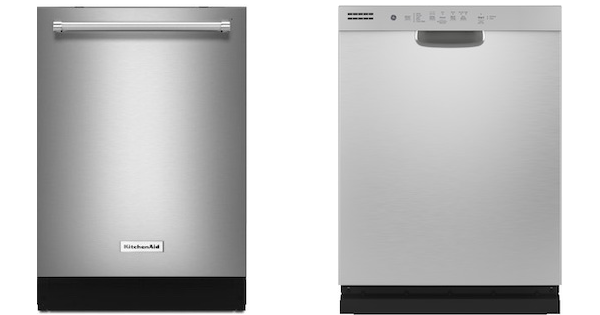 There are many factors that go into choosing a new dishwasher - quietness, reliability, tub material, interior layout - the list goes on. One of the basic things that you need to consider about your new dishwasher before you even open it is the exterior aesthetic. The control placement and handle configuration are some of the biggest contributing factors to the look of a dishwasher. (Check out our dishwasher buying guide for more information on choosing a new dishwasher!)
In this article, we'll explore the differences between these two control placement options to help you decide which option is right for you!
Top Control vs Front Control - What's the Difference?
When comparing top control vs front control dishwashers, you'll notice they have a very different look and feel.
Front control dishwashers have the controls on the outside front of the door, visible with the door closed. They usually have a pull latch in the center to open the door, often referred to as a "pocket handle." One of the best parts about these models is that they will match with any suite of appliances: because there is no handle, there's no need to match the handle to the other pieces in your kitchen. This can be helpful if you are just replacing your dishwasher. However, if you are considering a whole new suite of appliances, you may want to consider a top control model that will match your new kitchen design and your other new appliances.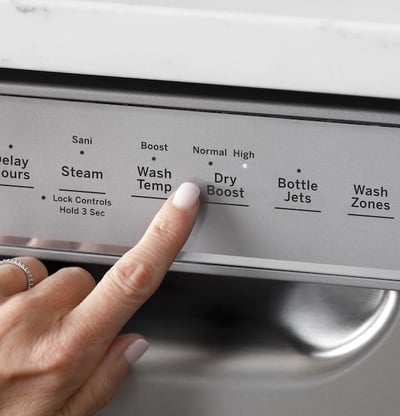 Top control dishwashers have the controls on the top of the door, not visible from the front when the door is closed. They usually have a handle on the door to match the handles of other kitchen appliances of the same brand. Some also offer recessed pocket handles. Some also have a "time remaining" readout on the front of the dishwasher. It is probably best to take a look at several different options to see how they look and also how they feel to open and close. If you've ever wanted guests to wonder "Where's the dishwasher? Maybe it's that shiny cabinet by the sink?" - then a dishwasher with integrated controls might be for you!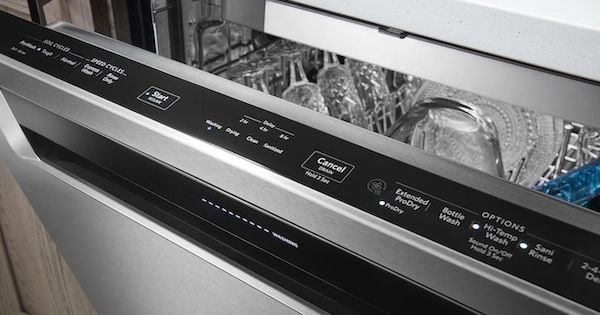 Although many high-end models come with these hidden top controls, that doesn't mean front controls are only found on budget models. There are many front control dishwashers that look sleek thanks to smooth-touch controls and a minimalist design, such as the Maytag MDB4949SHZ. By using a smooth touch panel against the stainless steel rather than plastic push-button controls, this Maytag model offers the elegance of integrated controls with the convenience of front controls.
And it's not just the expensive dishwashers that offer integrated controls, either! Models with fully integrated top controls start at around $529, such as the Frigidaire FFID2426TS in stainless steel, so you don't have to break the bank if you want a seamless look for less. Of course, holiday sales and package deals can drop these prices by 20% or more - during a recent sale, that Frigidaire model was under $350!
Which is the Better Option for You?
Which should you choose? That depends. You may prefer a front control model if...
You want controls that are as accessible as possible

You like cycle status indicator lights to show the progress of a cycle or a digital time remaining display

You want a kitchen appliance suite with matching handles and hardware, but don't want to deal with matching the dishwasher handles

You prefer a recessed handle design (although some top control models also come with pocket handles)

You are looking for a budget dishwasher OR a mid-end model
You may prefer a top control model if...
You want a seamless or minimalist look

You want to avoid accidental button pushes (for example, if there are children in the household)

You don't mind smaller buttons or a smaller control panel overall

You are looking for a higher-end or panel ready dishwasher

You want matching appliance hardware OR don't care if the hardware matches
Integrated controls are associated with high-end dishwashers, and in general in the debate between top control vs front control dishwashers, it's true that top controls have greater aesthetic appeal. However, front controls don't always look cheap, and they can be more convenient if you like to be able to check what cycle is running and how long it has left.
Style and taste are cyclical - What's popular now may not be popular in a few years. Whether you prefer cohesiveness or convenience, the fact is that you'll be dealing with this appliance on a daily or near-daily basis for years - so make sure you consider all of the factors in addition to aesthetic appeal!
Which option do you prefer? Leave us a comment below - We'd love to hear from you!
For more information about top and front control dishwashers and the entire dishwasher buying process, feel free to download our FREE Dishwasher Buyer's Guide. It is packed with information to help educate you so you can make a great purchase!
Editor's Note: This blog was originally published in June of 2016 and has been completely revamped and updated for accuracy as of the publication date noted above.