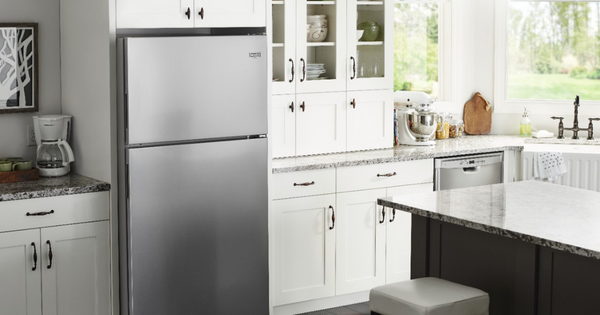 The top freezer refrigerator is a classic style that many people still turn to in favor of newer styles like bottom freezer or French door refrigerators. A top freezer refrigerator will often be less expensive than a comparable model in a newer style, so they're still a great pick for households on a budget. If you're looking for the largest top freezer refrigerator you can find, you're in the right place! We've researched the largest top freezer refrigerator models of the year to help you pick the combination of features and XL capacity that suits your needs. And for more info on choosing a new refrigerator, check out our refrigerator buying guide!
We've included models from a variety of brands, from GE to Samsung and others, and prices as low as $1,165. Optional icemaker kits, sold separately, are listed where available. We've numbered the models for your convenience, but they are listed in no particular order. Let's dig in!
NOTE: As of January 2023, our recommendations remain unchanged since the last time this post was updated in 2022.
Table of Contents
3 Factors to Consider
Storage Options: Most top freezer refrigerators have full-width adjustable shelves rather than the half-width options you can find in bottom freezer and French door models. Frameless shelves maximize storage space but may not contain spills as well. Freezer shelves are not always adjustable. In addition to crisper bins, there's usually an extra drawer called a "deli drawer," "pantry drawer," or "snack drawer." This drawer may be half-width or full-width, and if it's suspended under a shelf, it can limit the shelf space below it. When it comes to door bins, most top freezers can fit three rows total in the fresh food door. If they're all full-width, that can limit your options for fitting tall items. But half-width shelves will have slightly less storage capacity overall.

External Dimensions: All of these models are 33" wide, but the depths and heights vary. Average-sized top freezer models are typically 28-30" wide. If you're dealing with space limitations like narrow entryways or a low shelf over the refrigerator install area, it's worth the extra time it takes to measure these areas!

Temperature Controls: If you want digital temperature controls or actual temperature readouts, even the nicest of top freezer refrigerators likely have fairly simple temperature controls. You set a dial or push a button to take the temperature from "cold" to "colder." Consider a refrigerator thermometer if you're concerned about knowing the exact interior temperature.
1. GE GTS22KYNRFS - 21.9 cu ft - $1,198
The GE GTS22KYNRFS is available in stainless steel at $1,198. It also comes in black or in white at $1,098 and in fingerprint resistant slate or black slate at $1,198. The black and white options have a smooth high-gloss finish rather than the pebbled "elephant skin" texture you usually find on black or white refrigerators. The 21.9 cubic feet capacity is divided into 6.68 cubic feet for the freezer and 15.25 cubic feet for the refrigerator cavity.
This model includes LED lighting, edge-to-edge glass shelves to maximize storage area, and premium inner door storage with clear modular bins. The clear bins provide a higher-end, cleaner look than white bins. There's also a snack drawer, clear crisper drawers, and gallon storage in the door. The freezer shelf is adjustable for more flexibility. It is icemaker-ready, with the optional icemaker (model IM4D) sold separately. It's also garage ready and can tolerate temperatures from 38 ºF to 110 ºF!
GE offers a limited one-year warranty on this model. This basic model has a smart overall design and can also fit those of you on a budget. GE claims they are #1 in quality and dependability when it comes to 16-22 cubic feet refrigerators based on a 2020 independent study of property maintenance personnel.
Features:
Upfront temperature controls

Edge-to-edge glass shelves, adjustable glass freezer shelf, clear crisper drawers, gallon door storage bins

Premium inner door

Reversible door hinges

Optional ice maker

LED lighting - fresh food section only

High-gloss finish

Garage ready
Dimensions:
Width: 32.75"

Depth: 34.5"

Height: 66.375"
Click here to read over 85 real customer reviews of this product!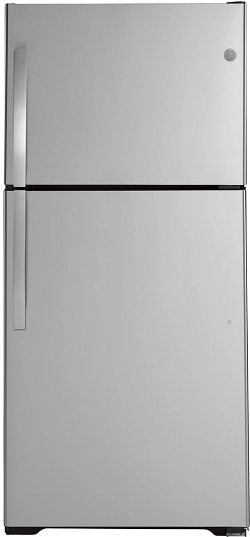 2. Maytag MRT311FFFZ - 20.5 cu ft - $1,199
Available in fingerprint-resistant stainless steel at $1,199 and in black or white at $1,099, the Maytag MRT311FFFZ offers attractive pricing despite being one of the largest top freezer refrigerator models on the market today! One of the main drawbacks of the modern stainless steel finish that almost all appliances are available in is that it tends to collect fingerprints and smudges. Choosing fingerprint-resistant stainless steel like this model is a great option if smudges drive you crazy!
The capacity is split between 14.42 cubic feet in the refrigerator area and 6.09 cubic feet in the freezer. It's ADA Height and Side Reach Compliant (read more about ADA-compliant appliances here) with bright, energy-efficient LED lighting in both the fresh and frozen sections. The refrigerator storage options include a full-width deli drawer, two humidity-controlled drawers, and a handful of door drawers, all but one of them adjustable. The crisper drawers are bottom-mounted rather than hanging from rails, so they open and close smoothly even when loaded up with produce.
One of the most impressive features of this model is Maytag's 10-year limited parts warranty on the compressor, the "heart" of your refrigerator. The pocket handles give this refrigerator a sleek look.
Features:
BrightSeries LED lighting - both sections

PowerCold feature to quickly cool down the refrigerator cavity

Upfront electronic temperature controls

Optional icemaker kit available - Maytag ECKMF95

Humidity-controlled drawers, a full-width deli drawer, adjustable shelves, and door bins

ADA Height & Side Reach Compliant
Dimensions:
Width: 32.75"

Depth: 30.625"

Height: 65.75"
Click here to read over 175 real customer reviews of this product!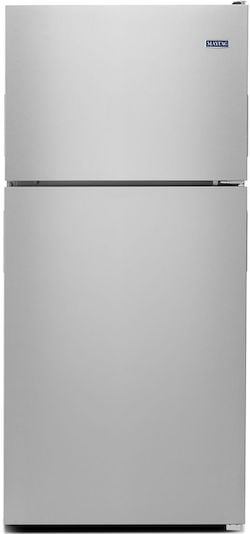 3. Samsung RT21M6215SR- 21 cu ft - $1,249
You might be more familiar with Samsung TVs and other electronics, but this brand also manufactures a range of household appliances. The Samsung RT21M6215SR is available in fingerprint-resistant stainless steel at $1,249. This Energy Star rated refrigerator offers premium features at a great price. The reversible doors have pocket handles for a sleek look.
What sorts of premium features, you ask? Starters will like the FlexZone Freezer. The top freezer compartment area can be adjusted to refrigerator temperatures or somewhere in between freezer and refrigerator temperatures for tasks like chilling meat. This gives you extra flexibility for preparing special dishes or those times when your refrigerator is over-full. It also has a Twin Cooling Plus system that maintains dry freezer conditions and high refrigerator humidity, giving you less freezer burn and keeping fresher produce. Samsung placed a full-width deli drawer at the very top of the fresh food compartment, making use of space that is often underutilized. The full-width glass shelves are adjustable. It can slide in and out to modify height so you can easily put taller items.
If you're looking for the largest top freezer refrigerator with an Energy Star pedigree and the added flexibility of high-tech features, this Samsung model is a great choice!
Features:
Energy Star rated

FlexZone Freezer - convert freezer space to refrigerator space as needed

Twin Cooling Plus dual cooling helps prevent spoiling and freezer burn

Built-In Automatic Icemaker

Reversible door with pocket handles

Humidity-controlled crispers, full-width pantry drawer, adjustable glass shelving, and door bins

Power Freeze and Power Cool options

LED lighting - both sections
Dimensions:
Width: 32.875"

Depth: 31.875"

Height: 67.75"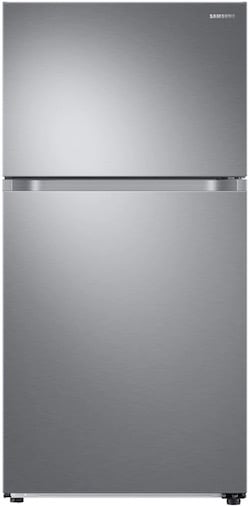 4. LG LRTLS2403S - 23.8 cu ft - $1,165
The LG LRTLS2403S comes in stainless steel at $1,165. At 23.8 cubic feet, it is the absolute largest top freezer refrigerator on our list - a truly XL capacity refrigerator! It's Energy Star rated and has a gorgeous premium look with contoured doors and pocket handles.
The refrigerator cavity is a massive 17.6 cubic feet, while the freezer is 6.2 cubic feet. With an inverter compressor and bright, crisp LED panel lighting, this refrigerator looks great inside and out. The features are relatively simple but have a high-end feel thanks to the clear door bins, clear crispers, and glass shelving. Thanks to LG's LoDecibel quiet operation, you won't have issues with noise with this refrigerator. It also has an internal water dispenser, with an optional icemaker (LK75C).
LG offers a warranty of one year parts and labor, five years on the sealed system, and five years on the compressor to help give you peace of mind. Make sure to check out this model if you're interested in an XL capacity refrigerator from LG!
Note: Customer reviews for this model vary. The negative reviews mention the issue with the quality of the shelves as well as the ice maker, and some reviews mentioned that it is also loud. Consider these reviews if you plan to purchase this refrigerator.
Features:
Energy Star rated

Ice Maker Optional - LK75C

Internal water dispenser & filtered water

Spill Protector™ Tempered Glass Shelves

LED lighting

Contoured doors and pocket handles for a premium look
Dimensions:
Width: 33"

Depth: 34"

Height: 68"
5. Whirlpool WRT541SZDZ - 21.3 cu ft - $1,349
Last but certainly not least on our list of the largest top freezer refrigerator models of the year is the Whirlpool WRT541SZDZ. If you're concerned about reliability, Whirlpool might be your go-to brand since it has the fewest top mount refrigerator repairs out of any other brand for 20 years in a row (according to a leading consumer magazine). The color options include fingerprint resistant stainless steel pricing at $1,349, monochromatic stainless steel at $1,299, and black or white at $1,199.
This model is ADA compliant and Energy Star rated with up-front electronic temperature controls for the freezer and refrigerator. The wall-to-wall frameless glass shelves and sliding half-width deli drawer help you to maximize the storage space available, while the LED interior lighting keeps everything brightly lit and easy to see. The freezer door bins are not fully enclosed, so they're not a good place for storing smaller bagged items, and there are occasionally complaints about the freezer shelf bowing. The freezer shelving design seems to be the overall weak point of this refrigerator, but it's still a great pick overall.
This model offers simple features with quiet cooling and energy efficiency. With Whirlpool's focus on reliability plus a great price, this large-capacity top freezer refrigerator is a great pick if you're looking for a durable and spacious refrigerator.
Features:
Energy Star rated

Frameless glass shelves

Flexi-Slide bin, humidity-controlled crispers, adjustable shelving and door bins

Optional EZ Connect Icemaker Kit ECKMFEZ2


LED lighting - both sections

Fingerprint resistant stainless steel option

ADA Compliant

Reversible door
Dimensions:
Width: 32.75"

Depth: 32.9"

Height: 66.25"
Click here to read over 15 real customer reviews of this product!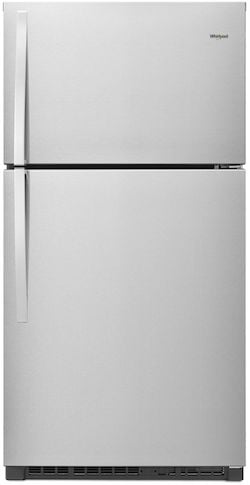 That sums up our list of the largest top freezer refrigerators of 2023. What do you think? Size matters, but that's not the only feature you'll have to consider!
The largest overall on our list is the LG model, but the Samsung model offers some interesting high-end features. For premium styling, you might prefer the LG, Samsung, or Maytag models that feature pocket handles. However, you may want to consider a fingerprint resistant model since users are more likely to be touching the refrigerator doors when they open them. The least expensive models available in stainless steel come from LG for $1,165, while the Whirlpool model is the most expensive at $1,349 but comes in a wide variety of colors.
Other refrigerator styles like side-by-side and French door models can offer capacities around 30 cubic feet, while it's rare to see a top freezer model over 24 cubic feet. Check out our articles on the largest side-by-side refrigerators and the largest French door refrigerators if you're interested in learning more!
Which of these top freezer refrigerators appeals to you the most? Leave us a comment below - We'd love to hear from you!
Editor's Note: This blog was originally written in July of 2018 and has been completely revamped and updated for accuracy as of the publication date noted above.