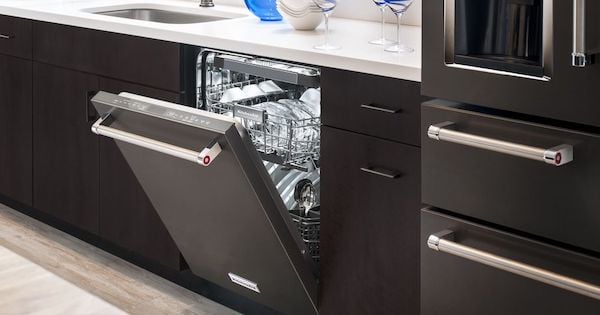 Before you head out shopping for a new dishwasher, you probably want to give some consideration to the racks. Dishwasher racks are not something people think about very often but they are something you interact with almost every day! A little education and thought before buying can make your day-to-day experience with your dishwasher much more convenient and enjoyable.
You'll want to consider the materials, configuration, number and style of racks and take into account what you really need. For more info on choosing a new dishwasher, check out our dishwasher buying guide!
Table of Contents
Rack Materials
Dishwasher racks are usually made of steel, coated with either PVC or nylon. Nylon-coated racks will last longer without cracking, peeling or rusting. PVC or vinyl coatings, once very common in dishwashers, are now only used in very low end dishwashers. Stainless steel dishwasher racks used to be an option on some models, namely high-end dishwashers, but they have become less common.
A good nylon coating stands up to detergents, hot water, and abrasions from knives and other sharp-edged items. In the event that the nylon coating wears down and the metal inside starts to rust, repair kits and replacement racks are available.
Some dishwashers have ball bearing glides rather than plastic rollers to make the racks slide easily and smoothly. This is a great feature, usually found in higher-end dishwashers such as Bosch and KitchenAid. With some models it may only be available on the top rack, while in others it is available on both racks. Ball bearing glides are especially helpful if you have a heavy load on the upper rack since you can pull it out effortlessly.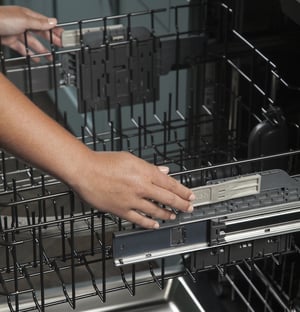 Rack Configurations & Features
One factor that can be easy to miss is the spacing of the tines. Bosch in particular tends to have closer tine spacing, so if you have a lot of earthenware dishes, the thicker plates may not work with the Bosch racks.
Here are some useful features to consider in your new dishwasher:
Adjustable Rack: An adjustable top rack (example pictured below) can be raised and lowered to accommodate tall items on the top and bottom racks. If you need to wash a bulky pan or casserole dish in the bottom rack, you can raise the top rack to accommodate it. If you've moved into a home with an existing dishwasher, you might not even realize it has this feature! Some models even allow you to completely remove the upper rack for washing truly HUGE items in the bottom rack. Different brands and models may have different methods for height adjustment - experiment with different display models in the store if you can!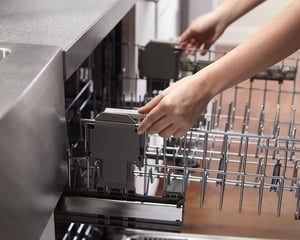 Stemware Holders: Fold-out holders on the top rack hold wine glasses in place so that they won't fall over during the wash cycle. The shelf they create can also be used to create extra space for cups and small dessert dishes. Racks with stemware holders will separate and secure your wine glasses to keep them from getting broken. Different models may offer different designs for these holders, such as grippy material to secure the stems in place or various shapes for the stemware cradle.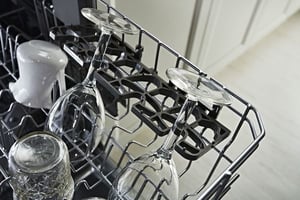 Fold Down Tines: The adjustable pins on the racks will fold down flat to accommodate large items. These will allow you to make room for larger bowls or pans that you may need to wash and will eliminate the stress put on stationary tines from these large and heavy items. Some models also include pitch-adjustable tines, so you can adjust the angle of the tines for different items. Other options include expandable tines or the option to remove the tines entirely.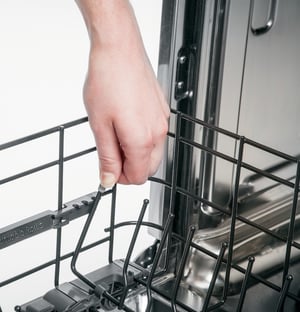 Third Rack or Flatware Rack: Third racks are very popular on newer dishwashers, especially higher end models. These third racks are typically shallow racks located above the top rack. They are great for cutlery or other utensils and can even be used for an extra plate when trying to squeeze in one more item! In 2020, KitchenAid and Maytag released new dishwashers with third racks that can fit cups and bowls - read more in our article on third rack dishwashers.
Bottle Washers or Targeted Wash Zones: Several brands currently offer this feature, including GE, Electrolux, and KitchenAid. Bottle wash options incorporate dedicated water jets in the upper rack that can be placed inside of tall, narrow items like bottles and vases. You may also find wash zones focused on the silverware basket in higher-end models as well.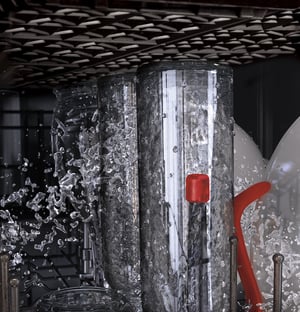 Splittable Silverware Basket: A silverware basket that can be split into two or three pieces gives you flexibility if you need to be a little creative with space for a large load.
For more information about the different options available in dishwasher racks or dishwashers in general, feel free to download our FREE Dishwasher Buyer's Guide. It is packed with information to help educate you so you can make a great purchase.
Thanks for reading. Please leave us a comment below. We'd love to hear from you!
Editor's Note: This blog was originally published in June of 2016 and has been completely revamped and updated for accuracy as of the publication date noted above.