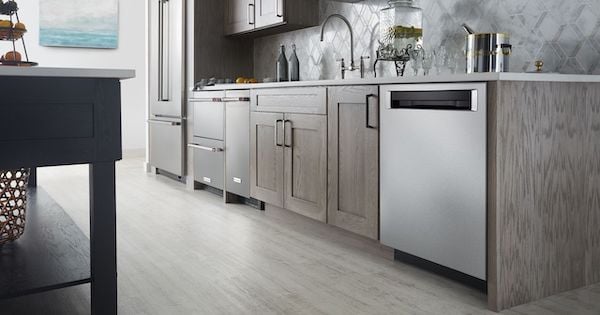 Many people looking for a new dishwasher have been interested in information about how KitchenAid's dishwashers compare with Bosch models. These two well-known dishwasher brands both offer great value to the customer. Bosch has a reputation for being among the quietest, most reliable brands. KitchenAid is one of the top brand names in the appliance industry and has a reputation for offering highest quality appliances to the consumer.
These two brands offer dishwashers that are very different in design and styling and each offer some unique features. Be sure to include these brands as you research new dishwashers for your kitchen. Generally, when people are comparing Bosch vs KitchenAid dishwashers, they are looking for a mid-range to high-end model. If you are looking to spend less than ~$700, that leaves KitchenAid out since KitchenAid's least expensive model is around $899 (although during certain sales and promotions it could be closer to $700). Bosch, on the other hand, has dishwashers starting as low as $499 before promotional pricing.
In this article, we'll compare two popular models at similar price points from each brand to help you decide which option offers the best set of features and design choices that work for you. Let's dig in!
1. The KitchenAid KDFE104HPS - $899 - 46 dB
The KitchenAid KDFE104HPS at a price point of $899 offers many innovative features. It comes in fingerprint resistant stainless steel, black, or white at $899, or in black stainless steel at $999 - read more about black stainless steel here. Like many high-end dishwashers, it comes with a stainless steel interior tub and ball bearing glide rails on the upper rack. It stands out with its front controls, similar to Bosch's high-end styling. These front controls are sleek stainless steel touch controls so they have a premium look and feel. The pocket handle style means it can match with any set of kitchen appliances since there's no need to match the handle hardware style.
It offers quiet operation at 46 dB (click here to read about dishwasher decibel levels). The top rack is height adjustable. Wash cycles and options are pretty basic, but cover all of your bases with some bonuses like Sani Rinse, which kills 99.9999% of food soil bacteria with a high-heat final rinse. This model also has the Heat Dry option.
KitchenAid offers a one year parts and labor warranty, years 2-5 on the nylon racks and electronic controls, and a lifetime warranty on the stainless steel tub and inner door liner. If you're looking for a relatively quiet dishwasher with great wash performance and flexible racking, this KitchenAid model could be a great choice. If you'd prefer a bar handle model and whisper quiet operation, check out the KitchenAid KDTE204KPS.
Features & Options:
46 dB operation

5 Cycles: ProWash, Tough, Normal, Express Wash, Rinse Only

6 Options: Hi-Temp Wash, Sani Rinse, Heated Dry, Extended Dry, 2-4-8 Hour Delay, Control Lock

Heat Dry option

Height-adjustable upper rack with ball bearing glides
Click here to read over 845 real customer reviews of this product!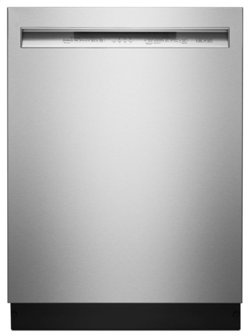 2. The Bosch SHP878ZD5N - $1,149 - 42 dB
Next up in our comparison of Bosch vs KitchenAid dishwashers is the 800 series Bosch SHP878ZD5N, available at a price point of $1,149 and loaded with great features. It has a pocket handle with hidden top controls to seamlessly integrate with any kitchen. As a bonus, Bosch's "EuroTub" design ensures that this model will install perfectly flush with your cabinetry for an integrated look.
This model is noticeably quieter at 42 dB thanks to the EcoSilence motor system, so it's a great choice for open floor plans. It comes with an EasyGlide ball bearing upper rack with three height levels, and a third rack has expandable wings for handling deep items plus adjustable tines to help support awkwardly shaped items (read more about dishwasher racks here). The Extra Scrub option increases water pressure and temperature in the lower rack for intensive cleaning, while the Delicate option reduces the cycle temperature and time for lightly soiled items. There are other great options as well and a good array of cycles.
Pictured below: Bosch's standard third rack.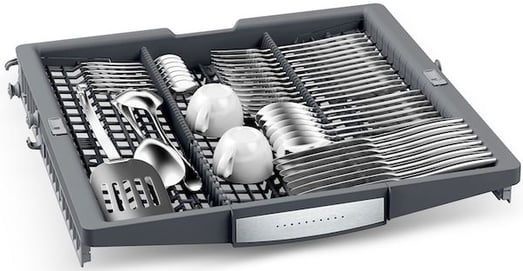 A new feature released in 2019 is CrystalDry, which uses a mineral called Zeolite to speed up drying by 60% (including notoriously hard-to-dry plastics) without increasing energy usage. Zeolite releases heat when exposed to moisture, so when the CrystalDry option activates, this nontoxic lab-created mineral will help dry your dishes. It lasts for the life of the machine and is a great alternative to energy-sucking electric drying!
Bosch offers one year parts and labor, five years on the electronics & racks, and a lifetime warranty against stainless steel rust-through of the inner liner and stainless steel door. If you want more cycles and options and quieter operation, you may prefer this model from Bosch. If you'd prefer a bar handle look, check out the Bosch SHX878ZD5N.
Bosch typically has tighter spacing between the tines than models from American-focused brands like KitchenAid and Maytag. This is something to check out in the store - if you have thicker plates or stoneware, Bosch racks might not be a great fit for you!
Features & Options:
42 dB operation

6 Cycles: Speed 60, Auto, Heavy, Eco, Normal, Rinse

6 Options: 24 Hr Delay Start, Half Load, Delicate, Sanitize, Crystal Dry, Extra Scrub

Third rack with expandable wings and adjustable tines

Height-adjustable upper rack with ball bearing glides
Click here to read over 15 real customer reviews of this product!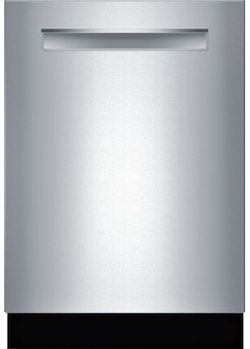 Features Comparison
Cycles & Options: Both models have quick wash cycles that are around one hour, and similar wash cycles overall, but Bosch offers more useful options like Half Load and Extra Scrub. Both models come with Sanitize options, which can be useful for baby bottles and other items.

Interior Design: The racking setup is pretty similar for both models, but Bosch offers more flexibility with the third rack, which some people might prefer if they're looking to maximize their dishwasher's loading capacity. Bosch's tighter tine spacing may not be a good fit if you have a lot of stoneware or thicker dishes.

Look & Feel: Pocket handles provide a sleek look, and bar handle models are also available. Bosch guarantees a flush installation so you can get a high-end feel in your kitchen, but this model doesn't come in black stainless steel. The KitchenAid model is louder at 46 dB.
Both brands offer similar warranties on these well-featured models. If you want to try black stainless steel, you may prefer the KitchenAid model. We think that the Bosch model has a better set of cycles and options, plus a flush installation, but it's up to you to decide which option best suits your needs! These energy-efficient, high-tech appliances are truly designed to make your life easier!
We hope you've enjoyed this KitchenAid vs Bosch dishwasher comparison. Please leave us a comment below. We'd love to hear from you!
Editor's Note: This blog was originally written in December of 2014 and has been completely revamped and updated for accuracy as of the publication date noted above.