In a Hurry? Check Out Our Video on Choosing the Perfect Dishwasher!
Dishwasher Designs & Styles
---
There are several dishwasher designs and styles to consider. The first step we'll take in our dishwasher buying guide is to go over the major types of dishwashers that you may be considering for your home.
Integrated or Top Control Dishwashers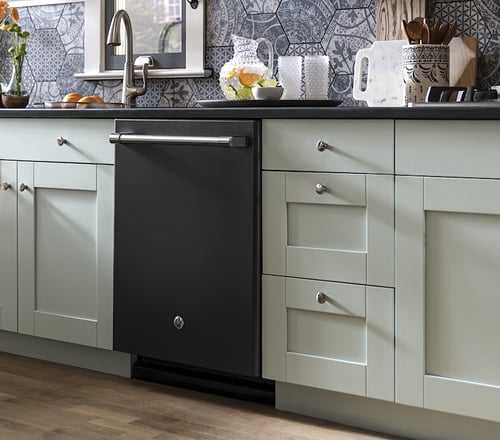 These dishwashers have the controls on top of the door, not visible from the front. Their door handle will usually match the hardware of other kitchen appliances from the same brand or sub-brand. They may have a "time remaining" readout on the front of the dishwasher. Choosing an integrated dishwasher with hidden top controls results in a seamless look that can boost your kitchen's premium feel.
Front Control Dishwashers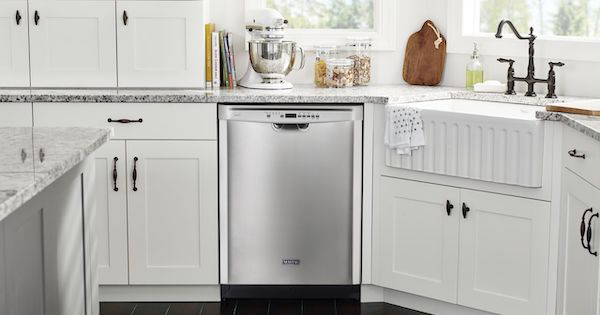 Choosing between top control vs front control dishwashers is mainly an issue of aesthetic appeal: compared to an integrated dishwasher, a front control model has visible controls on the outside of the front door. It usually has a pocket handle - the lack of hardware means it will match with any suite of appliances.
Drawer Dishwashers
Drawer dishwashers come in double or single units. Only Fisher & Paykel carries both types as of this writing, but GE Cafe has also started to offer double dishwasher drawers (read our blog post here for more information).
If you purchase a double drawer unit, you will have two individual dishwashers. You can operate them one at a time or both at the same time. The drawers slide out for easy loading. Single drawers can be installed side by side, eliminating the need for bending when loading and unloading, or you can just buy one drawer if it satisfies your needs for dishwasher space.
Portable Dishwashers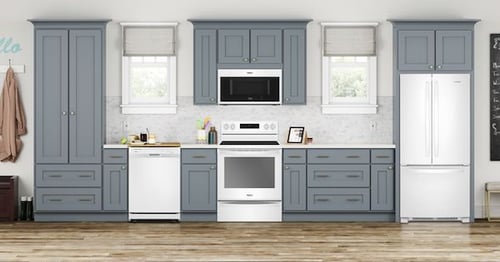 Portable dishwashers are designed to hook up to the kitchen sink. When the dishes are done the dishwasher can be rolled out of the way. They are usually used in apartments or in homes where there is no room for a built-in dishwasher to be installed. These are usually only manufactured in black and white and are not available from all brands. You can also find countertop models that have a smaller capacity but are still suitable for small kitchens.
Overlay or Panel-Ready Dishwashers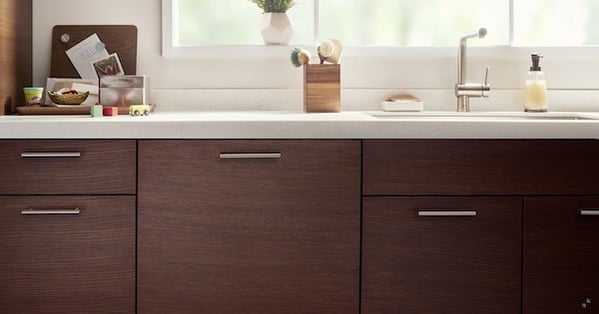 This style allows you to have your cabinet maker design a panel for the front of your dishwasher which will match the doors on your kitchen cabinets and install a matching handle. Panel ready dishwashers are designed to hold the weight of the custom panel and add a nice look to the kitchen.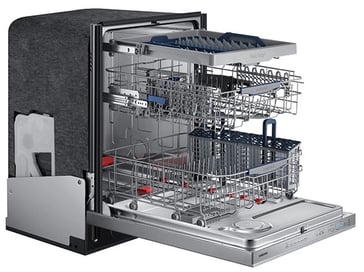 The rough opening for a dishwasher, in a perfect world, is 24 inches wide, 24 inches deep and 34-inches high. Unfortunately, in older homes, this isn't always the case. New dishwashers are generally 23.875 inches wide, 24.5 inches deep to the front of the door and 33,875 inches high.
Talk to a knowledgeable salesperson at your local appliance store to learn about current options for smaller dishwashers, since the models offered by different brands change over time. If possible, go into the store with the dimensions of your dishwasher opening in hand! In our experience 95% of consumers have no trouble fitting any 24 inch dishwasher in a standard 24 inch dishwasher opening, but in some rare cases, issues arise. One issue that comes into play is when hardwood or tile flooring has been put down after the original construction of the home. This can cause a height issue.
Some options for smaller spaces include GE Cafe Dishwasher Drawers, which will fit an opening that is only 23 inches deep. Many manufacturers, including Bosch, Frigidaire and GE, make dishwashers that are 18-inches wide to fit into small kitchens (check out our comparison of the best 18 inch dishwashers for more information). It's always better to have the standard opening and it will give you a lot more brands and models to choose from.
Decibel Ratings Explained
---
You'll find that most dishwashers today have an audible decibel rating (dBA) that will tell you how loud the dishwasher is during operation. You can find out more about dishwasher decibel levels in our article, but in general people with open floor plans, small homes where sound travels easily, or who spend a lot of time in the kitchen may want to consider a quiet dishwasher.
How quiet can a dishwasher be? That depends on how much you are willing to spend. If you want to spend from $999 to $1,599, you can get a dishwasher with a dB rating of 38 to 43 which is almost silent. Bosch and KitchenAid are top brands in the ultra-quiet category.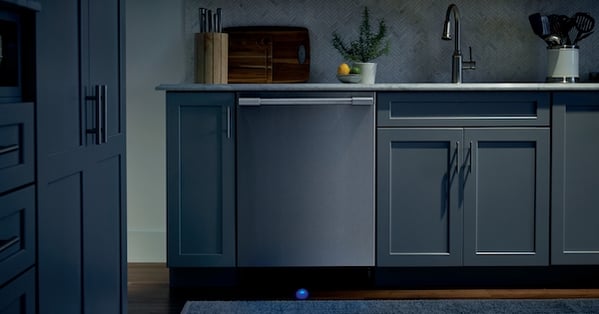 However, most of us don't want to spend that much! So what are your options at a lower price point? You can get a good dishwasher with a dB rating of 44 to 52 which will be very quiet compared to most older models and will not break the bank. These dishwashers start at about the $499 price point and will go up to about $999 depending on the brand, model and dB rating that you choose.
Lower-end dishwashers priced from $299 to $499 will be noisier with dB ratings up to 62 and may not be much quieter than your old clunker.
Portable dishwashers tend to be louder than comparable built-in models because built-in models are insulated by the surrounding cabinetry, which dampens operation noise.
Terms & Features - Options to Consider
---
Next, you'll want to take a close look at the control layout and construction of the washing machine and also look at the cycles and features to see if they meet your needs. Here's a partial list of what to look for:
dBA Rating
We just discussed this, but it's worth emphasizing! Dishwashers will range from about 38 dB (quietest) to about 62 dB (loudest). Any dishwasher with a rating of 50 dB or below will be a good choice and very quiet compared to most older dishwashers.
Stainless Steel Interiors
Dishwashers with stainless steel interior tubs are quieter because the water splashing against the stainless steel makes less noise than plastic tubs. It will also be resistant to staining and will not retain odors. Stainless steel tubs usually offer better drying performance as well, especially with new energy-efficient drying methods. All KitchenAid dishwashers have stainless steel interiors, but you'll find that this feature comes at a higher price point than a plastic tub.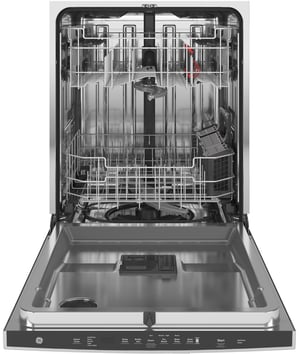 Nylon Racks
Nylon racks are durable and will last without cracking and rusting. Older dishwashers with PVC or vinyl-coated racks were prone to rusting and cracking, and in many cases, they didn't last for the life of the dishwasher. Learn more about dishwasher racks in our article!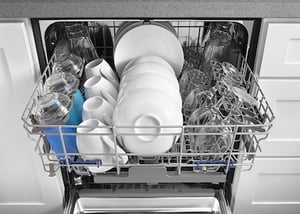 Adjustable Racks
Another dishwasher rack option to consider is an adjustable rack system. Adjustable top racks allow you to raise and lower the rack to accommodate tall items on the top and bottom racks.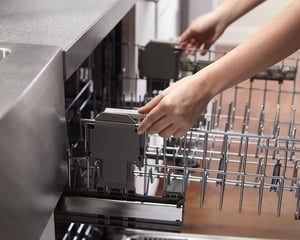 Stemware Holders
Fold-out stemware holders on the top rack hold wine glasses in place so that they won't fall over during the wash cycle. These holders can also be used to create extra space for cups and small dessert dishes. Racks with stemware holders will separate and secure your wine glasses to keep them from getting broken.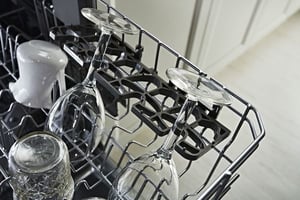 Third Racks
Also called flatware racks, these are third racks at the top of the dishwasher tub to accommodate flatware, long cooking utensils, and small items.
Fold Down Tines
Adjustable pins on racks that will fold down flat to accommodate large items. These will allow you to make room for larger bowls or pans that you may need to wash and will eliminate the stress put on stationary tines from these large and heavy items.
Drying Performance
This is the ability of the dishwasher to dry the dishes at the end of the cycle. One of the main complaints with the new energy efficient dishwashers is that they don't dry the dishes well. Using a drying agent like JET-DRY will sheet the water off of the stainless steel tub and help in the drying process. The old method of using a heating element to dry dishes is less common now, although some models still offer heated dry options. Some dishwashers have better drying performance than others, so ask your salesperson to help you choose the best performing unit in your price range.
Silverware Basket Size & Location
Beyond a third rack, the location and size of the silverware basket can also impact how much usable space is in your dishwasher. Some dishwashers, like Whirlpool, have the silverware basket on the door, but most have it on the right hand side of the bottom rack and some have baskets that can be moved around to fit in more than one place or even split into pieces for more flexibility.
Cycles & Options
You can find features like delay start, sanitizing cycles, china and crystal cycles, and child lock controls in many dishwashers in the $400 to $600 price range. Consider additional features like bottle jets, clips in the upper rack for lightweight items, quick wash cycles, ball bearing racks, heated dry, and any specialty cycles you may need before you go to the store.
Your typical dishwasher is between $400 to $700, but can be as low as around $299 or as high as over $2,000. We'll go over what you can expect from a budget dishwasher, a mid-end or "average" dishwasher, and a higher-end model.
Budget Dishwasher - $299-499
Decibel ratings will usually be higher, up to 62 dBA, so they will be noisy during operation. They often have plastic interior tubs, front controls, and less durable PVC-coated racks. They are less likely to be Energy Star rated, so they will use more water and electricity while in use than models in the mid-end or high-end. They are less likely to offer auto or sensor cycles. Portable dishwashers can fall into this range or up into the mid-range.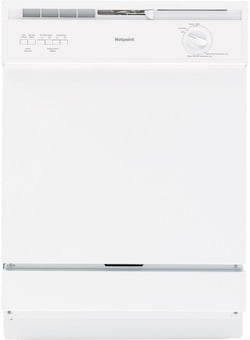 Mid-Range Dishwasher - $499-999
These dishwashers are quieter at around 44-52 dBA - quieter than most older models! In this price range you can find more features like adjustable racks and third racks, and improved materials like stainless steel tubs and nylon coated racks. There are many models that come with sensor cycles, which can optimize water usage and cycle times. Hidden top controls, premium finishes, and Energy Star ratings are more common in this price range. You'll usually have a broader choice of cycles as well.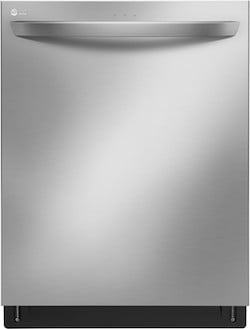 High-End Dishwasher - $999-$1,599+
A high-end dishwasher can be almost silent, operating at 38-43 dBA. You'll find a lot of options and features for your cycle choices, and the interiors may include more wash arms, bottle jets for cleaning inside tall, narrow items, ball bearing glides for the racks, and top-of-the-line washing and drying performance. They tend to have premium designs and color options, such as bar handles and black stainless steel.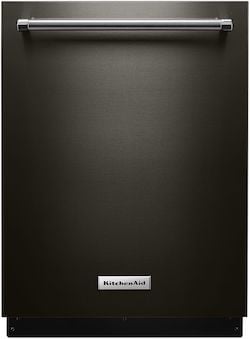 If you're doing an extensive kitchen renovation or building a new home, you may want to consider appliance packages in order to save money on a new dishwasher and the other appliances you'll need.
Tips for Comparing Dishwasher Brands & Models
---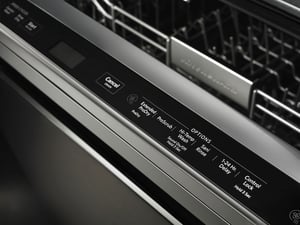 Once you have your budget and installation options in mind, it's time to start narrowing down what features you need and what features are optional or not necessary for you to be happy with your new dishwasher.
Interior Configuration
Look at the rack design of the dishwasher - height adjustable top racks, space-making fold down tines and stemware holders, and how easily the racks slide in and out of the dishwasher are all features to consider. Where is the silverware basket located and how is it configured? Do the racks have ball bearings? Is the interior stainless steel or plastic? Are the racks nylon-coated or PVC? Does it come with a good sound package?
Cycles, Features, & Options
Know what cycles and options that you have on your current dishwasher and which ones you use. Consider the benefits of options such as delay start, sanitize, high temperature wash, control lock and cycles such as china and crystal, half load and express wash. Ask the salesperson to explain the benefits to you so that you can decide which features you want and will be useful to you.
We hope our dishwasher buying guide was helpful on your journey to buying a new dishwasher. We'll use some handy bullet points to summarize all of the things we went over in case you're feeling a little overwhelmed!
Know your opening dimensions:

The height from the floor to the underside of the countertop

The width of the opening

The approximate depth if you have an older kitchen or unusual setup

Know your budget - narrow down the field and look for the best choices in your price range

Have an idea of what features and cycles you will need and will benefit you the most

Know what kinds of interior setup features you'll need for your dishes, glassware, and any larger items you may need to wash
Download a printable PDF version of this dishwasher buying guide to take this information with you anywhere!