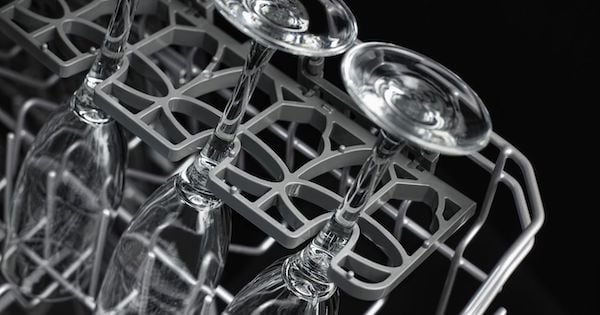 Everyone has different considerations when buying a dishwasher. If you love wine, one of the most important things you will want to consider is whether or not your new dishwasher has stemware holders that will accommodate your beloved wine glasses. If you have an older model, you may not even realize these are available! (Learn more about purchasing a new dishwasher in our dishwasher buying guide!)
Dishwasher stemware holders are fold-down pieces of plastic on the top rack made to keep wine glasses in place so that they won't fall over during the wash cycle. Stemware holders can also be used to create extra space for cups and small dessert dishes. Racks with stemware holders will separate and secure your wine glasses to keep them from getting broken.
Most dishwasher stemware holders can be folded out of the way when not needed. However, the extra storage space they create when in use is perfect for ramekins, water bottle lids, and other small items. Check out our article to learn more about dishwasher racks and their various options and configurations!
Washing your stemware in the dishwasher is a great way to save time, and dishwashers use a lot less water and sanitize items a lot better than washing by hand. If you're concerned about water spots on your fine crystal, try adding a rinse aid before you run the cycle with your stemware.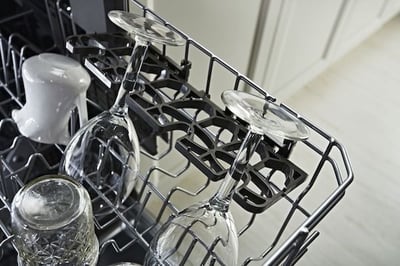 If you want to explore and compare different dishwashers, most if not all of them with stemware holders, we've researched and reviewed a list of the best dishwashers of the year, too!
Click Here to Read Our Article - What Is The Quietest Dishwasher On The Market?
For more information about stemware holders, dishwashers in general and the entire dishwasher buying process, feel free to download our FREE Dishwasher Buyer's Guide. It is packed with information to help educate you so you can make a great purchase.
Thanks for reading. Please leave us a comment below. We'd love to hear from you!
Editor's Note: This blog was originally published in November of 2016 and has been completely revamped and updated for accuracy as of the publication date noted above.