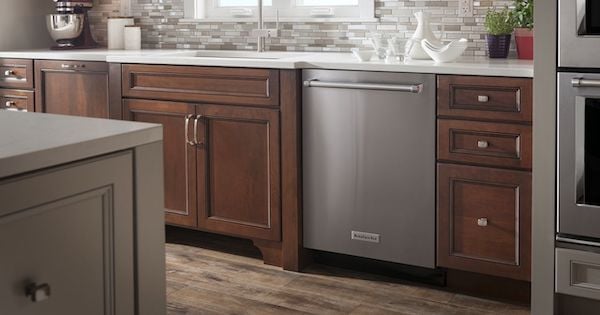 Before you head out the door to shop for a new dishwasher for your kitchen, one of the first things you should ask yourself is, "How much space do I have for installation?" This is especially important if you have an older home or custom kitchen that may have unusual dimensions. For more help buying a new dishwasher, check out our dishwasher buying guide!
The rough opening size for a dishwasher, in a perfect world, is 24 inches wide, 24 inches deep and 34 inches high, but in older homes, this isn't always the case. With new models, typical dishwasher dimensions are 23.9'' wide, 24.5'' deep to the front of the door, and 33.9'' high. Most brands make standard-size models, but there are some specialty sizes that are available to fit into spaces that are non-standard.
ADA compliant models are a good choice for raised sub-floors that don't leave enough room for a 34" tall dishwasher and of course for wheelchair-accessible kitchens. They're made for ADA compliant countertops that are typically just 34" high. For example, GE has a model that will fit shorter openings: the GE GDT225SSLSS has an overall height of just 32.25". Bosch also has a range of ADA compliant dishwashers available to choose from, such as the Bosch SGX68U55UC, which is just over 32" tall. Even if you're choosing an ADA compliant dishwasher, be sure to check the dimensions and bring a measurement of your countertops to the store with you.
Fisher & Paykel drawer dishwashers will fit an opening that is only 23 inches deep if your counters are shallower than the typical 24".
Many manufacturers, including Bosch, Frigidaire, and GE, make compact dishwashers that are 18 inches wide to fit into small kitchens. Most dishwashers have leveling legs so they can be adjusted to sit flush under a countertop. However, having the standard opening will give you a lot more brands to choose from!
Make sure to measure the interior space of the cavity you have available for your new dishwasher - from the floor to the bottom of the counter, from the front of the cavity to the back, and side to side.
If you're not sure what type of dishwasher would fit in your space, your knowledgeable local appliance salesperson should be able to help!
(Pictured below: the ADA compliant GE GDT225SSLSS dishwasher. You can see that it looks a little more square than a typical dishwasher due to the shorter height.)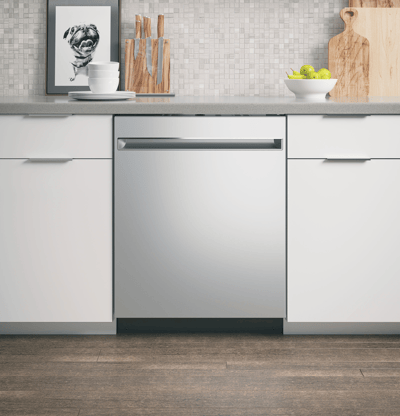 Things to Watch Out For
Changes to the cavity height due to new flooring, especially if it was laid down on top of the old flooring - this could also make it difficult to remove an existing dishwasher

Granite or marble countertops require side brackets for dishwasher installation

If you've just installed new cabinets, the rough opening for the dishwasher may be slightly different than before

Dishwasher insulation blankets can also impact the space available in the cavity - although today's quieter dishwashers make these products less of a necessity
That first point is especially important and is easy to overlook when doing renovations or exploring a new home! Even a change of 1/4 of an inch can result in a cavity that's too short for most dishwashers. If the width of the cavity is wider than it needs to be, you can make DIY gap fillers for the sides of the cavity by staining wood cut to the appropriate length to match the surrounding cabinetry.
Next Steps
It should be pretty easy to determine what dishwasher size you need - space constraints more or less decide that for us! You may also want to look into dishwasher tub materials, the decibel levels, top vs front controls, and dishwasher rack types and materials. Or, just check out our free Dishwasher Buyer's Guide, linked below!
You can also explore our reviews of the best dishwashers of the year!
Editor's Note: This blog was originally published in October of 2016 and has been completely revamped and updated for accuracy as of the publication date noted above.