Drawer dishwashers are a unique concept that offer versatility and performance that you can't get with traditional dishwashers. They offer installation and operational options that you probably have not considered. In the past, only Fisher & Paykel offered drawer dishwashers, but now, there are options available from GE Cafe. These unique GE Cafe products were manufactured by Fisher & Paykel for GE Cafe.
In our review, we'll discuss the features, styles, and pricing of GE Cafe's eye-catching drawer dishwashers (for more info on choosing a new dishwasher, check out our dishwasher buying guide).
Table of Contents
An Introduction to the Drawer Dishwasher
In the early 2000s, New Zealand-based company Fisher & Paykel brought drawer dishwashers to market in the United States. They offer two types of drawer dishwashers: single and double drawers.
A double drawer dishwasher can be installed in the same opening as a traditional dishwasher, but will give you two separately operated dishwashers in that same space. This allows you to do small loads very efficiently, allowing you to operate one dishwasher drawer while you load the other and operate each of the drawers on different cycles. For example, you could have one drawer on the gentle cycle and one on the normal cycle at the same time. Apart from Fisher & Paykel, GE Cafe offers double drawer dishwashers.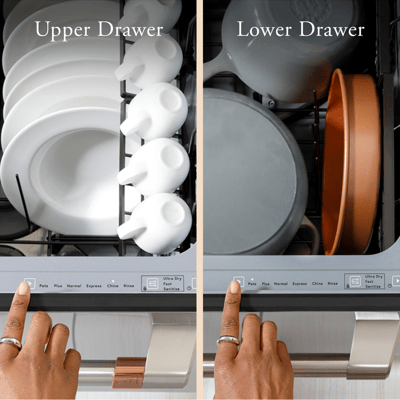 The GE Cafe double drawer dishwasher models include the following features:
Flexible racking with fold-down tines

Rinse Aid dispenser

Plastic interior tubs, nylon racks

Fan-assisted high performance drying

Up to 14 place settings

Quiet operation at 46-49 dBA

Customizable, premium finishes and hardware options

Energy Star certified

Fits Standard 24" Cutout
See GE Cafe's Dishwasher Drawer!
Single drawer dishwashers are available for smaller kitchens and bars and can also be installed side by side above your cabinets under the countertop to require less bending while loading and unloading. Fisher & Paykel offers this type of dishwasher drawers.
Is a Drawer Dishwasher Right for You?
You may like a drawer dishwasher if...
You have a condo or galley kitchen that doesn't have the space to fully open the door of a standard dishwasher.

You have a small household and are willing to hand wash large dishes and cookware.

You have back or knee problems and would like to avoid bending over or crouching to access your dishwasher.

You're looking for interesting premium looking appliances for your kitchen.

You want to be able to run two half loads on different cycles (for example, one drawer on the Normal cycle and one drawer on the Delicates cycle).
The drawbacks include...
Similar energy usage to a full-size dishwasher (so no efficiency gains despite the smaller capacity)

As expensive as many mid-end and high-end full-size dishwasher models

Limited capacity - although they offer similar capacity to a full-size dishwasher, the drawers' interior heights limit what items can fit inside
Dimensions, Styles, & Prices
GE Cafe's dishwasher drawers are 23.56" wide by 21.75" deep (excluding handles) by 34" tall.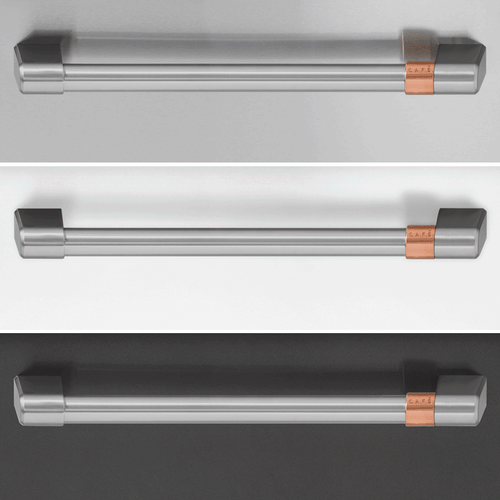 They have bar handles and hidden top controls. Like other GE Cafe appliances, you can choose the base color and the hardware color of your dishwasher drawer for a custom look. The base color choices are stainless steel priced at $1,399 (model CDD420P2TS1, pictured below), matte white priced at $1,499 (model CDD420P3TD1), and matte black priced at $1,499 (model CDD420P4TW2). The hardware color options are brushed stainless, brushed black, brushed bronze, and brushed copper.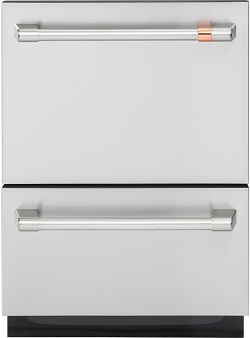 Wash Programs & Options
Obviously, these drawer dishwashers look amazing... but can they really clean your dishes? In this final chapter of our GE Cafe dishwasher drawer reviews, we'll quickly go over the available cycles and options.
6 Cycles: China, Express, Normal, Plus, Pots, Rinse

3 Options: Ultra Dry; Fast Dry; Sanitize

Delay Start

End-of-Cycle Signal

Upper drawer fits plates up to 13" tall and lower drawer fits plates up to 11 ½" tall

Foldable tines, utility shelves, and silverware baskets with cell covers on both drawers

Active Flood Protect – To prevent a flood, the Water Leak Sensor cancels the wash cycle when there's an overflow and sends you an alert through blinking lights and a sound.

Knock to Pause Function – Just knock on the front panel and the cycle will pause. Just press the Start button to resume the cycle.
In Conclusion...
Drawer dishwashers are more expensive than traditional dishwashers. If you need a dishwasher that conserves space but a drawer dishwasher would put a strain on your budget, you may want to consider an 18 inch dishwasher or a portable dishwasher (click the links to read reviews and helpful info about these products).
We hope our Fisher & Paykel dishwasher review was helpful! What do you think of these unique dishwashers? What factors make a drawer dishwasher appealing to you over other options? Leave us a comment below - We'd love to hear from you!