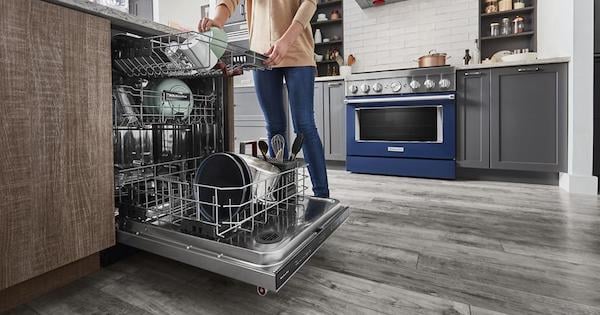 We've grown to expect that our dishwashers operate quietly at under 50 decibels, but manufacturers are constantly coming up with new ideas. The third rack is one of them! A typical third rack is above the upper rack and can hold flatware and small items - but recently, manufacturers have found ways to expand these third racks to fit larger items like cups and bowls.
If you want to make the most of your next dishwasher's capacity, this is the article for you! We'll start with a table of which brands offer third racks and at what price points.
| | | |
| --- | --- | --- |
| Brand | 3rd Rack Styles/Branding | MSRP Starts At (Approx.) |
| Bosch | Standard, Flexible, MyWay* | $749 |
| Frigidaire | Store-More | $899 |
| GE | (Standard 3rd rack, no brand name) | $919 |
| LG | (Standard 3rd rack, no brand name) | $849 |
| KitchenAid | FreeFlex* | $1,099 |
| Maytag | Specialized 3rd rack, no brand name* | $899 |
| Samsung | (Standard 3rd rack, no brand name) | $799 |
| Whirlpool | (Standard 3rd rack, no brand name) | $749 |
*These models have room for larger items like bowls, not just flatware!
(Keep in mind that package deals and holiday sales can cut the price you pay by 20% or more!)
Bosch offers the most variety in third rack options and has one of the lowest starting MSRPs. KitchenAid dishwashers with third racks start out at high MSRPs, but you can often find select KitchenAid dishwashers at 20% or 30% off during holiday sales. KitchenAid's "FreeFlex" rack also claims to be the "largest available" based on usable volume.

Most third rack dishwashers include a middle rack that is height adjustable and allow you to remove the third rack as well if you need extra headroom for tall items like vases. However, it's always good to check with a salesperson that the dishwasher you're considering includes these features!

GE, LG, Samsung, Frigidaire, and Whirlpool all offer pretty similar basic third rack designs. It's just a shallow rack for flatware and utensils. Bosch, KitchenAid, and Maytag offer some more complex and useful designs that we'll dig into below.

Learn More About Third Racks From...

Bosch

Bosch offers three third rack configurations, and the majority of their dishwashers now offer some form of third rack. Underneath the third rack is a height-adjustable middle rack, so you can make room for tall items in the middle rack or lower rack.

Standard (100 Series, 300 Series): A simple design that's still a step above the standard rack offered by Frigidaire and other brands, thanks to the angled V-shaped design. This leaves room for taller items like wine glasses in the middle rack.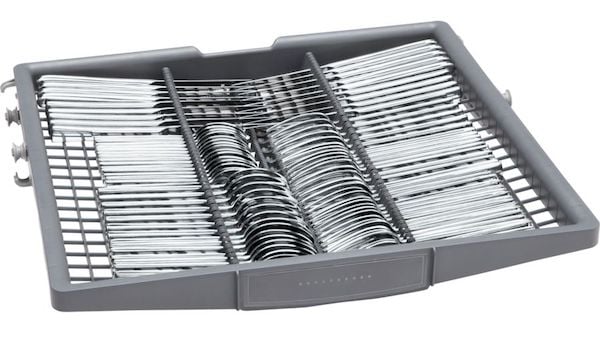 Flexible (500 Series, 800 Series): This model has expandable wings and adjustable tines. The wings create room for deeper items, and you can make room for awkward or bulky items more easily with the adjustable tines.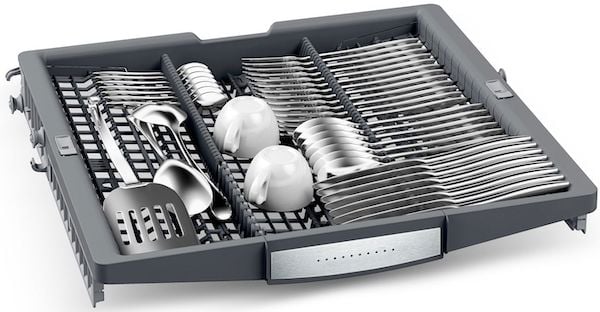 MyWay Rack (800 Series Premium, Benchmark Series): A deeper wire rack that offers more room for items like cereal bowls and large measuring cups.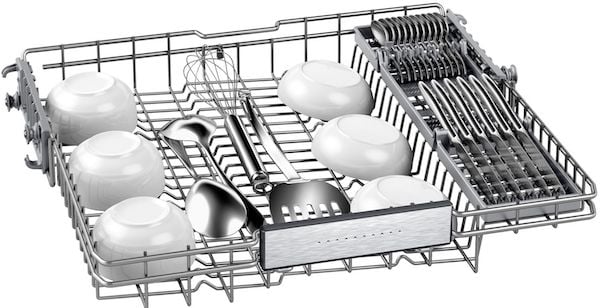 The Standard third rack models start at around $749 MSRP (see model SHXM4AY55N, for example). The Flexible rack can be found in the 500 and 800 series dishwashers starting at around $999. Explore more about this great brand in our Bosch dishwasher reviews. Unlike most American brands, Bosch doesn't really "do" sales and promotions, so you won't find their dishwashers on deep discount during holiday sales like Memorial Day. Rebates may be available, but in general what you see is what you get when it comes to pricing! At least that means you're not missing out if you need a new dishwasher outside of a holiday period.
KitchenAid
The new KitchenAid third rack dishwashers feature the FreeFlex third rack, which has its own set of wash jets. There's also a drying bar to help drying performance, plus a removable utensil tray. It claims to be the "largest third rack available" among leading brands based on usable volume. The angled design allows you to fit 6" glasses, mugs, and bowls. (Note that adding the dedicated spray arm doesn't seem to impact wash performance in the third rack either way compared to dishwashers that lack this feature.)
Explore more KitchenAid options in our KitchenAid dishwasher reviews!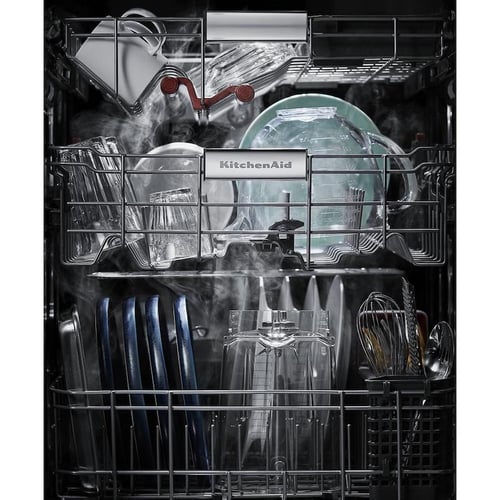 Maytag
Maytag's new third rack design is similar to KitchenAid's but does not have its own spray arm. Maytag and KitchenAid are both owned by Whirlpool so it makes sense to see a similar design between the two brands. Check out our Maytag dishwasher reviews to explore the lineup!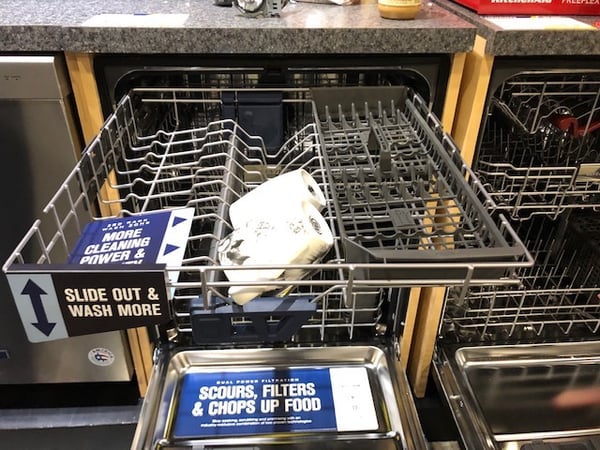 Everyone Else - Compare & Contrast
Whirlpool: A simple third rack that is removable, paired with an adjustable middle rack.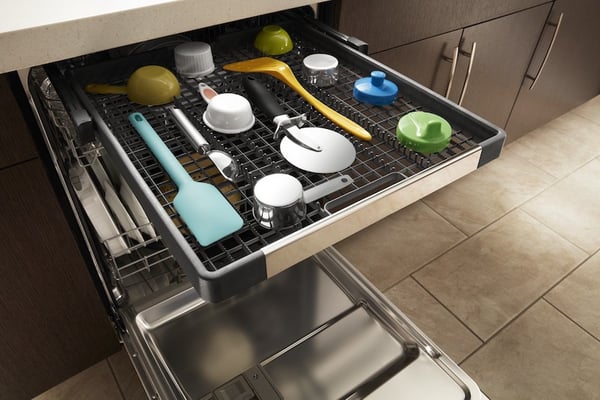 Frigidaire: The "Store-More" Rack can be found on Frigidaire Professional and Frigidaire Gallery models, combined with an adjustable upper rack.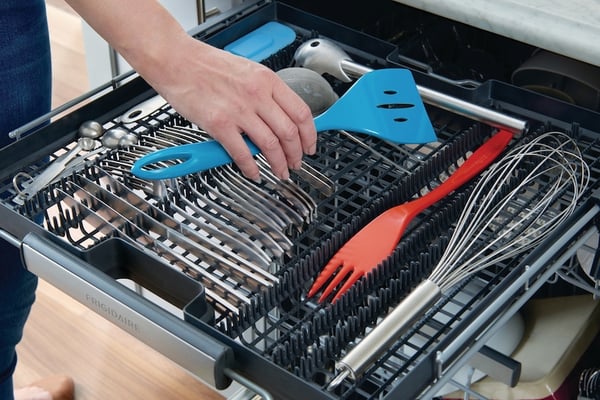 GE: Found on select GE Appliances and GE Profile dishwashers. GE also offers an optional third rack accessory (model #GPF3RACK) that you can install on select plastic tub dishwashers (any new plastic tub models manufactured in 2018 or newer are compatible with this feature).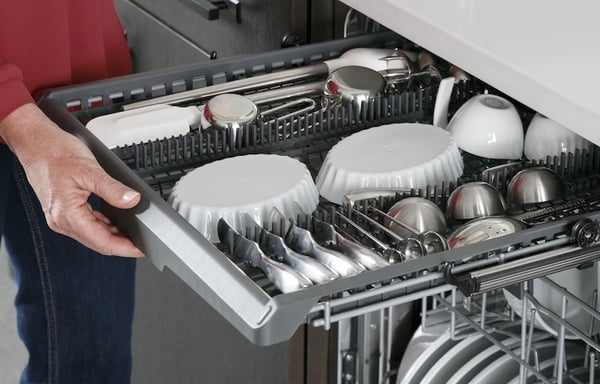 Samsung: Samsung offers third racks on a range of dishwashers, including very inexpensive models.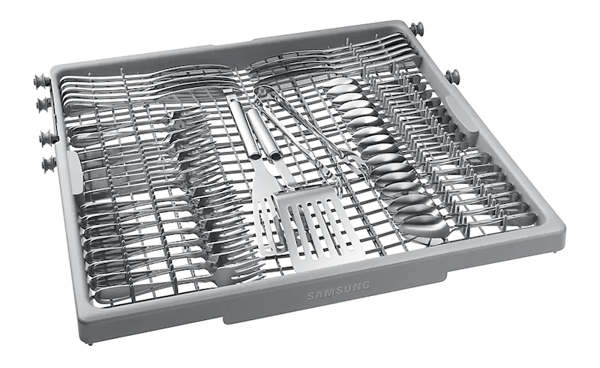 LG: LG offers third racks on a range of their dishwashers as well.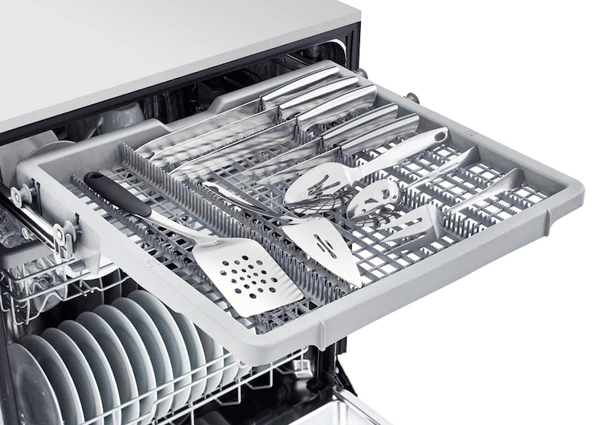 We hoped this help you figure out whether a third rack dishwasher is an option for you. Especially as dishwasher cycle times are increasing, it's nice to see capacity boosting features like this! Are you thinking about a dishwasher with this design feature? Leave us a comment below - We'd love to hear from you!