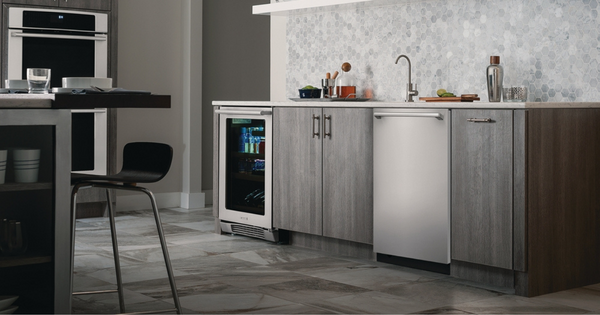 The typical dishwasher width of around 24" just doesn't cut it for small spaces. For narrow kitchens, small apartments, and other situations, many people turn to the 18-inch dishwasher to maximize space. In this article, we compare five of the best 18-inch dishwashers on the market to help you get the best bang for your buck!
We focused on built-in models here, but we also compared the best portable dishwashers if that's what you're looking for. Here are our picks for the best 18-inch dishwashers of 2023 - in no particular order, numbered for your convenience. Check out our dishwasher buying guide for more info on choosing a great new dishwasher!
Table of Contents
*This is the cheapest model that we recommend. Retail price is around $679.
What You Should Know About 18 Inch Dishwashers - ESPECIALLY IF YOU'RE A FIRST-TIME BUYER!
These dishwashers are smaller, but they're usually not cheaper than a standard 24" wide model. Most are around $700 and up. Mainstream brands like Electrolux, GE Appliances, Whirlpool, and Frigidaire make them, as well as smaller brands like Danby and Summit.
The external height of an 18-inch dishwasher is also slightly shorter on average than for a 24-inch model. A full-size built-in dishwasher is usually about 33.9" tall, while many 18" dishwashers are between 32-33" tall. This is convenient for issues like shorter countertops or raised sub-floors that limit the vertical space for installation. However, with tall countertops, you may see a gap between the dishwasher and the floor if the kickplate isn't tall enough to conceal it.
Rack spacing can be an issue with these smaller models, both between racks and within them. If you have "chunky" earthenware or stoneware plates and bowls, tine spacing and angles are of particular concern. You'll also want to consider the diameter of your full-sized plates and whether they'll fit in the lower rack without catching on the upper wash arm.
Cycle times for dishwashers have gotten longer as they have become more energy efficient. You can expect a typical wash cycle to last about 2 hours, just like with a standard-size dishwasher. This can be inconvenient if you have a lot of dishes to wash.
They work best for small households of 1-3 people, or people with light dishwashing needs. Many 18" dishwashers claim to have an 8-10 place setting capacity*, while a full size dishwasher will usually fit 12-14. Whether you can actually fully utilize the claimed capacity will vary because cups, bowls, etc are not standard in size and thickness. If you have smaller cup diameters and porcelain plates and bowls, you'll have better luck.
*You might be asking: What the heck is a place setting? One "place setting" equals:
1 dinner plate

1 smaller snack plate

1 saucer

1 bowl

1 coffee cup

1 drinking glass

1 knife

2 teaspoons

2 forks
Learn more about choosing a new dishwasher in just 6 minutes!
1. Bosch SPX68B55UC - 44 dB - $1,199
The hidden top controls and bar handle of the Bosch SPX68B55UC give it a clean and sleek look that will complement any kitchen design. It is compact in size with its 18 inch width but big in features for your convenience. If you like a smart dishwasher, you can check out this model with the Home Connect app that allows you to monitor and control this dishwasher wherever you are. Use your device or voice commands to adjust the speed or change the lights.
Bosch is hailed as one of the quietest dishwasher brand in the U.S. because of its amazing low decibel levels. This dishwasher operates at a quiet 44 dB, which is impressive! You will be aware it's running through the InfoLight® that shines on the floor. It offers 3 height levels and 9 possible rack positions. With the Favorite button, you can easily access you preferred cycle/option combination. For leak protection, it has AquaStop Plus, which senses leaks and then contains them. This dishwasher also has a V-shape standard third rack, so you can put your silverware and utensils there. This model is also Energy Star rated and is ADA compliant.
If you're looking for a compact dishwasher with convenient features, this Bosch model may be the best 18-inch dishwasher for you!
Features:
5 Programs: Delicate, Favorite, Heavy, Normal, Quick S

Cycle Options: Extra dry, half load, Machine Care, Remote Start, Sanitize

Energy Star rated

ADA Compliant

Stainless steel tub

24h Delay Start Timer

Adjustable upper rack
Click here to read over 35 real customer reviews of this product!
Bosch SPX68B55UC - $1,199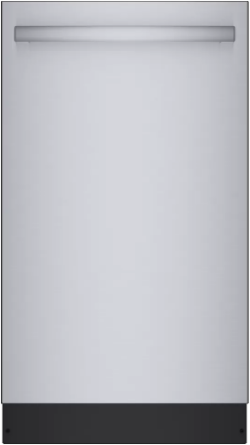 2. Electrolux EIDW1805KS - 56 dB - $999
Next up is a model from Electrolux, the Electrolux EIDW1805KS, which retails at $999 and is available in stainless steel. This model has fully integrated top controls and a bar handle. Also, it features a Luxury-Hold™ Door, so its door stays put regardless of the angle you leave it. This 18" dishwasher operates at 56 decibels, is Energy Star rated so you'll definitely save energy, and is ADA compliant.
The nylon-coated upper and lower racks extend effortlessly, thanks to the Luxury-Glide technology. The upper rack is also adjustable and removable, so you have the flexibility to fit more items even though this is an 18-inch dishwasher. Other rack system features include a stemware holder, fold-down tines, and a 3-piece split silverware basket. This model also has stainless steel interior, which resists staining and odor and reduces noise compared to plastic tubs.
Make sure to check out this model when you shop for an 18-inch dishwasher! The Platinum Star limited warranty offers one year of coverage on labor and three years on parts to give you peace of mind.
Features:
5 Cycles: Quick, Heavy, Normal, Eco Wash, Rinse Only

4 Options: Air Dry, Hi-Temp Wash, Sanitize, Delay Start

Energy Star rated

ADA Compliant

Stainless steel tub

Top controls with bar handle

Adjustable upper rack
Click here to read over 50 real customer reviews of this product!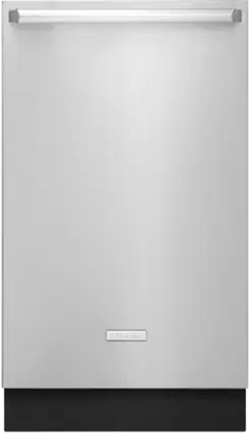 3. Danby DDW1804EBSS - 52 dB - $679
One of the cheapest 18-inch dishwashers that we'd recommend is the Danby DDW1804EBSS, which retails at around $679 in stainless steel. It has some great features for that price point and some that are par for the course in a sub-$700 model. If you're on a tight budget, this could be a great option for you.
It has a stainless steel interior tub, which is more durable than plastic and has better drying results. It operates at a respectable 52 decibels - it will be somewhat louder than the other dishwashers on our list, but at this price, that decibel rating is actually pretty impressive. (To learn more about dishwasher operation noise, check out our article on dishwasher decibel levels.)
Although this model has mixed reviews online, in our research, we haven't seen recurring items of concern. Some people weren't aware that the unit didn't ship with a power cord while others didn't know that 18" dishwashers are about an inch shorter than regular dishwashers. The main issue we saw was trouble getting in contact with Danby's customer service. If you're purchasing from a local dealer like us that has their own service team, they can handle any issues in-house.
Features:
6 Programs: Normal, Heavy, ECO, Glass, Rapid, Rinse

4 Options: High Temp Wash, Heated Dry, Sanitize, Delay Start (1-24 Hrs)

8 place settings capacity

Front controls with pocket handle

Stainless steel tub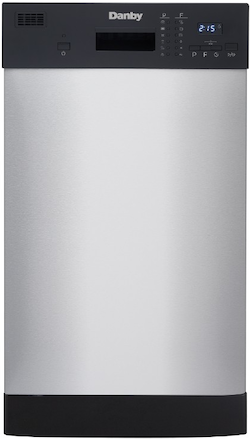 4. Whirlpool WDF518SAHM - 50 dB - $1,049
Available in stainless steel at $1,049 and in white or black at $999, the Whirlpool WDF518SAHM is another ADA-compliant option among the best 18-inch dishwashers! With 50 decibel operation, it's not the quietest dishwasher around, but noticeably quieter than older models and falls below the typical conversation level of 60 dBA.
Convenient features like the adjustable upper rack and Quick Wash program help you make the most out of a smaller dishwasher. The touch screen controls are a nice upgrade from more basic front control dishwashers, too. The Hi Temp Wash option is a great choice for items like baby bottles. Each rack features its own spray arm to ensure a thorough clean. Heated Dry is a feature many people miss from their old dishwashers. It uses more energy but can help dry dishes more quickly.
Some people found that the rack design didn't meet their needs - the tine spacing may be somewhat tighter than what you'd typically find on a 24" dishwasher, and the utensil rack is placed at the center rear of the lower rack which limits space for larger items.
Features:
5 Programs: Heavy, Normal, Quick Wash, Rinse Only, Light/China

3 Options: Delay Start (24 Hours), Heated Dry, Hi Temp Wash

ADA Compliant

8 place settings capacity

Stainless steel tub

Front controls with pocket handle

Adjustable upper rack
Click here to read real customer reviews of this product!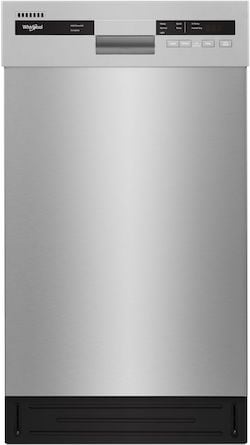 5. Frigidaire FFBD1831US - 52 dB - $899
Last but not least in our reviews of the best 18-inch dishwasher models is the Frigidaire FFBD1831US, a front control model with a pocket handle available at $899 in stainless steel and at $849 in black or in white. While it's not as quiet as the other models in this post, with its 52-decibel operation, it's still quieter than older dishwashers. It's also ADA compliant.
For its price, you get multiple cleaning cycle options you're familiar with, like Heavy Wash, Quick Wash, and Rinse Only. This model is Energy Star rated and has an Energy Saver program. It also features the NSF-certified Sanitize option that eliminates 99.9% of common household bacteria and the heated drying system helps dry your dishes more quickly. For a thorough clean, you can rely on its dual spray arm system. Cycle status indicators let you know when the dishwasher is in delay, wash, dry, and clean mode.
There are many positive customer reviews. One of the complaints people have had with this model are that it doesn't dry well despite the heated drying, and some people also had issues with the model leaking. Although the happy reviews outweigh the unhappy ones, we think the other models on our list are worth a second look.
Features:
6 Programs: Heavy, Normal, Quick, China Crystal, Energy Saver, Rinse Only

4 Options: Sanitize, High Temp, Heat Dry, Delay Start (24 Hours)

8 place settings capacity

ADA compliant

Stainless steel tub

Front controls with pocket handle
Click here to read over 280 real customer reviews of this product!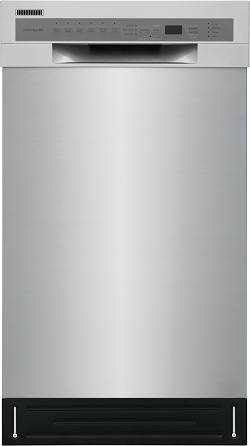 That's it for our list of the top five best 18-inch dishwashers of 2023. Most dishwashers have 8 place settings capacity. Even the cheapest models on our list have Energy Star ratings, durable nylon-coated racks, and stainless steel tubs. If you prefer the smooth look of hidden top controls, check out the Bosch model (#1) and the Electrolux model (#2).
Which of these options is your favorite? Do you value the quiet models or a basic model like the Whirlpool option? Leave us a comment below - We'd love to hear from you!
Editor's Note: This blog was originally written in May of 2018 and has been completely revamped and updated for accuracy as of the publication date noted above.