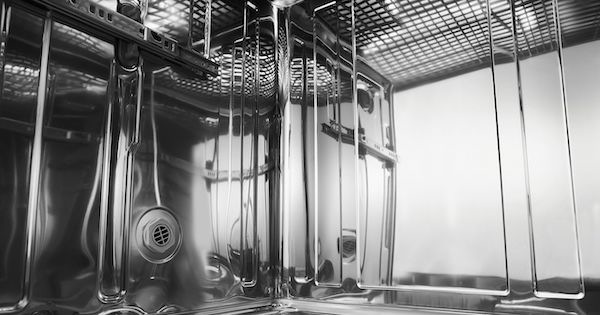 When researching a new dishwasher, you have a lot to consider. Most people want good quality, durability, washing capability and, of course, they want their new dishwasher to be quiet (learn about dishwasher decibel levels in our article, or check out our dishwasher buying guide for more info on buying a new dishwasher).
One of the biggest contributors to how your dishwasher will perform in most of these areas is the materials used in construction, particularly of the interior. Dishwasher interiors and door liners are made of stainless steel or plastic and sometimes a mix of both materials. A stainless steel interior dishwasher is an option you should consider, although they tend to have a higher price. Because plastic is less expensive, it is usually found in lower-end dishwashers. Most manufacturers use plastic to make spray arms, silverware baskets, dishwasher racks, and other interior parts.
Table of Contents
Advantages of Stainless Steel Tubs
The bottom line is that stainless steel interiors are better than plastic. First of all, stainless steel interiors result in a quieter dishwasher cycle because the water splashing against the stainless steel makes less noise than in a plastic tub. This material also resists staining and does not retain odors from things like food debris or hard water. Although both tub materials may collect mineral deposits from hard water over time, a plastic tub can become permanently stained by these deposits, while a stainless steel interior will not. In some cases, it may seem like a stainless steel dishwasher interior collects more stains and deposits than a plastic tub dishwasher, but that's just because the reflective nature of the metal makes stains and deposits more obvious than in a plastic tub.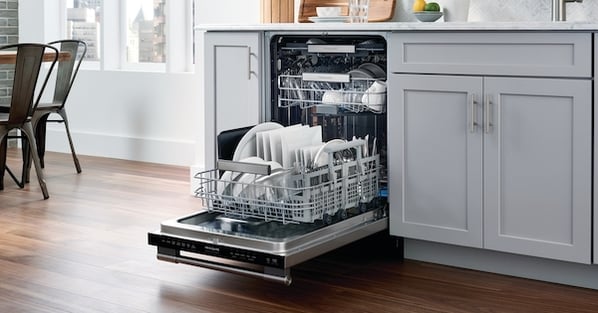 Now that most newer energy-efficient dishwashers use condensation drying, the way that stainless steel tubs handle heat can improve the drying performance of your dishwasher. Condensation drying starts with a high heat final rinse. Then the hot water condenses off of the dishwasher, drawn to the cooler surface of the dishwasher's interior tub. Stainless steel is better at creating this condensation process than plastic because stainless steel can be heated to a higher temperature with less energy, and then cools quickly as well, helping pull moisture to the sides of the tub and off of your dishes. Think about how your plastic cups and containers rarely come out of the dishwasher completely dry - this is because plastic retains heat rather than cooling off quickly like glass and metal. The same principle applies to the tub materials.
Stainless steel can also withstand higher water temperatures than plastic, so if you're looking for a sanitize cycle or other high-heat cycle, you'll most likely find those on a stainless steel interior dishwasher. As it heats up and cools down so easily, the result is a more energy-efficient wash and dry.
For most consumers, the extra cost is well worth it, especially if you plan on living in the home for many years and spend a lot of time in or near the kitchen.
So, as a quick summary, a stainless steel interior dishwasher is...
Quieter

More stain- and odor-resistant

Better at drying dishes

Better for sanitizing dishes thanks to higher heat tolerance

More energy-efficient

More durable
How Much Do You Have to Spend?
You might be wondering how much more a stainless steel tub dishwasher costs compared to plastic. Dishwashers with stainless steel interiors start at $499 before sales (which includes great dishwasher brands like Bosch!), so your budget for a new dishwasher doesn't have to be huge to accommodate this feature!
Check out our reviews of the best dishwashers of the year to discover a range of dishwashers with stainless steel interiors and a lot more!
What Are Hybrid Dishwasher Tubs?
"Hybrid tubs" are usually found on less expensive dishwashers. They have some stainless steel and some plastic parts. We think Bosch's hybrid tub is one of the best designs since the walls and door are stainless steel while the base of the tub is plastic. It's available on their Ascenta/100 series models. No other brand offers a mostly stainless tub at that price! Samsung offers a budget dishwasher with plastic walls and a stainless interior door, but we're not convinced that this is really beneficial. The more stainless steel in the tub, the better!
We hope this article helped you understand the benefits of a stainless steel tub dishwasher! For more information about dishwashers and the entire dishwasher buying process, feel free to download our FREE Dishwasher Buyer's Guide. It is packed with information to help educate you so you can make a great purchase.
Thanks for reading. Please leave us a comment below. We'd love to hear from you!
Editor's Note: This blog was originally written in August of 2017 and has been completely revamped and updated for accuracy as of the publication date noted above.