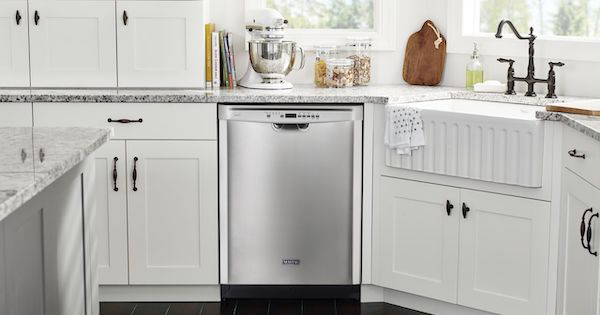 If you've been around the block a few times, you might remember the loneliest man in town, better known as the Maytag Repair Man. For many years starting in 1967, Maytag ran advertisements with this bored and melancholy-looking fellow who had nothing to do because Maytag appliances never broke down. The brand became synonymous with dependability and many consumers have stood by them for all their appliance needs. While most appliances won't last as long as they did 50 years ago, Maytag is still committed to delivering reliable products that will stand the test of time. In fact, they put a 10 year limited parts warranty on certain major components of all of their products to demonstrate that commitment.
While Maytag offers a full line of appliances, this article will be dedicated to Maytag dishwasher reviews. We will look at three different models offered by the brand, one front control and two top control. These dishwashers are all designed and assembled in the USA and Maytag boasts that their models have "the most powerful motor on the market" that can even take care of hard-to-clean food stains like dried egg yolk. All Maytag dishwashers come with a 10-year limited parts warranty on the racks, chopper blade, and stainless steel tub - an industry-leading warranty for sure! Some of Maytag's dishwashers also have an innovative upper rack design that is tiered like stadium seating to make it easier to fit large items like mixing bowls as well as smaller ones like coffee mugs.
Let's dive in, starting with Maytag's most economical model.
1. The Front Control Model - Maytag MDB4949SHZ - $749
First up in our Maytag dishwasher reviews is the Maytag MDB4949SHZ, available in fingerprint-resistant stainless steel at $749 and in black or white at $649. It's Maytag's cheapest dishwasher but it's in the upper-mid-end for pricing and features. Despite boasting "the most powerful motor on the market," it's still relatively quiet at 50 dB - good news for open floor plans! Maytag has made its name on durability, and this Energy Star rated dishwasher comes with a 2X Life tested motor and durable nylon racks, stainless steel chopper blade, and stainless steel tub.
The PowerBlast cycle uses higher temperatures and high-pressure spray jets to blast away stuck-on food, and finishes up with hot steam. The hard food disposer with four blades disintegrates food particles to prevent them from recirculating into the wash water. Heated Dry is a nice option to help ensure thoroughly dry dishes. The Quick Wash is one hour but includes drying time, which not all "quick" cycles do. The "stadium seating" on the upper rack (pictured below) creates a tiered look that allows you to pack in larger items alongside smaller ones.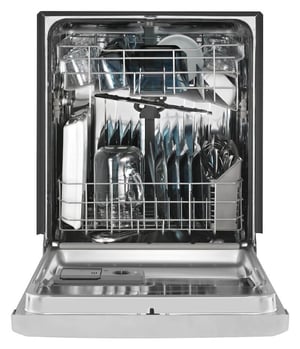 What we're really impressed by, though, is that Maytag made a front control dishwasher that looks high-end! Many front control dishwashers are cheaper models with plastic buttons, but Maytag took it to the next level with tap-touch controls that blend right into the stainless steel body. LED indicator lights let you know when the cycle has just started and there's time to add a dish, as well as when the dishwasher is washing, drying, running the sanitize option, and when the cycle is complete.
Features:
6 Cycles: PowerBlast, Auto Clean, Normal, Light, Quick, Rinse Only

5 Options: High Temp Wash, NSF-Certified Steam Sanitize, Heated Dry, 4 Hour Delay, Control Lock

Front controls with pocket handle maintain a premium feel

Tiered upper rack helps you fit a range of different dish types and sizes

50 dB operation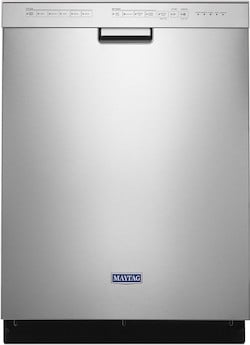 2. The High-End Bar Handle Model - Maytag MDB7979SHZ - $849
For a slight bump up in price, you can get a dishwasher with fully integrated hidden top controls and a stylish towel bar handle that's a little quieter at 47 dB (click here to read more about dishwasher decibel levels). The upper rack of the Maytag MDB7979SHZ is adjustable and comes with stemware holders so you can wash wine glasses and champagne flutes safely.
This model offers two heated dry options depending on how large the load is but doesn't offer a Delay Wash option like the previous model. The upper rack is easy to adjust. Another neat feature for this hidden control model is the indicator light on the front right corner of the dishwasher. It glows blue when washing/rinsing, red when drying, and white when the cycle is complete.
Overall, this model is very similar to the previous model with a few adjustments to the styling and features. Unlike some brands with dozens of dishwasher models, you won't find huge variations between one model and the next. That can be a relief if shopping for a new dishwasher has got you a little overwhelmed!
This dishwasher is also available with a recessed pocket handle, Model MDB7959SHZ, for the same price.
Features:
5 Cycles: PowerBlast, Auto Clean, Normal, Quick, Rinse Only

4 Options: High Temp Wash, NSF-Certified Steam Sanitize, Short Heated Dry, Long Heated Dry

Adjustable upper rack

Hidden top controls

47 dB operation
3. The Premium Pocket Handle Model - Maytag MDB8989SHZ - $899
Last but not least is the Maytag MDB8989SHZ, available in fingerprint resistant stainless steel at $899 or in black or white at $799. It combines a recessed pocket handle with hidden top controls for a premium look that doesn't require you to match any hardware with your other appliances. It operates at 48 dB. Ball-bearing rack glides on the upper rack make it incredibly easy to extend the rack even if it's full of heavy glassware.
This model offers two heated dry options using Power Dry technology for an even faster, more powerful dry even without adding rinse aid. It also features a third-level rack with adjustable tray plus a stainless steel silverware basket with spaces at either end for larger items like spatulas. Unlike the previous models, it does not have the "stadium seating" tiered upper rack. If you're looking for a few more premium features, this model is for you!
Key Features:
5 Cycles: Power Blast, Auto Clean, Normal, Quick, Rinse Only

5 Options: 2-4-8 Hour Delay Start, High Temp Wash, Sanitize, Short Power Dry, Long Power Dry

Stainless steel silverware basket

Third rack for flatware and other items

48 dB operation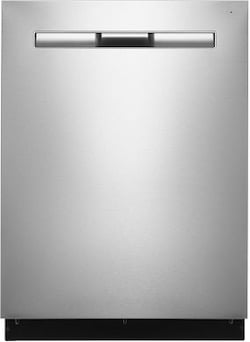 That concludes our Maytag dishwasher reviews. If you're in the market for a new dishwasher, this brand is certainly worth considering if you value dependability, powerful wash cycles, and ease of use without having to regularly clean a filter. Other brands such as KitchenAid and Bosch have dishwashers that are quieter and more versatile, with options such as bottle jets, more wash cycles and options, and fold down tines. There are many dishwasher options to choose from but hopefully this post helped make your decision a little easier!
Please leave us a comment below. We'd love to hear from you!
Editor's Note: This blog was originally written in May of 2018 and has been completely revamped and updated for accuracy as of the publication date noted above.