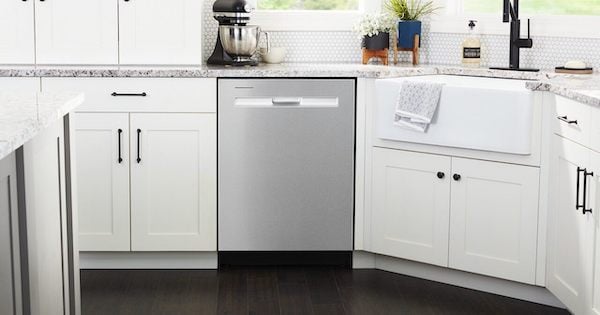 If you've been around the block a few times, you might remember the loneliest man in town, better known as the Maytag Repair Man. For many years starting in 1967, Maytag ran advertisements with this bored and melancholy-looking fellow who had nothing to do because Maytag appliances never broke down. The brand became synonymous with dependability, and many consumers have stood by them for all their appliance needs. While most appliances won't last as long as they did 50 years ago, Maytag is still committed to delivering reliable products that will stand the test of time. In fact, they put a 10-year limited parts warranty on certain major components of all of their products to demonstrate that commitment.
While Maytag offers a full line of appliances, this article will be dedicated to Maytag dishwasher reviews. We will look at three different models offered by the brand, one front control and two top control. These dishwashers are all designed and assembled in the USA, and Maytag boasts that their models have "the most powerful motor on the market" that can even take care of hard-to-clean food stains like dried egg yolk. All Maytag dishwashers come with a 10-year limited parts warranty on the racks, chopper blade, and stainless steel tub - an industry-leading warranty for sure!
Jump To:
Maytag Dishwasher Features
Here are some of the features you'll find in Maytag dishwashers.
Stainless steel tall tubs: Stainless steel dishwasher tubs offer better drying performance and durability as well as noise reduction. The "tall tub" design means you have more vertical space for large items. All Maytag dishwashers have stainless tubs.

Dual Power Filtration: A new feature for 2020, Maytag combines microfiltration with a fine filter with a 4-blade stainless steel chopper to thoroughly remove food particles from the wash water.

PowerBlast Cycle: Maytag's take on a heavy duty cycle designed to tackle the toughest of food stains.

Heated Dry: Most models come with a short or long heated dry option that you can set depending on the load.

Third Level Rack: Select models come with a third rack to boost loading capacity even further. Maytag's premium third rack isn't just for flatware - it has room for mugs, 6" glasses, and bowls!
1. The Front Control Model - Maytag MDB4949SKZ - $749
First up in our Maytag dishwasher reviews is the Maytag MDB4949SKZ, available in fingerprint-resistant stainless steel at $749 and in black or white at $649. This relatively quiet 50-decibel model is Maytag's cheapest dishwasher, but it's in the upper-mid-end for pricing and features. It's also Energy Star rated and has nylon racks and a stainless steel tub.
Both the new Dual Power Filtration and Leak Detection features come in this model. Maytag's Dual Power Filtration utilizes a microfilter with a 4-blade stainless steel chopper to filter out tiny particles of food and disintegrate larger pieces. With this industry-exclusive dishwasher filtration system, you don't have to worry about scrubbing, soaking, or pre-rinsing! This dishwasher also features the new Leak Detect system that detects excess water buildup, drains the tub, and alerts you if needed, eventually helping prevent leaks on your floor.
The PowerBlast cycle uses higher temperatures and high-pressure spray jets to blast away stuck-on food, and finishes up with hot steam. The hard food disposer with four blades disintegrates food particles to prevent them from recirculating into the wash water. Heated Dry is a nice option to help ensure thoroughly dry dishes. The Quick Wash is one hour but includes drying time, which not all "quick" cycles do.
What we're really impressed by, though, is that Maytag made a front control dishwasher look high-end! Many front control dishwashers are cheaper models with plastic buttons, but Maytag took it to the next level with tap-touch controls that blend right into the stainless steel body. The controls are styled differently than a typical front control model as they do not take much space and are all grouped in the middle. Unlike with most top control dishwashers, you can easily check the cycle time remaining.
Features:
5 Cycles: PowerBlast, Auto, Normal, Quick, Rinse Only

6 Options: High Temp, Sani Rinse®, Short Heated Dry, Long Heated Dry, 4 Hour Delay, Control Lock

Dual Power Filtration and Leak Detection

Front touch controls maintain a premium feel

50 dB operation
2. The Next Level Model - Maytag MDB7959SKZ - $799
For a slight bump up in price, you can get a dishwasher with fully integrated hidden top controls and a pocket handle that operates at 50 dB (click here to read more about dishwasher decibel levels). This new for 2020 Maytag MDB7959SKZ also includes the Dual Power Filtration and Leak Detection.
The upper rack comes with stemware holders so you can wash wine glasses and champagne flutes safely and offers increased height. You can fit big dishes on the top rack, not just the bottom. This model offers two heated dry options depending on how large the load is as well as a Delay Wash option. Extra upper rack height provides room for pots and pans in both racks.
Overall, this model is very similar to the previous model with a few adjustments to the styling and features. Unlike some brands with dozens of dishwasher models, you won't find huge variations between one Maytag model and the next. That can be a relief if shopping for a new dishwasher has got you a little overwhelmed!
Although Maytag's brand badges are easily removable with some dental floss, this new model does not have a visible brand badge on the front, so it blends into your kitchen.
Features:
5 Cycles: PowerBlast, Auto, Normal, Quick, Rinse Only

5 Options: High Temp, Steam, Short Heated Dry, Long Heated Dry, Delay

Upper rack has extra height for larger dishes

Hidden top controls and pocket handle

50 dB operation

Dual Power Filtration and Leak Detection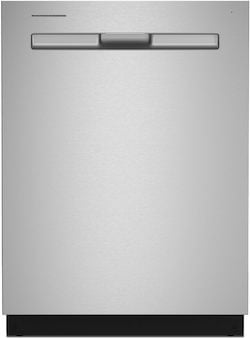 3. The Quieter Third Rack Model - Maytag MDB8959SKZ - $899
Last but not least is the Maytag MDB8959SKZ, available in fingerprint resistant stainless steel at $899 or in black or white at $799. It combines a recessed pocket handle with hidden top controls for a premium look that doesn't require you to match any hardware with your other appliances. It operates at 47 dB.
This model offers two heated dry options using Power Dry technology for an even faster, more powerful dry even without adding rinse aid. The middle rack has ball bearing glides, so it slides smoothly in and out. It also features a third-level rack with a specialized wash zone (pictured below). This rack has room for mugs and bowls, whereas most third racks only have room for flatware (and it's removable if you need extra space in the second rack).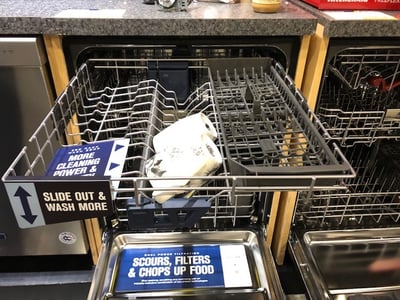 If you're looking for a few more premium features and quieter operation, this model is for you!
Key Features:
5 Cycles: PowerBlast, Auto, Normal, Quick, Rinse Only

5 Options: High Temp, Sani Rinse, Short Heated Dry, Long Heated Dry, Delay
Third rack for cups, bowls, and more

Ttt47 dB operation

Hidden top controls and pocket handle

Dual Power Filtration and Leak Detection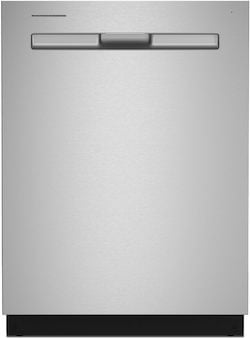 That concludes our Maytag dishwasher reviews. If you're in the market for a new dishwasher, this brand is certainly worth considering if you value dependability, powerful wash cycles, and ease of use without having to regularly clean a filter.
Other brands such as KitchenAid and Bosch have dishwashers that are quieter and more versatile, with options such as bottle jets, more wash cycles and options, and fold down tines. There are many dishwasher options to choose from, but hopefully, this post helped make your decision a little easier!
Please leave us a comment below. We'd love to hear from you!
Editor's Note: This blog was originally written in May of 2018 and has been completely revamped and updated for accuracy as of the publication date noted above.