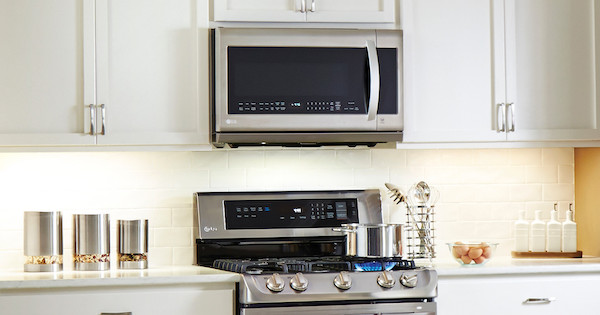 One of the most convenient kitchen appliances found in almost every home is the popular over the range microwave oven, more commonly known as an OTR microwave oven. The OTR microwave has taken the place of the countertop microwave and hood assembly, saving space by combining both products into one handy package. Power capacities can vary from 850 watts for reheating or up to 1,200 watts for cooking full meals.
Most of these models are manufactured with a recirculating or outdoor vented multiple speed fan assembly and have built-in lighting to illuminate the cooking surface below. The built-in exhaust fans will vary from a quiet 170 CFM (Cubic Feet per Minute) to a power-boosting 400 CFM fan velocity to pull odors, steam, smoke, oil mists and heat through the grease and/or charcoal filters. Many models have heat sensors built into the body that will automatically turn on the exhaust fan to cool the components and get rid of excessive heat if it recognizes an overheated interior cavity or too much heat from the cooking surface. For more info on microwave features, check out our microwave buying guide!
Let's take a look at the top five models available on the market today and try to identify the best over the range microwave for you. Prices range from $279 to $699, and all models are at least 1,000 watts.