Benefits of Buying Appliance Packages
---
If your appliances are starting to get dated and break down, you may start to consider purchasing new products to replace them. Or maybe you just want to update your kitchen or begin a remodeling project. Of course, you can mix and match appliances from different brands or replace each one as it breaks, but there are a few drawbacks to this approach.
If you buy appliances from different brands, the aesthetics may not match. The handles are likely to be noticeably different, and there may also be differences in color even if you chose the same color option for each appliance. For example, stainless steel often varies in sheen and can come in a brushed look depending on which brand you choose. Black stainless steel finishes are even more noticeably different from company to company. If you decide that you will slowly transition over to a specific brand with the same finish, you may find that the company alters the look a bit from year to year. So by buying an appliance package from the same brand, you can ensure that the appearance matches up from product to product, both in color and design. Especially when it comes to the kitchen, where most home appliances are kept, perfectly matched appliances can really elevate the look of your home!
One of the most enticing things about purchasing an appliance package is the price savings available. Most dealers will give you a better price if you purchase multiple appliances at the same time and this is regardless of whether they come from the same brand. However, the real savings come from when you purchase from the same company. While it varies from company to company, most typically offer package rebates - more on that below.
Appliances Commonly Found in Packages
---
Kitchen layouts vary depending on space restrictions and the desires of the consumer. A typical appliance package that consumers go for includes a freestanding range, refrigerator, over-the-range microwave, and dishwasher. Wall ovens, cooktops, and range hoods are other common choices available as well.
Refrigerators: There are several types of refrigerators on the market. Traditional top freezer, bottom freezer, side-by-sides and French door refrigerators are the most common freestanding styles you will find. There are also a few four-door models on the market as well. Features vary from brand to brand, but there's been some interesting technological innovations in recent years. GE now has a K-Cup maker in some models and Samsung has a built-in tablet (the "Family Hub") on some of theirs. Space restrictions often limit which type or brand you can choose from. For example, if you have a space opening of only 28" wide, it will be hard to find any refrigerator suited for that opening besides a top freezer model.
Ranges: The two main types of stoves available are free-standing models, which have a rear control panel, and front control slide-in ranges, which do not have a backboard. Slide-in models typically cost significantly more than their traditional rear-control counterparts but can be more desirable for consumers who have a nice backsplash behind the range or wish to put their range in an island. Ranges are also either available in gas, electric, or dual-fuel - you'll want to consider your fuel type when comparing appliance packages. Dual-fuel ranges have a gas cooktop and electric oven. Some brands are also coming out with induction cooktops on their ranges, which require magnetic pans but are far more efficient than a regular smooth top electric range. The most common size for a range is 30", but 36" models are also available from many manufacturers.
Dishwashers: With all that cooking you'll be doing with your new appliances, dirty dishes could build up pretty quickly! The standard dishwasher is 24" wide and they are usually available with or without a handle. They also may have front or top controls and have varying internal features.
Microwaves: An over-the-range microwave can serve as both a range hood and microwave. If you want to use it as extra oven space, you can opt for a convection microwave. Many brands have built-in and countertop microwaves available as well.
Wall Ovens: Often in lieu of a freestanding stove, consumers will opt for a single or double wall oven and cooktop. Double wall ovens allow you extra versatility and space for cooking multiple dishes at the same time. Wall ovens are generally electric but there are some gas options available as well. The most common widths are 24", 27", and 30".
Cooktops: The most common sizes for cooktops are 30" or 36" and they are offered in either electric or gas options. Several brands also have induction options.
Range Hoods: For consumers who don't want an over-the-range microwave over their range or cooktop, a range hood might be a suitable option. They come in both 30" and 36" widths. While not all brands make hoods, there are several options available and this is one appliance that consumers often purchase from a different brand than the rest of their appliances. Hoods generally don't have any distinctive brand features or badges, so they can usually fit in seamlessly with any other brand of appliances as long as they are the same color.

Laundry: While they aren't kitchen appliances, there are several laundry options offered by various manufacturers. These include both front load and top load washer options and gas and electric dryers. Consumers doing a complete house remodel or building a new home will often buy new laundry products in one big package with their new kitchen appliances.
When to Buy Appliance Packages
---
In the appliance industry, there are several promotional periods throughout the year that give you an opportunity to get great deals on a package. These national sales events typically correspond to holidays and the weeks surrounding them. Below is a list of major national retail holiday promotional periods when you'll want to try to buy your appliances:
President's Day

Memorial Day

Fourth of July

Labor Day

Columbus Day

Black Friday

Christmas / New Year's
Here is a sample of a recent Black Friday promotion to give you an idea of the package savings opportunities available during some of these holiday. Click here for current rebate offers from KitchenAid and other brands and see our website for current promotions.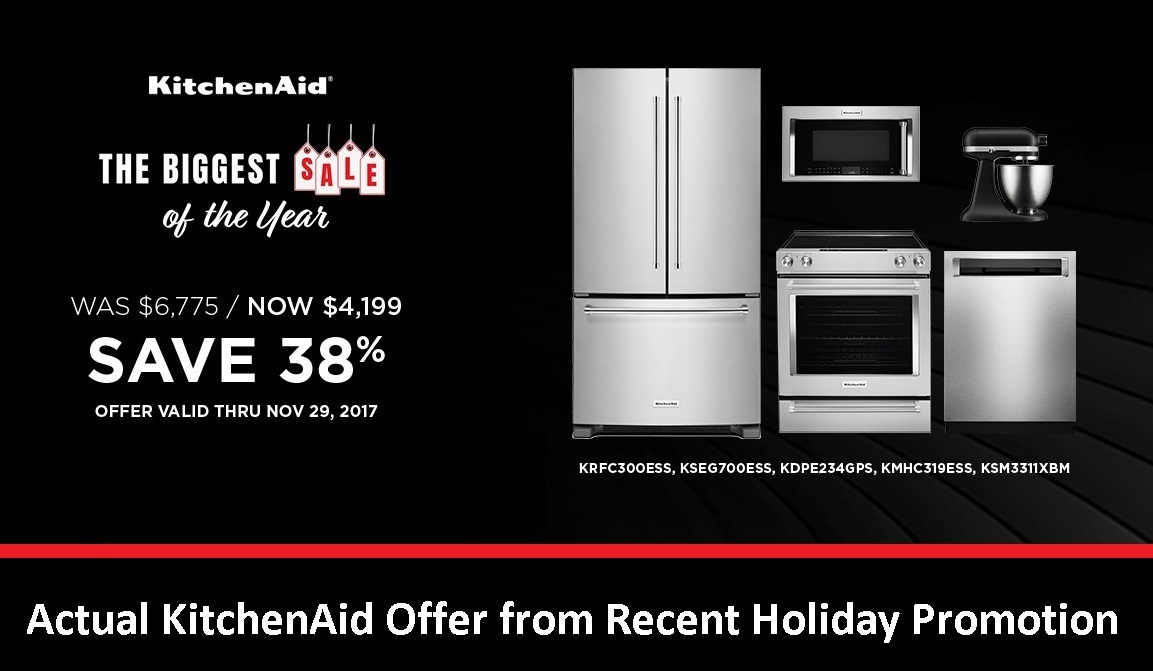 Most appliance manufacturers will lower their prices during these periods in addition to adding better rebates than are typically offered during other non-promotional periods. Keep an eye out for flyers and emails from your favorite appliance companies around promotion times as these events are usually promoted with some of the best deals available.
There are many types of rebates available, although they vary depending on manufacturer and which promotion they decide to run.
Manufacturer rebates are offered directly through the brands that make the appliances and submitted online or mailed in. Sometimes they will be on individual products but most commonly are offered for purchasing multiple qualifying appliances from the same brand. For example, a company might offer you a $400 rebate for purchasing a four-piece kitchen set. Some common types of rebates offered include:
Buy 3 get 1 (or something similar): One common promotion manufacturers offer is that if you buy a certain number of appliances from a line of products, you'll get one free. An example of this would be if you were to buy a refrigerator, range, and microwave, you'd get the dishwasher free. Again, this varies brand to brand but there can be some pretty significant savings with these types of offers.
Percentage off total purchase: Some manufacturers will offer you a percentage back of your pre-tax purchase if you buy a few qualifying appliances. For example, if you buy three or more appliances from a brand, you could get 10% back via rebate.

Rebates based on how many products purchased:

Some rebates are graduated based on how many products you purchase. For example, if you bought three qualifying appliances, you might get $200 back, four could get you $400, five could get you $600, etc.
Click here for current rebate offers from all major appliances manufacturers. We keep a comprehensive list of all rebate offers updated daily.
Extended Warranties on Appliance Packages
---
It varies a bit depending on manufacturer, but the industry standard for warranties on appliances is one year with parts and labor covered. Some products might have a 10 year warranty on a specific part, like a refrigerator compressor for example. We actually have a refrigerator from the 1940s in our showroom that still runs! Unfortunately, not even a miracle would allow present-day models to last for that long. The average appliance lasts about 6 to 10 years and they need far more service than they did in the old days. A service call can get quite expensive and if you're purchasing several appliances at once, there's a pretty good chance at least one of them will have an issue in the first few years of use.
Of course it would be great if you have no issues at all, but extended warranties are often a worthwhile investment. You can typically buy warranties on individual products, but most dealers offer package warranties which are a better value overall and cover multiple appliances. Prices vary depending on the prices of the appliances and the dealer but you can often get something like five additional years of coverage for parts and labor on three appliances for around $400.
How To Choose Your Appliances
---
Once you decide that you want new appliances, you're faced with the task of deciding which ones to buy! This part can be a bit daunting as there are many factors to consider when purchasing an appliance package. Several important ones include the following:
Household Size: How many people are in your household? If you have just a couple of people living in the house, a smaller 18 cubic foot refrigerator might be all you need. However, if there are a bunch of people in your household, that wouldn't come close to the space required to store all of the groceries needed. This factor should also be considered when figuring out how much cooking space you need. If you cook multiple dishes regularly for a large family, that may be a good reason to consider wall ovens or a double oven range. Some dishwashers are also more spacious, with features like third racks for added room. The capacity of your new washer and dryer is another thing to consider as they vary widely.
Features: Which features are important to you? It would take many paragraphs to list all the features available on today's appliances but determining which ones are most important to you can help narrow down the brand and models you are looking at. For a refrigerator, do you want water in the door? Do you like having the freezer on the bottom or the top? Do you need a convection range? Gas or electric? Smartphone connectivity? Researching the different features available may help you discover preferences you weren't aware that you had and will help ensure that you are satisfied with your purchase decision. Speaking with an experienced, knowledgeable appliance salesperson and asking them to give you a hands-on look at the different features will also help!
Space Available: You may really like that counter-depth 36" french door refrigerator but if you only have 30" available then, unfortunately you're out of luck without doing a kitchen remodel. Most brands don't have every style and size of refrigerators, so that can help narrow down which manufacturers to look at based on the space you're working with. The refrigerator is a good starting point because there are a large variety of sizes available, whereas other appliances like dishwashers, microwaves, and ranges are pretty standard.
Price: For most consumers, price is a major factor when purchasing new appliances. Unsurprisingly, appliances with higher end features and sleeker styling tend to be pricier. Especially when buying packages, getting price quotes on a couple of different options can help you discover which brand will give you the best bang for your buck.
Aesthetic: The appearance of the appliances and how they will look in your home is of course something you will take into consideration. Can you visualize stainless steel in your home? How about black stainless? Some lines of products have a more industrial, restaurant-inspired appearance while others possess a softer and rounded look to their handles and edges.
Read Reviews: Reading reviews can be incredibly helpful when trying to discover which appliances to buy. Resources such as Consumer Reports provide straightforward metrics on which to compare different models. Doing a search for the model you're looking at will likely yield several reviews. That being said, customers who have a negative experience with a product may be more outspoken than those who are content with their purchase, so there is sometimes a negative bias indicated by reviews. Appliances aren't made like they used to be, so while it's not probable that you'll have an issue within the first couple years of ownership, it is certainly possible.
Read Blogs: Another great resource for researching appliances is blogs. There are countless posts about everything from measuring tips to product comparisons, all available online. Reading blogs is a great way to increase your knowledge and figure out what features you want out of your appliances.
Visit Stores: Unlike many retail products which are easy to purchase online, it's difficult to get a true feel for an appliance without seeing it, or something similar, in person. Visiting a store allows you to see and feel your options and explore different configurations. If you go to the right store, you'll also have the benefit of talking to an experienced salesperson who can help answer any questions, make quotes, and discover options that you might not have considered. When deciding where to buy from, ask a few questions. Does the store have their own service department or do they outsource the work? Will they take care of installations or do you have to figure that out yourself? It might also be helpful to look up the store's reviews online to gauge how well they service their customers.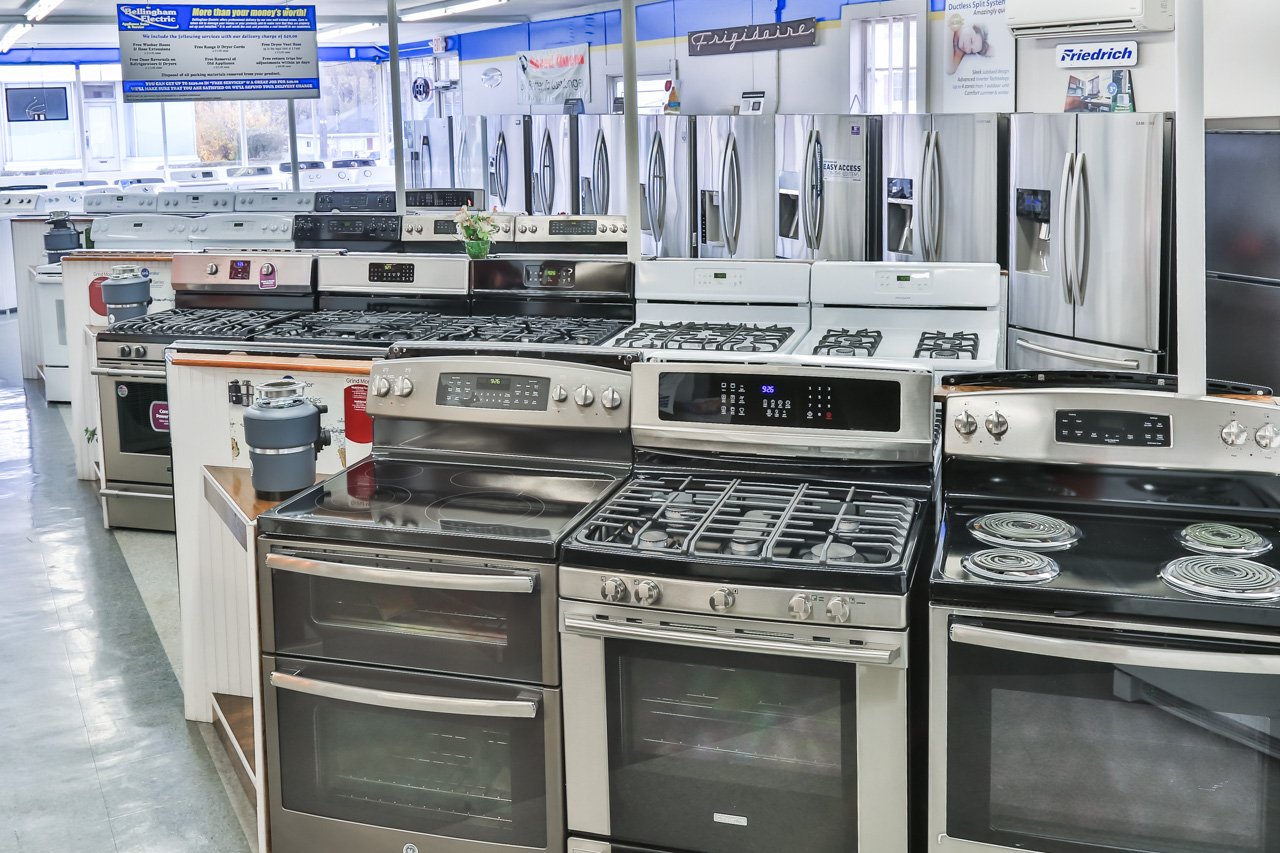 Measurements: Make sure to take accurate measurements of your spaces! If you build a package around a large refrigerator and find out you don't have the space, you could be back to the drawing board. Checking this at the beginning of the process could save you hours of effort later.
While this post is mainly about picking an appliance package for your kitchen, we also want to touch base on laundry products. If you're moving into a new home, you may have to get a washer and dryer in addition to the kitchen suite. Many dealers will give you a better price on the laundry if you purchase a pair and there may be rebates available as well. There are several brands and features to choose from. The two main types of washers are front load and top load, and there are variations on dryer designs as well.
Front Load Washers: These washers have a door on the front, just as the dryers do. They can be stacked if you're looking to save floor space or be placed side by side. They typically offer optional pedestals to raise the units off the floor a bit, a desirable feature especially for those with back issues. Front load washers are the most water-efficient style.
Top Load Washers: These washers have a lid on top to load the laundry. They come with either an agitator or impeller. The impeller models are typically larger capacity and more water-efficient than the agitator models but don't get dirt out quite as efficiently.
Dryers: You'll want to choose a dryer that matches your washer. Traditional dryers have a rear control panel and pair with top load washers. Front load dryers have the controls in the front and pair perfectly with front load washers. They can also be placed on pedestals and stacked on top of a front load washer (of the same brand) if desired. Don't forget to choose the appropriate fuel type (gas or electric) and let your salesperson know a propane conversion is needed if you have propane gas.
Coordinating Your Purchase & Delivery
---
If you read this far, you know that buying appliances during promotions is definitely your best bet for killer savings. But what if you want to take advantage of those sales but aren't ready for the appliances yet? It may be the case that you're just looking to update your current kitchen appliances, but if you're moving into a new home or doing a full remodel, it often may take weeks or months after your purchase to be ready to get them installed.
If that's the case for you, it's important to ask your dealer whether or not they will hold your appliances for you after purchase. Some may want you to take them right away, giving you the burden of finding storage and risking damage during transport. However, many dealers are happy to hold them for a few months as a courtesy to their customers. That way you can still get those Black Friday savings and not have to worry about dealing with delivery and installation during the holiday season!
After reading this article, you now know the common types of appliances found in kitchen packages, when the best times to buy are, extended warranty info, and a few other helpful tips on choosing products. We hope that this has given you some food for thought and helped you along your appliance journey. If you have any questions please let us know. We're here to help!