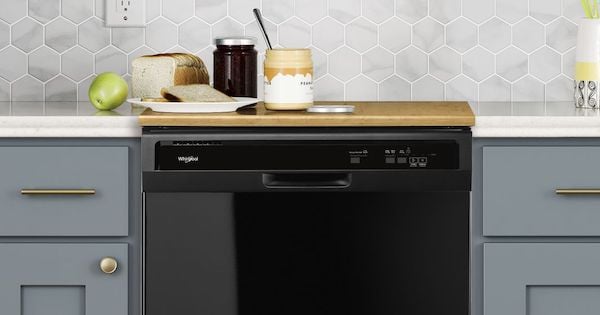 If you live in a condo or apartment that doesn't have a dishwasher, or need a dishwasher for an office kitchen, a portable dishwasher might be the best option. Portable dishwashers offer similar cycle features and interior designs to built-in dishwashers, but can be moved around on wheels and hook up to your kitchen faucet and drain into the sink. In an older home or other areas with limited cabinet space, a portable dishwasher can provide the cleaning power of a built-in dishwasher without the hassle of installing it into the cabinetry and installing the necessary plumbing.
Keep in mind that portable dishwashers generally use more water and tend to be noisier than built-in models. Portable dishwashers on wheels can be used as extra counter space when not in use, or rolled away into a corner. Countertop models can also be stored between uses, but they can weigh around 50 pounds, so this may not be an easy task. Consider an Energy Star rated model to reduce water and electricity consumption.
In this article, we review the best portable dishwashers for 2023 to help you choose the option best suited to your needs! (For more info on choosing a new dishwasher, check out our dishwasher buying guide!)
NOTE: As of January 2023, our recommendations remain unchanged since the last time this post was updated in January 2022.
Table of Contents
3 Quick Tips for Choosing a Portable Dishwasher
Countertop models vs models on wheels. We review two models on wheels and one countertop model in these portable dishwasher reviews. Countertop models can work well for RVs and other locations where space is limited and most dishes can be washed by hand. You can read more about the types of portable dishwashers in our article on portable dishwasher options!

Consider the dimensions. Dishwashers on wheels are available in 24" and 18" widths. An 18" model will fit in a narrower space but will have a smaller capacity compared to a 24" model. When it comes to countertop models, consider where you want to place this model and measure the space you have for it. They can weigh up to 50 pounds, so it may be easier to leave it in one spot rather than storing it away between uses!

Decibel levels and other factors. Dishwasher decibel levels - the noise during operation - is typically higher with portable models because there is less room for insulation and the sound is not muffled by surrounding counters like a built-in model. Consider how noisy the model will be and whether it has options like a stainless steel tub to improve drying times or the cycles you're looking for.
Have 6 minutes? Learn more about buying a new dishwasher with our video!
1. Whirlpool WDP370PAHB - 24" - $999
The Whirlpool WDP370PAHB 24-inch portable dishwasher is available in black or white at $999. With a heavy-duty design and Whirlpool's industry lead in the fewest repairs 20 years in a row, this American-made dishwasher is a great choice.
The cycles are pretty simple: choose the one-hour wash for quick results, Heavy for a tough clean, or Normal for everything else. Options include 4-Hour Delay, Control Lock, Heated Dry, and Hi Temp Wash.
This dishwasher contains a basic two-rack system with a full-length silverware basket, vinyl rack material, and plastic tub. If you want a model that will be half as noisy and comes with a durable stainless steel tub, check out the GE option (#2) on our list! If you're looking for an economical and basic dishwasher model, this option from Whirlpool may be the best portable dishwasher for you.
Features:
3 Cycles: Heavy, Normal, 1-Hour Wash

4 Options: 4-Hour Delay, Control Lock, Heated Dry, Hi Temp Wash

64 dBA operation

Holds up to 12 place settings

Vinyl racks with full-length silverware basket

Plastic tub
Dimensions:
Width: 24.1"

Height: 37"

Depth: 26.5"
Click here to read over 180 real customer reviews of this product!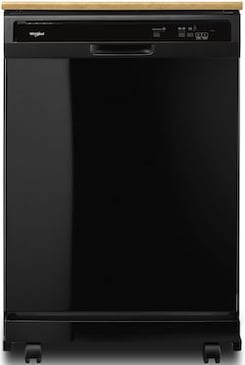 2. GE GPT145SSLSS - 18" - $948
Next up in our best portable dishwashers review is the GE GPT145SSLSS, available in stainless steel only at around $948. Unlike the first model from Whirlpool, this option features a stainless steel interior, operates at under 60 decibels, and is Energy Star rated. It has a narrower 18" wide design to fit in cramped spaces.
This model got top marks from Reviewed in 2019 because of its stellar cleaning and drying performance - comparable to full-size built-in dishwashers! It operates at just 52 decibels (making it over 50% quieter than the Whirlpool model - a 10-decibel decrease scales to a 50% decrease in noise level). There's also a 24-inch, full size portable version that also retails for $948, the GE GPT225SSLSS, that has received good marks from Reviewed.
The upper rack is adjustable, and you can move the silverware basket around in the lower rack. The basket "topper" is removable if your utensils are particularly bulky and won't fit in the holes. The cycles and options are very basic, so if you like fine-tuned control over the wash cycle, then this dishwasher may not be for you. Drying dishes is something that many dishwashers struggle with, so it's nice to see a portable dishwasher with high performance in this area. Overall, this model is a great choice if you want a portable dishwasher that will perform just as well as a built-in without taking up too much space!
Features:
3 Cycles: Light, AutoSense, Heavy

2 Options: Sanitize, Temperature Boost

52 dBA operation

Adjustable upper rack

Stainless steel tub

Removable manual clean filter

Energy Star rated

8 place settings capacity
Dimensions:
Width: 18"

Height: 36"

Depth: 25.37"
Click here to read over 135 real customer reviews of this product!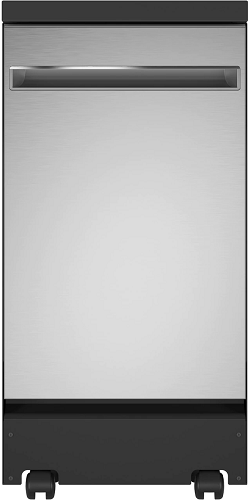 3. Danby DDW631SDB - Countertop - $469
Last but not least in our review of the best portable dishwashers is the Danby DDW631SDB, a countertop dishwasher with capacity for six place settings. This dishwasher features a handy LED control panel that shows the cycle time remaining, and at 54 decibels, it's relatively quiet among portable dishwashers. The stainless steel interior tub means improved drying performance compared to plastic tubs.
The quick connect feature is compatible with most kitchen faucets, so setup is a cinch. There are a variety of wash cycles and options. Danby has improved the spray arm and filter for this countertop dishwasher to help dishes get even cleaner. It's Energy Star rated, using just 3.1 gallons of water per wash - which is still proportionally more than a full-sized Energy Star rated dishwasher that would typically use 4 gallons, so don't buy a smaller dishwasher with the intention of saving water in this case! It comes with a one-year warranty.
Features:
8 Cycles: Heavy, Normal, Baby Care, Eco, Glass, Speed, Rinse, Mini-Party

5 Options: Delay Start (2-4-6-8 Hours), Control Lock, Extra Cleaning, Extra Drying, Express

54 dBA operation

Holds up to 6 place settings

Stainless steel interior

Electronic controls with LED display and time remaining

Energy Star rated
Dimensions:
Width: 21.65"

Height: 17.24"

Depth: 19.7"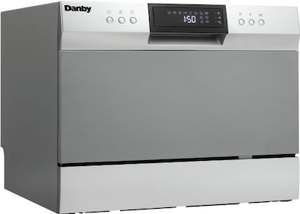 Portable dishwashers tend to be noisier and offer fewer options than built-in dishwashers, and they even tend to have lower cleaning performance. However, there are still some great options out there for your needs. We had our fingers crossed for GE's lineup of 18" and 24" portable dishwashers when they were released in late 2019. We've found that overall reviews tend to be positive. They offer great value for the price and are a worthwhile upgrade from the more basic models like the Whirlpool option if you can afford them.
Which of these options is your favorite? Leave us a comment below - We'd love to hear from you!
Editor's Note: This blog was originally written in January of 2019 and has been completely revamped and updated for accuracy as of the publication date noted above.