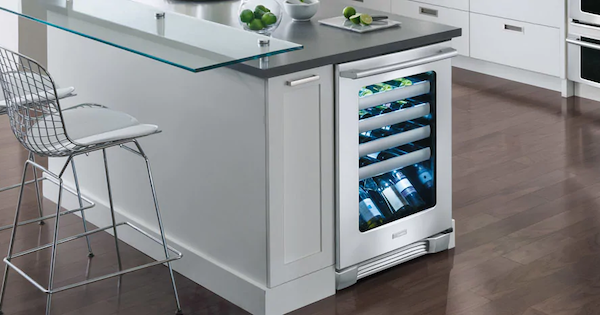 Are you a wine lover looking for an ideal place to store your precious vino? We've compiled a list of wine refrigerator reviews designed to help a wine enthusiast on any budget choose an ideal model of wine refrigerator for their home. Wine refrigerators vary in size, installation options, temperature range settings, number of compartments and, of course, aesthetic appeal. In-depth wine refrigerator reviews can be tough to come by, but we've selected four models at differing price points and with differing feature packages to help you choose the ideal model.
If this is your first time buying a wine center, here are a few things to consider when researching different models:
Temperature Zones: Dual zone models allow you to set two different temperatures for two different sections of the wine cooler. This lets you choose the ideal serving temperature for different types of wines. If your only concern is keeping your wines at the ideal long term storage temperature of around 45 to 55 degrees, then you can probably go for a single zone model. Dual zone models are usually more expensive.

Built In vs Freestanding: If you want the built-in look, you'll generally have to pay upwards of $1,200. Built-in refrigerators are "front breathing" so they don't require ventilation space on the sides or rear. If you try to install a freestanding model into a built-in space, you'll need a replacement pretty quickly! Frigidaire is a leader in offering built-ins for less if you want the best of both worlds.

Temperature Controls: All but one of the models in our wine refrigerator review have digital temperature controls rather than dials. This feature is not hard to come by but can be easy to overlook if you're new to the wine cooler game! We prefer the digital controls over dials since they are more exact and offer precise adjustments for different types of wine.

Interior Features: Options like showcase lighting, wooden wine racks, and other features can be more costly, but can be worth it. Make sure to try pulling the shelves in and out when you're looking at different models in-store, preferably loaded with a full wine bottle or two. Shelves that glide nicely are a nice basic feature to look for that will make using your wine cooler more enjoyable!
Now that you know about what to consider when buying a wine refrigerator, let's take a closer look at models from Danby, GE, Frigidaire, and Electrolux.