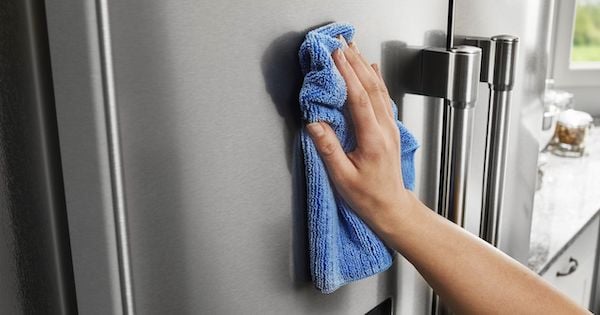 If you are afraid to buy stainless steel appliances because you think that they are difficult to clean, think again. Several major brands have introduced smudge-proof stainless steel appliances. In general, manufacturers may increase the brushing on the stainless steel and add a coating to the surface to make it easy to clean and better at hiding fingerprints and smudges in the first place.
Frigidaire has been selling smudge-proof stainless steel appliances for several years and their appliances are really easier to clean and more resistant to fingerprints and smudges. Frigidaire puts a coating on the stainless steel which makes the surface easy to clean. The finish has proven to be durable and effective. They offer the Smudge-Proof finish in their Frigidaire Gallery and Frigidaire Professional lines of kitchen appliances in all product categories. Imagine just having to clean your stainless steel with a damp cloth instead of using expensive stainless steel cleaners!
Don't limit yourself to buying white or black appliances just because of the cleaning issues that you hear about from other people. Many people use the wrong cleaners on stainless steel which can make the task of keeping them shiny even more difficult. If you already have stainless steel appliances in your home, using the right cleaners can make the job much easier and you will like your stainless steel appliances much better. One of the best cleaning products for stainless steel appliances is a product called Twinkle, a water-based foaming cleaner. Your local appliance store will have the proper cleaning products.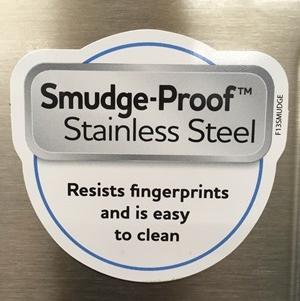 Another major player in the industry now making smudge proof stainless steel appliances, Maytag, has introduced a Fingerprint Resistant Stainless Steel line of kitchen appliances. Their finish resists oils from the skin and fingerprints making cleaning very easy. Mild soapy water should do a nice job of cleaning up messes, eliminating the need for special cleaners. This line has taken off and is selling very well in appliance stores. Consumers love this type of stainless steel because it is proven to save both time and money.
Other manufacturers that offer fingerprint resistant stainless steel include:
Whirlpool

Bosch

LG (with their PrintProof finish)

KitchenAid (with PrintShield)

Samsung
So far, some manufacturers offer stainless steel that is smudge-proof by default, while others offer models in both the original stainless steel and a smudge-proof version. However, more manufacturers seem to have caught on to the fact that fingerprint resistant is a great selling point!
Don't hesitate to consider stainless steel for your next appliance purchase. Whether you buy the Smudge Proof stainless steel from Frigidaire or the new Fingerprint Resistant Stainless Steel from Maytag or Whirlpool, you will love the ease of cleaning your appliances. Bring on the mess makers and you will clean up in a jiffy.
If you have a preference for other brands of appliances that don't offer these easy clean surfaces, using the right cleaners will make the cleaning job easy. Be sure to ask your salesperson what they recommend for cleaning your stainless steel appliances.
Other color options that are also fingerprint resistant have recently entered the market, including black stainless steel and GE's slate appliances.
Thank you for reading this overview of smudge proof stainless steel appliances. We hope that it was informative and helpful. Feel free to leave a comment below, we value your input!
Editor's Note: This blog was originally written in June of 2017 and has been completely revamped and updated for accuracy as of the publication date noted above.