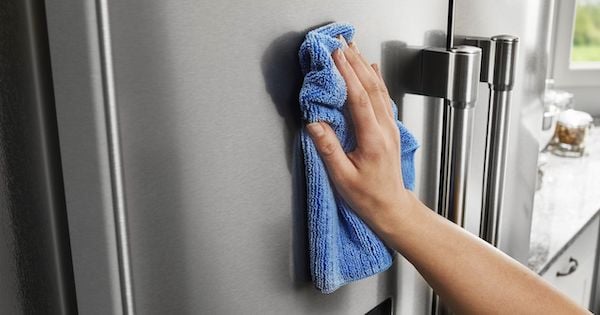 If you are afraid to buy stainless steel appliances because you think that they are difficult to clean, think again. Several major brands have introduced smudge-proof stainless steel appliances. In general, manufacturers may increase the brushing on the stainless steel and add a coating to the surface to make it easy to clean and better at hiding fingerprints and smudges in the first place.
Table of Contents
Pros & Cons: Fingerprint Resistant vs Stainless Steel
The advantages of fingerprint resistant stainless include...
Easier to clean (obviously) than regular stainless

May not need to be cleaned as often as regular stainless

No special cleaning products are required
The disadvantages include...
Care needs to be taken when cleaning to avoid stripping off the protective coating

The brushing effect means it may not be a perfect match to regular stainless steel

It can be slightly more expensive than regular stainless if a manufacturer offers both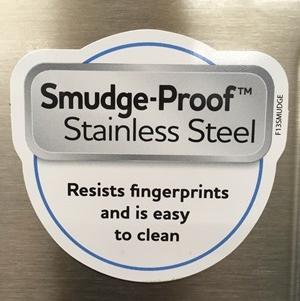 Who Makes Fingerprint Resistant Stainless
Frigidaire has been selling smudge-proof stainless steel appliances for several years and their appliances are really easier to clean and more resistant to fingerprints and smudges. Other manufacturers have followed their lead! The finish has proven to be durable and effective. Frigidaire offers the Smudge-Proof finish in their Frigidaire Gallery and Frigidaire Professional lines of kitchen appliances in all product categories.
Other manufacturers that offer fingerprint resistant stainless steel include:
Whirlpool

Maytag

Bosch

LG (with their PrintProof finish)

KitchenAid (with PrintShield)

Samsung

GE Appliances
So far, some manufacturers offer stainless steel that is smudge-proof by default, while others offer models in both the original stainless steel and a smudge-proof version for a small price difference. However, more manufacturers seem to have caught on to the fact that fingerprint resistant is a great selling point!
How to Clean Both Types of Finishes
Don't limit yourself to buying white or black appliances just because of the cleaning issues that you hear about from other people. Admittedly, getting a perfectly polished finish on stainless steel can be difficult. Using the wrong cleaners can make the process even harder!
AVOID USING THESE ON ANY METAL APPLIANCE FINISH:
Harsh abrasives like steel wool, scrub pads, etc (even paper towels can cause scratches!)

Bleach

Ammonia

Cleaners with chlorine

Muriatic acid

Glass cleaner - check your owner's manual first
Your owner's manual can be a valuable resource! For example, although glass cleaner is often recommended in articles on cleaning regular stainless steel, some manufacturers will tell you to avoid it (such as Samsung and Whirlpool).
For non-fingerprint-resistant stainless steel, using a good cleaner can make the job much easier. One of the best cleaning products for stainless steel appliances is a product called Twinkle, a water-based foaming cleaner. Your local appliance store will have the proper cleaning products. You can also use dish soap diluted in warm water. Either way, use a clean microfiber cloth. Microfiber reduces the risk of scratches because the fabric tends to pull dirt particles up and away from the surface.
Some cleaners are also oil-based to increase fingerprint resistance and make your appliances a little shinier. They leave a coating on the surface so a little goes a long way.
Other tips include:
Rub with the grain (usually horizontally), not against it

Buffing with a dry microfiber cloth can help prevent streaks

Regular, gentle cleaning can help prevent rust spots
Despite its name, stainless steel can still rust. You can remove small rust spots, but bear in mind that they are likely to come back because the metal surface has been compromised, which is what allowed the rust to take hold in the first place. A paste of baking soda and water forms a gentle abrasive that can remove rust spots as well as baked-on food and grease.
GE says a small amount of an oxalic acid-based cleanser like Bar Keeper's Friend Soft Cleanser can be used to tackle rust, tarnish, and small blemishes on regular stainless steel, but we would recommend trying a paste of baking soda and water first since Bar Keeper's friend is a little more abrasive than baking soda.
As for fingerprint resistant stainless: Mild soapy water and a clean microfiber cloth should do a nice job of cleaning up, eliminating the need for special cleaners. Wash with a soft cloth or sponge, rinse with clean water, and dry to avoid water spots, always wiping with the grain. Rinsing is particularly important when it comes to ovens - Frigidaire warns that failing to wipe the cleaners off the surface can result in bluish stains during heating that can't be removed.
Conclusion
Don't hesitate to consider stainless steel for your next appliance purchase. Whether you buy the Smudge Proof stainless steel from Frigidaire or fingerprint resistant stainless steel from Maytag or another brand, you will love the ease of cleaning your appliances. Bring on the mess makers and you will clean up in a jiffy.
If you have a preference for other brands of appliances that don't offer these easy clean surfaces, using the right cleaners will make the cleaning job easy. Be sure to ask your salesperson what they recommend for cleaning your stainless steel appliances.
Other color options that are also fingerprint resistant have recently entered the market, including black stainless steel and GE's slate appliances.
Thank you for reading this overview of smudge proof stainless steel appliances. We hope that it was informative and helpful. Feel free to leave a comment below, we value your input!
Editor's Note: This blog was originally written in June of 2017 and has been completely revamped and updated for accuracy as of the publication date noted above.