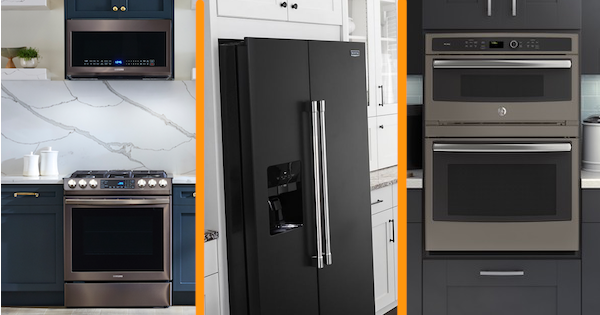 The appliance industry is exploding with new color and finish options. New colors like black stainless, black slate, black matte, and Tuscan stainless steel are pouring onto the market. With so many color and finish options available, it's getting hard to keep track of which brands offer what. We've put together this article to help you quickly navigate the landscape and get a solid overview of what's available and what's upcoming. Let's start off with a brief look at each of these new color options! (We're also keeping a record of finishes that have been discontinued since we first wrote this blog post.)

Quick Reference: Color/Finish by Brand
Black Slate, AKA Matte Black - GE only - released in 2018


The Cafe Appliances line, which also offers Matte White and Modern Glass, refers to the color as Matte Black

Black Stainless - Samsung, LG, Frigidaire, KitchenAid, Whirlpool, GE, and Bosch

Slate - GE only - released in 2013


Tuscan Stainless - Samsung only - released in 2019

Samsung also has Bespoke Refrigerators available in various colors in steel and glass finishes! (Click the link to learn more.)

Cast Iron Black - Maytag only - released in 2019, discontinued in 2020

Black Matte - LG only - released around 2017, discontinued in 2020

Sunset Bronze - Whirlpool only - released in 2018, discontinued in 2019
GE has the broadest range available, both in the color options and the sheer number of different models available in these colors. LG, GE, and Samsung have the largest range of black stainless steel products, while Whirlpool, Frigidaire, KitchenAid, and Bosch offer a more limited range at the time of this writing.
Table of Contents
Black Stainless Steel - What Is It, & Who Offers It?
Black stainless steel appliances are definitely the broadest new trend in the industry. As of this writing, there are seven manufacturers offering this color. Bosch is the most recent brand to release black stainless steel appliances, with their take on the color entering the market in January 2018. Black stainless steel is the biggest thing to hit the kitchen since stainless steel. It still has that metallic look that's easier to match than trends of the past, like Bisque, but has a totally different impact on your kitchen.
Almost all black stainless steel is more fingerprint resistant than stainless steel, but the finish has a lot of variation between brands. In general, the affect is achieved in the same way across most brands: a black oxide coating is applied on top of stainless steel. Here's an overview of who is offering it and some details about the differences between brands.
Compare Frigidaire, Samsung, LG, GE, & KitchenAid black stainless steel!
Skip to a specific brand overview:
Samsung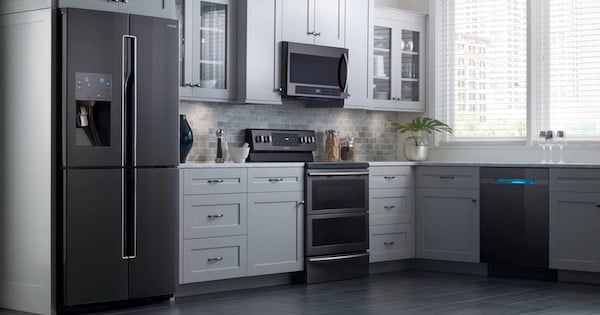 Samsung was one of the first to offer black stainless, debuting it in 2015. It has a shiny, reflective, and fingerprint resistant finish with matching handles, and there are many models across the Samsung line offered in this color. It has more of a metallic steel look to it than other black stainless options. There has been some documented feedback from customers about the finish chipping in certain cases.
However, Samsung's black stainless is more scratch resistant than almost all other black stainless options. It's "pencil hardness," so anything softer than a pencil will not scratch it. It features a protective clear coating over the black stainless coating.
Frigidaire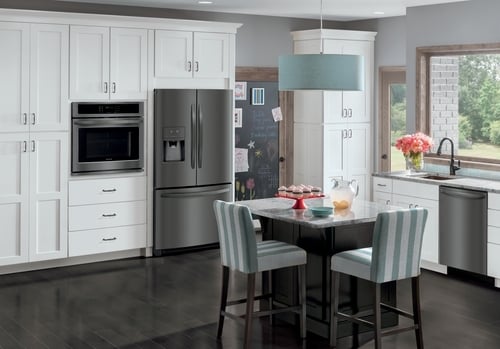 Frigidaire began producing black stainless steel appliances in 2017. They weren't one of the first manufacturers to enter the market but have come in strong. Like Samsung, Frigidaire black stainless has a shiny, reflective finish with a matching handle and looks like a graphite gray metal. They offer a line of smudge-proof black stainless steel as well as regular black stainless. It is offered in many models across the Frigidaire and Frigidaire Gallery lines. It consists of a stainless steel base with a protecting polymer coating that gives it the black stainless look.
LG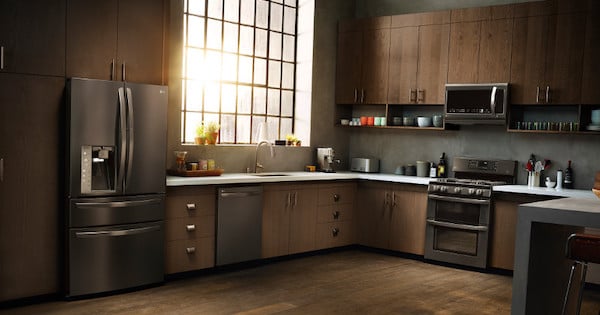 LG began offering black stainless at around the same time as Samsung. They now offer a full line of black stainless steel appliances in their LG and LG Studio lines. Their black stainless is fingerprint resistant with a somewhat more satiny finish (rather than glossy) and matching handles, in a similar tone to the Frigidaire line. There has been some documented feedback from customers about the finish chipping in certain cases.
KitchenAid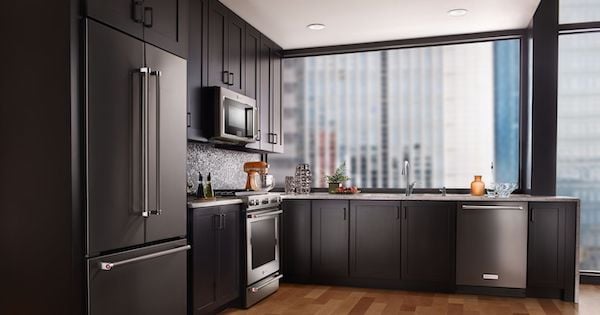 KitchenAid began producing black stainless steel appliances in 2017. Whirlpool, the parent company of KitchenAid, chose to go to market with the color in their high-end KitchenAid line first. They weren't one of the first manufacturers to enter the market but are performing well. Their take on black stainless steel is darker, like a brushed black metal rather than a smoky stainless steel. The finish has a more matte satiny sheen, and combined with contrasting stainless steel bar handles, these appliances definitely make a statement!

KitchenAid even offers beverage centers, ice makers, and undercounter refrigerators in black stainless!
GE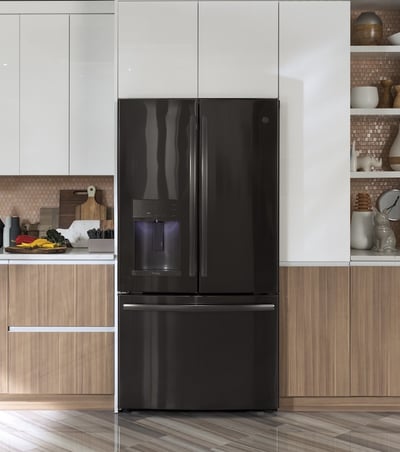 GE is one of the latest entrants into the black stainless steel kitchen appliance space, joining in late 2017. They've been focused on their slate finish and promoting their newly introduced black slate - more on that below in the slate and black slate reviews. It seems they felt they needed black stainless as well so they have rolled it out in their main GE Appliance line as well as their GE Profile line. They offer more high-end appliance finishes than any other brand as of this writing, and it's working for them: they showed huge growth last year and are confident for this year, too! GE's black stainless is a dark graphite with a shiny finish and matching handles.
Whirlpool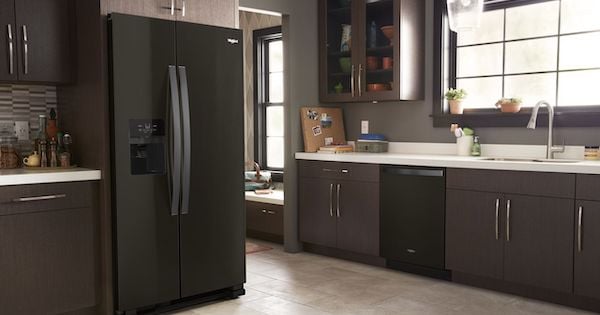 The Whirlpool parent company originally rolled black stainless steel out in their flagship KitchenAid brand. They introduced it into their popular Whirlpool line in late 2017. The stainless steel used in the Whirlpool line appears to be slightly different than that of the KitchenAid products but it is very striking in its own right, with a glossy finish and matching handles.
Bosch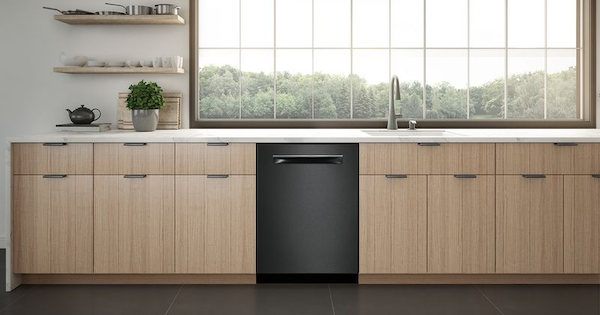 Bosch is the last of the major mainstream appliance brands to introduce black stainless steel kitchen appliances, rolling out their take on the finish in 2018. It is definitely on the matte side rather than glossy. They currently have a limited number of models available. Their black stainless steel is the most durable and scratch-resistant option, as of this writing, because they "bake" the black coloring into the stainless steel in the manufacturing process rather than applying a coating on top of stainless steel. The limited models available may be a pretty steep tradeoff for some consumers. For a time, Bosch did not offer a range (only wall ovens and cooktops), but as of this writing they offer slide-in ranges (gas, electric, and induction) in this color.
Watch our quick video on Bosch black stainless!
Black Slate/Matte Black, Matte White, & Modern Glass
GE is the pioneer in the matte finish appliance market. They've been producing slate appliances for over five years and they have recently introduced their new black slate finish in 2017. Black slate appliances, available in their GE Cafe, GE Profile, and main GE line, may be poised to be some of the most popular on the market. They will look awesome against white cabinets, and have a stone-inspired finish which gives the consumer a very high-end matte look.
GE plans to rebrand "black slate" as "black matte" - the finish will stay the same, only the name will change. It is currently available in the GE Cafe Matte Collection with customizable handles - click the link to read more about it! They are also offering a matte white for a warm, bright look.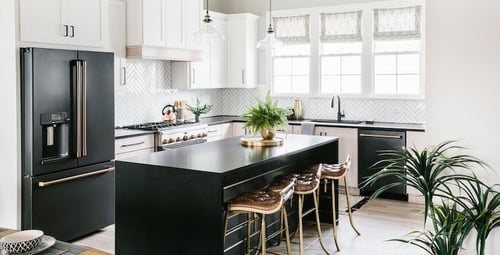 GE also introduced a Modern Glass finish in late 2019. These stylish appliances have minimalist hardware for the modern kitchen. The color consists of a glass panel over stainless steel for a glossy, integrated look. The design retains copper accents and other thoughtful touches that mark it as part of the Cafe lineup.
Watch our quick video on GE Cafe's new Modern Glass collection!
Slate - Color Overview
Slate isn't a new color but deserves a place in this discussion about the interesting appliance colors available today. All of the other colors discussed here are basically alternatives to stainless steel for the high-end customer. Slate was the first such color introduced. It is a stone-inspired matte finish with contrasting stainless steel handles that has been in production since around 2013. It has sold well for GE, and with all the interest in the new darker matte finishes, it may experience increased interest from consumers. It can be found in the GE Appliances and GE Profile lines. You can read more about it in our article on GE slate appliances or compare slate vs stainless steel - click the links to get started!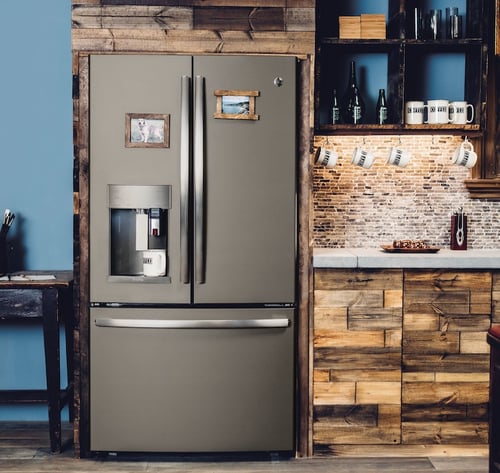 Tuscan Stainless Steel
Samsung is joining in on the color trend with Tuscan Stainless, an earthy metallic shade released in late 2019. They've released a new color for their laundry products to match called Champagne, which is doing very well. Tuscan Stainless is a deeper shade, similar to black stainless, but has a bronzey finish that's warmer. If you're looking for a warmer tone than plain stainless that's darker than slate or sunset bronze, this could be a great option. Samsung says that it complements textured natural materials like marble slabs and heavily grained wood.
Like all of these finishes, you should definitely check this color out in person to get the full effect!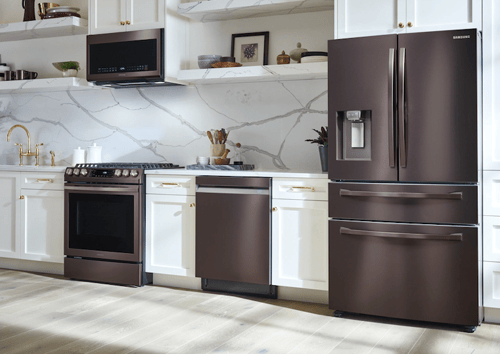 Watch our short video to get a closer look at Tuscan Stainless Steel!
Samsung also now has Bespoke Refrigerators available in various colors in steel and glass finishes. The linked blog post discusses this in more detail.
The Color Graveyard
Sunset Bronze - Color Overview
Whirlpool introduced their new sunset bronze color in 2018, but discontinued it in late 2019/early 2020. It had a soft bronze undertone, sometimes described as rose gold, with minimalist contrasting handles and hardware. Click here to read our full review of Whirlpool Sunset Bronze!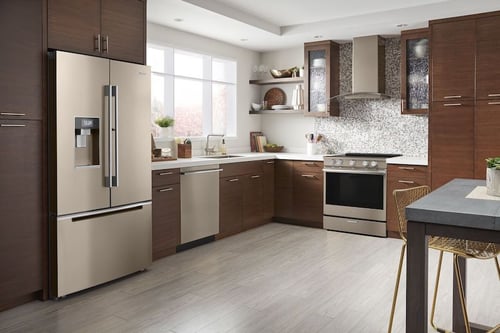 Cast Iron Black
Maytag revealed this finish in mid 2019, but quickly discontinued it as of early 2020. It was a matte finish made with the budget consumer in mind. It's a plastic material but you wouldn't think so at first glance. This finish was a powder coat with sand mixed in for a tough, smudgeproof surface with a contrasting stainless steel commercial handle. It was designed to be durable as well as stylish.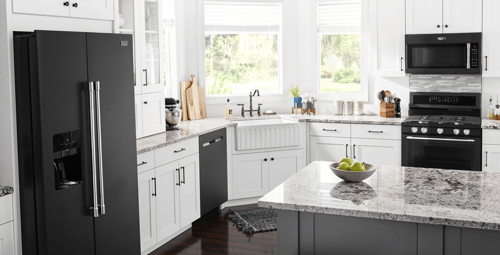 Black Matte - Color Overview
Black Matte appliances were only offered by LG. The finish is similar but not identical to that of the black slate appliances offered by GE. This was LG's entry into the matte finish market, and LG was the only mainstream manufacturer other than GE offering matte finishes. LG's black matte finish hid fingerprints well and looked great with white kitchen cabinets. They were available from around 2017 to mid 2020.
Compare LG Black Matte vs GE Black Slate in our article!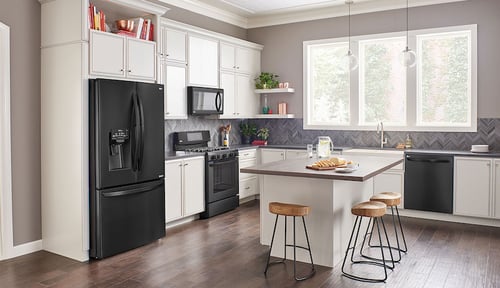 In Conclusion...
We hope you enjoyed our reviews of all of these hot new appliance color and finish options. There is a lot to digest! If you have questions, please leave us a comment below. We'd love to hear from you. Also, if you are looking to learn more about specific appliances, check out our education center to download one of our free product buying guides!
Editor's Note: This blog was originally written in September of 2017 and has been completely revamped and updated for accuracy as of the publication date noted above