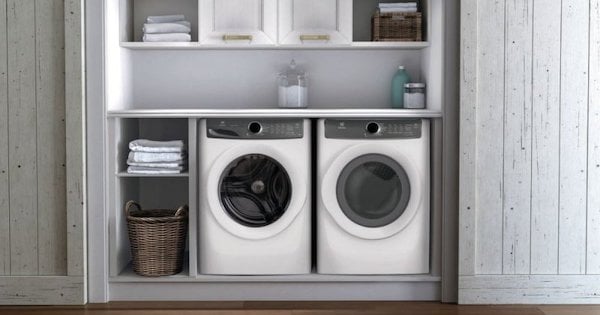 We once had a salesman who I heard telling customers many times that the washer he was selling was the "Laundromat Model." Although he was talking about Speed Queen, which is a commercial grade top load washer, this could also be said about the front load washers of today because many of us remember only seeing them in the laundromat for many years before they hit the consumer appliance market.
Front load washers hit the market strong with the introduction of the Maytag Neptune washer in the '90s. Although the Neptune washer had its problems, the front load format took off from there and has never stopped.
In the early 2000s there were some complaints about smelly wash tubs and poor wash performance. Manufacturers improved the tub and door gasket design as well as the washer cleaning cycles to better handle issues with odor and mildew, and the washers now require only basic occasional upkeep to stay fresh and odor-free. Issues with washing performance may have been in part due to the entry of new high efficiency detergents that required consumers to change their habits when it came to loading their washing machines. Using too much of these detergents in low-water washers can result in unsatisfactory cleaning results in any type of washing machine.
Today, front load washers have become very popular and manufacturers offer many models to choose from at prices that are very competitive with similarly-featured top load machines. There are several front load washer advantages over other washer types.
Table of Contents
What are the Advantages of Front Load Washers?
Front load washers are very attractive, with glass doors and chrome accents.

They generally have larger capacities, allowing you to wash comforters and other bulky items.

They don't have agitators or impellers in the tub, giving you more room and a more gentle washing action.

They can be installed with the dryer stacked on top of the washer, saving space in the home.

They use much less water than top load machines, and the vast majority are Energy Star rated.

They have excellent washing performance and fabric care.

They are usually quieter than top load washers with agitators.

Many of them are ADA compliant, so they are accessible for people with physical disabilities.
Front load washers are great products with many advantages for most families. The large capacity allows you to do fewer batches, saving you time and money. You can avoid going to the laundromat to wash comforters and other very large items. Front loaders have a higher final spin speed than top loaders, which wrings more water out of the load so it spends less time in the dryer. The quieter operation can be an amazing change if your laundry pair isn't located out of the way in a basement or far corner of your home. If they are leveled and properly loaded, front load washers are very quiet!
The tumbling wash action is gentler on your clothes, cutting down on wear and tear, while still providing an effective clean. Most review organizations like Consumer Reports find that front load washers offer better cleaning performance over top load washers. The only potential exception is with heavy-duty fabrics with heavy soils, which is not always a focus in cleaning tests. For those who work in "dirty jobs," such as farmers or mechanics, a top load washer from a brand like Speed Queen may be a better option, but there are also people with "dirty jobs" that find front loaders work well.
It's a mixed bag as to who ends up preferring top loads to front loads, and of course you always have to consider if the people who have had very bad experiences used the machines properly or simply ended up with a lemon. People are much more likely to share a bad experience than a good or neutral one - it's an interesting aspect of our psychology!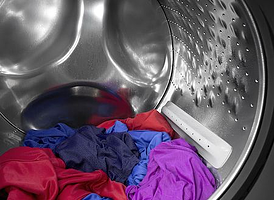 What are the Disadvantages?
Front load washers require bending for loading and unloading which can be uncomfortable for many people. There are bases available to raise them up to a comfortable height, but these can add another $200 or so to the washer's cost.

They can develop musty odors in the tub if not cared for properly. Many front load washers come with dedicated washer cleaning cycles to help maintain the wash tub.

They can take more time to do the wash than many top load washers (on average about 20-30 minutes more than HE top load washers - Source).

They generally have larger exterior dimensions than top load washers, making them hard to fit in some homes.

Vibration is more of an issue with front load washers than top load washers, although most front load washers have advanced anti-vibration technology that will allow them to perform well and quietly as long as the load is balanced and the washer is level.

There is a learning curve with these new washers - overloading the tub and using too much detergent are common mistakes that can lead to poor performance and even shorten the washer's lifespan!
There are still many front load washers built on the standard 27" wide platform that should fit into most homes while offering capacities of 4.5 cubic feet and up. Additionally, some brands are starting to address the drainage and odor issues with front load washers - GE's new front load washer lineup for 2020 includes Ultra Fresh Vent technology (click the link to read more) designed to eliminate these issues.
To help avoid potential issues with #5, we recommend choosing a local appliance store with a dedicated delivery team and trusted installers that are experienced with properly leveling washing machines.
Preventing Problems with a Front Load Washer
Happily, there are some steps you can take to keep your front load washer in good shape and avoid some of the issues we listed above. Proper care of your front load washer can avoid problems, increase efficiency and prolong its life.
Always use HE (High-Efficiency) soap and use the proper amount. Front load washers use very little water compared to an older machine. Using too much soap, fabric softener, and bleach will cause a build-up of soap in the machine which can cause service problems, odors, and poor cleaning results.

You can also try out a washer with automatic measured detergent dispensing, like Whirlpool Load and Go, if you want to avoid this issue!

Leave the door open when the washer is not in use. This allows air into the washer to prevent mildew from developing and will keep things smelling fresh.

Wash the gasket - the rubber boot that connects the tub to the outside of the washer - about once a week with a mild soap and soft cloth to avoid mold buildup.

Understand how to load your front load washer. You generally don't want the wash tub more than 75% full. Load items loosely and try to wash similar fabrics together (e.g. do a load of jeans, then a load of shirts and athletic wear).
If you choose to buy a front load washer, these tips should give you excellent results and ensure many years of use and satisfaction. The small maintenance tasks can be balanced out by the knowledge that your washer is using a lot less water and is gentle on your clothes!
We hope you've enjoyed our discussion of front load washer advantages. Consider a front loader as you do your research on new washing machine options. You can read more about new washing machines in our washing machine buying guide. Please feel free to leave us a comment on this article! We'd love to hear from you.
Editor's Note: This blog was originally published in February of 2016 and has been completely revamped and updated for accuracy as of the publication date noted above.