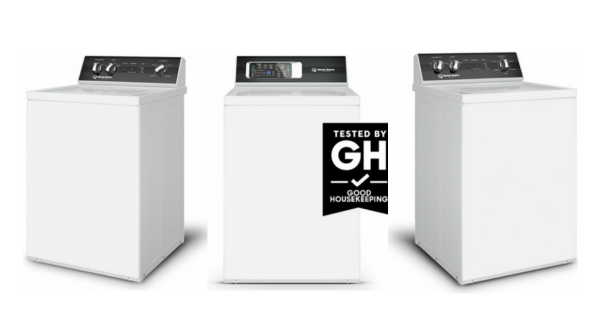 Speed Queen is known for their commitment to quality and durability. They are so confident in their products that they back them up with the longest manufacturer's warranty in the industry. Many people particularly love classic features like powerful agitation and their Deep Fill wash option that uses more water, but Speed Queen washers have traditionally been less energy-efficient than other brands.
In recent years, Speed Queen continued to develop their product lines to face the challenge, and they did this by releasing new top load laundry models with some changes to reach the standards of the Department of Energy. They introduced the Normal Eco Cycle, which claims to save water and energy while still providing deep clean for your everyday clothes.
Now, let's dive into more details on this energy-efficient cycle!
Table of Contents
Speed Queen's Normal Eco Cycle
The Normal Eco cycle is specially designed to meet the federal usage requirements, which means lower water consumption and energy usage (related: learn about Energy Star appliances here). It is Speed Queen's eco-friendly solution to your everyday washing needs. This is how it works:
Saves energy with reduced use of hot water: Using hot water when washing is the most effective way to remove heavy soil and germs. However, it uses a great deal of energy. Heating water can account for around 80-90% of the energy that washing machines use, unless the washer is already connected to a hot water outlet. With the Normal Eco Cycle, the Speed Queen washer will regulate the amount of hot water added to the wash and use less hot water than other cycles. This helps to reduce the amount of energy needed to heat water.

Saves water with spray rinse: Another feature that's very unique with the Normal Eco Cycle is the Spray Rinse. Instead of doing a full tub rinse, the machine does an aggressive series of spray rinses. Thus, it uses less water than other cycles that use a full tub rinse bath.
Since the cycle is water and energy-efficient, you can save money on your water and electricity bills as you wash everyday cottons and linens. You also get an effective wash, so it is a smart choice for the environment AND your wallet!
This cycle offers a very different wash from what Speed Queen is known for. But for items with light soils, the Normal Eco cycle is a good option.
Changes to the Cycle in 2020
In 2020, Speed Queen made changes to their TR washers, and one of the updates is the Normal Eco Warm Max Soil cycle.

Adding the Heavy Soil option to the Normal Eco cycle ("Max soil" on the TR7) results in an improved multi-temperature wash that removes stains. It starts with an 8-minute cold water soak, then adds hot water to be a warm cycle, and completes a 12-minute prewash before the main cycle begins. They've also added three minutes of 820 RPM spin speed as well. The total cycle time for Normal Eco + Heavy/Max Soil is 70 minutes.
When to Use the Normal Eco Cycle
The Normal Eco cycle is ideal for people looking for a water and energy-efficient cycle. It's best to use it when saving water and energy is a priority. It is a great choice for items with light soils, and it is perfect for washing everyday cottons and linens.
Here are some things to consider when deciding whether to use the Normal Eco Cycle:
Your laundry needs

Do you have a lot of heavily soiled clothes or are they mostly lightly soiled?

Do you need to wash your light soiled clothes quickly?

Cost of the cycle

Do you not mind using less water and less hot water in this cycle?

Is the cycle time suited for you?

Your personal preference

Are you used to the classic Speed Queen type of wash?
This cycle offers a versatile wash and helps save water and energy. However, it is important to note that some customers have reported that it does not clean their clothes as well as other cycles, especially heavily soiled items, so consider that feedback when deciding whether or not to use this cycle.

Tips for using the Normal Eco Cycle
As with any other cycles, it is important to understand how to use the Normal Eco Cycle properly. Here are some tips:
If you're washing heavily soiled or very sturdy fabrics, use the Heavy Duty cycle or select the highest soil level on the Normal Eco cycle. Both of these settings will provide similar cleaning results.

If you are using fabric softener with the Normal Eco cycle, be sure to select the Extra Rinse option. This will give you two spray rinses and help to remove any residue from the fabric softener.

Some stains and soils require hot water to be removed effectively. If most of your items have these types of stains or soils, you should use a non-Eco cycle that uses 100% hot water.

The Normal Eco Cycle is an eco-friendly cycle that is a good choice for people who wash everyday clothes. It may not be for everyone, so consider the situation before you use it. In the end, it's a win-win that Speed Queen gives customers the flexibility to choose the option that best suits their needs.
What are your thoughts about Speed Queen's Normal Eco Cycle? Comment below - we'd like to hear from you!