If you are in the market for a new washer, you are probably trying to learn as much as you can about modern washing machine technology. One of the big themes in today's market is HE laundry detergent - short for High Efficiency laundry detergent. So, what is it and why are many new washers using it?
HE laundry detergents are low sudsing and activate the soap faster in the new lower water usage machines, improving wash performance and preventing soap build-up on the machines. You'll notice the "HE" symbol on many of the laundry detergent bottles at your local supermarket.
Using regular detergent with an HE machine may result in a scene out of a childhood movie or TV show with the foam overflowing out of the washer! Plus it can result in build-up that breeds mold and odors, and it can even make your clothes look worse due to detergent residue. In the worst case, the extra sudsing could even damage the electronics of your washer... So let's avoid that if we can!
Old washers could use almost 40 gallons of water per wash - and today's machines use as little as 11 gallons. That's great news for your utility bills! HE detergents ensure that less water usage doesn't mean less cleaning capability. We've been trained to think that foam and suds means more cleaning power by advertising, but that's just not true. Plus, these new detergents are more concentrated, which means you're paying for more actual detergent and less of the water used to liquify it.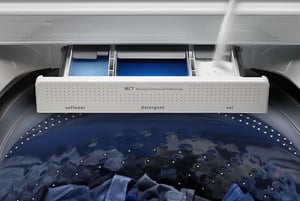 There are many front loading and top loading models on the market today that require this HE detergent for best results. (For even more information on washers, check out our washing machine buying guide!)
HE Front Load Washer Review - The Whirlpool WFW5620HW
High efficiency machines that use HE laundry detergents and use less water are a great way to save money and natural resources. One of our favorite attractively priced front loading HE machines is the Whirlpool WFW5620HW. This front load washer is affordably priced at $899 and has a direct drive motor, stainless steel drum, and a 4.5 cubic foot tub capacity. Whirlpool updated their front load washer lineup for 2019 and this model has been a best seller!
If you want to avoid trying to measure out the right amount of HE laundry detergent in the first place, this model might be for you: it offers Whirlpool's Load and Go bulk dispenser design. Add detergent once and skip refills for 20 loads - the washer will dispense the right amount of detergent for each load automatically!
Another cool feature is Whirlpool's Intuitive Controls, designed to make front load washer control panels a little less crowded and overwhelming. Choose "What to Wash" and customize it with a "How to Wash" selection, choose any wash options you'd like to add on, and that's it!
The price point of this washer is pretty much the lowest you can find for front load models. Compared to an entry-level top loader, many front load models have larger capacities, more advanced features, and a sleeker design aesthetic. This is one example of a model designed to work with HE laundry detergent to use less water that would be a great option for your home.
Cycles & Options:
What to Wash: Regular, Delicates, Bulky Items, Whites, Colors, Towels

How to Wash: Normal, Wrinkle Control, Heavy Duty, Sanitize with Oxi, Cold Wash, Quick

Options: Clean Washer, Drain & Spin, Steam Clean, Extra Rinse, Pre Soak, Load & Go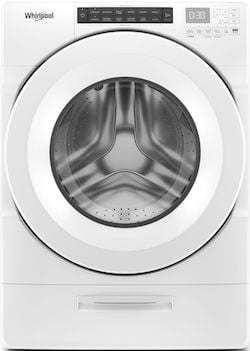 As HE detergents become more common, you may like to know that you can use HE detergents in a standard, traditional top load washer. You'll need to use slightly more detergent - up to 1/4 of a cup versus 1-2 teaspoons for a normal load in a high efficiency top load washer or front load washer - but that's all.
We hope you enjoyed this article about HE laundry detergents and the machines that use them. Please leave us a comment below. We'd love to hear from you!
Editor's Note: This blog was originally written in February of 2017 and has been completely revamped and updated for accuracy as of the publication date noted above.