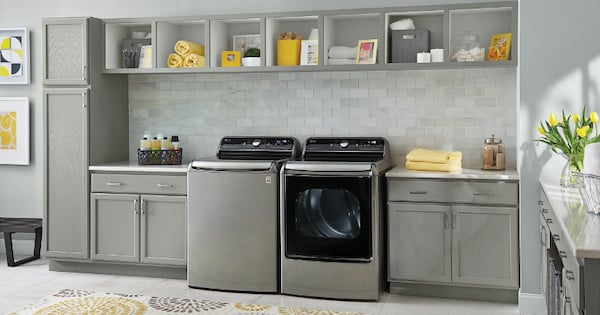 If you are in the market for a new washer, you are probably trying to learn about every style and option available to you. One option worth exploring is top loading washers.
Top load washers offer a variety of tub sizes and offer a similar water and energy-saving story to that of front loaders. They load from the top so you don't have to bend over when loading and unloading the washer. This also eliminates the need for costly bases. Some don't have agitators, giving you more room in the tub, allowing you to wash larger items such as quilts and bed spreads. (Side note: You can find even more information on washing machines in our washing machine buying guide!)
Watch our 3-minute overview of top load washers!
Most top load washers have automatic water control and will sense the amount of clothes that you have in the washer and bring in just enough water to wash that load. This is a common feature among most newer washers as a way to improve energy efficiency. Some of the top load washers are available with an agitator and have the override on the auto fill to allow you to choose your own water level. These "override" washers are not quite as energy-efficient.
There are two main types of top loaders: impeller washing machines and traditional agitator washing machines. Click the links to read about these two types in more detail!
Entry-level top load washers start at around $500-700, and higher-end models can cost $1,300 or more. There are a broad range of feature packages available. Features you may find on a higher-end top load washer include touch panel controls, a glass lid or a window panel on the front of the machine, and various smart appliance features. For a more basic machine, you can expect fewer wash programs and options and a more basic exterior appearance.
One of the leading brands in top load washers is Speed Queen, a specialty brand known for crafting reliable machines that last 10 years longer than the competition and have industry-leading warranties. Read about Speed Queen washers in our article! A popular budget brand top loader comes from Amana - check out our Amana washer review for more information!
Let's take a look at one of our favorites in this category from LG.
The LG WT7600HWA is one top loading washer to consider. This impeller top load model hits a price point around $1,149 but has the feature package to back it up. It is also Energy Star rated and features an extra-large 5.2 cubic foot capacity tub. It also features a one-year parts and labor warranty, a 10-year warranty on the direct drive motor, and a Lifetime Drum Warranty. Plus you get LG's Steam Technology.
This model includes the following cycles and options:
14 Wash Programs: Pre Wash+ Normal, Cotton/Normal, Tub Clean, Bulky/Bedding, Heavy Duty, Perm. Press, Speed Wash, Delicates, Bright Whites, Towels, Sanitary, Allergiene, Waterproof, Downloaded

14 Options: Soak, Extra Rinse, Fabric Softener, Delay Wash, Child Lock, Custom Program PGM Save, Signal, Rinse+Spin, Spin Only, ColdWash, StainCare, Water Plus, Add Garment

5 Wash Temperatures: Extra Hot, Hot, Warm, Cold, Tap Cold (All Cold Rinses)

5 Spin Speeds: Extra High (950 RPM max.), High, Medium, Low, No Spin

3 Soil Levels
You can add the TurboWash® option to any wash program to save up to 30 minutes on wash time. LG's 6Motion technology combines up to six different wash actions depending on the load size, cycle selection, and other factors to combine great fabric care with great cleaning power.
This model comes recommended by Consumer Reports and includes thoughtful features like quiet operation and anti-vibration technologies, and the large size of the tub makes it a great choice for large households and for cutting down on the number of loads you do each week.
Click here to read over 160 real customer reviews of this product!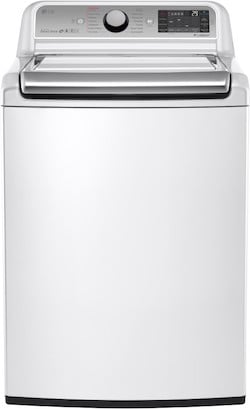 We hope you enjoyed this discussion of top loading washers. Please leave a comment below. We'd love to hear from you!
Editor's Note: This blog was originally written in February of 2017 and has been completely revamped and updated for accuracy as of the publication date noted above.