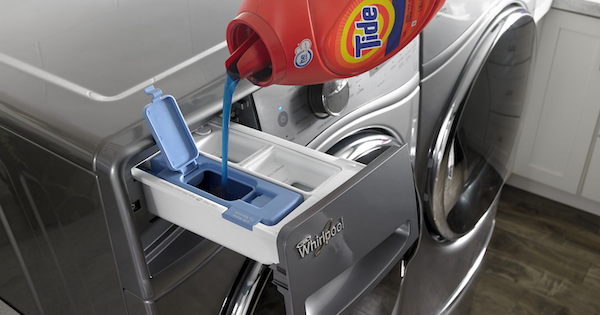 Whirlpool is the world's largest home appliance manufacturer and owns several other household names like Maytag and KitchenAid. They started out in the laundry appliance business over 100 years ago, and today, Whirlpool washing machines are very popular. Whirlpool Load and Go technology is one example of their innovations in home laundry.
In this article, we'll explore how Whirlpool Load and Go works, including an exclusive video, and a review of a Whirlpool front load washer with the Load and Go feature!
Table of Contents
Whirlpool Load & Go Explained
Whirlpool Load and Go has been referred to as Precision Dispense technology in the past. It's a pretty simple idea, but it's not easy to implement: instead of adding detergent for every wash, why not add detergent once a week and let the washing machine handle the rest? This saves you time and helps reduce a common user error with today's low-water washers: using too much detergent. It's easy to pour in too much of the ultra-concentrated HE detergents - and this can make your clothes look dingy after a wash and even cause odors in the wash tub. And it's easier to share the chore of laundry with the rest of the household if you don't have to worry about someone dumping in too much detergent... or forgetting to add it entirely!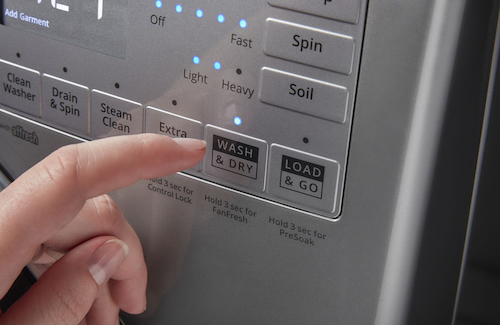 A Whirlpool Load and Go washing machine comes with a reservoir cartridge that holds up to 18.5 oz of detergent, which can do up to 36 loads of laundry if you're using 6X concentrated detergent, or at least 12 loads with lower concentrations! The cartridge is easy to remove and fill, and then you won't have to bother with it again for a week or more, depending on how much laundry you do! We love to eliminate small, repetitive tasks from our busy lives, and Whirlpool Load and Go is a great way to do this.
Most of us eyeball how much to fill the detergent cup based on load size, or don't pay any attention to it at all. However, Whirlpool Load and Go can consider five additional factors when choosing how much detergent to dispense for a wash cycle:
Cycle selection

Soil level

Fabric type

Detergent concentration

Water hardness
Whirlpool now offers Load and Go XL washers as well. Washers with the XL capacity can hold enough detergent for 40 loads, while washers with standard Load and Go have enough for 12 loads. All of these Load and Go dispensers also come with a regular single dose dispenser, too, so if you want to run a cycle with Woolite, you can.
Load and Go was initially available on front load washers only in 2019, but as of 2020, it is now an option on several Whirlpool top load washers as well.
See Whirlpool Load and Go in Action!
You'll need to know your water hardness (soft, normal, or hard) and detergent concentration to help the Load and Go system along, but you'll only have to set those factors once (unless you change detergents often) and then the washer will handle the rest. It will even alert you when it's running low on detergent!
The Perils of Using Too Much Detergent
Over-sudsing - makes your clothes too "slippery" to actually get clean

Leaves residue on your fabrics - creates more work for you (rewashing)

Leaves residue in the wash tub - leading to odors and even mold growth

Waste of money - $$ on unused detergent getting washed down the drain
And if you use too little, your clothes don't get as clean as they should. Different HE detergents may have different concentrations as well, which also impacts how much you'll need for a wash. Letting your washing machine calculate the right detergent amount for you is a lot easier than trying to account for all of these factors, especially if you have a busy household and do laundry often!
Which Washers Come With Load & Go?
Whirlpool began showing off Load and Go on its front load washers in 2019, including the basic WFW5620HW at $899. To get an XL dispenser, check out the WFW6620HW at $999.
Whirlpool now offers Load and Go on three of its high efficiency top load washers, starting with the WTW6120HW at $899 MSRP.
Whirlpool is not the only brand offering this type of automatic detergent dispenser technology. Bosch iDOS is a similar cartridge system, and GE SmartDispense on top load washers is another take. Learn more about what to look for in a new washing machine in our washing machine buying guide!
To help you decide if Whirlpool Load and Go is a must-have feature, we'll review a popular model with this technology: the Whirlpool WFW5620HW front loading washer.
Review: Whirlpool WFW5620HW Front Load Washer
The Whirlpool WFW5620HW is a 4.5 cubic foot capacity front load washer with Whirlpool Load and Go technology (the smaller cartridge option that lasts about 12 loads) pricing around $899. It's Energy Star rated and also allows you to use a single load dispenser when you want to run a wash with a different detergent than what you have in the Load & Go dispenser. It comes with a Steam Clean option as well to boost stain-fighting power!
Whirlpool updated their washer and dryer model lineup for 2019 with Intuitive Controls intended to simplify the process of customizing your wash cycle. First, you choose from a handful of "What to Wash" options, then choose "How to Wash" the load. You can customize your wash care with a relatively simple control panel!
The Smooth Wave stainless steel wash basket protects against snags and rust, and Adaptive Wash Technology senses and adapts the wash actions based on the cycle selection and other factors. Options include Presoak, so you can soak clothes right in the washer and let it handle the wash cycle.
For a more premium model with new features like the ability to wash and dry small loads, check out the Whirlpool WFW8620HW.
Cycles & Options:
What to Wash: Regular, Delicates, Bulky Items, Whites, Colors, Towels

How to Wash: Normal, Wrinkle Control, Heavy Duty, Sanitize with Oxi, Cold Wash, Quick

Options: Clean Washer, Drain & Spin, Steam Clean, Extra Rinse, Pre Soak, Load & Go
Dimensions:
Width: 27"

Depth: 31.5"

Height: 38.6"
Click here to read over 285 real customer reviews of this product!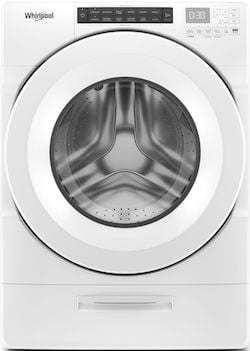 Review: Whirlpool WTW7120HW Top Load Washer
The Energy Star rated Whirlpool WTW7120HW retails at $999 and has a spacious 5.3 cubic foot capacity. It has a frameless slow-close glass lid for a premium feel, and like the previous model, it uses the intuitive controls design. The Load and Go feature can also be connected to Amazon Dash to automatically reorder detergent when you're running low - another time saver!
There are tons of different features on top of Load and Go, including a pretreat station with a brush and built-in water faucet that allows you to treat stains right in your washer. Optional Wi-Fi connectivity lets you start your washer remotely and receive notifications when a cycle is complete. When it comes to heavy soils, the PreSoak option is here to help. It will soak the load for up to 2 hours before automatically starting the wash cycle. You also have the Deep Water Wash option for those times when you need extra water during the cycle.
If you're looking for a top load washer that will be gentle on your clothes while still offering lots of options to tackle stains and soils, this model is a great option.
Cycles & Options:
What to Wash: Regular, Delicates, Bulky Items, Whites, Colors, Towels

How to Wash: Normal, Quick, Cold, Wrinkle Control, Heavy Duty, Sanitize w/ Oxi

Options: Fabric Softener, Load & Go, Deep Water Wash, Delay Start, PreSoak, Extra Rinse
Dimensions:
Width: 27.25"

Depth: 28"

Height: 43.5"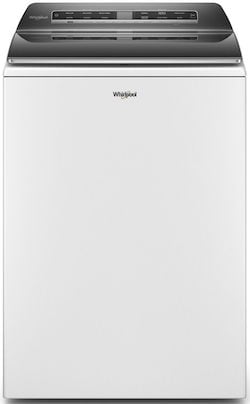 We hope this article helped you learn more about Whirlpool Load and Go. What do you think about this washing machine feature? Must-have or "meh"?
Editor's Note: This blog was originally written in January of 2019 and has been completely revamped and updated for accuracy as of the publication date noted above.