You'll need to know your water hardness (soft, normal, or hard) and detergent concentration to help the Load and Go system along, but you'll only have to set those factors once (unless you change detergents often) and then the washer will handle the rest. It will even alert you when it's running low on detergent!
When you use too much laundry detergent, it might suds up too much, making your clothes too "slippery" to get a good clean, and leave residue on your fabrics or washer interior. And if you use too little, your clothes don't get as clean as they should. Different HE detergents may have different concentrations as well, which also impacts how much you'll need for a wash. Letting your washing machine calculate the right detergent amount for you is a lot easier than trying to account for all of these factors, especially if you have a busy household and do laundry often!
If you're shopping for a new washing machine, a bulk detergent dispenser could be a great feature to consider when you go shopping - and Whirlpool is not the only brand offering this type of automatic detergent dispenser technology. Bosch iDOS is a similar cartridge system, and GE SmartDispense on top load washers is another take. Learn more about what to look for in a new washing machine in our washing machine buying guide!
To help you decide if Whirlpool Load and Go is a must-have feature, we'll review a popular model with this technology: the Whirlpool WFW5620HW front loading washer.
Review: Whirlpool WFW5620HW Load & Go Washer
The Whirlpool WFW5620HW is a 4.5 cubic foot capacity front load washer with Whirlpool Load and Go technology (the smaller cartridge option that lasts about 12 loads) pricing around $899. It's Energy Star rated and also allows you to use a single load dispenser when you want to run a wash with a different detergent than what you have in the Load & Go dispenser. It comes with a Steam Clean option as well to boost stain-fighting power!
Whirlpool updated their washer and dryer model lineup for 2019 with Intuitive Controls intended to simplify the process of customizing your wash cycle. First you choose from a handful of "What to Wash" options, then choose "How to Wash" the load. You can customize your wash care with a relatively simple control panel!
The Smooth Wave stainless steel wash basket protects against snags and rust, and Adaptive Wash Technology senses and adapts the wash actions based on the cycle selection and other factors. Options include Presoak, so you can soak clothes right in the washer and let it handle the wash cycle.
For a more premium model with new features like the ability to wash and dry small loads, check out the Whirlpool WFW8620HW.
Cycles & Options:
What to Wash: Regular, Delicates, Bulky Items, Whites, Colors, Towels

How to Wash: Normal, Wrinkle Control, Heavy Duty, Sanitize with Oxi, Cold Wash, Quick

Options: Clean Washer, Drain & Spin, Steam Clean, Extra Rinse, Pre Soak, Load & Go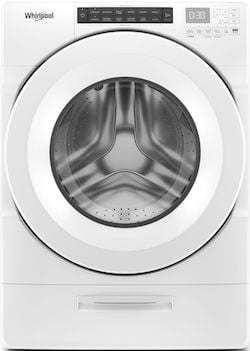 We hope this article helped you learn more about Whirlpool Load and Go. What do you think about this washing machine feature? Must-have or "meh"?
Editor's Note: This blog was originally written in January of 2019 and has been completely revamped and updated for accuracy as of the publication date noted above.