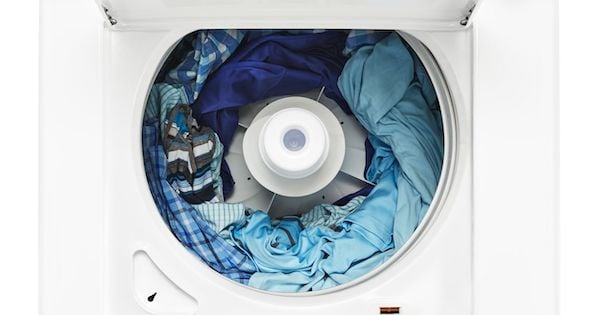 If you are in the market for a new washer, you are probably trying to learn about every style and option available to you. One option worth exploring is the agitator washing machine (discover more of your choices in our washing machine buying guide).
With all the modern front load washers and top load impeller style washers on the market, traditional agitator washing machines can be easily overlooked. However, some manufacturers are still making traditional top load washers with agitators in the tubs to clean the clothes. These washers generally use more water and are smaller in capacity than newer models. However, the pros are many. Chief among them are washing quality and durability.
If your household includes someone working in construction, agriculture, and other industries that can produce some seriously dirty clothes, or your fabrics are mostly heavy-duty, thicker, and less stretchy, an agitator washing machine may be right for you. The trade-off is more aggressive cleaning performance for better fabric care.
Agitator washing machines can often be less expensive than HE top load models, and budget brands like Amana offer traditional top load washers with agitators at prices as low as $499. Hotpoint, GE, Frigidaire, and Whirlpool are a few other examples of brands that offer agitator washers. LG and Samsung have moved away from offering top load models with agitators in favor of impeller and front load models.
An Agitator Washing Machine May Be Right for You If...
You're looking for an aggressive or more powerful clean (or want to maintain the same powerful cleaning you're used to seeing from your traditional top load washer)

You need to wash heavy-duty clothing items that may be very dirty - for example, denim, canvas, and thick low-stretch fabrics - and are okay with the risk of stretchier, lightweight items getting caught on the agitator pole and stretched out

You don't mind that this type of washer will use more water and energy than an HE top load model or front load model

You would prefer to spend less on your washing machine, or are willing to spend more for a more dependable and easy-to-repair model
In reference to that last bullet point, we'll take a closer at agitator style washing machines offered by Speed Queen. Speed Queen is the leader in agitator washing machines and they have been making a huge resurgence in recent years. Speed Queen is a specialty laundry manufacturer headquartered in Wisconsin that has been making great laundry products for both the commercial and domestic markets in the US for over 100 years. You should definitely consider this brand if you want a high-quality agitator washing machine!
Speed Queen model TR3000WN is a top load washer that's been built to last using premium heavy-duty materials that withstand the test of time. The 3.2 cubic foot stainless steel wash tub is adequate for most wash loads and can accommodate a queen-sized comforter.
You can get the dirt out the first time with this washer! Speed Queen top load washers feature a one-of-a-kind wash system which delivers the best wash available in addition to taking great care of your clothes, with spin speeds up to 820 RPM. The auto fill system guarantees that every load uses enough water for an effective wash. The tub and agitator work together to create an effective wash action that moves the maximum amount of water through the clothes, providing a premium wash and level of fabric care.
This washer provides you with four preset cycles and three temperature selections plus a variable water level selector, giving you a good amount of control of the machine. The solid mount suspension system featuring a full steel base and heavy-duty springs for excellent out of balance performance and less vibration are designed to contribute to a longer machine life!
Speed Queen's average life expectancy is 25 years - that's 15 years longer than other brands. This washer is one that you should consider for your home. It doesn't have some of the latest features, but you will love the way it washes and it should bring you many years of trouble-free operation.
When it comes to warranty, Speed Queen really shines with their lifetime warranty of the outer drain tub as well as the stainless steel wash basket. As for the remaining components on this model, you're covered for three full years, parts and labor!
Speed Queen can also make a claim that no other laundry brand can make: in both the luxury washers and dryer categories, Speed Queen is the most recommended brand among US women. This is based on a national survey sent to hundreds of thousands of women. Speed Queen has been voted the most recommended brand for washers and dryers, earning the Women's Choice Award for several years running from 2014 to 2017!
This washer's dimensions are 25 5/8'' wide, 28" deep and overall 43" tall, and it's priced at around $919.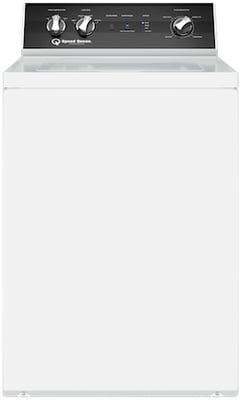 We hope you enjoyed this review of one of the best agitator washing machines on the market. With upgrades that improve the agitator washing system, plus a high-quality and durable design, Speed Queen is a great pick for customers thinking about the long run. To compare more top load washer options, check out our article on the 7 Best Top Load Washers. You can also explore a budget top load model from Amana in our Amana washer review.
Please leave a comment below. We'd love to hear from you!
Editor's Note: This blog was originally written in January of 2017 and has been completely revamped and updated for accuracy as of the publication date noted above.