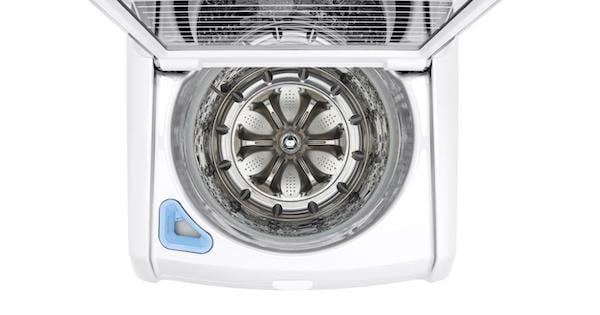 If you are in the market for a new washer, you are probably trying to learn about every style and option available to you. One option worth exploring would be the modern machines with a washing machine impeller versus an agitator. You can check out our washing machine buying guide for even more information!
These new high-efficiency top load washers do not have the traditional agitator in the tub. The agitator has been replaced with an impeller device that is designed to move the clothes to the bottom of the tub and do the washing. The impeller is like a very short, flat agitator in a cone shape. The beauty of it is that it opens up a ton of space in the tub for extra washing.
All About Washing Machine Impellers
The main tradeoff between an impeller and an agitator, besides the impeller being more common in high-efficiency washers, is that an impeller is gentler on clothes. Your clothes will experience less wear and tear in the washer than they would with an agitator washer, but it may not get clothes as clean as the brutal motion of an agitator. If you have seriously dirty laundry to handle, such as workwear for jobs in the construction industry, you may prefer an agitator washing machine such as the models offered by Speed Queen. An impeller washing machine needs to be loaded correctly - piling clothes and other items around the impeller without covering it - or you could end up with tangles, especially if sheets and towels are involved.
You may be wondering: how does an impeller work? With a pole-style agitator, the clothes are rubbed and pulled across the agitator and its fins. An impeller creates water currents that drive clothes from the outer rim to the center of the wash basket, and the motion of the water combined with the fabrics moving against each other creates the cleaning action.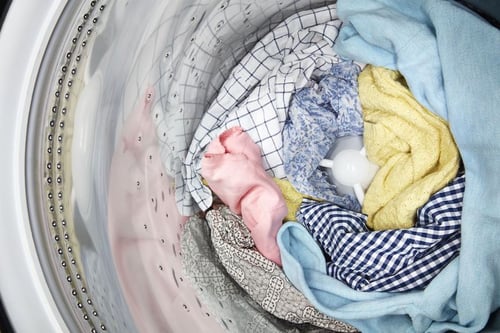 Review: A Top-Selling Impeller Washing Machine Model
Let's explore an awesome model from LG that features an impeller. It has 5.5 cubic feet of washing capacity and is large enough to wash your bedspread!
If you're looking for an impeller model, the LG WT7800CW is one to consider. At $1,099 in white and $1,199 in graphite steel, it is priced well above many entry-level machines but has the feature package to back it up. It is Energy Star rated and features an extra-large tub. It also features a one-year parts and labor warranty, a 10-year warranty on the direct drive motor and a Lifetime Drum Warranty. Plus you get LG's Steam Technology to help prevent wrinkles and even sanitize fabrics! The Allergiene cycle is another great feature that uses high heat to destroy potential allergens like dust mites.
Other cycles include Waterproof (for waterproof or water-resistant items like raincoats and mattress covers), Speed Wash, and Sanitary. Options include Soak, ColdWash, StainCare, and Water Plus. Like many new energy efficient washers, you can choose the wash temperatures, but all rinses use cold water. With 12 wash cycles and 14 options, you can customize the wash to your needs.
TurboWash technology cuts wash time by around 20 minutes compared to previous LG washers by combining the rinse and spin stages of various cycles, without sacrificing wash quality. TurboWash 3D technology incorporates an impeller that spins independently from the drum, creating a whirlpool wash action that's super effective! LoDecible Quiet Operation makes it a good option for laundry spaces near bedrooms or other living areas, too! It also comes with a glass SlamProof lid and the SmartRinse Jet Spray system to thoroughly saturate fabrics.
Click here to read over 10 real customer reviews of this product!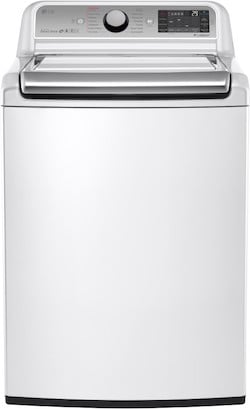 We hope you you enjoyed this explanation of the benefits of a washing machine impeller plus a quick review of a popular model. If you are looking for a top loading washer with very large capacity and lower water usage, this may be the way to go. We've also written about agitator washers if you'd like to compare!
Please leave us a comment below. We'd love to hear from you!
Editor's Note: This blog was originally written in November of 2017 and has been completely revamped and updated for accuracy as of the publication date noted above.