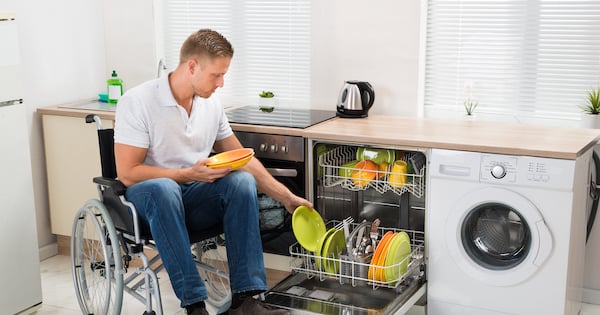 Not everyone knows about the benefits of ADA compliant appliances and how they can make daily life with a physical disability just a little easier. We all depend on kitchen appliances to get a jumpstart on our day. Whether it's opening up the refrigerator for a glass of cold orange juice or using the range to pan-fry an egg, we often turn to our appliances first thing in the morning and throughout the day. One way or another, we rely on these major appliances in our everyday lives to simplify things - but for someone with disabilities, using standard appliances not designed with ADA (Americans with Disabilities Act) accommodations can make appliances a lot less convenient - and, in some cases, dangerous.
Thankfully, there are brands that manufacture products designed for people with physical disabilities. Although they aren't the only factor to consider if you are building or renovating a home for accessibility, they're definitely important.
In this article, we'll take a look into a variety of ADA compliant appliances that can make a difference in the daily lives of so many of us. GE Appliances pops up quite often in this post - their website has a dedicated section for ADA compliant appliances.
Table of Contents
Wall Ovens
What Makes a Wall Oven ADA Compliant?
The following basic factors make a wall oven ADA compliant:
Maximum high forward reach for controls and operating mechanisms of 48"; maximum low forward reach is 15"

Controls and operating mechanisms are operable with one hand and don't require tight grasping, pinching, or twisting of the wrist

Controls can be activated with no more than 5 pounds of force

Ovens shall have controls on front panels and may be located on either side of the door
Of course, how the wall oven is mounted in the kitchen is another factor. The height of the installation and the space available to access it impact its accessibility. When building a kitchen with a wheelchair user in mind, choosing an oven with a side-opening door rather than the typical pull-down door can make it much easier to use.
The Cafe CTS90FP4NW2 Single Wall Oven
First up on our list of ADA compliant appliances is the Cafe CTS90FP4NW2 French door single wall oven. It is a brilliantly featured unit that is designed to allow the user to pull on one of the two handles, which opens both doors simultaneously. This makes loading and unloading the oven cavity a bit easier. Two full-width smooth gliding ball-bearing oven racks are capable of holding up to 50 pounds each. This wall oven features True European Convection - a convenient way to speed up cooking times while lowering temperatures
GE has also incorporated Wi-Fi connectivity into this beautifully designed product. You can wirelessly program and control this oven from your smartphone via the GE WiFi app. This wall oven is designed to be accessible and easy to open. It's available in stainless steel at $4,554, matte black at $4,777, or matte white at $4,777. These models all have customizable hardware - read more about the customizable Cafe Matte Collection here!
A double wall oven is available in a similar style, with French doors on the upper oven and a drop-down door on the lower oven. Many brands offer ADA compliant wall ovens in 30" widths as well as 27" and even 24", but GE is one of the few offering side-swing doors.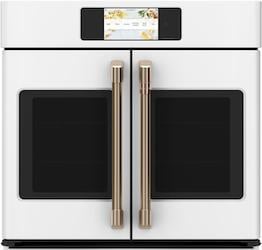 Ranges & Cooktops
What Makes a Range or Cooktop ADA Compliant?
Aside from having clear space around the range or cooktop, these are the factors that make these appliances ADA compliant:
Maximum high forward reach for controls and operating mechanisms of 48"; maximum low forward reach is 15"

Controls and operating mechanisms are operable with one hand and don't require tight grasping, pinching, or twisting of the wrist

Controls can be activated with no more than 5 pounds of force

Knee spaces underneath ovens or cooktops should be insulated or otherwise protected on exposed surfaces

The locations of the controls should not require reaching across burners
Due to the need for accessible controls, you'll find that ADA compliant ranges are front control models. You may also want to consider the angle of the controls - some models have the oven controls and burner knobs on a flat panel parallel to the cooking surface. Others angle them slightly or place them parallel to the front of the range, which makes them easier to access. When it comes to cooktops, ADA compliant models usually place the knobs and controls at the front of the cooktop rather than off to one side.
The Frigidaire Professional PCFG3078AF Slide-In Gas Range
If you are looking for an ADA compliant range, you may want to check out the Frigidaire Professional PCFG3078AF Front Control Gas Range. Easily accessible front controls keep the user from reaching over the cooking surface for adjustments. A full stainless steel top with five burners complete the cooking surface. The center burner can adjust from a simmer or power up to a blistering 15,500 BTU oval burner.
The 5.6 cubic foot convection oven will certainly be helpful for large meals, and with the included temperature probe with on screen display, you don't have to guess about food temperatures. The oven also includes an Air Fry feature (plus an Air Fry tray!), so you can cook your favorite crispy food with little to no oil. This Frigidaire model also includes a storage drawer. This model fits in any standard 30" opening and is priced at $1,999, available in smudge proof stainless steel only.
Click here to read over 12 real customer reviews of this product!
Frigidaire Professional PCFG3078AF - $1,999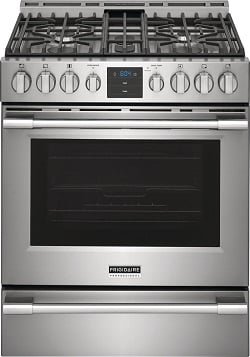 The GE Profile PP9030DJBB 30" Electric Cooktop
GE makes a range of ADA compliant appliances, and the GE Profile PP9030DJBB is one example. The glass touch controls are easy to use. You can find it in frameless black at $1,554 or framed in stainless steel at $1,665. The GE Fit Guarantee will reimburse up to $100 for cabinet modifications if this model doesn't fit an existing 30" cooktop cutout.
Among the five elements are two 7" SyncBurners bridge elements (1,500W each) for handling large cookware and griddles. There are also two dual elements - a 5"/8" element (up to 2,200W) and a 6"/9" Power Boil element (up to 3,100W). There's also a 6" element (1,200W). The glass touch controls include a control lock and a timer for individual elements. It used to be difficult to find 30" cooktops with five elements, but there are plenty on the market today!
Click here to read over 70 real customer reviews of this product!
GE Profile PP9030DJBB - $1,554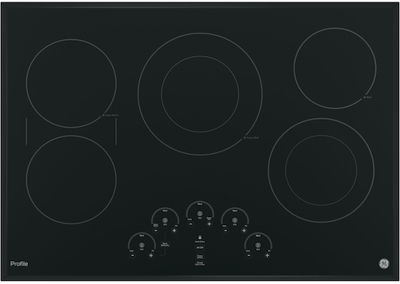 Refrigerators
What Makes a Refrigerator ADA Compliant?
All types of refrigerators can be ADA compliant, but as of this writing, French door models are less common, while side by side and top freezer models are plentiful. There are additional requirements for clear floor space in front of the refrigerator - there needs to be a pathway wide enough to accommodate a wheelchair. Controls and operating mechanisms, in this case, include the temperature settings and any other controls as well as the handles. The standards include:
Maximum high forward reach for controls and operating mechanisms of 48"; maximum low forward reach is 15"

Controls and operating mechanisms are operable with one hand and don't require tight grasping, pinching, or twisting of the wrist

Controls can be activated with no more than 5 pounds of force

When it comes to top freezer models, at least 50% of the freezer space and 100% of the fresh food space is below 54" from the floor

Freezers with less than 100% storage volume between 15" to 48" must be frost-free/automatic defrost
One way to make a refrigerator completely accessible is to use undercounter refrigerator designs. Although this won't replace a full-sized refrigerator if that's what is needed, they can be a great supplement for storing beverages and other items.
The Summit FF195ADA Built-In All Refrigerator
Although not all mini fridges and built-ins are ADA compliant, the Summit FF195ADA is! Retailing at around $1,195, this model meets NSF-7 and UL-471 commercial standards. It's 32.5" tall to work with ADA compliant counters and is 19" wide with a shallow 17.25" depth ideal for smaller settings. Summit also offers ADA compliant undercounter refrigerators with freezer sections as well.
This 3.1 cubic foot model has a stainless steel wrapped door and a black cabinet. It has glass shelving with shelf brakes as well as door storage, an automatic interior light, and a dial thermostat. The sealed back is seamless and easy to clean. It's designed and constructed in Europe, too, so it's extra classy! Summit covers this Energy Star model with a standard one year parts and labor warranty, plus five years on the compressor.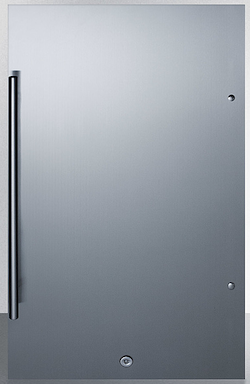 The Maytag MFI2570FEZ French Door Refrigerator
GE, Samsung, and Maytag are a few brands offering ADA compliant French door refrigerators. The Maytag MFI2570FEZ is a highly rated American-made French door model with 24.7 cubic feet of capacity. It's available in fingerprint resistant stainless steel at $2,399 as well as in black or white for $2,299.
This Energy Star model comes with an adjustable-temperature full-width drawer in the fresh food section as well as humidity-controlled FreshLock crispers, adjustable shelves, and three adjustable gallon door bins. Use the PowerCold feature to boost cooling after loading in groceries. The external dispenser produces filtered water and ice on demand. It comes with a 10 year parts warranty on the compressor as well as the standard one year parts and labor warranty on the full appliance.
Click here to read over 930 real customer reviews of this product!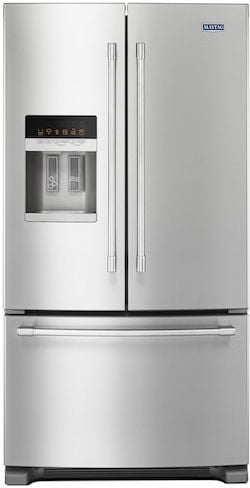 Dishwashers
What Makes a Dishwasher ADA Compliant?
You might not notice an ADA compliant dishwasher in the wild - the main visual indicator is that it is slightly shorter than a standard dishwasher. Standard dishwashers are 33-34" tall, while an ADA compliant dishwasher will be 32" tall. They are designed to fit under ADA compliant countertops. There are other, less obvious standards that must be met as well:
The maximum high forward reach for the controls and operating mechanisms is 48"; maximum low forward reach is 15"

Controls are operable with one hand and don't require tight grasping, pinching, or twisting of the wrist

Controls can be activated with no more than 5 pounds of force

All rack space is accessible from the front of the machine for loading and unloading dishes
ADA compliant dishwashers are available in both the standard 24" width and the narrower 18" width sometimes used in condos and small kitchens where space is limited. GE and Bosch are two brands to check out for ADA models.
The GE GDT225SSLSS Dishwasher
The GE GDT225SSLSS is one of our top-selling ADA compliant dishwashers, pricing at $899 in stainless steel with a pocket handle. You can also get it in black or in white at $799. It's a good choice for 34" countertops and raised subfloors thanks to its shorter height.

This dishwasher operates at a relatively quiet 51 decibels (read more in our dishwasher decibels article). It features a stainless steel tub, a Piranha™ hard food disposer that comes with a removable filter, 3 cycles - including an Autosense cycle that automatically adjusts the ideal cycle time based on the soil levels and water temperature, and additional wash options including Sanitize and Delay Start. The stainless steel interior tub allows it to use the condensation drying method, so you may notice that plastic items are still damp at the end of the cycle because plastic is harder to dry than glass or metal.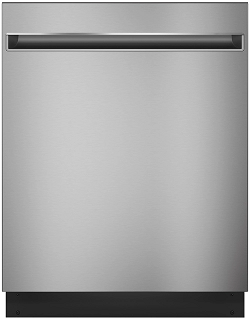 Washers & Dryers
What Makes a Washer and Dryer ADA Compliant?
You won't find top load washers with the ADA compliant badge. These are the requirements to meet this standard:
Maximum high forward reach for controls and operating mechanisms of 48"; maximum low forward reach is 15"

Washers and dryers should be front loading
Some manufacturers offer other accessibility features. For example, as of this writing, Samsung offers top load and front load washers with Braille and auditory cues for the visually impaired. Small households of 1-2 people with light laundry needs might find a washer dryer combo or compact washer to be perfect for their needs.
The Speed Queen FF7005WN Front Load Washer
ADA compliant front load washers and dryers are widely available, but if you want a model that's designed to last, you should definitely check out Speed Queen! Every major component of Speed Queen washers is tested to last 25 years, so they're built to withstand moisture, temperature changes, power surges, and a lot more. The Speed Queen FF7005WN comes with a five-year warranty on the full machine, which is another factor in the above-average upfront cost of $1,649 in white and $1,949 in stainless steel.
Speed Queen also stands out because they design their washers and dryers to be easily repairable should the need arise. Their front loaders are quiet, efficient, and solidly built - a rare combination today! Read more about these models in our Speed Queen front load washer review.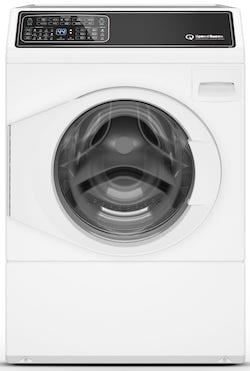 That's it for our review of ADA compliant appliances. There are of course many other ADA compliant models on the market, but we felt that these were some of the best products in each category. Visit our website for dozens of more ADA compliant appliance models.
We hope these reviews proved helpful in uncovering some options that fit your specific needs. Please leave us a comment below. We'd love to hear from you!
Editor's Note: This blog was originally written in February of 2018 and has been completely revamped and updated for accuracy as of the publication date noted above.