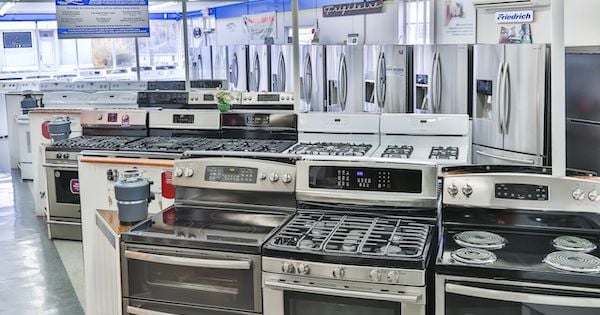 If you are in the market for a new appliance or package of appliances, you may be considering the question of whether to shop at a local appliance store or a big box chain. This is definitely an important question to consider. Knowing that you will be spending hundreds to perhaps many thousands of dollars on these products and that you probably intend to keep them for years, choosing the right retailer to buy them from is critical.
As a local appliance dealer since 1953, we certainly know the industry well and compete with the big box retailers every day. In this blog we are going to give you an honest, fair insider's perspective on your two options and try to help you to answer the question - local appliance store vs big box chain - which is better?
The Big Box Stores - Pros & Cons
Let's start with the big box retailers. As much as we'd like to say they have no advantages, in reality, they do. Big box retailers, by their very definition, are large and this helps them in several key areas.
First, stores like Lowe's, Home Depot and Sears have very large appliance display areas and can also leverage their kitchen cabinet displays to show an even greater quantity of appliances. They often have the floor space to display a selection of models that is beyond what your local dealer can show.
Secondly, with national buying power, they are certainly at a pricing advantage over the local vendor, especially at certain times of the year and with certain manufacturers and models. That said, many local dealers belong to buying groups that buy in bulk so the pricing advantage of the big box stores might be smaller than you may think.
Lastly, there is location. Most big boxes are located in shopping centers with other retailers right off the highway. They may be more convenient for you to stop by to shop after work or when you are out on the weekend.
(Pictured below: Part of our display area. As you can see, we manage to do quite a lot with the space we have!)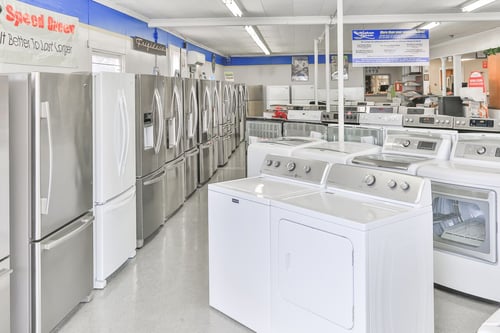 Now for the cons. The big box retailers generally do not have their own service technicians to work on your appliances should they need repairs. A cautionary note: modern appliances are a lot less expensive than they used to be but they generally only last 5 to 7 years, 10 at the most, and with all the complex components, the average model will be serviced or repaired at least one to two times during its lifetime.
The second drawback of the big box stores is the knowledge of the staff. At these stores, the salespeople are seldom appliance experts and often know very little about the features of the products. They generally have a limited track record selling the products and hearing feedback from customers about features, advantages, disadvantages, problems, etc. after the sale. There are certainly some well-trained staff at some big box stores, but generally their experience level is low.
Lastly, there is delivery. Most big box retailers give wide delivery time windows making it very inconvenient for you to receive your products and they offer very little in terms of unpacking and installation services. Sometimes, they won't even bring the product inside the house or remove it from the box.
Big Box Store Pros:
Large appliance display area

National pricing power - can offer slightly lower prices than some local appliance stores at times

Convenient store locations near highways and in plazas
Big Box Store Cons:
No in-house service staff - need to call the manufacturer's 1-800 number for service, which can be quite frustrating

Lack of sales staff training and knowledge

Delivery scheduling may be inconvenient and service may not include complete delivery and installation

The Local Appliance Store - Pros & Cons
How about your local appliance store? What are the pros and cons there? As an appliance dealer for over 60 years, we are familiar with this. We have to make some generalizations here, but they should be pretty accurate for most local dealers.
The first advantage of the local appliance store is that they very often have their own in-house staff of repair technicians. The importance of this can't be overstated. As much as we strive to sell quality products, the reality of modern day appliances is that their life expectancy is half of what it used to be and their rate of repair is double or triple what it used to be. Addressing service and repair concerns for customers is one of the main functions of an appliance store these days and local appliance stores know that and strive to provide prompt and professional service.
The second advantage is the knowledge of the staff. Again, using our store as an example. Our average salesperson has been selling appliances for over 15 years. We belong to an association of about 150 other stores and have observed this in most of those stores as well. At a local appliance store, the sales staff are generally career appliance sales people. There are so many advantages to this for the customer. Obviously, product knowledge is key. Sales professionals know the features inside and out and also know all the little tips, tricks, quirks, etc. of the product. Lastly, they know which products will be most dependable and are actually very familiar with service and quality issues as they generally have long relationships with their customers and come to understand which products satisfy people and which don't.
One other advantage local dealers have is that they generally employ their own delivery staff that are delivering solely appliances, not the variety of other products that the outsourced delivery staff at the big box stores deliver. These delivery personnel provide a more complete delivery service with less damage risk to your home and appliances. Also, local appliance stores generally offer more convenient delivery time windows for customers.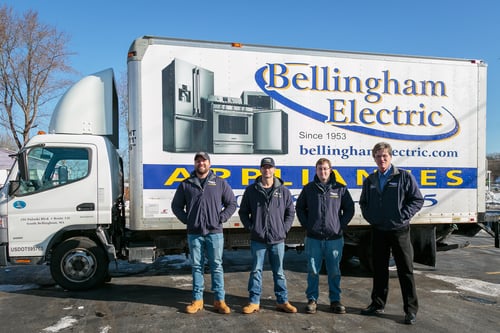 As for the cons, they boil down to three things: location, selection, and pricing.
The reality is that your mom and pop appliance store is much less likely to be in a shopping plaza, at an intersection on a major route or at a highway interchange. They simply can't afford these locations. Their stores have probably been located where they are for 30, 40 or even 50 years or more - probably since before the highways and plazas were built! You may have to drive a bit out of your way to shop there.
Selection is another disadvantage. The local store generally doesn't have the same floor display space as the big box and can show fewer models. To counteract this, many stores have detailed display monitors or iPads in showrooms to help customers to view models they don't display and can use displayed models to demonstrate similar features when working within the same brand.
Lastly, there is pricing. It's true, the big box retailers often have lower pricing. This is especially true with certain brands and models and during certain sale periods. What many consumers don't realize is that the price difference is often very slight, sometimes as little as $25 or $50, depending on price point. Most local appliance stores belong to a buying group that allows them to buy products in bulk to better compete with national retailers.
Local Appliance Store Pros:
In-house staff of repair technicians to assist with service needs after the sale

Well-trained, tenured sales staff with intimate product knowledge to help you choose the best product and help avoid problems with features, operation, and quality

In-house delivery staff that are experts in delivering and installing appliances - They are less likely to damage your home or the product, and can often provide more flexible delivery times
Local Appliance Store Cons:
Stores are usually located a bit more "off the beaten path"

Smaller display areas due to size constraints - can still access all available models but can't display quite as many as a big box store

Pricing may be slightly higher but often not as much as you think
We hope you've enjoyed this comparison of local appliance stores versus big box retailers. We've aimed to give you a realistic view of the differences. Hopefully, it will help you when you are making the decision about where to buy your next set of appliances. Feel free to leave us a comment below. We'd love to hear from you. Happy shopping!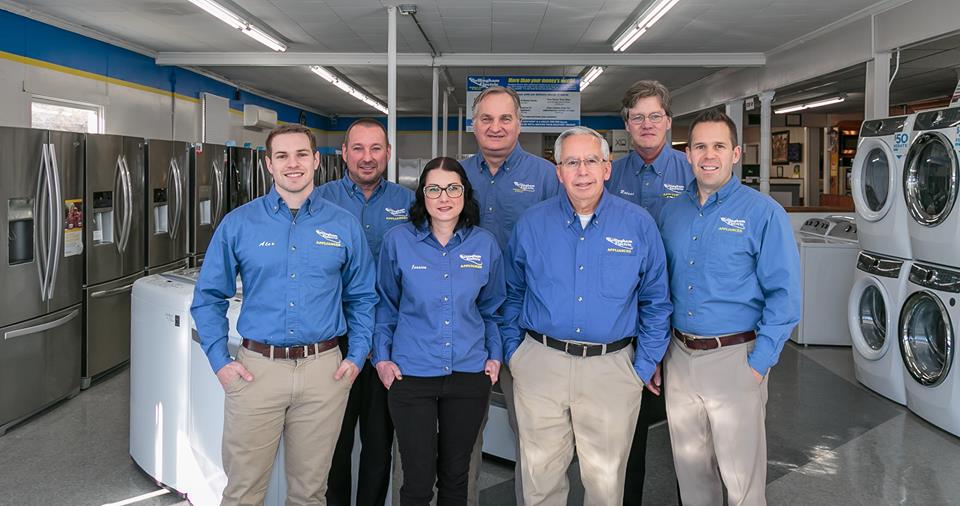 Editor's Note: This blog was originally written in January of 2017 and has been completely revamped and updated for accuracy as of the publication date noted above.