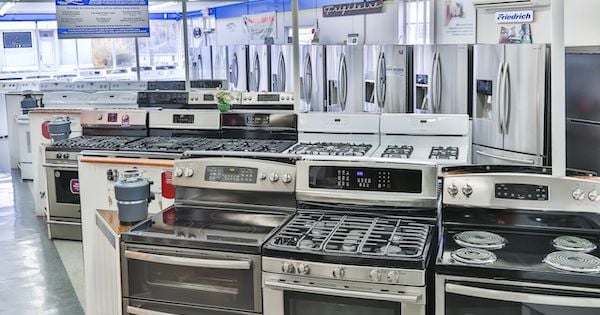 If you are in the market for a new appliance or package of appliances, you may be considering the question of whether to shop at a local appliance store or a big box chain. This is definitely an important question to consider. Knowing that you will be spending hundreds to perhaps many thousands of dollars on these products and that you probably intend to keep them for years, choosing the right retailer to buy them from is critical.
As a local appliance dealer since 1953, we certainly know the industry well and compete with the big box retailers every day. In this blog we are going to give you an honest, fair insider's perspective on your two options and try to help you to answer the question - local appliance store vs big box chain - which is better?
For 2020, we've added a frequently asked questions section to answer your questions about big box store exclusive models, quality differences, and more.
Table of Contents
The Big Box Stores - Pros & Cons
Let's start with the big box retailers. As much as we'd like to say they have no advantages, in reality, they do. Big box retailers, by their very definition, are large - and this helps them in several key areas.
First, stores like Lowe's and Home Depot have very large appliance display areas and can also leverage their kitchen cabinet displays to show an even greater quantity of appliances. They often have the floor space to display a selection of models that is beyond what your local dealer can show.
Secondly, with national buying power, they are certainly at a pricing advantage over the local vendor, especially at certain times of the year and with certain manufacturers and models. That said, many local dealers belong to buying groups that buy in bulk so the pricing advantage of the big box stores might be smaller than you may think.
Lastly, there is location. Most big boxes are located in shopping centers with other retailers right off the highway. They may be more convenient for you to stop by to shop after work or when you are out on the weekend.
(Pictured below: Part of our display area. As you can see, we manage to do quite a lot with the space we have!)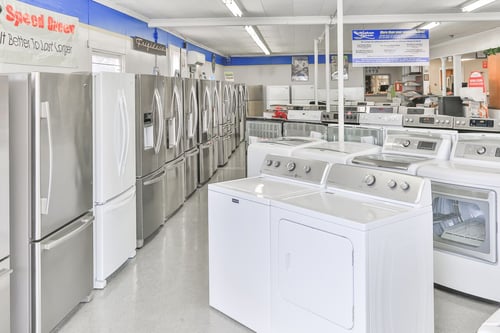 Now for the cons. The big box retailers generally do not have their own service technicians to work on your appliances should they need repairs. A cautionary note: modern appliances are a lot less expensive than they used to be but they generally only last 5 to 7 years, 10 at the most, and with all the complex components, the average model will be serviced or repaired at least one to two times during its lifetime.
The second drawback of the big box stores is the knowledge of the staff. At these stores, the salespeople are seldom appliance experts and often know very little about the features of the products. They generally have a limited track record selling the products and hearing feedback from customers about features, advantages, disadvantages, problems, etc. after the sale. There are certainly some well-trained staff at some big box stores, but generally their experience level is low.
Long distance shopping is less convenient in the event that you need to talk to someone about your purchase, make sure that a discount to your order was properly applied, and so on. It can be difficult to get in touch with the right person to talk about your needs. The large number of employees at the stores themselves combined with the use of distant off-site customer support services like out-of-state call centers can make getting help take longer and be more frustrating than it should be.
Lastly, there is inconvenient delivery. Most big box retailers give wide delivery time windows that are hard for you to schedule around and they offer very little in terms of unpacking and installation services. Sometimes, they won't even bring the product inside the house or remove it from the box.
Big Box Store Pros:
Large appliance display area

National pricing power - can offer slightly lower prices than some local appliance stores at times

Convenient store locations near highways and in plazas
Big Box Store Cons:
No in-house service staff - need to call the manufacturer's 1-800 number for service, which can be quite frustrating

Lack of sales staff training and knowledge

Delivery scheduling may be inconvenient and service may not include complete delivery and installation

Communication by phone, text, or email is usually not easy and it can be hard to reach someone if you have questions or problems
The Local Appliance Store - Pros & Cons
How about your local appliance store? What are the pros and cons there? As an appliance dealer for over 60 years, we are familiar with this. We have to make some generalizations here, but they should be pretty accurate for most local dealers.
The first advantage of the local appliance store is that they very often have their own in-house staff of repair technicians. The importance of this can't be overstated. As much as we strive to sell quality products, the reality of modern day appliances is that their life expectancy is half of what it used to be and their rate of repair is double or triple what it used to be. Addressing service and repair concerns for customers is one of the main functions of an appliance store these days and local appliance stores know that and strive to provide prompt and professional service. It's also far easier to call your local retailer to get service than to sit on hold on a 1-800 line for a manufacturer.
Even if your local appliance store doesn't offer service, they may still prove to be a good resource if you end up having problems with an appliance. Some stores will contract out service to local appliance repair businesses in the area. Finding out who handles service is a worthwhile endeavor!
The second advantage is the knowledge of the staff. Again, using our store as an example. Our average salesperson has been selling appliances for over 15 years. We belong to an association of about 150 other stores and have observed this in most of those stores as well. At a local appliance store, the sales staff are generally career appliance sales people. There are so many advantages to this for the customer. Obviously, product knowledge is key. Sales professionals know the features inside and out and also know all the little tips, tricks, quirks, etc. of the product. Lastly, they know which products will be most dependable and are actually very familiar with service and quality issues as they generally have long relationships with their customers and come to understand which products satisfy people and which don't.
In light of COVID-19, some local stores are taking things to the next level by offering live chat, texting, and other communication methods. You can ask questions about different appliances, finalize your purchase, and schedule delivery online or over the phone easily. We are adapting quickly to long distance shopping methods while retaining a personal touch.
One other advantage local dealers have is that they generally employ their own in-house delivery staff that are delivering solely appliances, not the variety of other products that the outsourced delivery staff at the big box stores deliver. These delivery personnel provide a more complete delivery service with less damage risk to your home and appliances. Also, local appliance stores generally offer more convenient delivery time windows for customers.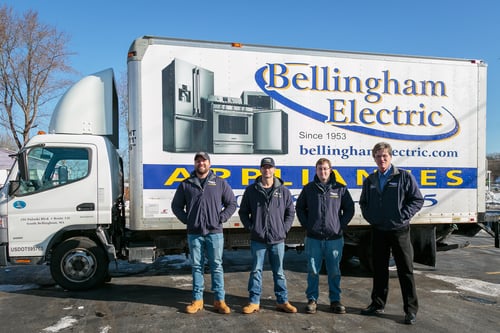 As for the cons, they boil down to three things: location, selection, and pricing.
The reality is that your mom and pop appliance store is much less likely to be in a shopping plaza, at an intersection on a major route, or at a highway interchange. They simply can't afford these locations. Their stores have probably been located where they are for 30, 40 or even 50 years or more - probably since before the highways and plazas were built! You may have to drive a bit out of your way to shop there.
Selection is another disadvantage. The local store generally doesn't have the same floor display space as the big box and can show fewer models. To counteract this, many stores have detailed display monitors or iPads in showrooms to help customers to view models they don't display and can use the displayed models to demonstrate similar features when working within the same brand.
Lastly, there is pricing. It's true, the big box retailers often have lower pricing. This is especially true with certain brands and models and during certain sale periods. What many consumers don't realize is that the price difference is often very slight, sometimes as little as $25 or $50, depending on price point. Most local appliance stores belong to a buying group that allows them to buy products in bulk to better compete with national retailers.
Local Appliance Store Pros:
In-house staff of repair technicians to assist with service needs after the sale

Well-trained, tenured sales staff with intimate product knowledge to help you choose the best product and help avoid problems with features, operation, and quality

In-house delivery staff that are experts in delivering and installing appliances - They are less likely to damage your home or the product, and can often provide more flexible delivery times

May have more flexible communication options for long distance shopping and help with your purchase, getting an appliance serviced, and more
Local Appliance Store Cons:
Stores are usually located a bit more "off the beaten path"

Smaller display areas due to size constraints - can still access all available models but can't display quite as many as a big box store

Pricing may be slightly higher but often not as much as you think
How to Choose a Good Appliance Store
How do you choose the retailer that's right for your needs? We recommend that you look into the following when comparing stores:
Do they offer in-house service under warranty as well as outside of warranty periods? If the service is contracted out, is it to a local business with a good reputation?

What is included with delivery? Do their delivery staff specialize in safely delivering and installing appliances? (Small stores may outsource more complex installations, such as dishwashers or gas ranges, to trusted independent installers, or allow you to use your own.)

What are their salespeople like? Are they knowledgeable about the products they sell? You may be able to get an idea of this from the business's reviews on Google, Facebook, or other platforms.

Do they have the brands you're interested in? Do they offer options for exploring products not on display in the store?

Do they have an active social media presence? Do they respond to reviews, both positive and negative? The time investment of managing a social media account isn't always possible with small businesses, but ideally they respond to customer feedback, and do so with professionalism.
FAQS
Do big box stores and local stores usually sell the same types or quality of appliances? - Mostly. The Kenmore brand was an exception, as it was only sold by Sears, but this is not common. There's also Insignia, which you'll only find at Best Buy. Local stores have more of an incentive to make sure that the models they carry are reliable, since our small size makes our reputation very important to us and we want our customers to be satisfied with the products.

Perceptions of lower quality could be related to poor service. It's not uncommon to require service for a small problem under warranty. If that problem is handled quickly, it may not bother you as much as if you have to wait a week or more.

There's also the factor of proper installation by an expert delivery team. For example, a washing machine that isn't properly leveled when it is installed will vibrate more and be noisier, so as a result it may seem like a lower-quality product.

Sometimes the big box stores will have individual models that are "exclusive" to their store. This may be listed with the product information. E.g., "It's a Lowe's exclusive!" - So even if it's still made by a brand like Whirlpool or Maytag, it's manufactured "for" Lowe's and will have a different model number than similar models that aren't exclusive. In some cases these models may actually have MORE features at the same or lower price than the non-exclusive model they're based on.

Although big box stores may have their own private brands for tools, furniture, and so on, they typically leave appliances to the name brands. We haven't seen full brands offering all major appliances that are privately owned by the big box stores. (If you have, let us know!)

Do big box stores and local stores usually sell the same brands? - Mostly. When it comes to mainstream brands like Whirlpool, LG, and so on, you can find them at both types of stores. Specialty brands or high-end models in general are a different story. For example, some local appliance stores offer luxury brands like Wolf or Viking, or hard-to-find European brands like Miele and Asko.

Another example: grills. We only sell Weber and Napoleon grills because they are high quality and are very unlikely to cause us or our customers any problems after the sale. A Big Box store might also sell cheaper low quality grills.

How do I spot "exclusive" models if I would like to avoid them? - Of course, one way to do that is to come to your local appliance store... but in some areas that's not possible. It helps if you've been doing your research beforehand, because then you might recognize that the model number looks a little bit different than the others in that brand's lineup. You can also look it up on your phone if you're in the store - if it doesn't show up on other big box store websites (Home Depot, Lowe's, Best Buy, etc), that means it's likely exclusive to that store. Make sure to put quotes around the model number when you look it up.

The manufacturer's website may list whether a product is exclusive to a store, but this is not always consistent. You can look at the model numbers for the same type of product and see if yours shows up. The mainstream model may have the number "8080" in it, while the "exclusive" model may have "8070," "8085," or something else. Unfortunately this can be confusing since manufacturers are often releasing new models that have similar model numbers to the old ones, like a "7700" or "7705" model may replace an older "7600" model.

As of this writing, some brands we've seen with "exclusive" models recently include Whirlpool, GE, and Frigidaire. This is based on information available online so it may be incomplete.
Here's an example of a Lowe's exclusive model - clearly marked on their website. They even note which non-exclusive model it's based on.
On the other hand, here's an example of a GE range on Home Depot's website, the JGB720SEJSS. You have to scroll down to the product description to see that this is a Home Depot exclusive - and it comes with extra features compared to the non-exclusive model JGB700SEJSS.
So, as you can tell, big box stores DO typically mention that the product is an exclusive somewhere, at least online. In the Home Depot example above, you're actually getting a bonus feature (two XL Power Boil burners rather than one) for the same price as the non-exclusive model. Note that both are very highly rated by customers. Would we prefer that you support your local appliance store? Of course! But when it comes to this issue of exclusive vs non-exclusive models, the exclusive model is not necessarily a "bad buy."
In Conclusion...
We hope you've enjoyed this comparison of local appliance stores versus big box retailers. We've aimed to give you a realistic view of the differences. Hopefully, it will help you when you are making the decision about where to buy your next set of appliances. Feel free to leave us a comment below. We'd love to hear from you. Happy shopping!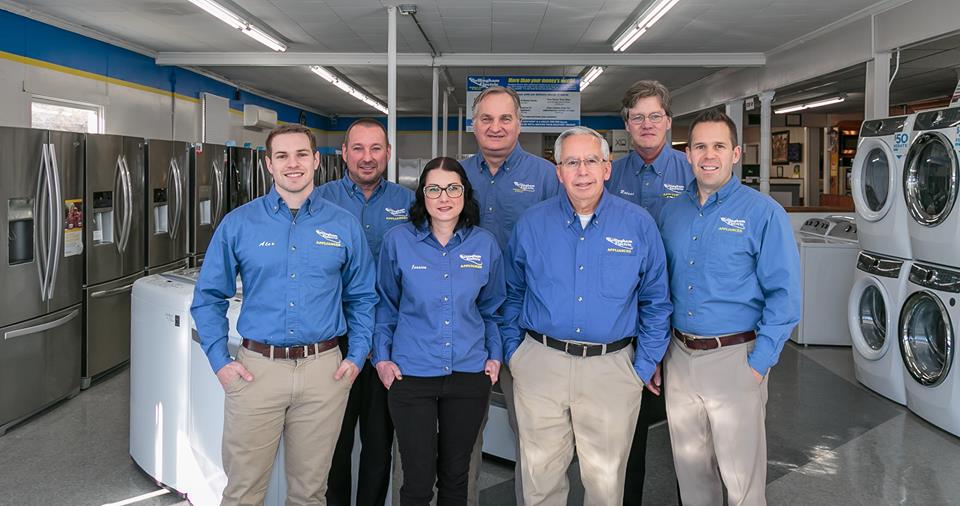 Editor's Note: This blog was originally written in January of 2017 and has been completely revamped and updated for accuracy as of the publication date noted above.