All Speed Queen models share the same basic platform. The components of the actual machines we're looking at are almost identical in each of the three models, while the control panels are what offer different cycle options and wash capabilities. So let's take a look at the bodies of the machines.
Durable Exterior & Inner/Outer Tubs: Enameled finish on the washer exterior is built to handle laundromat-level wear and tear. The outer tub is porcelain-coated steal rather than plastic (used by most mainstream manufacturers). The inner tub is 200 series austenitic stainless steel with supreme corrosion resistance.

More Powerful Components: Speed Queen's variable speed one horsepower motor is powerful while offering custom wash cycle speeds. Other residential washers typically have set-speed motors of 0.5 HP or less. Even the pump is more powerful - 1.4 amps vs. 1.25 amps or less on other washers.

Designed to be Serviceable: Parts wear out over time, no matter how heavy-duty their design. Speed Queen takes steps to ensure that their washers are easy to service if needed. For example, in many residential washers the balancing ring is unified with the inner tub, so if the balancing ring breaks, you'll need to replace the entire inner tub ($$$). Speed Queen's balance ring is independent of the wash tub, so you can replace just the ring if needed.

Another example: the drive system. Speed Queen keeps it simple: all-steel components that are heavy duty and assemble in just two pieces. Other residential washers can have drive systems with 10 or more pieces, often with plastic gears that may be sealed away in metal so one failed part means you have to replace the entire drive system assembly rather than just the broken part.

Solid Mount Suspension: A steel base with heavy-duty springs reduce vibration while improving balancing and extending the life of the machine. Residential washers typically use a top mount suspension that hangs from the top of the cabinet. The springs may be attached to plastic fasteners (an obvious potential failure point). Speed Queen balances the machine from the bottom to reduce vibration and balance issues.

Agitator Design: The TR series of washers use an "agi-tub" design. The entire tub twists back and forth and swishes the clothes through the water and around the agitator. This is designed to be gentler than a traditional agitator design where the agitator turns separately from the tub, saving wear and tear on your clothes. However, the Speed Queen TC5000WN uses a traditional dual action agitator if you prefer a rougher wash action.

Tested Electronic Controls:

The electronic controls included in the washers are commercial-grade and tested to withstand 10,400 wash cycles. At one wash cycle per day, that adds up to

28.5 years

of trouble-free performance!
Looking for even more proof that Speed Queen washers are tough?
Click here for Speed Queen's livestream of more creative tests for the TR7!
A Note About the Normal ECO Cycle
Many people buy Speed Queen washers because they feel that a washer using more water means a better clean. While the accuracy of this is debatable, if that's what you prefer then you'll find it in a Speed Queen! The Normal ECO cycle was designed to meet federal water usage requirements and as such it's a very different wash from what Speed Queen is known for. To get a "traditional" wash like the washers of yore, you should probably avoid the Normal ECO cycle. The Normal ECO cycle may work just fine for light soils, though.
It's worth noting that for 2020, adding the Heavy Soil option to the Normal Eco cycle ("Max soil" on the TR7) results in an improved multi-temperature wash for fighting stains. This wash starts with an 8-minute cold water soak, then adds hot water and completes a 12 minute prewash before the main cycle begins. They've also added three minutes of 820 RPM spin speed as well. The total cycle time for Normal Eco + Heavy/Max Soil is 70 minutes.
We think that this Normal ECO cycle is why you may have heard or seen online some backlash against the TR design. The TRs also use a different agitation mechanism that is gentler on clothes yet still provides an effective clean. If you'd prefer a traditional agitator system, check out our review of the TC5000WN, Speed Queen's "old school" washer option.
The Entry-Level: Model TR3003WN - 3-Year Warranty
The TR3003WN, priced at $919, is a dial control model that provides an old-school feel to the controls without a bunch of touchpads and buttons to deal with. It has four cycle options, including Normal ECO, Heavy Duty, Delicates, and Permanent Press. You can manually pick the load size or choose auto-fill, which will sense how much water is needed to wash the clothes properly. This model also has three wash temperature settings: hot, warm, and cold.
Speed Queen includes industry-leading warranties on all their products and this machine gives you three years full coverage on both parts and labor.
In early 2020, Speed Queen began updating the TR line. The TR3003WN is the successor to the TR3000WN. The 3000 model had an "Extra Rinse" button, while the 3003 replaces that with a "Heavy Soil" option. The Heavy Soil option adds about 20 minutes to the total wash cycle time and uses increased agitation to handle soils. The 3000 model had load size selections for Small, Medium, Large, and Auto Fill, while the 3003 model has Small, Large, Auto Fill, and Auto Fill Extra Rinse options.
Cycles & Options:
4 Cycles: Normal ECO, Heavy Duty, Delicates, Permanent Press

4 Load Sizes: Small, Large, Auto Fill, Auto Fill Extra Rinse

1 Option: Heavy Soil

3 Wash Temperatures: Cold, Warm, Hot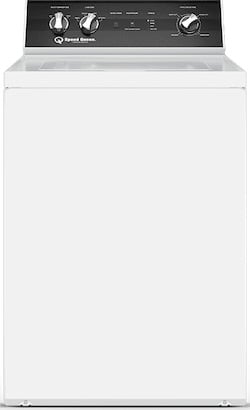 The Step-Up: Model TR5003WN - 5-Year Warranty
The next step up is the TR5003WN, priced at $1,019, which is also a dial control model. This machine adds two extra cycle options, which are "Spin Only" and "Hand Wash." In addition, an added "cool" wash temperature option is included.
The warranty on this machine is five years full coverage, so spending those extra few dollars for another two years of coverage may make the jump worth it!
Like the TR3, the TR5 was updated in early 2020. The Extra Rinse option on the TR5000WN has been replaced by a Heavy Soil option on the TR5003WN. The Heavy Soil option adds about 20 minutes to the total wash cycle time and uses increased agitation to handle soils. The TR5003WN has Small, Large, Auto Fill, and Auto Fill Extra Rinse load sizes, while the TR5000WN had Small, Medium, Large, and Auto Fill.
Cycles & Options:
6 Cycles: Normal ECO, Heavy Duty, Delicates, Permanent Press, Spin Only, Hand Wash

4 Load Sizes: Small, Large, Auto Fill, Auto Fill Extra Rinse

1 Option: Heavy Soil

4 Wash Temperatures: Cold, Cool, Warm, Hot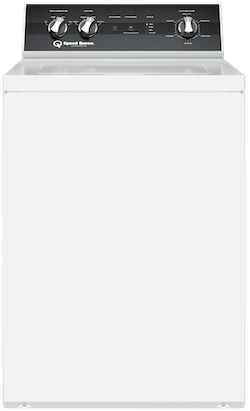 The Premium Option: Model TR7003WN - 7-Year Warranty
The last washer we have in our Speed Queen Washer review is the TR7003WN. This model retails for $1,119 and is Speed Queen's most well-featured top load washer. Unlike the other two models, this one has an electronic touchpad control. Some consumers are wary of a touchpad because of the perception that they break easily, but these are designed for commercial use and tested for 1,000,000 button-pushes to ensure lasting quality.
The extra cycle options available on this machine include a "Favorites" selection, which can save several of your desired cycle settings. There is also a "Special Cycles" button, which has 8 preset cycles saved for specialty fabrics like activewear or even wool, as well as "eco" heavy duty and delicate cycles that use a spray rinse to reduce water consumption. There's also a Super Soiled cycle hidden in those special cycles for very heavily soiled items - it automatically soaks items for 15 minutes before starting the wash, has a longer wash cycle time than the Heavy Duty cycle, and finishes things off with an extra rinse.
On top of that, this model has a ton of great options - for those who would like to wash AND rinse in warm water rather than the default cold water rinse, the TR7 has a warm wash/warm rinse option. And if you select Extra Rinse with the warm/warm temperature, the extra rinse will use warm water, too! There's a Pre-Wash option that will even pause after the pre-wash is completed and the dirty water has drained, giving you time to add more laundry supplies. If you don't do anything, then the rest of the cycle will start after 2 minutes. The Soak option lets you select soaking times from 15 minutes up to 24 hours if needed!
The real kicker on this machine is the seven-year full coverage warranty included on it, so even if you're a bit hesitant on purchasing a washing machine with touch controls, that provides some real peace of mind!
Cycles & Options:
8 Main Cycles: Normal ECO, Heavy Duty, Delicates, Permanent Press, Spin Only, Hand Wash, Bulky, Rinse & Spin (and Favorites)

8 Special Cycles: ECO Heavy Duty, ECO Delicate, Waterproof, Super Soiled, Whites, Wool, Athletic, Denim

4 Load Sizes: Small, Medium, Large, Auto Fill

4 Wash/Rinse Temperatures: Cold/Cold, Warm/Cold, Warm/Warm, Hot/Cold

5 Soil Levels: Light, Medium, Heavy, Max

8 Options: Control Lock, Soak, Extra Rinse, Delay Start, Prewash, Speed Cycle, Signal On/Off, Adjust Cycle Time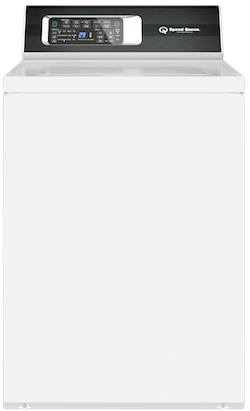 While there are many options available in top load laundry, Speed Queen is always a great choice, especially if you're looking for longevity and dependability. These machines possess commercial quality, unmatched performance, and industry-leading warranties. Headquartered in Wisconsin, Speed Queen products are American-made and only available through independent retailers. You won't find them at the big box stores!
We hoped you enjoyed these Speed Queen Washer reviews. You can also check out our reviews of Speed Queen dryers, Speed Queen stackable washer dryers, and all of our Speed Queen blog posts!
Please leave us a comment below. We'd love to hear from you!
Editor's Note: This blog was originally written in April of 2018 and has been completely revamped and updated for accuracy as of the publication date noted above.