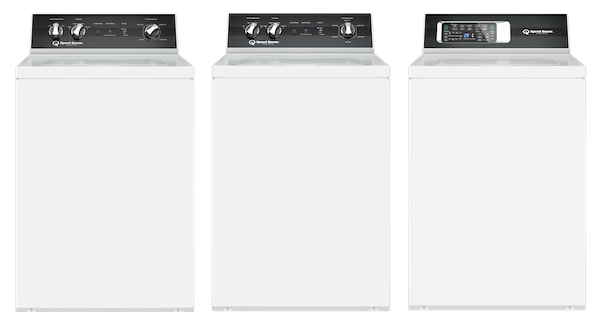 After 20 years of use, it isn't uncommon for an old washer or dryer to bite the dust, leaving the owner scrambling to research new options. Once they start reading reviews online, however, the unsuspecting shopper may be dismayed with how many customers say that their laundry machines died after only 6-10 years, or sometimes even less! How can this be when their old machines, apart from an occasional repair, hardly caused any issues for over two decades?
Well, the answer is simple: They just don't make things like they used to... BUT WAIT! Not all hope is lost, for we still have Speed Queen in our midst. They're still making machines just as durable as the good ol' days! (Plus: Discover even more information on choosing a new washing machine in our washing machine buying guide!)
Speed Queen washing machines are the types of machines that you often see in laundromats, hotels, and other commercial settings for which a durable appliance that can stand up to heavy use and lots of loads is needed. The brand took the same quality components that they put in those commercial washers and placed them in machines intended for home use. The typical consumer can expect to get over 20 years out of a Speed Queen before it needs replacement.
Find out more about choosing the perfect washing machine in our video!
For 2018, Speed Queen redesigned their entire line of products for the home and came out with three new top load washers. The TR3000WN is the most basic model, followed by the TR5000WN which includes a few extra upgrades, and a longer warranty. The TR7000WN is the premium model and contains several enticing features plus the longest warranty in the industry. All models offer 3.2 cubic feet of capacity. In these Speed Queen washer reviews, we will look at each of these models in-depth so that you can decide which might be the best choice for you.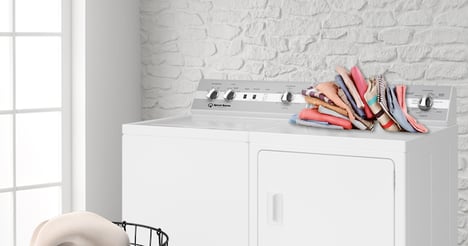 The Speed Queen Platform
All Speed Queen models share the same basic platform. The components of the actual machines we're looking at are almost identical in each of the three models, while the control panels are what offer different cycle options and wash capabilities. So let's take a look at the bodies of the machines.
Speed Queen puts a three-coat enamel-like finish on the bodies, designed to stand up to years of wear and tear in laundromats, meaning that it should hold up even better in your home. This is a better option than the plastic outer tub you'll find in many washers from other manufacturers, which is prone to cracking and breaking down over time. The Speed Queen washer porcelain-coated steel outer tub won't chip or crack and lasts longer than plastic. The wash tub itself is made from 200 series austenitic stainless steel (an alloy), which provides better resistance to wear and corrosion than the 400 series stainless steel often used by competitors. In fact, austenitic stainless steel usually has the highest corrosion resistance!
These models feature the tried and true traditional full-size agitator that helps move water through the clothes and provide a gentle wash. One of the common complaints about agitator washing machines is that they're rough on clothes, while impeller-style machines don't provide as thorough of a clean and are more difficult to load. Speed Queen has kept the cleaning power of the agitator while taking steps to make it easier on clothes, reducing unnecessary wear and tear from "over-washing."
Another impressive feature on these washers is the solid mount suspension system that features a steel base with heavy-duty springs that help prevent the machine going off balance, create less vibration, and provide a longer machine life.
The electronic controls included in the washers are commercial-grade and tested to withstand 10,400 wash cycles. The one horsepower variable speed motor is also commercial-grade and the pulley and drive system is entirely made out of metal to stand up to years of use.
(Before we move into the individual Speed Queen washer reviews, we want to invite you to download our Washing Machine Buyer's Guide packed with valuable information about the entire buying process. Click below to download!)
The Entry-Level: Model TR3000WN - 3-Year Warranty
The TR3000WN, priced at $919, is a dial control model that provides an old-school feel to the controls without a bunch of touchpads and buttons to deal with. It has four cycle options, including Normal ECO, Heavy Duty, Delicates, and Permanent Press. You can manually pick the load size or choose auto-fill, which will sense how much water is needed to wash the clothes properly. This model also has three wash temperature settings: hot, warm, and cold. Speed Queen includes industry-leading warranties on all their products and this machine gives you three years full coverage on both parts and labor.
Click here to read over 110 real customer reviews of this product!
The Step-Up: Model TR5000WN - 5-Year Warranty
The next step up is the TR5000WN, priced at $999, which is also a dial control model. This machine adds two extra cycle options, which are "Spin Only" and "Hand Wash." In addition, an added "cool" wash temperature option is included. The warranty on this machine is five years full coverage, so spending those extra few dollars for another two years of coverage may make the jump worth it!
Click here to read over 230 real customer reviews of this product!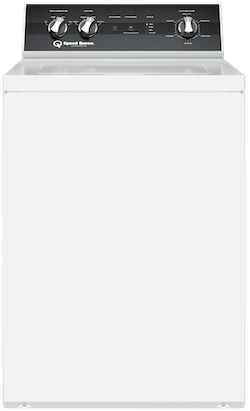 The Premium Option: Model TR7000WN - 7-Year Warranty
The last washer we have in our Speed Queen Washer review is the TR7000WN. This model retails for $1,069 and is Speed Queen's most well-featured top load washer. Unlike the other two models, this one has an electronic touchpad control. Some consumers are wary of a touchpad because of the perception that they break easily, but these are designed for commercial use and tested for 1,000,000 button-pushes to ensure lasting quality.
The extra cycle options available on this machine include a "Favorites" selection, which can save several of your desired cycle settings. There is also a "Special Cycles" button, which has preset cycles saved for various purposes, such as activewear and wool. "Bulky" and "Rinse and Spin" buttons are also on the cycle display. There is an option for a signal sound on this machine and you can also select soil level.
The real kicker on this machine is the seven-year full coverage warranty included on it, so even if you're a bit hesitant on purchasing a washing machine with touch controls, that provides some real peace of mind!
Click here to read over 160 real customer reviews of this product!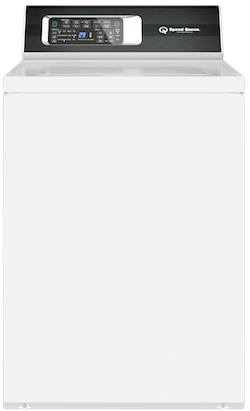 While there are many options available in top load laundry, Speed Queen is always a great choice, especially if you're looking for longevity and dependability. These machines possess commercial quality, unmatched performance, and industry-leading warranties. Headquartered in Wisconsin, Speed Queen products are American-made and only available through independent retailers. You won't find them at the big box stores!
We hoped you enjoyed these Speed Queen Washer reviews. You can also check out our reviews of Speed Queen dryers, Speed Queen stackable washer dryers, and all of our Speed Queen blog posts!
Please leave us a comment below. We'd love to hear from you!
Editor's Note: This blog was originally written in April of 2018 and has been completely revamped and updated for accuracy as of the publication date noted above.