The electronic controls included in the washers are commercial-grade and tested to withstand 10,400 wash cycles. The one horsepower variable speed motor is also commercial-grade and the pulley and drive system is entirely made out of metal to stand up to years of use.
The Entry-Level: Model TR3000WN - 3-Year Warranty
The TR3000WN, priced at $899, is a dial control model that provides an old-school feel to the controls without a bunch of touchpads and buttons to deal with. It has four cycle options, including Normal ECO, Heavy Duty, Delicates, and Permanent Press. You can manually pick the load size or choose auto-fill, which will sense how much water is needed to wash the clothes properly. This model also has three wash temperature settings: hot, warm, and cold.
Speed Queen includes industry-leading warranties on all their products and this machine gives you three years full coverage on both parts and labor.
Click here to read over 775 real customer reviews of this product!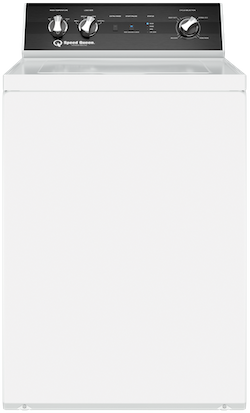 The Step-Up: Model TR5000WN - 5-Year Warranty
The next step up is the TR5000WN, priced at $999, which is also a dial control model. This machine adds two extra cycle options, which are "Spin Only" and "Hand Wash." In addition, an added "cool" wash temperature option is included.
The warranty on this machine is five years full coverage, so spending those extra few dollars for another two years of coverage may make the jump worth it!
Click here to read over 1,390 real customer reviews of this product!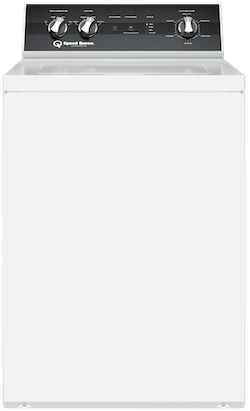 The Premium Option: Model TR7003WN - 7-Year Warranty
The last washer we have in our Speed Queen Washer review is the TR7003WN. This model retails for $1,069 and is Speed Queen's most well-featured top load washer. Unlike the other two models, this one has an electronic touchpad control. Some consumers are wary of a touchpad because of the perception that they break easily, but these are designed for commercial use and tested for 1,000,000 button-pushes to ensure lasting quality.
The extra cycle options available on this machine include a "Favorites" selection, which can save several of your desired cycle settings. There is also a "Special Cycles" button, which has preset cycles saved for various purposes, such as activewear and wool. "Bulky" and "Rinse and Spin" buttons are also on the cycle display. There is an option for a signal sound on this machine and you can also select soil level.
The real kicker on this machine is the seven-year full coverage warranty included on it, so even if you're a bit hesitant on purchasing a washing machine with touch controls, that provides some real peace of mind!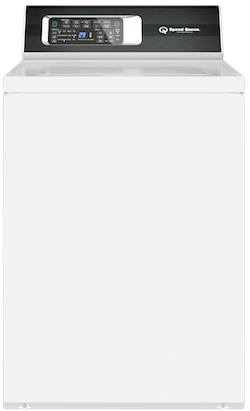 While there are many options available in top load laundry, Speed Queen is always a great choice, especially if you're looking for longevity and dependability. These machines possess commercial quality, unmatched performance, and industry-leading warranties. Headquartered in Wisconsin, Speed Queen products are American-made and only available through independent retailers. You won't find them at the big box stores!
We hoped you enjoyed these Speed Queen Washer reviews. You can also check out our reviews of Speed Queen dryers, Speed Queen stackable washer dryers, and all of our Speed Queen blog posts!
Please leave us a comment below. We'd love to hear from you!
Editor's Note: This blog was originally written in April of 2018 and has been completely revamped and updated for accuracy as of the publication date noted above.