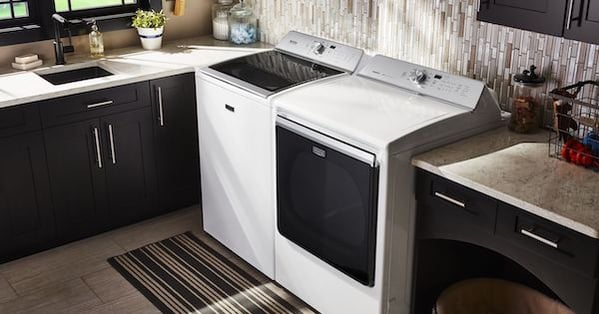 Although front load washers are becoming more common on the market today, many people stand by the tried-and-true top load washer design. If you're looking for the largest top load washer with an agitator, you're in the right place. We've written about agitator washing machines before, but the main reason why people go for them is they use more water and can handle heavy soils better as a result, ideal for busy households and handling seriously dirty clothes! And if you want to wash a king-sized comforter, big loads of towels, and more, the larger the washing machine, the better! (For more info on choosing a new washer, check out our washing machine buying guide.)
In this article, we'll go over our top picks for the largest top load washer models with agitators on the market for 2022 to help you choose the best option for your needs. Remember: these XL models tend to have larger dimensions than standard models, so check that you have enough space in your laundry area and that your doors are wide enough to fit these models into your home!
Table of Contents
*If you need a standard 27" wide, 27" deep washer to fit into a closet or through narrow doorways, check out this model!
Note: As of February 2022, the largest agitator washers on the market have not changed since we last updated this post in February 2021.
Watch our 3-minute video to learn more about top load washers!
1. Maytag MVW7230HW - 5.2 cu. ft. - $1,099
For 2020, Maytag replaced the popular MVWB865GW (previously featured in this article) with the new Maytag MVW7230HW, which retails at the same price but offers some great extra features. Maytag has a reputation for reliability: years ago their ads featured the bored Maytag repairman who didn't have enough work to do! This 5.2 cubic foot capacity top load washer comes with a 10-year parts warranty on the drive motor and basket - key parts of your washer.
This model is "the Best Cleaning in its class," thanks to the extra "oomph" of the Heavy Duty cycle with the Extra Power option. If you want to make sure every last bit of dirt is washed away, the Deep Fill option adds more water to the cycle to pull out soils. New for 2020, this model comes with a built-in water faucet for pretreating and rinsing away soils. It allows you to soak fabrics before starting a wash using the Delay Start feature. You'll also have Wi-Fi connectivity, so you can start a cycle remotely and get a notification when it's complete!
Maytag Commercial Technology provides this washer with a thoroughly tested long-life direct drive system and commercial springs. The stainless steel wash basket is more durable than a plastic or painted steel basket. This model is available in white at $1,099 or slate gray at $1,199 (although appliance packages and holiday sales can drive the MSRP down by 20% or more).
Features:
13 Cycles: Normal/Regular, Heavy Duty, Whites, Sanitize w/ Oxi, Towels, Bulky Items, Custom Cycle, Quick Wash, Delicates, Wrinkle Control, Colors, Drain & Spin, Clean Washer w/ Affresh

6 Options: Extra Power/Deep Clean, Deep Fill, Remote Enable, Extra Rinse, Delay Start (1-12 hours), Fabric Softener

Maximum spin speed: 850 RPM

10-year limited parts warranty on the direct drive motor and wash basket

Energy Star rated

Built-in water faucet

Wi-Fi connectivity
Dimensions:
Width: 27.25"

Depth: 27.875"

Height: 43.875"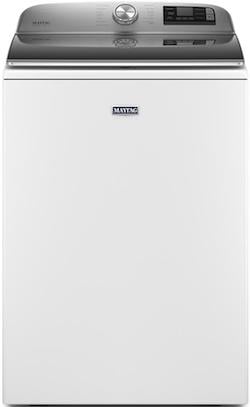 2. GE GTW725BSNWS - 4.6 cu. ft. - $898
Next up on our review of the largest top load washer with agitator models is the GE GTW725BSNWS, available in white at $898 or diamond gray at $998. If you need a standard 27" wide washer with extra capacity to fit in your laundry area, this model could be perfect. The dual action agitator of this top load washer mixes up the wash action for a thorough clean, with a gentle reversing action customized to the cycle selection. It's also one of GE's smart appliances with optional Wi-Fi connectivity, so you can control and monitor your washer with your smartphone or virtual assistant. It comes with a 10-year warranty on the direct drive motor.
A few of the thoughtful options GE included with this top load washer with agitator are Auto Soak for loosening stains prior to the wash cycle, Deep Rinse for washing away soap residue and fabric softener, and Warm Rinse. Many energy efficient washers automatically use cold water for rinses, but in some cases, a warm rinse can be preferable - for example, wool fabrics should ideally be washed and rinsed in warm water. The dispenser is also compatible with detergent PODS, using a jet of water to break down the detergent pack for increased cleaning performance. Plus, fabric softener and oxygenated additives like bleach are dispensed automatically at the right points in the cycle for optimal results.
Another feature we love about this top load washer is the stain pretreat guide to help you tackle five common household stains. With 13 cycles plus the water station, you can choose the ideal settings for everything from active wear to sheets and towels. The soft-close glass lid is another thoughtful feature. Last but not least, GE's Dynamic Balancing Technology helps to reduce vibration for a quieter wash.
Features:
12 Cycles: Active Wear, Bulky Items, Casuals, Cold Wash, Colors/Normals, Delicates, Drain + Spin, Jeans, Quick Wash, Sanitize with Oxi, Towels & Sheets, Whites

8 Options: Deep Fill, Warm Rinse, Auto Soak, Deep Rinse, Extra Rinse, My Cycle, Delay Wash, Stain Removal Guide

Max spin speed: 800 RPM

Dual-action agitator

Wi-Fi connectivity with optional part #PBX23W00Y0

Soft-close glass lid
Dimensions:
Width: 27"

Depth: 27"

Height: 46"
Click here to read over 450 real customer reviews of this product!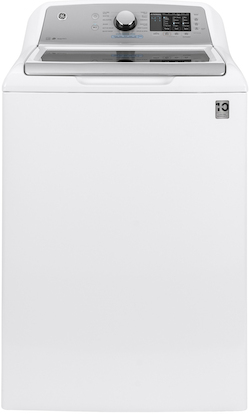 3. LG WT7305CW - 4.8 cu. ft. - $1,049
LG had never made an agitator washer... until now. New for 2020, the LG WT7305CW offers 4.8 cubic feet of capacity and plenty of smart features. This model made it to Reviewed.com's #1 spot for the best agitator washer. LG has created a nicely featured agitator washer for those who want a little extra along with the cleaning power of an agitator.
The agitator uses a unique 4-way wash action: clothes are moved side to side as well as up and down the tub for a thorough yet gentle clean. Agitators are known for beating up clothes, especially stretch fabrics and thinner fabrics, so if you want your clothes to last longer, this could be a great washer for you. The final spin speed of 950 RPM is impressive among agitator washers and will help your clothes spend less time in the dryer, too. Plus, TurboWash3D technology means you can complete a quick wash cycle in just 37 minutes without sacrificing cleaning performance. (And yes, there's a Deep Fill option and a Soak option.)
The smart features include Smart Pairing, which will allow your washer to automatically tell the matching dryer what setting to dry the clothes on. The ThinQ app allows you to control your laundry appliances remotely and receive notifications when a cycle is complete. New Proactive Customer Care can send you maintenance tips and alerts to help your appliances last longer.
Other nice features include a SlamProof soft-close lid and LoDecibel quiet operation. If you're looking for a large capacity agitator washing machine with plenty of features and options, as well as a wash action that's still thorough while being gentler on your clothes, check out this LG model!
Features:
8 Cycles: Normal, Heavy Duty, Bedding, Deep Wash, Pre Wash+ Normal, Delicates, Waterproof, Downloaded

15 Options: TurboWash, Extra Rinse, Add Garments, Delay Wash, Control Lock, Deep Fill, ColdWash, Rinse+Spin, Spin Only, StainCare, Tub Clean, Signal, Remote Start, Wi-Fi, Soak

Wi-Fi connectivity - Smart Pairing and ThinQ app

Energy Star rated

Max spin speed: 950 RPM

10-year limited parts warranty on the direct drive motor and 3 years on wash basket

TurboWash3D speeds up any cycle

Soft-close glass lid
Dimensions:
Width: 27"

Depth: 28.375"

Height: 44.5"
Click here to read over 340 real customer reviews of this product!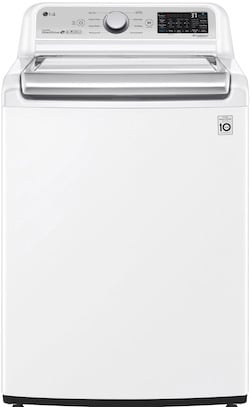 That sums up our picks for the largest top load washer with agitator models of 2022! The truly massive 6.0 cubic foot Maytag MVWB965HC was formerly a top contender on our list (and had notably large external dimensions at 29.5" wide and 30" deep), but it has been discontinued. If you're interested in a commercial washing machine, the Maytag Commercial Technology on the first model may be attractive, although it's no substitute for the real deal. The GE model is the largest washer built on a standard-size platform of 27" wide by 27" deep. The Maytag model is a little larger than standard at 27.25" wide and 28" deep, and the fully-featured smart model from LG is a standard 27" width with a 28.375" depth. Check your doorways to make sure you can fit these XL models into your home!
Leave us a comment below - We'd love to hear from you!
Editor's Note: This blog was originally written in January of 2019 and has been completely revamped and updated for accuracy as of the publication date noted above.