In a Hurry? Check Out Our Video on Choosing the Perfect Washing Machine!
Choosing a Top Load vs Front Load Washing Machine
---
One of the first and most basic questions to consider when buying a new washing machine is the type of washing machine you need. You have two main categories to consider, which we'll compare in detail here: front loading and top loading washing machines.
In general, keep in mind that any judgments on a machine type's energy efficiency and water usage will vary depending on whether the model is Energy Star rated or not, and that new technologies are constantly changing the washing machine landscape! For example, there are many extra-large models over 5.5 cubic feet in both the top load and front load washer styles, although the initial XL washing machines that came on the market in recent years were front loaders.
Top Load Washers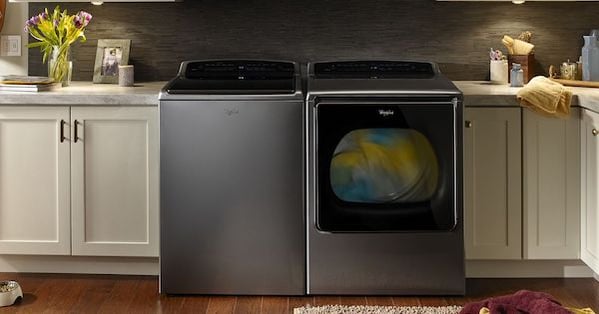 A top loader washing machine is the traditional washing machine design, but manufacturers have kept up with the times to keep this washer style relevant and desirable. They use less water than your childhood top load washer, plus they're gentler on clothes while still providing a thorough clean as well. Below are some of the pros and cons of top load washers.
Looking for specific product recommendations? Check out our reviews of the 7 Best Top Load Washers, the 7 Largest Top Load Washers, and the 3 Largest Top Load Washers with Agitators of the year!
Top Load Washer Advantages
No bending over when loading the washer, and therefore no need for costly bases or pedestals to raise the washer height

Models with impellers rather than agitators give you more room in the tub for washing larger items and are usually a feature of high efficiency top load washers

In some cases, traditional agitator top loaders can have better cleaning power, making them ideal for tough, heavily soiled items

Newer agitators and impeller washer designs are gentler on clothes

Many new top load washers are comparable to front loaders in terms of energy efficiency

Some top load washers allow you to override automatic fill levels so you can choose your own water level

Often cheaper than a comparable front load model, and available in a variety of sizes
Top Load Washer Disadvantages
Washers that allow you to set your own water fill level are not quite as energy efficient as auto fill models

Top load washers can't be stacked like some front load washers

They can be less aesthetically pleasing than front load washers, which may be a factor if you have laundry in an open area of your home, such as in a galley-style kitchen

Bulky items like sheets and towels can get tangled up around the agitator
Watch our 3-minute overview of top load washers!
Front Load Washers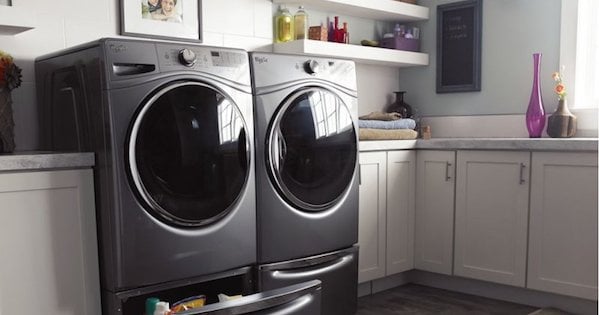 The front loading washer is a newer face to the appliance market. At first, they rapidly outpaced top load washers with significantly gentler wash action, lower water usage, and higher spin speed. Although top load washers have made strides to catch up, front loaders are still outperforming them to some extent in several areas. Below are some of the pros and cons of front load washers.
Looking for specific product recommendations? Check out our reviews of the 7 Best Front Load Washers and the 5 Largest Front Load Washers of the year!
Front Load Washer Advantages
They typically reach a higher spin speed in the final spin than top load washers, which aids in drying time, but this gap has been closing as top load washer spin speeds improve

Front loading washers are more likely to be ADA compliant, so they're a good pick if your household includes a person with a physical disability

The cleaning mechanism is gentler on clothes than agitator or impeller methods, which can be helpful for delicate items, high-end fabrics, and just helping your wardrobe last longer in general

A front loader tends to be more energy efficient and use less water than a top loader

The price jump between front and top load washing machines has been decreasing

Large items are less likely to get tangled and pulled in different directions

You can conserve valuable floor space with a stackable washer dryer pair, or tuck them under a counter

They tend to have more aesthetic appeal, making them a great choice for laundry areas near living rooms and other often-used spaces
Front Load Washer Disadvantages
Some front loaders don't allow you to add clothes in the middle of a cycle, such as a forgotten sock

Pedestals raise the level of the door, but you still have to bend somewhat, and these pedestals add hundreds of dollars to the purchase cost of your washer

Some do not have reversible doors, so take the door swing direction into consideration when shopping

Front load washers vibrate more than top load washers due to the higher spin speeds, so a balanced load and level surface are crucial to good performance

Mold and smells in the tub can be an issue if the washer is not cleaned regularly
Watch our 3-minute overview of front load washers!
Measure Your Space to Ensure a Perfect Fit
---
It is important to know how much space you have to work with in your laundry room or laundry closet. Most standard machines are around 27 inches wide. If your machines are installed side by side, you'll want to leave at least an inch between the washer and dryer. Many new machines with larger tub sizes have larger exterior dimensions so 27 inches is just a rule of thumb. Check the dimensions of any product you are considering.
You'll also want to leave about 6 inches behind the machine if possible to accommodate water hook ups and drain hoses, and 1-3 inches on either side for air circulation. Something that's easy to overlook is measuring your home's door openings. If the machine will fit in the laundry closet but not through a doorway in your home, it won't be a good match for you! Be sure to measure the laundry area and all doorways that the appliance will need to pass through.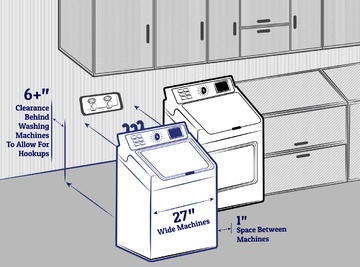 If you're planning on purchasing a stackable washer and dryer or laundry center, the height available in your laundry space is another consideration. A stackable washer dryer pair is generally between 70-75 inches. Stacking kits won't affect the overall height of your stacked washer dryer pair (and remember that not all laundry appliances are stackable). If you're buying a washer pedestal, however, that can add extra inches that need to be accounted for.
Some apartments, condominiums, and other small spaces can benefit from a compact washing machine, which are generally 24 inches wide. If you want to place your front load washer under a counter, you'll want to double-check the height measurement as well to ensure compatibility, and leave at least one inch of wiggle room!
Choose Capacity Wisely - Tub Sizes Explained
---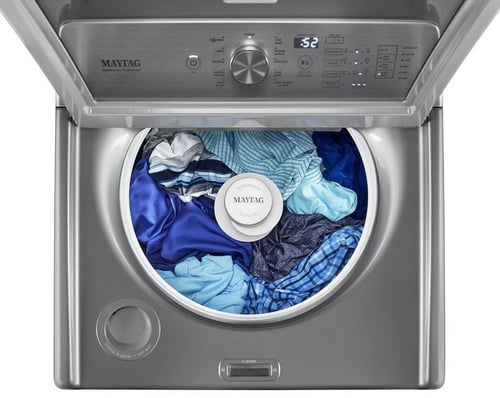 The size of the wash tub is very important and both front load and top load washers come in a variety of tub sizes. Most brands of washers come in a range of different capacities from about 3.4 cubic feet to 5.0 cubic feet. Some are even larger. The larger the capacity of the wash tub, the more clothes that you can wash in one load. The largest size tubs are generally about 5.0 cubic feet or about 40% larger than standard tub sizes.
In general, front load washers tend to have larger capacities than comparable top load washers with the same dimensions. As capacity increases, so can the overall size of the washing machine, so here's another reminder to double-check those measurements!
Some top loaders don't have agitators, giving you more usable space inside, thanks to an impeller. This allows you to do larger batches, cutting down on your work load and saving you time. Front load washers also allow you to do larger batches due to their unobstructed interior space. However, be careful not to overload these washers because this can cause problems and shorten the life of the product.
How Big of a Washing Machine Do You Need?
The key is to zero in on how big your average load size is and what types of clothes you wash regularly. If your current washer is not quite enough, try a larger capacity this time around. If you want to get really technical, you can weigh the contents of your laundry basket to estimate how many pounds of laundry you need to wash at a time! Although washer capacity is measured in cubic feet, most manufacturers will list comparisons like "Big enough to wash a king-size comforter" or "Big enough for 16 bath towels." Your typical full-size bath towel is about 1.6 pounds, so you can do the math from there to figure out how many pounds of laundry the washer can handle.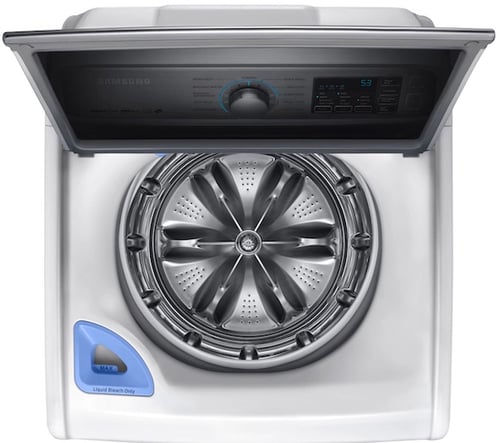 Here are some conversions to help you decide on the right washer capacity for your needs:
Compact washers: 2.0-3.0 cubic feet - 9-13 pounds, or 6-8 bath towels

Standard-size washers: 3.1-4.0 cubic feet - 12-16 pounds, or 8-11 bath towels

Large washers: 4.2-5.0+ cubic feet - 18-20+ pounds, or 13+ bath towels!
Choose the product that is the right size for your wash load. Going too small will work against you since you'll need to expend more water on more loads of laundry, but going too big can mean a more expensive washer that you won't fully utilize. In general, a small household of 1-3 people is perfect for compact washers or smaller standard-size washers. For households of four or more, especially if there are children involved, you'll want a washer on the mid to upper end to handle all of the dirty laundry they can produce!
Another rule of thumb to keep in mind: to find the right dryer capacity to pair with your washing machine, multiply the capacity of your washing machine by 1.5-2 times.
If you're not sure what washing machine capacity would work for you, we recommend talking to the knowledgeable salespeople at your local appliance store!
Features & Cycles - What Are Your Must-Haves?
---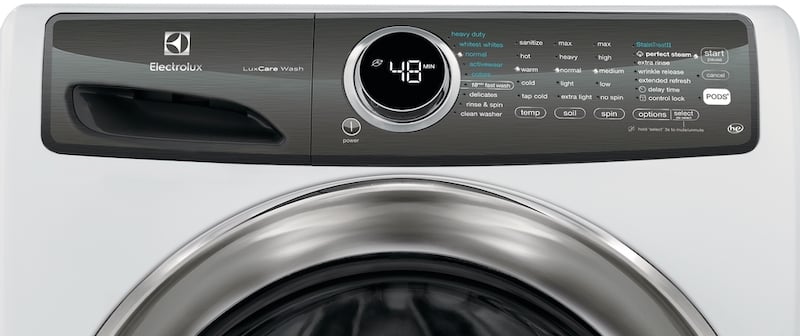 Next, you'll want to take a close look at the control layout and construction of the washing machine and also look at the cycles and features to see if they meet your needs. Here's a partial list of what to look for:
Temperature & Wash Cycles
Of course, one of the most basic questions is how do you like to wash your clothes. The options are limitless. Some people want lots of manual selection options for temperature, soil level and wash length. Others seek auto sensing to save on water and detergent. Still others need just the basics: a few temperatures and a few soil levels and they are good to go. Some people prefer to have specific cycles for things like delicates, activewear, and other items.
Controls & Technology
Dial controls are still common on many washing machines, but electronic controls are also an option. One concern about electronic controls is their longevity, and, by extension, their repair costs. In that case, you may want to consider a Speed Queen washer, since they warranty their control panels and test them rigorously to last for thousands of washes. Another feature in some laundry appliances is wifi connectivity, so you can do things like get alerts on your smartphone when a cycle is complete. If you're onboard with the smart appliances trend, a smart washing machine might be for you!
Cleaning Cycles
These cycles are run without clothes in the washer with the use of cleaning agents that are designed to reduce soap build up and musty odors. Some washing machines will also alert you when it's time to run the cleaning cycle after a certain number of washes. This is especially useful in front load washers since water can pool in the tub between uses, leading to mold and odors if left unchecked. Cleaning cycles can be a good feature in top load washers as well.
Steam Cycles
Steam in a washer provides improved stain removal and can help eliminate odors and wrinkles. (Side note: there are steam cycle dryers, too!) A steam option can be part of the washer cycle as an alternative to a pre-soak, or it can be its own cycle for refreshing clothes.
High Efficiency Machines & HE Detergents
Many high efficiency machines use require the use of HE laundry detergent. These detergents generate only a small amount of suds and activate the soap faster in the new low water usage machines, improving wash performance and helping to prevent soap build up in the machines. However, keep in mind that a high efficiency machine is not the same as an Energy star rated machine. If you want to use less water when you wash your clothes, look for Energy star rated washing machines.
Direct Drive Motors
Some machines offer direct drive motors. In these machines, the motor is directly connected to the tub. These washers have fewer moving parts, shorter wash cycles and better efficiency. They can be a good choice for people concerned with reliability and longevity.
Agitator Washers
Some manufacturers are still making traditional top load washers with agitators in the tubs to clean the clothes. These washers generally use more water and are smaller capacity than newer models. Learn more about the pros and cons of agitator washing machines here!
Impeller Washers
New high efficiency top load washers do not have agitators in the tub. The agitator has been replaced with an impeller device in the bottom of the tub that is designed to move the clothes to the bottom of the tub and do the washing. We wrote about washing machine impellers and high efficiency top load washers if you want to find out more!
Vibration & Operation Noise
While many dishwashers receive decibel ratings, some consumers are disappointed to learn that laundry appliances are not usually rated for this feature. However, in the past decade there have been innovations in vibration reduction and making operation noise quieter in washing machines. This is good news if your laundry room is on the second floor (where any vibration can be heard below) or near a living area. Although you'll find that washing machines today are in general quieter than older machines, here are a few examples of brand innovations in this category:
LG LoDecibel Quiet Operation

Samsung VRT (Vibration Reduction Technology) and VRT Plus

Whirlpool Quiet Spin Technology and Quiet Wash Noise Reduction Systems

Electrolux Perfect Balance System and Second Floor Guarantee
The most inexpensive washing machines start in the $300 to $400 range. These are the most basic models and are typically top loading. They are great if you just want basic washing functions and don't care about lots of cycles and options, larger capacity, or lower energy usage. Amana washers and Hotpoint washers are two brands to consider for reliable low-cost washers.
There are many full-featured models in the $600 to $1,000 range and many very nice higher end washing machines priced above $1,000. The price range you'll fall into will depend largely on the features and capacity you seek. You should also consider the manufacturer's warranty as a factor into the price of your washing machine, since this can help you out in the future if your washing machine runs into problems unexpectedly. If you're concerned, an extended warranty may be something to consider.
Some people who are especially concerned with reliability may prefer commercial washing machines for home use - these models tend to have longer warranties, a higher price than comparable models, and are generally less energy efficient.
A stacking kit is a minor cost consideration if you plan to buy a stackable washer dryer pair. These kits are generally unique to the brand and size of your machines and can be as little as $30 or as high as $150 or more. Pedestals are at least $250 on average. Some pedestals include storage drawers and other features to give you more bang for your buck.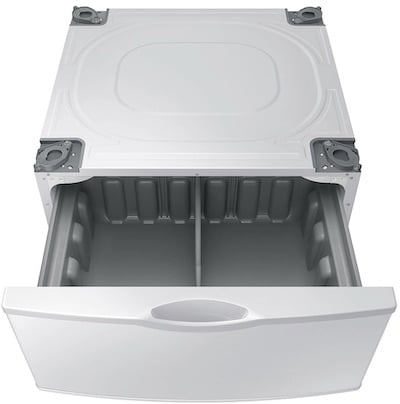 The Easy Way to Save Money on a New Washing Machine
If your need for a new washing machine isn't dire (i.e., the old one is still running!), consider waiting to buy during one of several holiday appliance sales throughout the year. The major sales holidays include New Years, President's Day in February, Memorial Day in May, the 4th of July, Columbus Day in October, and Black Friday in November, These sales are spread pretty evenly throughout the year so you're likely close to one of these sales now!
You can also look into appliance packages if you're replacing the washer and dryer, and appliance rebates are also worth considering. Ideally, these options will make your day rather than make your choice of washing machine for you!
Unique Space-Savers - Washer Dryer Combos and More
---
For some households, a regular old washer and dryer might not be the best option. We wanted to include the non-traditional options you can take a look at as well in our washing machine buying guide!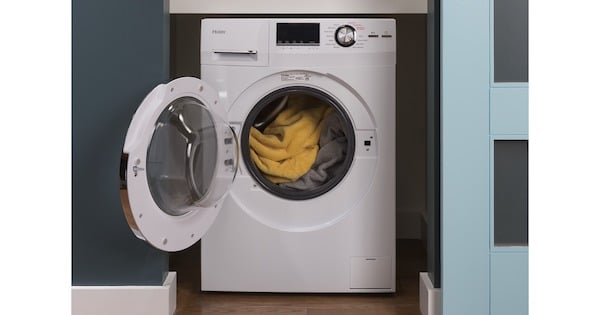 Compact washer dryers and washer dryer combos are a common sight in European homes and apartments, but they can be a good choice for American living spaces as well! A washer dryer combo (like the Haier model pictured above) is usually around 2.0-2.5 cubic feet of capacity and works best for the laundry needs of 1-2 people. If you live in a Tiny House, studio flat, or condo, a washer dryer combo might be perfect for you!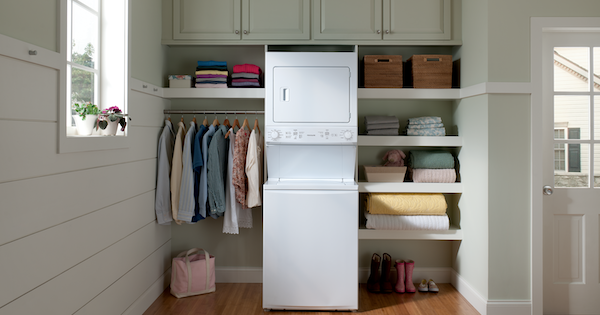 Another variation on the washer dryer combo is the laundry station (like this Frigidaire laundry station we reviewed). This product does not combine the washer and dryer into one space, but rather stacks a top load washer with a dryer above it. The laundry station has an advantage over the all-in-one washer dryer combo when it comes to drying power, because the dryer can be plugged into a 220V outlet. With a washer dryer combo, the appliance is powered by a 110V outlet, which translates to less drying heat and longer drying times.
The laundry station may not be as economical a choice as it once was, as there are inexpensive stackable washer dryer pairs that include all of the advantages of a laundry station at a similar price point.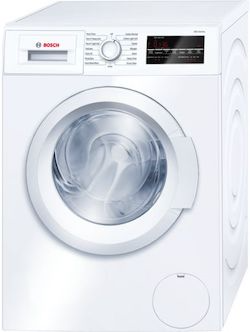 Last but not least, small households should consider compact washers. Some of these models are stackable, and have dimensions of around 24 inches wide and deep as well as being "shorter" than full-sized models. Unfortunately, a compact model is not necessarily less expensive than a full-size model. If budget is a major concern, an average-sized washer from Hotpoint or Amana might be a better choice.
Laundry Pairs - Should You Replace the Washer & Dryer at the Same Time?
---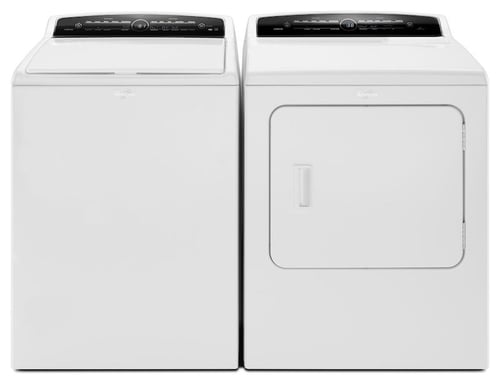 The final consideration we want to address in our washing machine buying guide is whether you should go for a washer dryer pair rather than just replacing the washer. A laundry pair can be a great way to take advantage of an appliance package or appliance rebate. Buying a washer and dryer at the same time can ensure you're getting two products that are compatible with each other in terms of capacity and features, and look great, too. If you're replacing older models, you can guarantee that the new laundry pair will be more energy efficient, which will be good for your wallet in the future even if shelling out for two major appliances hurts in the present!
In some ways, buying a laundry pair can be like replacing your headlights - when one goes out, the other is probably close behind, so why not replace them both and save yourself some time and trouble?
We hope our washing machine buying guide was helpful on your journey to buying a new washing machine. We'll use some handy bullet points to summarize all of the things we went over in case you're feeling a little overwhelmed!
Know whether you prefer a top load or front load washing machine based on their individual pros and cons

Do some research on the features you want in your new washing machine - we recommend reading reviews and blog posts about different options

Decide what capacity you need based on your household size or other factors

Measure your laundry area and your doorways, and double-check the dimensions of the different washers you're looking into for the perfect fit

Know how much you are willing to spend - and take advantage of rebates, package deals, and holiday sales
Take the information you've learned here wherever you go - download the PDF version of this guide!