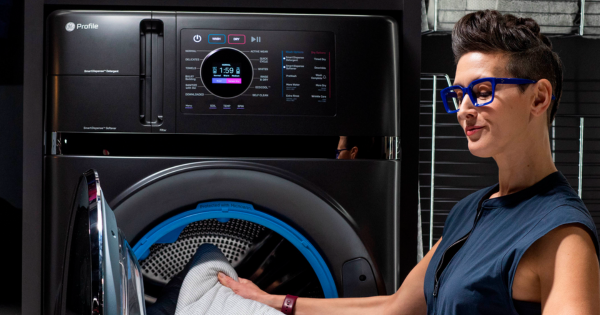 Doing laundry can be time consuming, and it's usually a problem for busy people. If you're someone looking for a way to save time and energy on doing your laundry, you may want to check out the GE Profile 2-in-1 Washer Dryer Combo. This laundry machine has the ability to wash and dry your clothes in a single load!
GE Appliances has been a pioneer in incorporating smart technology into their appliances. GE Profile, in particular, offers premium smart features for those who are looking for functionality and style. In 2023, GE Profile introduced a smart 2-in-1 washer dryer combo that properly gets your laundry done – fast and easy.
An all-in-one laundry machine might be a hit-or-miss for some, but let's see what makes GE Profile's take on "hassle-free laundry" different. Let's dive into this review now!
Table of Contents
Key Features
As of this writing, GE Profile offers the Ventless Heat Pump Technology Washer/Dryer with model PFQ97HSPVDS. Learn about its key features below.
2-in-1 washer/dryer – This technology combines convenience and efficiency. This feature guarantees that you can wash and dry a large load of laundry in just about two hours, without the hassle of transferring clothes from one machine to another.

NOTE on the Dryer: The model's manual cites that your clothes may feel slightly damp at the end of the dry cycle, but they are actually dry. Since the combo dries clothes at a low temperature in a sealed drum, it feels a little damp on first touch. To remove any dampness, simply take out your clothes and shake them—they will feel dry within seconds!
Easy installation and space-saving solutions – GE Profile considered storage problems with this model, and it is designed to be installed almost anywhere. It plugs into a standard 120-volt dedicated outlet. Also, with ventless heat pump technology, a dryer vent is not needed. This ventless combo is optimized to take up only half the space of traditional washer and dryer setups, diminishing space constraints.

Greater energy savings – This model is 50% more energy efficient than standard electric dryers because of the ventless heat pump, as compared to the requirements for Energy Star qualifications. (Read more about Energy Star appliances here!)

Smart Features Powered by SmartHQTM – Another feature allows you to receive remote cycle notifications, select detergents, and even download specialty cycles right at your fingertips, making this chore extra convenient!

Fast Airflow Drying System – With this system that creates a wind tunnel of warm air in drying, your clothes will be dried faster and more efficiently. This works even with large loads and delicate fabrics - so you don't need to hang them to dry.

Microban Antimicrobial Technology – This is a feature that provides an extra layer of odor and antimicrobial protection on the gasket, dispenser, and draining system.

EZ Access Lint Filter System – This system allows you to remove lint, pet hair, and other microparticles to ensure a clean wash.

User-friendly Controls – Aside from the machine's efficiency, the controls and display of this combo are well-designed, making it intuitive. Since the controls are positioned high for a front loader, they're easy to reach, plus they're responsive. Also, there are white labels against the dark colored finish so they're easier to read. The major buttons are backlit, and the options are with LED lights.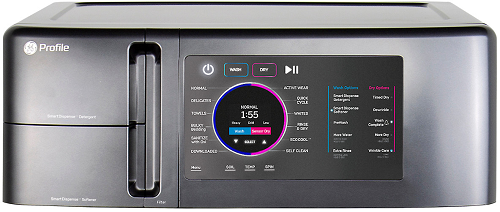 Using the Laundry Machine
Once the machine is properly installed and you have connected it with GE's SmartHQ app, you do not have to worry much about its operation. You can learn how to use this model quickly and easily – with just 7 quick steps!
Turn on the washer/dryer combo machine and load it with properly sorted clothing items.

Check that the both sides of the lint filter are clean.

Select a Wash + Dry, or Wash Only or Dry Only cycle. Your selected cycle, approximate time remaining until the end of cycle, and the cycle status will be shown on the LCD display.

Use the SmartDispenseTM feature or manually add the detergent and/ or softener.





Press the Start/Pause button whenever you are ready to start the cycle.

During the cycle, check the SmartHQTM app to get notifications on adjusting the cycle or to know once your laundry is already washed and dried.

Once the cycle is complete, take out your laundry items and shake them out.
Voilà – your clothes are now clean and dry! You can wash and dry all your laundry in one place, with only minimal effort. Easy to do even with a tight schedule, right? (For more details on this machine's operation, watch this video.)
More About the PFQ97HSPVDS Washer/Dryer
Aside from its key features, the 4.8 cu ft GE Profile PFQ97HSPVDS washer/dryer combo model offers a range of cycles and features to meet your washing and drying needs. With its capacity, it fits king-size comforters without a problem, so it definitely fits even large families. Here are its available cycles and options:
12 Wash Cycles: Normal, Rinse & Dry, EcoCool™ (uses only cold water while delivering equivalent performance to Normal Warm wash), Self Clean, Delicates (for lingerie and special care fabrics), Towels, Bulky/Bedding, Sanitize with Oxi (for heavily soiled items), Downloaded (includes Jeans, Air Fluff, Swimwear, and PowerClean), Active Wear, Quick, Whites

Wash Options: SmartDispense™ - Detergent, SmartDispense™ - Softener, PreWash, More Water, Remote Start, Extra Rinse, Control Lock

Dry Options: Timed Dry, Dewrinkle (removes wrinkles from 1-8 garments with steam vapor), More Dry, Wrinkle Care (extends tumble without heat)

Individual settings for Soil, Temperature, and Spin Levels
You can download specialty cycles by using the SmartHQTM app for a more personalized washing. Some of which are Power Clean for that extra cleaning strength on heavily soiled items, Air Fluff that allows 15 minutes to 4 hrs of tumbling time using recycled filtered air with no heat, and more! Plus, you have the freedom to customize each cycle using options such as temperature wash settings and spin speeds. The auto smart dispenser ensures that you use the appropriate amount of detergent for each load. Also, this machine operates quietly with its Quiet-By-Design with dBT™ Quiet Control.
Watch Our Video On the Washer/Dryer Combo Below!
This GE Profile washer and dryer Combo has gained a lot of positive reviews that you can read at GE's website. Since it can do the work of two machines in one, many customers find it convenient in doing their laundry. They do not need to change the clothes inside the washer or transfer the washed clothes into the dryer. It may be a bit costly to invest in at first, but it makes them save energy and money in the long run!
GE Profile PFQ97HSPVDS is available in the unique shade of Carbon Graphite at $2,899. This two-in-one laundry machine is packed with great features, so make sure to check it out!
Dimensions:
Width: 28"

Height: 46.70"

Depth: 32"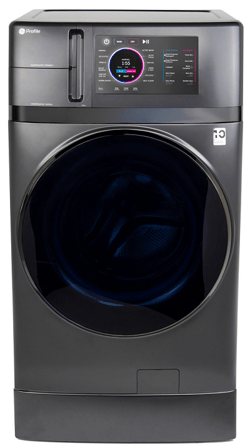 This laundry combo can properly wash and dry all your clothes in one step, without having to transfer wet clothes, wait too long, or worry about forgetting things. Truly a game changer in the appliance industry and a good investment if you want a space-saving laundry machine that would fit your busy schedule.
We hope this article helps you get a better insight of what makes the new GE 2-in-1 washer and dryer so cool! Will you consider buying this? If you already have one, how do you find it so far? We'd love to hear from you!