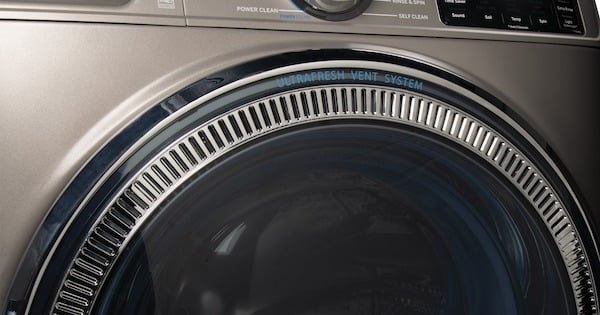 GE released a new set of models for their 2019-2020 front load washer lineup, and they all feature a cool new technology they're calling the UltraFresh Vent system. This system was TWO YEARS in the making and we're excited to see how it performs in the real world. We got a chance to see this cool new system at a product show in fall of 2019, so we're sharing what we learned there with you - complete with an exclusive video!
According to GE's research, half of new front load owners switch back to top load washers because of the issues unique to front load washers: mold and odors inside of the machine. The washer tub needs to air out with the door cracked open for up to two days to dry out, and you're also expected to wipe down the door gasket area to take care of pooling water there. Avoiding these maintenance tasks can have annoying repercussions!
Each part of the UltraFresh Vent design targets a different "pain point" with front load washers. GE tackles these issues with three steps:
Drain - Improved drainage design keeps water from pooling around the gasket or in the tub.

Dry - A fan system within the washer door circulates air through the washer tub, so you don't have to leave the door cracked open.

Defend - Microban materials throughout the washer, including on the detergent dispenser, the gasket, and other areas, prevent odor-causing bacteria from getting a foothold.
2020 Update: The Good Housekeeping Institute awarded GE's UFV washer model GFW850SPNRS with their seal and the title of the best overall washing machine in May! Good Housekeeping tested the vent cycle and found that it dried the tub perfectly, and the wash performance is at the top of its class, too. Click here for our GE front load washer reviews.
2022 Update: This feature is now also available in the GE Profile line! Check out the GE Profile PFW950SPTDS in Carbon Graphite at $1,548.
Watch our exclusive video to learn more!
Drain
Many front load washer owners will find themselves having to wipe down the door gasket and wash tub regularly to prevent mold and odors - not fun! GE improved the design of the door gasket and the tub drainage system, so that water drains fully out of these areas rather than pooling at low spots or in crevices.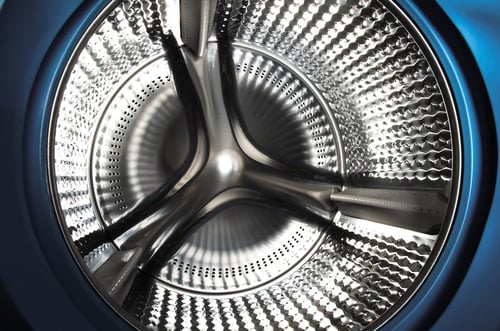 Dry
In particular when front load washers are in basements or other areas that tend to have higher humidity or limited airflow, residual moisture can take a long time to evaporate on its own. It's common practice to leave the door of your front loader cracked open after each wash to help the interior dry thoroughly. But with the UltraFresh Vent system, that's a thing of the past!
After each wash, the "UFV" washer will prompt you to run the UltraFresh Vent option. If you're going to do another load soon, then you can skip this step - but if your washer is going to be sitting empty until laundry day comes around again, UltraFresh Vent is there to save the day. A fan system has been built into the door of the washer. When the washer is operating, this fan system is sealed. But when you select the UltraFresh Vent option after a wash cycle, the system will open up to the outside and the fan will start up. This creates a convection current that pulls air into and through the wash tub. The tub will dry out in around 18 hours, up to twice as fast as it would normally!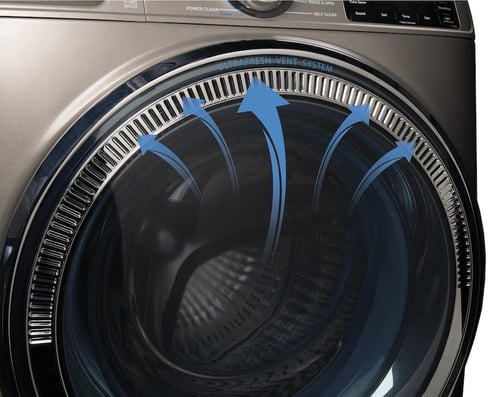 Defend
Microban has been around for 30 years and is used in a lot of different applications from consumer items to medical and industrial applications. Microban is not a coating - Microban materials are "infused" with antibacterial technology that is safe for people and also won't encourage resistant strains of bacteria (both of which are very good things).
You'll find Microban on parts of the GE front load washers that are most often problem areas for mold and mildew, including the detergent dispenser and the door gasket.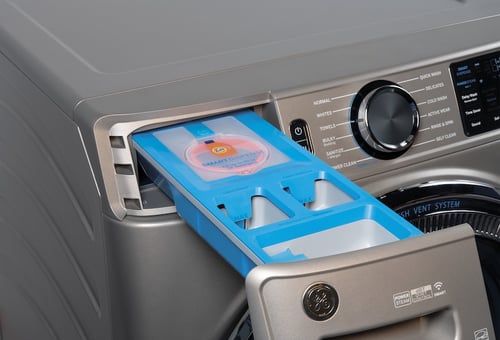 We hope this article helped you understand what makes the GE UltraFresh Vent system so awesome! We're interested to see how this technology performs. What do you think? Is this enough to convince you to try a front load washer? If you already own one, does this sound like a great replacement model down the road? Leave us a comment below - We'd love to hear from you!
Click here to explore GE's current front load models!
Editor's Note: This blog was originally written in January of 2020 and has been completely revamped and updated for accuracy as of the publication date noted above.