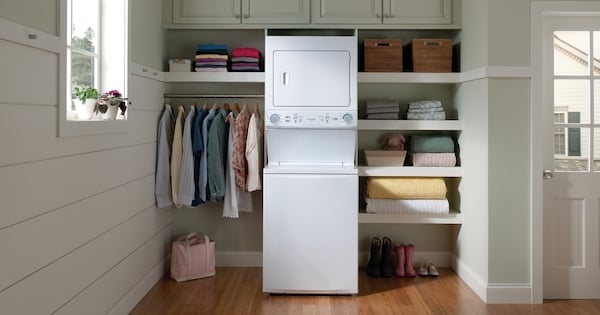 A stacked washer dryer combo can be an ideal option for apartments and small homes where space is at a premium. While all-in-one washer dryer combo machines totally combine the two laundry appliances into one space, the Frigidaire Laundry Center takes a different approach to saving you space and money.
In this article, we'll look at what Frigidaire washer dryer combo models are available, including their features and pricing, and the pros and cons of stacked washer dryer combo units. Check out more information on buying a new washer in our washing machine buying guide, too!
Table of Contents
Is a Frigidaire Washer Dryer Combo Right For You?
Frigidaire offers one washer dryer combo in gas or electric. There used to be a high efficiency electric and gas model, but they have stopped producing it. You can learn more about dryers in our dryer buying guide.
The Frigidaire washer dryer combo models are often referred to as laundry centers, and Frigidaire has the bragging rights of offering the largest laundry center wash capacity (by just .1 cubic foot, as other stacked washers currently available max out at 3.8 cubic foot wash tubs).
A laundry center might be right for your needs if...
Your laundry space is limited: A washer dryer combo unit like Frigidaire's has a relatively small footprint, so it can be a good choice for small apartments, condos, or just a small laundry room. However, you'll still need to measure your doorways and your laundry space to make sure you have room for getting your new laundry center delivered and installed.

You don't need a large machine: The Frigidaire washer dryer combo options are one of the larger capacity offerings in this category with a washer capacity of 3.8-3.9 cubic feet and a dryer capacity of 5.5 cubic feet. This is just enough capacity to wash a king size comforter, but may not be ideal for handling the laundry needs of a large household, such as a family with several children. They offer more capacity than 24" wide compact washers and dryers.

You prefer a simple design: Especially as stackable washer dryer machines become more popular, these laundry centers are becoming less common choices. If you prefer simple controls, the dial controls of the Frigidaire washer dryer combo models might be preferable to touch panels and push button models. This can also make them appealing for apartment installations.

You want quick(er) drying times than an all-in-one: One issue with all-in-one washer dryer combo units is that the dryer usually has less power to work with than it would as a standalone unit, so the drying process takes longer. In this type of stacked combo unit, the dryer still gets its own vent and 240V plug (if it's electric), so it can operate at full power.
But are laundry centers a better deal than a stacked front load washer and dryer?
Not necessarily!
As stackable washer dryer units become more common (like this Maytag stackable washer dryer set we reviewed), you may need to compare prices closely to laundry centers vs stackable options to make sure you're getting the best deal. These laundry centers retail at around $1,399 MSRP with an electric dryer, which is the equivalent of paying about $700 a piece for a washer and dryer. During holiday sales or using promotional rebates and package deals, you can find higher capacity front load washer dryer pairs with nicer features and lower water usage at a similar price or even less.
Frigidaire Washer Dryer Combo: Reviews, Features, & Pricing
One of their most popular models, now discontinued, was the 27" High Efficiency Laundry Center Model FFLG4033QT with a gas dryer in Classic Slate, priced at $1,699. Frigidaire then offered the FFLE3900UW (electric dryer) and FFLG3900UW (gas dryer) at MSRPs around $1,399, but as of this writing the 3900 models are being discontinued. Click here to see the currently available models.
The new Frigidaire laundry centers being released this year are model FLCE7522AW (electric) and model FLCG7522AW (gas). It has a very similar setup to the 3900 models, but Frigidaire claims that these models are quieter and have an improved wash action compared to the previous generation. Both models are available in white only at $1,399 for the electric dryer version and $1,499 for the gas version.
The only external changes are adding a color accent to the control panels:
Model FFLE3900UW (Old)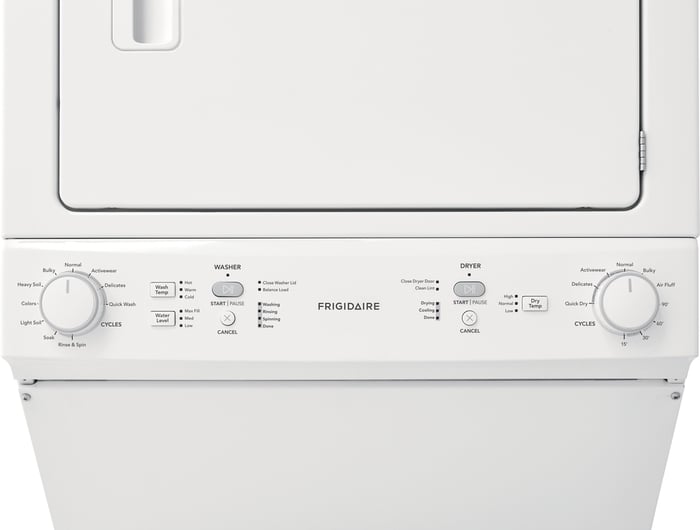 Model FLCE7522AW (New)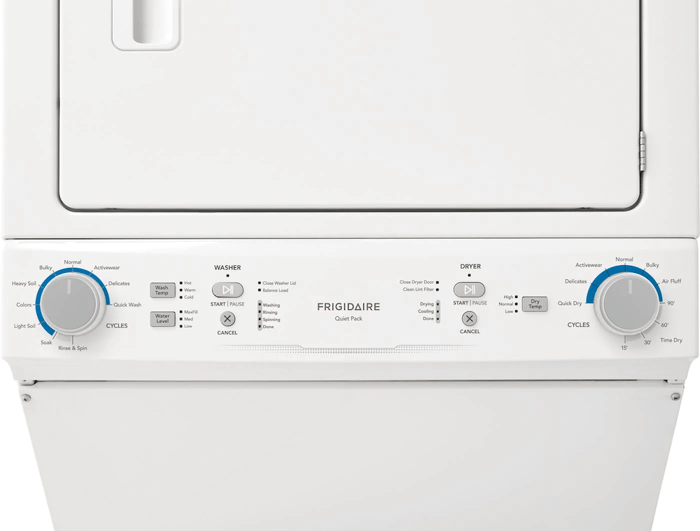 These units come with a top load washer with an agitator in a 3.9 cubic foot tub paired with a 5.5 cubic foot capacity dryer, both with stainless steel tubs. They offer quick wash and dry cycles, and ten different wash and dry cycles total. Unlike most of today's washers, this model has fully manual water level controls with no option for automatic water levels: choose from Low, Medium, or MaxFill depending on the load size and soil level. The washer has a max spin speed of 850 RPM, which isn't too shabby among budget top load washers (but if you go for a front load stacked unit, the spin speeds can be much faster, so your clothes spend less time in the dryer).
LED status lights keep you informed on the cycle progress. On the washer side, lights indicate if the washer lid needs to be closed, or if the load needs to be rebalanced. On the dryer side, lights indicate if you need to close the dryer door or clean the lint filter. The lint filter indicator turns on after every dryer cycle as a reminder to clean the filter.
This Frigidaire washer dryer combo does not have sensor dry options, which is unfortunate since sensor drying helps reduce energy usage and keeps your clothes from being over- or under-dried. Although it's labeled as an HE (high efficiency) machine, that's because it uses HE detergent, not because it's particularly water- or energy-efficient.
Cycles & Options:
10 Wash Cycles: Normal, Activewear, Delicates, Quick Wash, Bulky, Heavy Soil, Colors, Light Soil, Soak, Rinse & Spin

3 Water Levels: Low, Medium, Max Fill

3 Wash Temperatures: Cold, Warm, Hot

7 Dryer Cycles: Quick Dry, Delicates, Activewear, Normal, Bulky, Air Fluff, 15/30/60/90 Minutes Timed Dry

3 Dryer Temperatures: Low, Normal, High
Dimensions:
Width: 27"

Depth: 31.5"

Height: 76"
Click here to read over 80 real customer reviews of this product!


Frigidaire FLCE7522AW - $1,399

What Do Customers Think About This Machine?
When it came to the 3900 models, the star ratings were notably low. As of June 1, 2020, the electric dryer 3900 model had a 3.4 star rating out of 469 reviews. As of October 2020, the 7522 model has over 80 reviews and a 4.2 average star rating. The reviews are overall more positive than the previous model. There are no mentions of out of balance performance issue so far, which showed up relatively often with the 3900 model.
Long cycle times were a complaint with the 3900 model. Agitator washer Normal cycles are typically 35-65 minutes, according to Consumer Reports, and heavy duty cycles will take longer. When Reviewed tested the 3900 model using official standards set forth by the Association of Home Appliance Manufacturers, they found that the Normal cycle took 88 minutes on average, which is pretty long. Based on preliminary reviews of the 7522 model, the wash cycle time for a normal load is closer to an hour.
One complaint customers have noted about the new 7522 model is that there's no way to silence the end-of-cycle beeping. People who are 5'3" and under have also reported having trouble reaching the bottom of the wash tub (this was also an issue with the 3900 model). The washer lid is about 37" off the floor and the tub itself is about 24" deep.
Reviewed tested the previous 3900 model and found that the stain removal was effective, but that the wash and dry cycles were slower than claimed and the drying performance was inconsistent. Here's the Reviewed article. So far, the new generation seems to be an improvement.
We hope you've enjoyed this review of the Frigidaire washer dryer combo. These combination units are getting harder to find, so if you are open to considering a stackable washer dryer pair, you may want to check out our review of the Speed Queen stackable washer dryer pair as well! In some cases, a stackable front load washer and dryer will cost about the same as a stacked unit, take up about the same amount of space, and offer more capacity and features. Another option to consider if you need laundry appliances for a small space are compact washers and compact dryers. We hope this helps!
Is this underdog of the laundry world the perfect option for you? Please feel free to leave us a comment below. We'd love to hear from you!
Editor's Note: This blog was originally written in May of 2017 and has been completely revamped and updated for accuracy as of the publication date noted above.