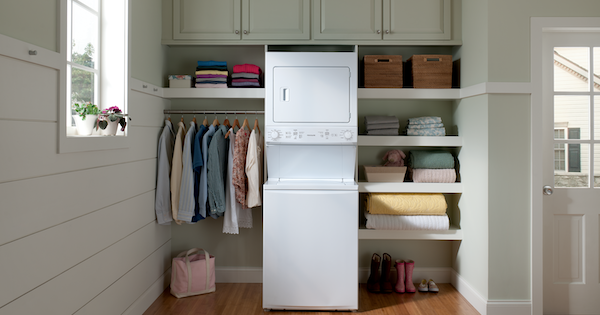 A washer dryer combo can be an ideal option for apartments and small homes where space is at a premium. While some washer dryer combo machines totally combine the two laundry appliances, such as the Haier washer dryer combo, the Frigidaire Laundry Center takes a different approach to saving you space and money.
In this article, we'll look at what Frigidaire washer dryer combo models are available, including their features and pricing, and the pros and cons of washer dryer combo units. Check out more information on buying a new washer in our washing machine buying guide, too!
Is a Frigidaire Washer Dryer Combo Unit Right For You?
There are currently two main Frigidaire washer dryer combo base models: a basic model available in electric or gas, and a high efficiency washer dryer combo currently only available in gas. There used to be a high efficiency electric model, but they have stopped producing it. You can learn more about gas dryers in our dryer buying guide.
The Frigidaire washer dryer combo models are often referred to as laundry centers, and Frigidaire has the bragging rights of offering the largest laundry center wash capacity. Laundry combo units might be right for your needs if...
Your laundry space is limited: A washer dryer combo unit like Frigidaire's has a relatively small footprint, so it can be a good choice for small apartments, small homes, or just a small laundry room. However, you'll still need to measure your doorways and your laundry space to make sure you have room for getting your new laundry center delivered and installed.

You don't need a large machine: The Frigidaire washer dryer combo options are one of the larger capacity offerings in this category with a washer capacity of 3.8-3.9 cubic feet and a dryer capacity of 5.5 cubic feet. This is just enough capacity to wash a king size comforter, but may not be ideal for handling the laundry needs of a large family with several children.

You prefer a simple design: Especially as stackable washer dryer machines become more popular, these laundry centers are becoming less common choices. If you prefer simple controls, the dial controls of the Frigidaire washer dryer combo models might be preferable to touch panels and push button models.

You want quick drying times: One issue with washer dryer combo units that wash and dry the laundry all in one go is that the dryer usually has less power to work with than it would as a standalone unit, so the drying process takes longer. In this type of stacked combo unit, the dryer still gets its own vent and 240V plug so it can operate at full power.
As stackable washer dryer units become more common (like this Maytag stackable washer dryer set we reviewed), you may need to compare prices closely to laundry centers vs stackable options to make sure you're getting the best deal.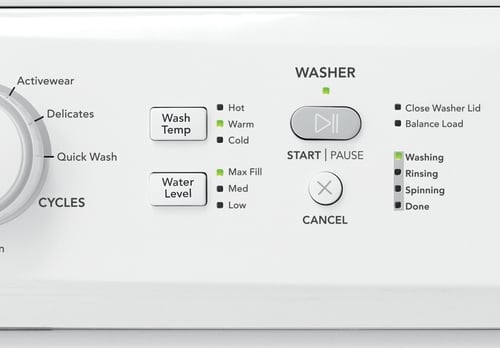 Frigidaire Washer Dryer Combo: Reviews, Features, & Pricing
One of their most popular models, now discontinued, is the 27" High Efficiency Laundry Center Model FFLG4033QT in Classic Slate, priced at $1,699. It offers "Super Speed" with a Quick Cycle wash and dry taking only 45 minutes. Accessory kit options include a mobile home installation kit, optional order item no. 137067200.
The 3.8 cubic foot capacity top load washer has a durable stainless steel tub (so does the dryer) and comes with nine wash cycles, including Delicate, Bedding, Heavy, Pre-Soak, and more. It includes a fabric softener dispenser that automatically dispenses the liquid during the cycle. The 5.5 cubic foot capacity gas dryer offers nine drying cycles, including Refresh to reduce wrinkles, Delicates, and Cotton/Towels. You can choose from sensor dry or timed dry options.
Currently, the only Frigidaire washer dryer combo options remaining are the Frigidaire FFLE3900UW (the electric dryer version) or FFLG3900UW (the gas dryer version). Both are available in white only, and the electric model is available at $1,399 and the gas dryer model is available at $1,499.
Although these models haven't earned the "high efficiency" badge of the previous model that is now discontinued, they still have a lot to offer - and the FFLE3900UW electric dryer model is obviously a good choice if you don't have a gas hookup in your home!
These models come with a 3.9 cubic foot capacity top load washer with agitator and a 5.5 cubic foot capacity dryer, both with stainless steel tubs. Like the previous model, they offer quick wash and dry cycles, but there are a few changes. This Frigidaire washer dryer combo comes with ten different wash and dry cycles, laundry cycle LED status lights, and a MaxFill option for when you need a deep clean. This model does not have sensor dry options like the High Efficiency model. The washer cycles include Soak, Pre-Soak, Heavy, and Delicates, and the dryer cycles include Delicates, Cotton/Towels, and Refresh.
Both the gas and electric models share the same dimensions as the High Efficiency model at 27" wide, 31.5" deep, and 76" tall.
Frigidaire FFLE3900UW - $1,399

The gas option can be found here: Frigidaire FFLG3900UW at $1,499.
We hope you've enjoyed this review of the Frigidaire washer dryer combo. These combination units are getting harder to find, so if you are open to considering a stackable washer dryer pair, you may want to check out our review of the Speed Queen stackable washer dryer pair as well! Another option to consider if you need laundry appliances for a small space are compact washers and compact dryers. We hope this helps!
Is this underdog of the laundry world the perfect option for you? Please feel free to leave us a comment below. We'd love to hear from you!
Editor's Note: This blog was originally written in May of 2017 and has been completely revamped and updated for accuracy as of the publication date noted above.