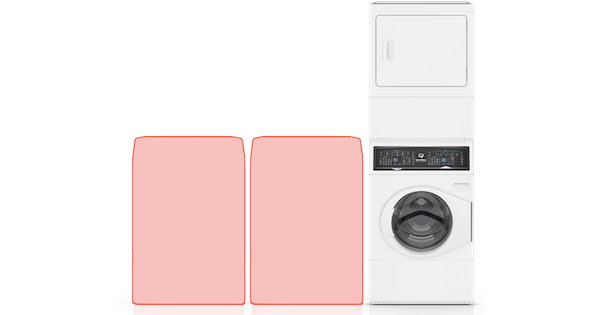 After 20 years of use, it isn't uncommon for an old washer or dryer to bite the dust, leaving the owner tasked with researching new options. Once they start reading reviews online, however, the unsuspecting shopper may be dismayed with how many customers say that their modern laundry machines died after only six years or so! How can this be when the old machines, apart from an occasional repair, hardly caused any issues for over two decades?
Well, the answer is simple. They just don't make things like they used to... BUT WAIT! Not all hope is lost, for we still have Speed Queen, and they're making machines just as durable as the good ol' days! They currently offer a unified stacked laundry center with a front load washer and an electric or gas dryer for people looking for compact laundry options.
These are the types of machines that you often see in laundromats, hotels, and other commercial settings that need a durable appliance that can withstand lots of loads and stand up to heavy use. Speed Queen took the same quality components that they put in those commercial machines and placed them in machines intended for home use. The typical consumer can expect to get over 20 years out of a Speed Queen before it needs replacement.
Find out more about choosing the perfect washing machine in our video!
Front load washers and dryers have become increasingly popular in recent years. Based on space requirements or personal preference, consumers often decide to stack their machines. While there are many brands to choose from if you're looking for a laundry stack, there's a great Speed Queen stackable washer and dryer option available if you want a stack option with tried-and-true durability. The Speed Queen SF7003WE retails for $3,099 with an electric dryer and $3,159 with a gas dryer, which is significantly more than many stack units but the features and benefits of this model certainly compensate for the price tag.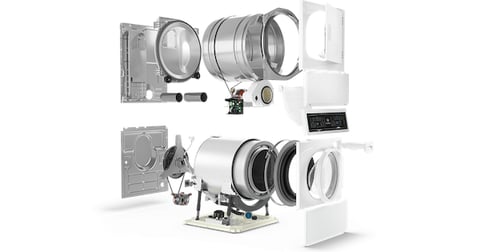 The control panel is located centrally on the machine for both the washer and dryer, allowing for ease of access. Stacking a washer and dryer usually involves one of the control panels being at the very top, which at around six feet high can require some users to use a step stool or have to really reach to turn the machine on. With this stack from Speed Queen, you get one central control panel for both machines within easy reach. Plus, this control panel is the same kind used in Speed Queen's commercial applications. It's made to last 25 years and tested for 1,000,000 compressions.
The stainless steel wash tub offers 3.5 cubic feet of capacity while the dryer offers 7.0 cubic feet of capacity to match. The washer offers nine preset cycles and several custom options, including a Sanitize with Oxi cycle and options for Delay Start and Allergy Rinse. The dryer offers seven preset cycles with four auto dry cycles with a moisture sensor for accurate drying and four temperature selections.
One more key feature of the Speed Queen stackable washer and dryer is the revolutionary Dynamic Balancing Technology. A big concern for consumers purchasing front load washers is that they often vibrate excessively, especially when spinning out. This can create a disturbance to people in the home, especially if the machine is located on a second floor. This technology utilizes sensors and algorithms to eliminate vibration, resulting in less leftover moisture in your clothes, quicker cycle times, and incredibly quiet operation!
This model is covered by a five year in-home parts and labor warranty.

Whereas many manufacturers include plastic components in their laundry machines, Speed Queen utilizes metal parts, thereby increasing product durability. The Speed Queen stackable washer and dryer is literally built for laundromat-level abuse. These machines are tested to withstand more than 10,400 cycles! If you do 2-3 loads a week, that's 104-156 loads per year... just 1.5% of what this machine is prepared for!
The industry standard for a full warranty on washers and dryers, which includes parts and labor, is one year. Speed Queen includes a five-year full coverage warranty on this stack machine, showing their belief in the product's quality. Extended warranties also typically run for a few hundred dollars so there's some serious value in having longer coverage included on the machine.
While there are many options available in front load laundry, the Speed Queen stackable washer and dryer is a quality choice, especially if you're looking to maximize space. These machines possess commercial quality, unmatched performance, and an industry leading warranty. Headquartered in Wisconsin, Speed Queen products are American-made and only available through independent retailers. You won't find them at the big box stores!
We hoped you enjoyed this review. If you want to compare this stackable model to a Speed Queen front load washer, click the link to read another article! Please leave us a comment below. We'd love to hear from you!
Editor's Note: This blog was originally written in April of 2018 and has been completely revamped and updated for accuracy as of the publication date noted above.