In a Hurry? Check Out Our Video on Choosing the Perfect Dryer!
The Right Type of Dryer - Front Load vs Traditional
---
You might be thinking - "Wait, I thought all dryers were front loading?" - And you're right! The differences between a front load and traditional dryer are mainly in looks, as we'll explain below. Unlike deciding between a
top load vs front load washer
, choosing between these two dryer styles is not as complicated.
Front Load Dryers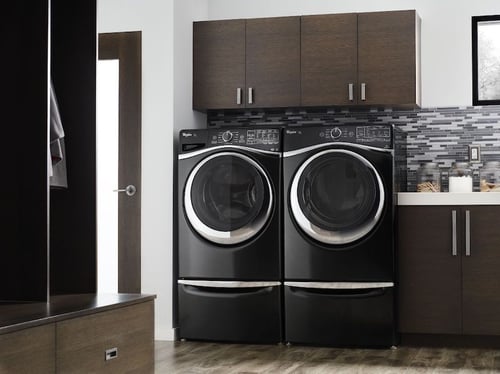 The term "front load dryer" refers to a dryer that is designed to aesthetically match the appearance of a front load washer, with the controls in the front and matching details. These dryers can usually be stacked on top of their matching front load washers (although stacking is optional). These models can also be placed on pedestals, which are sold separately.
If you have an existing front load washer or are planning to purchase a front load machine, it probably makes sense to purchase a "front load" style dryer to go with it even if you aren't planning to stack. A matched pair in terms of style is usually best. Many people also like to match the brand.
In general, front loading dryers tend to have a few more features on average than traditional style dryers, but that isn't true across the board.
Traditional Dryers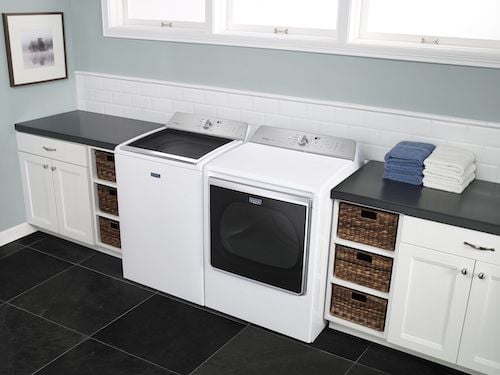 These are traditional-style free-standing dryers that usually have the controls on the backguard on the top rear of the machine. They are made to match traditional top load washers. They've been around for decades, and many consumers have had one or used one at some point in the past.
These models aren't meant for stacking on top of washers and they don't have the option of being put on a pedestal. Again, it is usually best to match the style of your dryer with your washer. If you have a top load washer or are planning to buy one, this type of dryer will most likely be the best choice.
The style of dryer people choose is usually secondary, based on the matching washer, so this isn't a factor to lose sleep over!
Measure Your Space to Ensure a Perfect Fit
---
It is important to know how much space you have to work with in your laundry room or laundry closet. Most standard machines are around 27 inches wide. If your machines are installed side by side, you'll want to leave at least an inch between the washer and dryer. Newer machines with larger drum sizes have larger exterior dimensions, so it's important to check and double-check the dimensions of any new dryer you're considering.
You'll also want to leave about 6 inches behind the machine if possible to accommodate venting and the power cord,. Something that's easy to overlook is measuring your home's door openings. If the dryer will fit in the laundry closet but not through a doorway in your home, it won't be a good match for you! Be sure to measure the laundry area and all doorways that the appliance will need to pass through.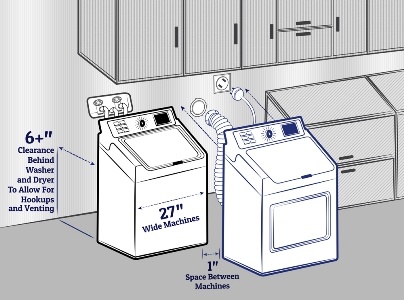 Another consideration related to measuring is the layout and configuration of your venting system. Consider whether you need rear venting or side venting, and whether the dryer you are planning to purchase has the options you need. Some dryers are designed to vent as long as 60 feet, but some will only vent efficiently with an 8-10 foot vent hose. Make sure you ask your salesperson how long the dryer is designed to vent so you know that it will operate efficiently in your home. Typically, the shorter and more direct your venting, the better.
Safety Tip: Always use hard metal vent pipe if possible, and flexible metal vent hose if necessary. Never use vinyl or any other potentially flammable material.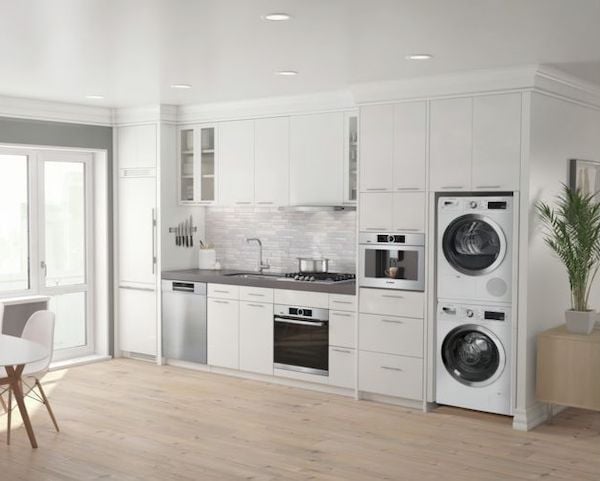 If you're planning on purchasing a stackable washer and dryer or laundry center, the height available in your laundry space is another consideration. A stackable washer dryer pair is generally between 70-75 inches. Stacking kits won't affect the overall height of your stacked washer dryer pair (and remember that not all laundry appliances are stackable). If you're buying a washer pedestal, however, that can add extra inches that need to be accounted for.
Some apartments, condominiums, and other small spaces can benefit from a compact dryer, which are generally 24 inches wide. If you want to place your dryer under a counter, you'll want to double-check the height measurement as well to ensure compatibility, and leave at least one inch of wiggle room!
Choose Your Fuel - Gas vs Electric
---
Unless you are building a new home, you may not have much choice when it comes to gas or electric - your home probably already has a dryer hookup for one or the other. However, if you are building a new home or are fortunate enough to have both connections available, you'll want to know whether you'll need a gas or electric dryer model before shopping.
Gas dryers tend to be a little stronger in terms of drying performance and a bit better in terms of overall energy use. Most dryers use natural gas, but some can be converted to use bottled liquid propane (LP) gas - make sure to let your salesperson know which type you have! The LP conversion needs to be done prior to delivery.
On average, a gas dryer costs about $100-$150 more than an electric version of the same model, with the trade-off being that they are cheaper to operate. Gas dryers require a 120 volt outlet, while electric dryers require a 240 volt outlet with three or four prongs.
An alternative type of electric dryer is the ventless condensation dryer, an ideal option when you are unable to vent to the outdoors. These models are very common in Europe! However, a condensation dryer tends to be more expensive than comparable vented dryers, so the up-front cost savings of gas vs electric disappears with this specialty dryer type, but is balanced out by cheaper operation.
Heat pump dryers are a newer dryer type based on condensation dryers. They're more energy efficient than a traditional dryer, are gentler on clothes, and have longer drying times. They tend to have a higher upfront cost than condensation dryers. You can find them in both compact and full-size configurations.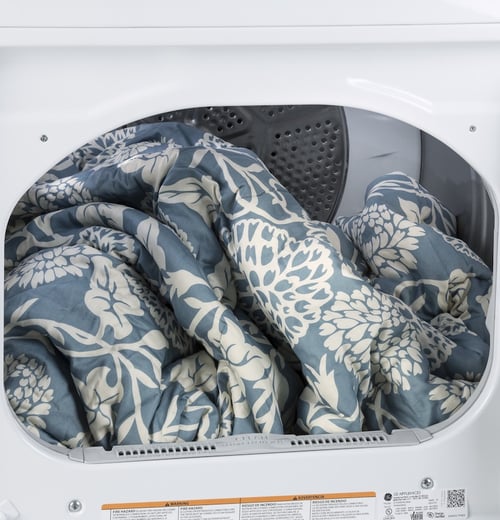 You'll want to consider the size of your washer when you're thinking about the capacity of the dryer, as this will often dictate the size of your loads. It is important to buy a dryer that is large enough as overloading the dryer can reduce the dryer's lifespan and cause mechanical issues. As a rule of thumb, your dryer capacity should be about twice your washing machine's capacity. There's some wiggle room: a little less than double the capacity won't hurt.
Most dryers fall in the 7.0-8.0 cubic foot range. There are some "mega capacity" models that are above 8.0 cubic feet - some as large as 9.5 cubic feet! Bigger isn't always better - stick to the 1:2 washer-to-dryer size ratio to ensure the wet clothes have enough room to be tumbled properly and for greater energy efficiency.
Look at the capacity rather than any advertising buzzwords when deciding on the dryer size - "extra-large" doesn't mean the same for every dryer!
If you're not replacing your washer and dryer at the same time, something else to consider is whether you'll be upgrading your washing machine's capacity in the future. If you want to hang onto your 3.0 cubic foot washer for another year but are planning to get a larger machine, this should factor into the dryer size you choose.
Washer Dryer Capacity Ratio - Examples:
3.5 cubic foot average-sized washer - 7.0 cubic foot dryer

2.0 cubic foot compact washer - 4.0 cubic foot compact dryer

5.3 cubic foot large washer - 10.0 cubic foot dryer

Next, you'll want to take a close look at the control layout of the dryer and also look at the cycles and features to see if they meet your needs. Here's a partial list of what to look for:
Temperature & Drying Cycles
How do you like to dry your clothes? Some people prefer having a range of different cycles to choose from depending on the fabrics and other factors of the load, while others don't want more than a handful of cycles and options to choose from. The simplest machines come with timed dry options and various heat levels. Others may include options for Activewear, Delicates, Towels, and more.
Controls & Technology
From basic turn-dial controls to touch-button controls with digital displays, you'll have to decide what type of interface you prefer and find most intuitive. A digital time remaining display might help you keep better track of your laundry. Some people like additional features like delay start options or the ability to use their smartphone to check on the progress of a cycle.
Sensor Dry
Over-drying your clothes can cause them to wear out and fade prematurely, on top of wasting energy. Sensor dry technology, such as LG Sensor Dry, is the most accurate drying system: dryers with this feature have a sensor located in the drum that monitors the humidity within the basket and ends the cycle once the clothes are dry. Other dryers may accomplish the same task by measuring the temperature of the air entering the vent, but the sensor dry system does it better. Sensor drying can be found on many newer energy-efficient dryers.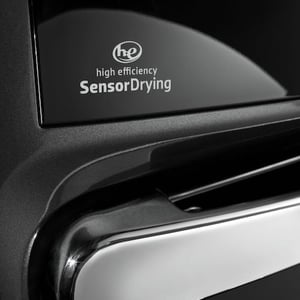 Steam Cycles
A steam cycle dryer can help remove light stains and de-wrinkle fabrics, and can even allow you to sanitize certain items that can't be put through the washing machine, such as throw pillows or kids' toys. Steam refresh programs can also help reduce odors and static. These dryers may require a water hookup or you may need to fill a reservoir in the dryer.
Wrinkle Prevent Options
In addition to steam cycles, there are other wrinkle prevent options available in today's dryers. Not having time to empty the dryer right after a cycle finishes doesn't have to mean spending some quality time with your iron - wrinkle prevent options will tumble the clothes intermittently after the cycle finishes to help prevent wrinkles from setting in.
Sanitize Cycles
Some dryers offer sanitize cycles that can remove 99.9% of household bacteria from garments and other items. This can be used for items that you don't want to run through the washing machine. A sanitize cycle usually uses very high heat, so it's less energy efficient and rougher on fabrics than a normal cycle.
Lint Filter Location
Dryer lint traps can be located inside of the dryer door frame, on the back wall of the interior, or on the top of the machine. Cleaning the lint filter screen after every cycle is important to your dryer's "health." If you know you'll forget to check on an interior lint filter, choose one that sits on the exterior of the machine instead!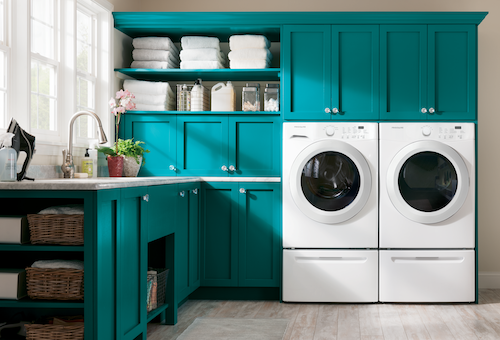 The most inexpensive dryers start in the $300 to $400 range. These are the most basic models, and are typically rear control models that pair with top loading washers. They can be a good option if you just want basic drying functions and don't care about lots of cycles and options and don't need extra large capacity. Amana dryers and Hotpoint dryers are two options to consider for low-cost dryers.
There are many full-featured models in the $600 to $1,000 range and many very nice higher-end dryers priced above $1,000. The price range you'll fall into will depend largely on the features and, to a lesser extent, the capacity you seek. You should also consider the manufacturer's warranty as a factor into the price of your dryer, since this can help you out in the future if your dryer runs into problems unexpectedly. If you're concerned, an extended warranty may be something to consider.
Some people who are especially concerned with reliability may prefer commercial dryers - these models tend to have longer warranties, a higher price than comparable models, and are generally less energy efficient. Speed Queen is a popular choice for commercial washers and dryers.
A stacking kit is a minor cost consideration if you plan to buy a stackable washer dryer pair. These kits are generally unique to the brand and size of your machines and can be as little as $30 or as high as $150 or more. Pedestals are at least $250 on average. Some pedestals include storage drawers and other features to give you more bang for your buck.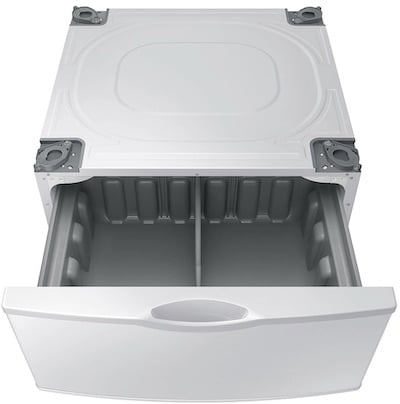 The Easy Way to Save Money on a New Dryer
If your need for a new dryer isn't dire (i.e., the old one is still running!), consider waiting to buy during one of several holiday appliance sales throughout the year. The major sales holidays include New Years, President's Day in February, Memorial Day in May, the 4th of July, Columbus Day in October, and Black Friday in November, These sales are spread pretty evenly throughout the year so you're likely close to one of these sales now!
You can also look into appliance packages if you're replacing the washer and dryer, and appliance rebates are also worth considering. Ideally, these options will make your day rather than make your choice of dryer for you!
Laundry Pairs - Should You Replace the Washer & Dryer at the Same Time?
---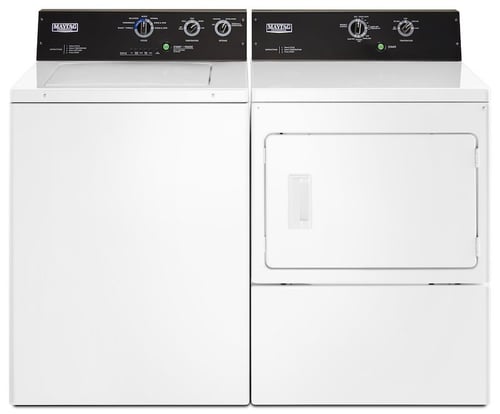 The final consideration we want to address in our dryer buying guide is whether you should go for a washer and dryer pair rather than just replacing the dryer. A laundry pair can be a great way to take advantage of an appliance package or appliance rebate. Buying a washer and dryer at the same time allows you to get two products that are compatible with each other in terms of capacity and features, and look great, too. If you're replacing older models, you can guarantee that the new laundry pair will be more energy efficient, which will be good for your wallet in the future even if shelling out for two major appliances hurts in the present!
In some ways, buying a laundry pair can be like replacing a car headlight - when one goes out, the other is probably close behind, so why not replace them both and save yourself some time and trouble?
If you are planning to just replace your dryer for now but plan to replace your washing machine in the next year or two with a different capacity model, we recommend buying a dryer to match the capacity of your future washer to avoid over-loading or under-loading issues.
We hope our dryer buying guide was helpful on your journey to buying a new dryer. We'll use some handy bullet points to summarize all of the things we went over in case you're feeling a little overwhelmed!
Measure the height, width, and depth of the area where your dryer will go, and the doorways that the dryer will have to fit through

Know your fuel type, gas or electric - and don't forget to tell your salesperson whether it is natural or LP gas

If you are installing a gas dryer, a licensed plumber will be required

If you are installing an electric dryer, check to see if the dryer prongs and outlet prongs match (they can be 3- or 4-pronged)

Check the type, configuration, and length of your venting, and the condition of your existing venting materials

Know how many loads you wash and dry in a week and the kinds of loads you do

Have an idea of what specific features and cycles you think you'd like to have that you will use frequently

Check the door swing of your dryer door - many dryer doors are reversible to accommodate different laundry area setups

Know how much you want to spend
Take the information on this page with you wherever you go - download the PDF version of this guide!
Dryer Guide - PDF Version