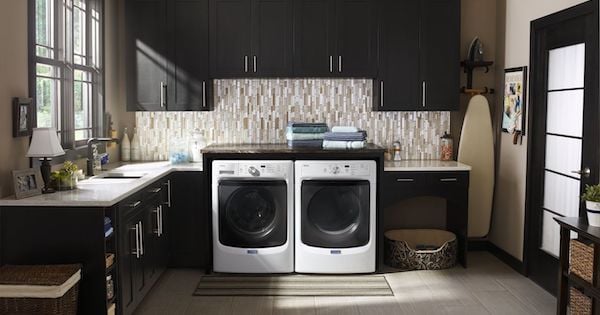 In the market for a Maytag stackable washer dryer option for your home? Maytag has been manufacturing appliances for decades and has been owned by Whirlpool since 2006. They have brought back the dependable quality that Maytag has been known for. Their laundry appliances are no exception and are a leading brand for many reasons including performance, durability, and multiple setup configurations.
When doing your research on a new washing machine or dryer, don't overlook Maytag (and check out our washing machine buying guide for more info). Maytag takes pride in building strong, reliable appliances. They are built by hard-working employees in Clyde, Ohio. From Ohio to you, these machines are designed, engineered and assembled in the USA. Let's take a look at a new-for-2019 front load Maytag stackable washer dryer that might be perfect for your laundry room or laundry closet.
Discover the 5630 models in one minute!
The Maytag Stackable Front Load Washer

First up is the Energy Star rated Maytag stackable washer model MHW5630HW. This is the updated 2019 version of the highly rated model that was previously featured in this review, the MHW3505FW. Featuring a 4.5 cubic foot capacity stainless steel drum, this model includes a 12 Hour Fresh Spin option that tumbles clothes after the wash cycle has ended to help prevent odors.
Maytag's PowerWash system is the "best cleaning in the industry," and now they have added another feature for people concerned about fighting stains and soils: the Extra Power wash option. It uses both hot and cold water to fight a wide variety of stains effectively, and combined with the Heavy Duty cycle it packs a serious punch against dirt! It also includes Maytag fan favorites like the PowerWash cycle and Steam for Stains.
If a commercial washing machine appeals to you, you may appreciate Maytag Commercial Technology and the 10-year limited warranty on the direct drive motor and stainless steel wash basket. This Maytag stackable washer prices at $899 and has dimensions of 27" wide, 31.4" deep and 38.6" tall.
This model is slightly larger than the previous model, the popular MHW3505FW (4.3 cubic feet of capacity), and the Extra Power button and Fresh Spin option are new for 2019. The control panel has been rearranged slightly, but overall it has the same look and feel as the previous model.
Cycles & Options:
10 Cycles: Normal, Heavy Duty, Whites, Bulky Items, Towels, Delicates, Quick Wash, Wrinkle Control, Drain & Spin, Clean Washer with Affresh

9 Options: Steam Clean, Delay Wash, Extra Rinse, Extra Power, 4 Soil Selections, 4 Spin Speeds, 4 Temperatures, Control Lock, 12 Hour Fresh Spin
Click here to read over 140 real customer reviews of this product!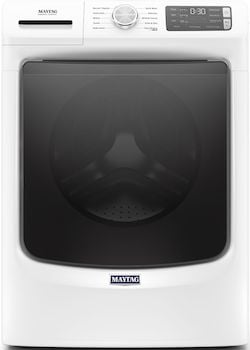 The Matching Maytag Stackable Dryer
Completing the other half of the Maytag stackable washer dryer is dryer model MED5630HW. This model is replacing the MED3500FW electric dryer but has the same features - the main differences are that the dryer drum is slightly smaller at 7.3 cubic feet compared to the original's 7.4 cubic foot drum, and has a redesigned control panel similar to the matching washer.
This model comes with a steam feature for wrinkle control. Moisture sensors in the durable powder coat steel drum measure the humidity levels within the drum so your clothes aren't over- or under-dried. Like the washer, this dryer features an Extra Power button as well that increases the heat, tumbling, and time. This helps ensure that thick, heavy-duty materials like canvas and denim dry thoroughly.
This Maytag dryer has stacking capability with the purchase of an additional stacking kit number W10298318RP. The dimensions are 27" wide, 31" deep and 39" tall and the price is around $899. If you're looking for a gas dryer, the gas option is model MGD5630HW, pricing around $999. The motor and dryer drum are backed by Maytag's 10-year limited parts warranty.
Cycles & Options:
10 Cycles: Regular, Heavy Duty, Towels, Whites, Bulky Items, Quick Dry, Delicates, Wrinkle Control, Normal, Timed Dry

6 Options: Cycle Signal, Control Lock, Wrinkle Prevent, Extra Power, 4 Temperature Levels, 3 Dryness Levels
Click here to read over 55 real customer reviews of this product!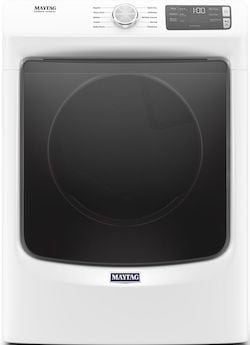 The Rest of Maytag's Front Load Washer Dryer Lineup
These models we reviewed above make up the "value" front load washer models Maytag began offering for 2019, and they've proved very popular with our customers. The next tier is the the MHW6630HW washer and MED6630HW electric dryer (gas model MGD6630HW), both pricing at around $999 in white or $1,099 in Metallic Slate. The washer offers a slightly larger tub at 4.8 cubic feet with Advanced Vibration Control Plus for a quieter washing machine, a 16 Hour Fresh Hold option (4 hours longer than the value model and with a fan added for better air circulation), and a Sanitize Cycle. The dryer offers a Sanitize cycle and steam dryer options like Steam Refresh and Reduce Static.
The premium models are the MHW8630HW washer and MED8630HW electric dryer (gas model MGD8630HW), both retailing at around $1,249 each in white or $1,349 in Metallic Slate. This premium washer offers the largest drum capacity at 5.0 cubic feet, a 24 Hour Fresh Hold option, and an Optimal Dose Dispenser that lets you fill the washer with enough detergent for up to 8 cycles. It also offers an Overnight Wash and Dry cycle that will wash and dry small loads under 2 pounds in 12 hours. The dryer features Advanced Moisture Sensing, several steam options, and wifi connectivity for remote troubleshooting.
Maytag is owned by Whirlpool, and you can see some innovations here similar to Whirlpool's FanFresh option and the Whirlpool Load and Go dispenser.
One of the benefits of replacing a washer and dryer at the same time is that you can take advantage of appliance packages, which can offer amazing savings on these workhorse machines!
We chose to review this particular Maytag stackable washer dryer because the previous models that they are based on are highly rated and popular with many of our customers, although they offer other options in this category as well. All of the front load washers in Maytag's model lineup for 2019 have a premium look thanks to the large tinted glass windows and a great array of features at an affordable price.
We hope you enjoyed our review of this Maytag stackable washer dryer pair. Please leave us a comment below. We'd love to hear from you!
Editor's Note: This blog was originally written in June of 2017 and has been completely revamped and updated for accuracy as of the publication date noted above.