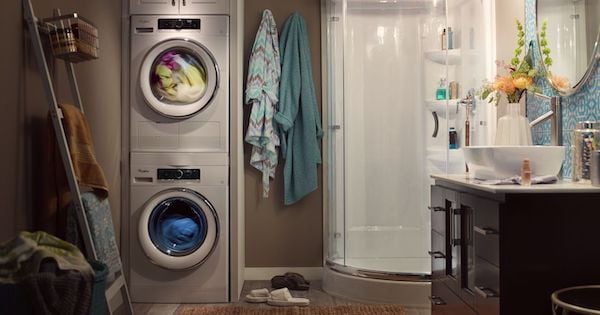 If you are moving into a small apartment or a tiny house, or are otherwise just constrained for space, you may be scouring the internet to learn more about compact washer and dryer models. Compact laundry appliances are more common in Europe than in the US, but maybe those Europeans are onto something! Compact washers and dryers can be a little more difficult to come by than full size models, and there isn't as much information out there about them.
Here are some things you should consider with a compact washer and dryer, plus reviews of two highly rated models from GE and Bosch.
Table of Contents:
How Big Are Compact Washers?
Full-size washers and dryers are usually 27" wide. Compact washers and dryers are usually 24" wide. They are often similar in size to your average dishwasher.

Depth varies but is typically around 25-27".

Capacity is usually about 1.0-2.7 cubic feet, and should be paired with a compact dryer that is around twice the capacity, just like you should with a full sized washer dryer pair (check out our washing machine buying guide for even more information). Compact dryers can be around 2.0-4.5 cubic feet.

With 2.0 cubic feet of capacity, you can wash about 10 bath towels. Two cubic feet should hold around 12-17 pounds of laundry. It might be worth weighing your laundry basket to see if that works for you!
Should You Buy a Compact Washer?
Also referred to as "apartment size" washers and dryers, there are a few caveats to these appliances compared to their full-size counterparts:
They aren't cheap - Pricing starts at around $849 for a compact washer and can easily be $1,000 or more. So if there's a chance your space could fit a full-sized pair - for example, by stacking a front load washer and dryer - you may be better off.

Obviously, load size is limited. King-sized bedding and large comforters likely won't fit.

You will have to do small loads more often, so if you typically wash a week's worth of laundry in one go, you'll need to adjust that habit for a compact washer!

According to Consumer Reports, compact models tend to vibrate more than full-sized options. This makes proper leveling during installation even more crucial.

For a compact dryer, you'll still need a 240V outlet, just like for a full-sized dryer. Many compact dryers are ventless, which take longer to dry but reduce wear and tear on your clothes.

Some compact washer dryer pairs require two separate outlets while others allow for "electrical pass through", where the dryer plugs into the washer and the washer plugs into a single outlet.
However, these washers can be a huge timesaver compared to weekly visits to the laundromat. They work well for small households of 1-2 adults. Compared to an all in one washer dryer combo, you are probably better off with a compact washer and dryer pair. The pair will be somewhat easier to service if needed, and all-in-ones have gotten poor reviews in the past.
Brands making compact washers and dryers include:
Blomberg

Bosch

Fisher & Paykel

GE

Haier

LG

Samsung

Whirlpool

Electrolux
Bosch, GE, Electrolux, and LG models are the most widely sold in our area and usually have a good number of positive reviews.
We've chosen to take a closer look at two top sellers from Bosch and GE in this category that fit in an amazingly small 24" width while providing you with the largest capacity in compact washers! Let's take a closer look.
Bosch Compact Washer Review
Bosch is a German company founded in 1886 that manufactures and sells a wide variety of top-quality consumer appliances worldwide. With their European roots, they are keenly aware that not every home or apartment has space to accommodate a full-size washing machine.
The Bosch WAT28400UC is a truly awesome front load washer that competes well in the compact market. This compact washing machine is from Bosch's 300 Series, which is on the lower end of Bosch's tiers - current tiers include the 300, 500, and 800 Series. The WAT28400UC is Energy Star rated, stackable, and has a 2.2 cubic foot capacity, priced starting at $1,099.
It can be hard to find decibel ratings for laundry appliances, but Bosch kept operation noise in mind with this washer: it features quiet 54 dBA operation (and 73 dBA when spinning at up to 1,400 RPM) with Bosch's efficient and reliable EcoSilence motor and anti-vibration side walls. The average conversation takes place at 60 dBA, so you won't have to shout to be heard over this washing machine! A quiet washing machine is especially important in small spaces.
This compact washer comes with 15 wash cycles, including the Allergen Cycle (great for killing off dust mites), SpeedPerfect for up to 40% faster washing times, Delicates, and Woolens. With a max spin speed of 1,400 RPM, the washer can pull more moisture from your clothes during the final spin to help shorten drying times.
That 2.2 cubic foot capacity drum allows you to wash up to 16 towels in one load, or just over 15 pounds of laundry - Pretty impressive among compact washers!
The matching dryer is model WTG86400UC, a ventless dryer that can "piggyback" off of the washer's power supply. You'll need a single 240V outlet to power the two appliances together. Electrolux compact washer dryers also come with this feature as of 2021.
Features:
15 Cycles: Permanent Press, Permanent Press - Heavy Soil, Permanent Press - Light Soil, Delicates, Quick 30, Rinse/Spin, Hand Wash/Wool, Cotton/Normal, Cotton - Light Soil, Towels, Allergen, Jeans, Heavy Duty, Drum Clean, Drain

3 Options: SpeedPerfect, Extra Rinse, PreWash

Max Spin Speed: 1,400 RPM

54 dBA washing / 73 dBA spinning
Dimensions:
Width: 23.5"

Depth: 24.25"

Height: 33.25"

Click here to read over 160 real customer reviews of this product!


GE Compact Washer Review
Another highly popular compact washer comes from GE, one of the largest and top-selling appliance brands in the US. The company was founded in 1905, and they created the first over-the-range microwave in 1978. GE continues creating innovations in the appliance industry and keeps leading in incorporating voice assistants and smart technology into their appliances. While they may not be the first brand people think of when it comes to laundry, GE offers reliable and top-rated laundry products like this model we're about to look at.

Retailing at $999, the GE GFW148SSMWW has a similar European look plus a stainless steel wash basket. This front-loading washer is Energy Star rated and has electronic touch controls for easy operation. Its capacity at 2.4 cubic feet is large for a compact washer and beats the Bosch model by .2 cubic feet!
This washer has a max spin speed of 1,400 RPM. It has 14 wash cycles including Casuals with Steam and Stain Wash with Steam, so it can deal with tomato and grass stains without being too harsh on your fabrics (learn more about steam cycle washers in our article). Other useful wash cycles include PreWash for heavily soiled clothes, Quick Wash for lightly soiled clothes needed in a hurry, Sanitize, and Active Wear. Optional wifi connectivity is available using the PBX23W00Y0 connect module (sold separately).
Operating at only 58 dBA, this model features GE's Deluxe Quiet Design and is quiet just like the Bosch model. It is likely louder during the spin portion of the cycle but the exact decibel level is not available. Based on the reviews, many customers are happy about its quiet operation. GE provides limited one-year warranty for parts and labor for this model.
There are two options for a matching dryer. There is a ventless condensation dryer option, model GFT14ESSMWW retailing at $1,099, and a vented electric option, model GFD14ESSNWW retailing at $1,049. As of this writing, the ventless model has a higher average star rating.
Features:
14 Cycles: Active Wear, Casuals, Casuals w/ Steam, Cold Wash, Delicates, Heavy Duty, Normal, Quick Wash, Rinse + Spin, Sanitize, Stain Wash w/ Steam, Towels, Tub Clean, Whites

4 Options: My Cycle, Prewash, Delay Wash, Extra Rinse

Max Spin Speed: 1,400 RPM

58 dBA average sound throughout the cycle
Dimensions:
Width: 23.438"

Depth: 25.625"

Height: 33.25"

Click here to read over 305 real customer reviews of this product!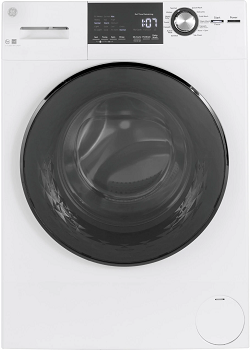 We hope you enjoyed this overview of compact washers and the details on two models from Bosch and GE. Both offer one of the smallest washers with the largest capacity! You can find other compact washer options here.
What factors have made you consider a compact washer over a full-size option? Leave us a comment below. We'd love to hear from you!
Editor's Note: This blog was originally written in November of 2017 and has been completely revamped and updated for accuracy as of the publication date noted above.