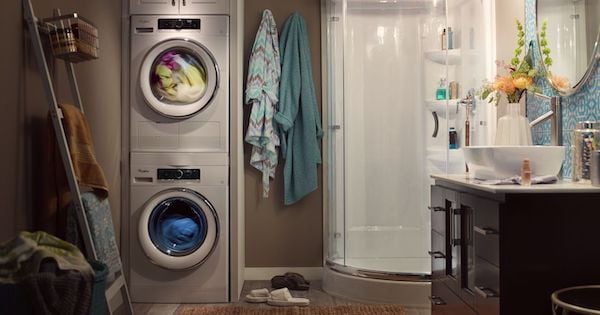 If you are moving into a small apartment, tiny house or are otherwise just constrained for space, you may be scouring the internet to learn more about compact washers. Compact washers are more common in Europe than in the US, but maybe those Europeans are onto something with this space-saving laundry appliance!
The average washer is around 27'' wide, while compact washers tend to be around 24" wide. They are often similar in size to your average dishwasher. Compact washers can be a little more difficult to come by than full size models and there isn't as much information out there about them. We wanted to write an article about two of the best compact washers on the market to help you learn more about dimensions and features. Hopefully this will help you as you research a new washing machine and buy your next compact washer - check out our washing machine buying guide for even more information!
We've chosen to take a closer look at two top sellers from Bosch and Electrolux in this category that fit in an amazingly small 24" width while providing you with the largest capacity in compact washers! Let's take a closer look.
Bosch is a German company founded in 1886 that manufactures and sells a wide variety of top-quality consumer appliances worldwide. With their European roots, they are keenly aware that not every home or apartment has space to accommodate a full-size washing machine.
The Bosch WAT28400UC is a truly awesome front load washer that competes well in the compact market. This compact washing machine is from Bosch's 300 Series, which is on the lower end of Bosch's tiers - current tiers include the 300, 500, and 800 Series. The WAT28400UC is Energy Star rated, stackable, and has a 2.2 cubic foot capacity, priced starting at $1,099.
It can be hard to find decibel ratings for laundry appliances, but Bosch kept operation noise in mind with this washer: it features quiet 54 dBA operation (and 74 dBA when spinning at up to 1,400 RPM) with Bosch's efficient and reliable EcoSilence motor and anti-vibration side walls. The average conversation takes place at 60 dBA, so you won't have to shout to be heard over this washing machine! A quiet washing machine is especially important in small spaces.
This compact washer comes with 15 wash cycles, including the Allergen Cycle (great for killing off dust mites), SpeedPerfect for up to 40% faster washing times, Delicates, and Woolens. With a max spin speed of 1,400 RPM, the washer can pull more moisture from your clothes during the final spin to help shorten drying times.
That 2.2 cubic foot capacity drum allows you to wash up to 16 towels in one load, or just over 15 pounds of laundry - Pretty impressive among compact washers!
Dimensions:
Width: 23.5"

Depth: 24.25"

Height: 33.25"
(Learn more about washing machines, including space-saving compact options, with our FREE washing machine buying guide! Click below to download!)
Another highly popular compact washer comes from Electrolux, a Swedish multinational company that owns household names like Frigidaire. They are the second largest appliance maker in the world after Whirlpool. Founded in 1919, their first product sold was a vacuum cleaner, and today they sell a wide variety of home appliances, large and small!
The Electorlux EFLS210TIW retails starting at $999 in white and $1,099 in stainless steel. It has a slightly larger footprint than the Bosch model and has a similar European-look design plus a stainless steel drum. It's Energy Star rated and has sleek IQ-Touch controls. It is the largest compact washer capacity available from Electrolux at 2.4 cubic feet, beating the Bosch model by .2 cubic feet!
The Electrolux ExpertCare wash system uses state-of-the-art wash technology, including the Perfect Steam feature (learn more about steam cycle washers in our article) and a max spin speed of 1,400 RPM. The 14 specialty cycles include a Deep Clean Sanitization cycle, Fast Wash, and more. Options include Delay Start.
Although this model doesn't list the dBA like the Bosch model, Electrolux designed this compact washer for quiet operation with Luxury-Quiet technology. The Perfect Balance System/Second Floor Guarantee makes it a great option for second floor laundry rooms or laundry areas near a bedroom or other living area.
Electrolux's Platinum Star Limited Warranty really "shines," providing three-year coverage on parts and one year on labor.
Dimensions:
Width: 23.6"

Depth: 25"

Height: 33.5"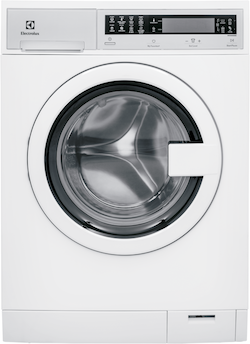 We hope you enjoyed this overview of compact washers and the details on two models from Electrolux and Bosch. Both offer one of the smallest washers with the largest capacity! You can find other compact washer options here.
What factors have made you consider a compact washer over a full-size option? Leave us a comment below. We'd love to hear from you!
Editor's Note: This blog was originally written in November of 2017 and has been completely revamped and updated for accuracy as of the publication date noted above.