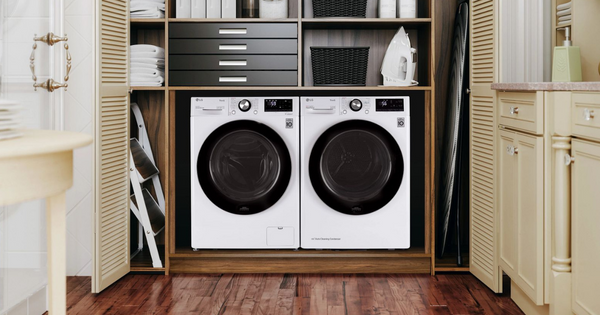 If you are living in an apartment or condo or maybe even a "tiny house", you may be in need of a compact dryer to fit in a small space. Compact dryers are dryers made to fit in small spaces and have a smaller capacity. They are generally available in electric 115 volt or 240 volt, or gas models and come in stackable or free standing designs. Many can also be placed on a pedestal if space allows.
If you are constrained by space, compact dryers may be exactly what you are looking for. Researching a new dryer can be easy if you know the right questions to ask. In this blog, we try to shed some light on the topic of compact dryers and review two top-selling models, one vented and one ventless. You can find more information on dryers in our dryer buying guide!
Table of Contents
Types of Compact Dryers
Compact dryers are available in both vented and ventless designs. Ventless dryers are common in Europe and don't require you to punch a hole in a wall or any ducting. Most compact dryers are ventless. Most ventless compact dryers require a 240 volt outlet. You are unlikely to find 110 volt ventless dryers. Some vented compact dryers can use a 110 volt outlet, but most compact dryers are ventless because they're designed for apartments where cutting holes in the wall isn't an option.
As of this writing, all compact dryers currently manufactured are electric. Compact gas dryer models have been out of production since before 2010 (Source).
Specs - Size & Electrical Requirements
A compact dryer is usually around 24 inches wide with varying heights and depths (typically around 34 inches tall and 24 inches deep). They are similar in size to your average dishwasher. Capacities are usually around 2.0-4.5 cubic feet, and pair with compact washers ranging from 1.0-2.7 cubic feet.
Some compact washers are designed to plug into the compact dryer, so you'll only need a single 220-240V outlet to power both machines. In other cases, the washer requires its own outlet, which may be 120-volt or 240-volt. If your condo or apartment does not already have a 220V connection, you may need to get permission to install it. You may also need permission to install a washer and dryer, period.
A dryer that plugs into a normal 110- or 120-volt outlet will take longer to dry your clothes, but the lower temperatures mean gentler fabric care. A dryer that plugs into a 220V or 240V outlet will have more power at its disposal to dry your clothes. Most compact ventless dryers use a 240-volt outlet.
Ventless dryers typically push out some heat and humidity into the surrounding area. They typically don't do well with high ambient temperatures and humidity. So installing one in a poorly ventilated bathroom or running it in a closet with the door closed where its exhaust can't disperse will make the cycles last a lot longer.
A ventless dryer may also need to be hooked up to a drain, or you'll need to dump out a tray after each use where the moisture from the clothes is collected.
Who Should Buy Compact Washers & Dryers
A compact washer and compact dryer pair work best for light laundry needs, perhaps for households of 1-2 people. You may still need to go to the laundromat to wash and dry heavy blankets. You will have to run small loads more often rather than saving up for an end-of-the-week load. On the bright side, that means you can use specialized wash and dry cycles depending on the type of fabric more easily. For example, a week's worth of one person's undergarments likely still wouldn't be enough to fill a full-sized machine, so you would have to mix them in with other items rather than run a dedicated delicate wash cycle.
Although downsizing is a great way to save money over the life of an appliance, you won't find upfront cost savings just for choosing a compact model - they are often just as, if not more expensive, than nicely featured full-size models. However, they tend to work better than portable washers and dryers and are made to a higher standard.
If you're an apartment dweller, you'll want to consider operation noise and shaking, and maybe look into vibration and sound dampening packages. If you plan to buy a matching compact washer, stacking kits are an additional cost to consider. You should also be okay with wash and dry cycles taking longer overall than they would in a full-sized set. You can take space-saving a step further with a washer dryer combo.
How Much Can You Fit in a Compact Dryer?
It depends on the brand. Some people find that you can wash king-sized sheets but not blankets. Some models have bulky item settings that will allow them to better handle loads of bedding. A king-sized comforter will definitely be too much; but you may be able to wash full-sized comforters and queen-sized quilts. Miele machines tend to be more heavy-duty and so can handle difficult loads like that.

Claims about how much you can fit inside the drum vary a lot, and can be confusing. European brands often list capacity in kilograms (weight) while in the US we use cubic feet (volume). Most drum sizes are pretty similar across the board between units with similar exterior dimensions.

Sometimes, a load that fits fine into the washer will need to be broken up into two loads for the dryer. If you often air dry knits, delicates, or other items, this may not be a problem.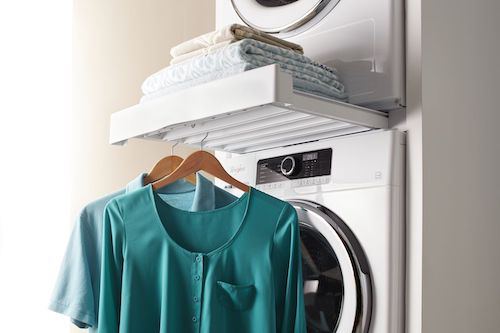 Who Sells Compact Washers & Dryers
There are several European brands that sell compact washers and dryers in the US. These include:
Bosch: Recommended by The Wirecutter because this German brand tends to have solid customer service, at least when it comes to its dishwashers. Since it has a solid presence in the US, we hope that translates to easy access to repairs and service should you need it. They offer wifi connectivity in select models. They offer condensation (ventless) dryers only. Note that their compact washers don't allow you to use bleach.

Miele: Made it to the top of Reviewed's tests of compact washers. This is another German brand that sells compact washers and dryers to the US. Miele builds its products to last up to 20 years rather than the standard 6-10 of many other brands, and keeps spare parts available with this in mind. They sell 110 volt dryers. They are not as widely sold as Bosch in the US, though.

Asko: This is a Swedish brand, also known for building durable appliances. Again, it is less common in the US. When brands are not as widely sold, that can make getting service for it more difficult if the time comes.

Blomberg: Another popular European brand with a US presence. They offer both vented and ventless compact dryers.
Select American brands (and brands that are more well-known in the US) also sell compact models. Some brands outsource the manufacture to European companies since they have better infrastructure for it. It can be difficult to tell if a model has issues because in some cases people were sold ventless models without being given a thorough understanding of how they work and what to expect.
LG: They offer a limited selection of compact ventless models. Reviews are generally positive. Their compact dryer got high marks in Reviewed's tests of ventless compact dryers.

GE: Offers a limited selection of vented compact models. Reviews are generally positive, although lower on average than we would like to see. However, some of the complaints could be due to thwarted expectations (such as cycles running too long) or user error (potential issues due to overloading). Their ventless compact dryer also got good marks in Reviewed's tests, but it has since been discontinued.

Whirlpool: Outsources manufacturing to Europe. They make some heat pump dryers - overall, though, reviews of their compact laundry have been mixed. Again, it's hard to say how much of this is related to thwarted expectations or user error, but the volume of negative reviews is concerning.

Electrolux: The Electrolux models have a similar balance of reviews to LG and GE. Electrolux offers a Platinum Star Warranty - one year on labor, three years on parts. Their washers have a steam cycle to boost stain removal.

Fisher & Paykel: Fisher & Paykel offers a two-year limited warranty on parts and labor, and their compact ventless dryer performed pretty well when Reviewed tested them in 2020.

Samsung: Also makes vented compact dryers (mainly competing with LG). The reviews tend to be mixed and are partly related to service issues. Look for in-house service or local warranty service.
Today's appliances just don't last as long as they used to. Try to find a local appliance retailer that offers in-house service (like we do) - and if that's not an option, see if there are appliance service businesses in your area with factory-trained repair teams that have been trained to handle the brand you choose.
Review: 240V Ventless Compact Dryer - LG DLHC1455W - $1,299 MSRP
First up is the LG DLHC1455W. This particular model is a heat pump dryer that does not have to be vented to the outside and is priced around $1,299 in white, and at $1,399 in graphite steel. This great model includes LG Sensor Dry and a NeveRust stainless steel drum with an interior drum light.
It comes with 11 sensor dry programs and 3 manual dry programs, plus 12 options. These sensor dry programs include specialty cycles like Wool and Sports Wear, tailored to effectively dry these materials properly. LG's Wrinkle Care will intermittently tumble the clothes after a program is complete to help prevent wrinkles from setting in before you can get to them.
The stacking kit options are 4930EL3021A/4930EL3023A. This model could definitely fit in a closet, thanks to its depth. It requires a 240V outlet and comes with a manufacturer's warranty of one year parts and labor.
Cycles & Options Include:
14 Cycles: Normal, Heavy Duty, Bulky/Large, Small Load, Towels, Sportswear, Antibacterial, Delicates, Wool, Perm.Press, Rack Dry (Manual Dry), Heated Dry (Manual Dry), Air Dry (Manual Dry), Downloaded

12 Options: More Time, Less Time, Wrinkle Care, Control Lock, Wi-Fi, PGM Save, Custom PGM, Remote Start, Condenser Care, Drum Care, Drum Light, Signal
Dimensions:
Height: 33.5"

Width: 24"

Depth: 26.375"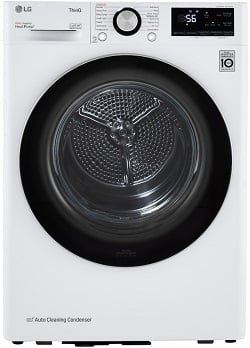 Review: 240V Vented Compact Dryer - GE GFD14ESSNWW - $1,148 MSRP
If you need a compact dryer but have the flexibility to install a vented option - or prefer faster drying times over lower energy use - then you may be interested in a popular model from GE Appliances: the GE GFD14ESSNWW, a 4.3 cubic feet electric dryer priced at around $1,148. The matching washer GFW148SSMWW can be plugged into the dryer so the combined unit only requires one 240V outlet.
It features HE Sensor Dry with dual thermistors that monitor the temperature and a sensor bar that measures moisture inside of the drum to prevent over-drying. The control panel features a mix of push-button controls with a dial control and LED time remaining display. Options include an NSF-certified Antibacterial high heat dry and Extended Tumble to prevent wrinkles.
A stainless steel drum, interior light, and GE's Quiet-By-Design package make this a great compact dryer with some seriously useful features. The optional stacking kit is model GFA24KITL. The manufacturer's warranty covers one year for parts and labor. Like the previous model, it's also a best-seller!
GE's ventless condenser dryer, model GFT14ESSLWW, got good marks in Reviewed's drying tests, but it has been discontinued.
Cycles & Options Include:
13 Cycles: Active Wear, Air Fluff, Casuals, Cottons, Delicates, Dewrinkle, Heavy Duty, Mixed Loads, Quick Dry, Rack Dry, Sanitize, Towels, Warm Up

4 Options: Delay Start, Extend Tumble, Damp Alert, Signal On/Off
Dimensions:
Height: 33.25"

Width: 23.5"

Depth: 25.25"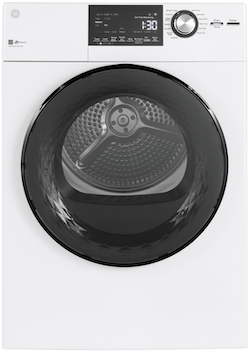 We hope this information helped you on your journey to buying a new dryer. When many brands are focused on making bigger and bigger appliances, finding options for small spaces can be difficult! Other brands to consider for models are Bosch, Electrolux, Fisher & Paykel, and Miele.
What compact dryer option has worked the best for you? Is this your first time searching for a compact dryer, or have you relied on these models in the past? Please feel free to leave a comment below. We'd love to hear from you!
Editor's Note: This blog was originally written in April of 2017 and has been completely revamped and updated for accuracy as of the publication date noted above.