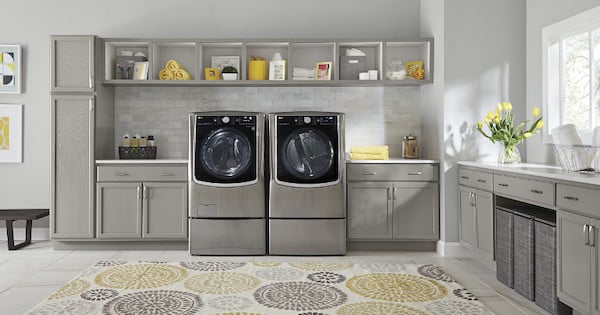 There are many options and features to consider while researching a new dryer. If you are looking for drying accuracy, LG Sensor Dry may be worth considering when you purchase your next dryer. We'll go over sensor drying and review a top-seller from LG with this technology!
What is Sensor Drying?
Sensor drying is the most accurate drying system available and will save you time and money by reducing utility costs and wear and tear on fabrics. Over-drying can damage or prematurely wear out your fabrics, while under-drying can leave your clothes stinky and needing to be re-washed. Not to mention the fact that dryers are usually the second-biggest electricity hogs in your home, second to your refrigerator, so avoiding the additional electricity wasted on over-drying or re-drying after re-washing stinky damp clothes is good for your bank account!
Dryers with this feature have a sensor located in the drum that measures the humidity inside of the drum. As the clothes pass by it during the cycle, it will send a message to the dryer when the clothes are dry and shut the dryer down without over-drying the clothes. Other dryers accomplish the same task by measuring the temperature of the air going out of the vent, but the sensor dry system is more accurate. (You can learn more about dryer features and options in our dryer buying guide!)
LG Sensor Dry places the sensor bar at the front of the drum behind the lint trap. This sensor dry system works best with a full load of clothing, ideally with similar fabric types (for example, a load of mostly denim or heavy-duty items, or a load of lightweight shirts). For small loads of just a few items, it can be difficult for the sensor to adequately assess the moisture levels, so using a Timed Dry option may be better in this case.
If you are looking for a best-selling dryer with this feature, you may want to check out the follow LG dryer featuring sensor drying technology. Let's take a closer look at what this great model has to offer.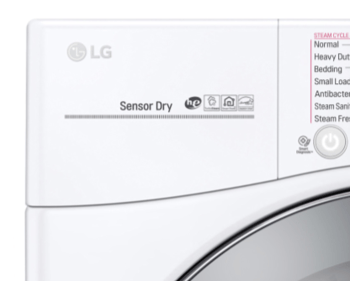 A Quick Review of a Dryer with LG Sensor Dry
The LG DLE7150W is a top selling electric dryer option from one of today's hottest manufacturers - LG! If dryer capacity is important, this machine has that covered thanks to its large 7.3 cubic feet capacity. It is both a time and energy saver, priced starting at $949 in white.
Although it doesn't have a TurboSteam Technology, it has a Wrinkle Care option as an alternative so you can do less ironing. You can also take advantage of LG's Smart ThinQ technology with the Smart Diagnosis app, so you can troubleshoot any issues.
LG's LoDecibel Quiet Operation technology helps keep operation noise to a minimum, ideal for laundry rooms near living areas. This model also features a reversible door for your convenience. You can change which way you want the door to open.
This model is Energy Star rated and comes with a standard one year parts and labor warranty.
Features:
8 Drying Programs: Normal, Perm Press, Heavy Duty, Bedding, Delicates, Speed Dry (Manual Dry) Air Dry (Manual Dry), Freshen Up (Manual Dry)

7 Options: Wrinkle Care, Control Lock, More Time, Less Time, Damp Dry Signal, Energy Saver, Signal

Aluminized alloy steel drum

SmartDiagnosis troubleshooting feature helps solve issues quickly

LoDecibel quiet operation

FlowSense™ Duct Clogging & Lint Filter Indicators

Click here to read over 105 real customer reviews of this product!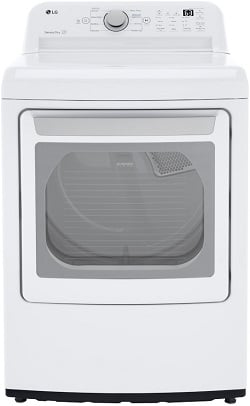 What do you think about LG sensor dry? Dryer efficiency has taken longer to improve compared to washing machines, and sensor dry technology is definitely a step in the right direction. This feature is available in dryers at a variety of price points but may work differently depending on the brand and model - Talk to your local appliance salespeople to find out which dryer is best for you!
We hope you enjoyed this article and will explore the variety of other blogs we've published on related topics. Please feel free to leave a comment below. We'd love to hear from you!
Editor's Note: This blog was originally written in May of 2017 and has been completely revamped and updated for accuracy as of the publication date noted above.