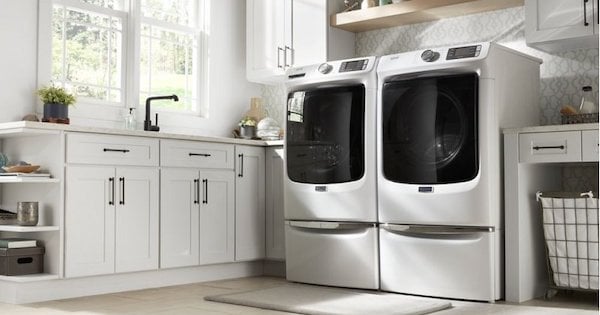 If you are in the market for a new washer, you are probably trying to learn about every style and option available to you. You can find a ton of information on this in our washing machine buying guide, but in this article we'll explore direct drive washing machines in detail. These machines feature direct drive motors, which are connected directly to the tub. What does this mean for you? These washers have fewer moving parts, shorter wash cycles and generally have better efficiency. Belts and pulleys prone to wear and tear are eliminated from the equation as the motor is connected to the tub and spins it directly.
Some direct drive washing machines use brushless motors as well, which decreases noise. Many direct drive washers come with additional stabilizing and vibration-decreasing technology to keep your washer quiet and running its best.
Direct drive washing machines are available in both front load and top load washer models to meet the demand in both categories. Let's take a closer look at two different direct drive models, one top loader and one front loader from LG and Maytag, respectively.
Maytag MHW5630HW - Front Load Washer with Direct Drive - $899
If you are looking for a front load washer and want direct drive technology, the Maytag MHW5630HW might be a very good fit. This affordable machine is priced at $899 and is packed with lots of quality features in addition to its direct drive motor. This model has Maytag Commercial Technology, which includes a 10-year limited parts warranty on the direct drive motor and stainless steel wash basket. You'll also get one year parts and labor.
At 4.5 cubic feet of capacity, this front load washing machine is a great size for most families and households of four or more people. Maytag kept fan favorites like the PowerWash cycle and Steam for Stains for this 2019 upgrade to the highly rated Maytag MHW3505FW. The PowerWash cycle uses extra wash action and water heated with the washer's built-in internal water heater for an extra boost to fight tough stains.
This front load washing machine is also Energy Star rated and now includes a 12-hour Fresh Spin option that tumbles clothes after washing to help prevent odors. It has a premium look and great features inside and out for a great price - a star among direct drive washers in the front load category!
Dimensions:
Width: 27"

Depth: 31.3"

Height: 38.625"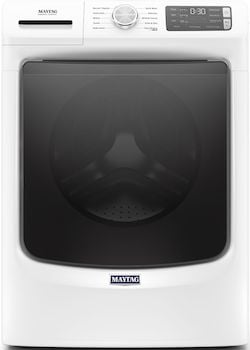 LG WT7600HWA - Top Load Washer with Direct Drive - $1,149
If you are more interested in a top load option among direct drive washing machines, the LG WT7600HWA is one to consider. This model hits a higher price point at $1,149 in white but has the features package to back it up. It is also Energy Star rated and features an extra-large 5.2 cubic foot capacity tub. It also comes with a one-year parts and labor warranty, a 10-year motor warranty and a Lifetime Warranty on the stainless steel drum. Plus you get LG's Steam Technology for fewer wrinkles and cleaner clothes. The SlamProof lid is a must-have if you've ever bonked your head on your top load washer's lid!
The 14 cycles include Bulky/Bedding, Speed Wash, StainCare, and more, including a Soak option. LG TurboWash® technology helps cut wash time by up to 30 minutes. 6Motion Technology uses up to six different wash motions to maximize washing performance while being gentle on clothes. Use LG SmartDiagnosis to troubleshoot any issues thanks to NFC Tag On technology. If your laundry room is near a living area like a bedroom or kitchen, you'll enjoy the LoDecibel Quiet Operation and the TrueBalance anti-vibration system in this washer as well.
If you're looking for a mega-capacity direct drive washing machine with plenty of cycles and options plus a great warranty, this LG top load washer might be for you!
Dimensions:
Width: 27"

Depth: 28.4"

Height: 44.5"
Click here to read over 150 real customer reviews of this product!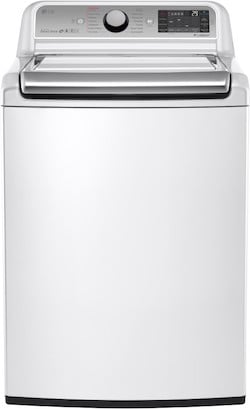 Summary Comparison
We'll quickly compare both of these direct drive washing machines in a few categories to help you explore their differences:
Look & Feel: Beyond just the issue of top load vs front load washers, both models have a premium feel with glass windows and a mix of dial and touch controls with an LED display. LG's slam-proof lid is a great feature in top load washers.

Warranty: Both models have very similar warranties covering the direct drive motor for 10 years. The LG model comes with a longer "lifetime" warranty on the wash basket compared to the 10-year warranty on the Maytag model.

Noise & Vibration: Both machines come with vibration reduction technologies, and the LG model also comes with LG's LoDecibel quiet operation feature. Either option would be a great choice for upstairs laundry rooms!

Cycles & Options: These washing machines are fully featured in this department, too. Both have steam cycle options and a quick wash option. The Maytag model has 8 wash programs to LG's 14. If you like to customize your wash cycles, you may prefer the LG model. If you prefer a simpler set of programs and Maytag's PowerWash cycle, you might want to look into the Maytag model.

Capacity: Obviously, LG wins out here with almost a full extra cubic foot of capacity. The LG model also has a smaller footprint, so it may be a better choice for smaller laundry spaces. Check out our washing machine buying guide for more tips on finding the ideal capacity for your needs!

Price: The front load washing machine from Maytag is less expensive than the LG model, partly due to the different array of features and the capacity differences. We recommend looking out for appliance packages and appliance rebates as a way to save money on your purchase.
Direct drive washing machines are a great option for people concerned with reliability. Unfortunately, many appliances today do not last as long as the models from 20 or 30 years ago. If reliability is what you value the most, you may want to look into commercial washers for home use or Speed Queen washing machines, which are built to last 25 years!
We hope you enjoyed this discussion of direct drive washing machines and our review of two different models. Please leave us a comment below. We'd love to hear from you!
Editor's Note: This blog was originally written in November of 2017 and has been completely revamped and updated for accuracy as of the publication date noted above.