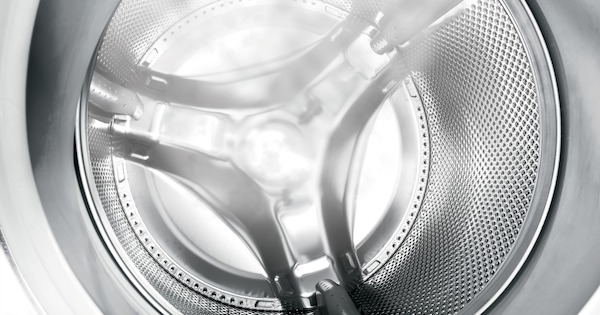 If you are in the market for a new washer, you are probably trying to learn about every style and option available to you. One option worth exploring is a steam cycle washer - and you can find more features to consider in our washing machine buying guide, too. These cutting-edge washing machines feature a steam cycle in addition to traditional water cycles.
Steam in a washer provides improved stain removal and can help eliminate odors and prevent wrinkles. It works similarly to a garment steamer. Steam powerfully penetrates the fabrics, and the heat can help sanitize items as well. If you love cleaning with steam, there are also steam dryer models so you can purchase a steam-cleaning pair.
You Should Consider a Steam Cycle Washer If...
You want to sanitize your fabrics - ideal for households with children

You want to reduce allergens such as dust mites and pet dander

You want to reduce wrinkles before you transfer clothes to the dryer or air-dry

You want to fight stains without using rough wash actions that could prematurely wear out more delicate fabrics

Your budget allows for a mid- to high-end washer model (pricing for steam cycle washers starts at around $899)
Different washing machines offer different types of steam cycles and options - they may release the steam early on in the cycle to help detergents and prewash additives penetrate fabrics, during the cycle to soften the clothes and improve the detergent's dissolving process, or at the cycle's end to sanitize or reduce wrinkles. They may also incorporate additional wash actions, soak time, or higher water temperatures, which may extend the time of the cycle.
Steam cycle washers have been around for long enough that this technology is no longer "new" to the market, so choosing a steam cycle washer doesn't mean you're taking on the extra risk of an untested technology.
Here are a few examples of what different brands have to offer in steam cycle washers:
Samsung: Samsung releases steam from the bottom of the washer in their Steam Wash cycle rather than misting it down from above. Their steam cycle is an add-on option that is also incorporated into the sanitize and allergen cycles.

Whirlpool: Whirlpool's Steam Clean option comes in during the wash cycle to boost stain removal.

Maytag: Maytag's Steam For Stains option comes in after the wash but before the rinse. It combines extra soak time and higher water temperatures to tackle tough stains.

Electrolux: Perfect Steam from Electrolux also rises from the bottom of the washer, like Samsung's system, and can assist with deep cleaning and stain removal as an option. It is also incorporated into their sanitization cycles.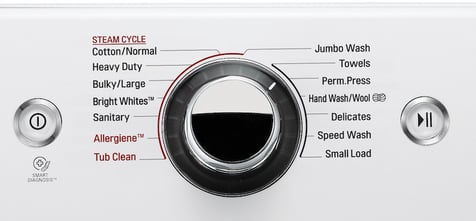 One of our favorite manufacturers of laundry in general, and of steam cycle washer technology in particular, is LG. Let's take a look at two of their best sellers that feature steam cycle washer technology in the top load and front load categories.
If you are interested in a top loading washer with a steam option, the LG WT7600HWA is one to consider. At $1,149, it prices above some entry level models but has the feature package to back it up. It is also Energy Star Qualified and features an extra-large 5.2 cubic foot capacity tub. It comes with a one-year parts and labor warranty, a 10-year direct drive motor warranty and a Lifetime Drum Warranty. Plus, you get LG's Steam Technology. It also features LG's Allergiene cycle designed to remove over 95% of common allergens found in the household.
This model has 14 wash programs, including Delicates, Speed Wash, Bright Whites, Sanitary, PreWash+ Normal, Heavy Duty, and Waterproof (for cleaning waterproof or water resistant items like mattress covers and raincoats). And it has 14 wash options to match, including Soak, ColdWash, StainCare, Delay Wash, and Water Plus. You can also choose from five wash temperatures, three soil levels, and five spin speeds.
LG's TrueBalance Anti-Vibration System and LoDecibel Quiet Operation make this washer a great option for laundry rooms near bedrooms or other living areas. The SlamProof lid is a great touch if you've ever accidentally gotten your head in the path of your top load washer's lid and regretted it! The SmartDiagnosis feature allows you to troubleshoot any issues with your smartphone to help reduce service calls.
As you can see, this washer is a great choice if you want to totally customize your wash to each load. You can also save custom programs if you have common wash options you use often, and set a delay to start the wash cycle after a certain amount of time has passed. LG also offers this machine in premium black stainless steel at $1,249.
Click here to read over 140 real customer reviews of this product!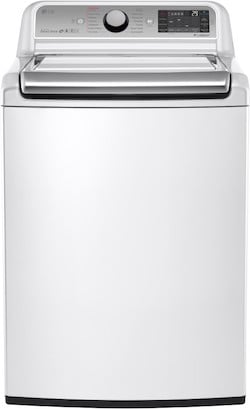 Next up is a front load steam cycle washer model at a similar price point starting at $1,199 from LG: the LG WM3770HVA. This washer is also available in white for around $1,099. The 4.5 cubic foot capacity is one of the advantages of front load washers that makes them so popular. Like the top load model, it is Energy Star rated and has a direct drive motor with a 10-year limited warranty. It earned the Energy Star Most Efficient 2018 award, too.
It comes with 12 wash programs, including LG's Allergiene cycle, Speed Wash, TubClean, BrightWhites, and more. There are 10 options to match, including PreWash, Steam (of course), FreshCare, TurboWash, and Extra Rinse. You can also choose from five wash temperatures and five soil cycles.
Like the previous model, it also comes with SmartDiagnosis, LoDecibel Quiet Operation, and the TrueBalance Anti-Vibration System. It is more or less a sister model to the top load option we reviewed above! It wins out in terms of maximum spin speed (1,300RPM vs the top load model's 950RPM), and its shorter height would make it a good choice for installing under a counter or as part of a stackable washer dryer pair.
Click here to read over 100 real customer reviews of this product!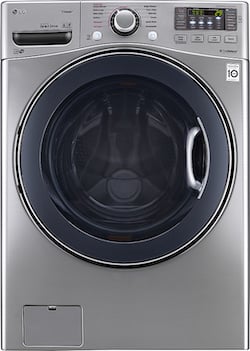 Thanks for reading this blog about steam cycle washer technology. Both of the models we compared above have over 100 customer reviews, so be sure to check them out on our website! We hope it was helpful and informative. We've also written about steam cycle dryers.
Steam cycle washers are available from a variety of brands in addition to LG, including Whirlpool, Electrolux, GE Appliances, and Samsung. You can find washers with steam cycles starting at around $900 in both top and front load models, including compact washers.
Please leave us a comment below - We'd love to hear from you!
Editor's Note: This blog was originally written in February of 2017 and has been completely revamped and updated for accuracy as of the publication date noted above.