Speed Queen washers feature a one-of-a-kind wash system that not only gives users the best wash available, but also takes care of your clothes! The 3.2 cubic foot tub and agitator work together to create a gentle wash action that moves the maximum amount of water through the clothes. One example of that commercial technology at work can be seen in the solid mount suspension system. The full steel base and heavy-duty springs help reduce vibration and out-of-balance issues for a longer lifespan and noise reduction. The max spin speed of 820 RPM is impressive for top load washers and will help your clothes dry more quickly. And the 1-HP variable motor is ready to handle the toughest soils!
This Speed Queen commercial washer has one of the industry's best warranties: five years to cover all parts and in-home labor plus a lifetime warranty covering the outer drain tub and the stainless steel wash basket. See manufacturer's warranty for complete details. Speed Queen laundry products are a cut above most and a good choice for any home!
If you want to go above and beyond, Speed Queen's other washers can offer even longer warranties, up to seven years, plus more cycles and options like warm wash/warm rinse.
Cycles & Options:

6 Cycles: Heavy Duty, Normal Eco, Perm Press, Delicates, Hand Wash, Spin Only

Heavy Soil option

4 Wash Temperatures: Cold, Cool, Warm, Hot

4 Load Sizes: Small, Large, Auto Fill, Auto Fill + Extra Rinse
Dimensions:
Width: 25.625"

Depth: 28"

Height: 42.75"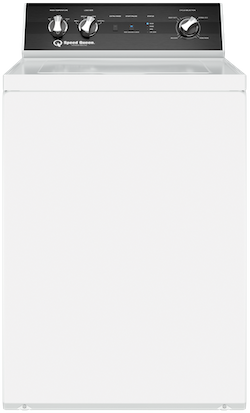 Features Comparison
Cycles & Options: Maytag wins here with presoak options and a greater variety of cycles. Four of the cycles are deep water washes, but other than that, you can't control the water levels like you can with the Speed Queen (a prized feature among Speed Queen fans). If you value water level control over custom cycles, you may prefer the Speed Queen model. The Speed Queen has an edge in max spin speed as well at 820 RPM vs the Maytag's 700 RPM, so your clothes will spend less time in the dryer.

Look & Feel: Both have basic builds with sleek commercially-styled control panels. They have slightly different footprints (double check the dimensions if your laundry room has limited space or you have narrow doorways), and the Speed Queen TR3's wash tub is .2 cubic feet smaller.

Operation Noise: Speed Queen actually publishes decibel ratings on their washers, which no other brand does consistently. The agitation stage of Speed Queen's top load washer is just 43 decibels - about as loud as a rural area or quiet library! Anecdotally, the Maytag seems somewhat louder.

Warranty: Maytag upped the ante with a 5-year full parts and labor warranty plus 5 years after that parts only. Speed Queen's TR5 model comes with a 5-year full parts and labor warranty plus lifetime on the outer drain tub and wash basket. Both have far surpassed the industry norm of one year. If you want to take it to the next level, Speed Queen's TR7 model comes with a 7-year warranty starting at $1,399.

Energy Usage: Although neither model is Energy Star rated, the Energy Guides for each model show that the Maytag model will cost twice as much to operate per year in terms of electricity use ($18 vs $8 for the Speed Queen model). However, this is based on the "Normal" cycle, and Speed Queen's Normal Eco cycle is very light-duty, best for lightly soiled loads, and may not reflect what cycles people actually use.

Wash Mechanism: Speed Queen uses an "agi-tub" design in their TR models for a gentler wash action that's still highly effective. However, it might not work as well on heavy soils. Maytag's traditional agitator twists back and forth. It's rougher but can handle heavy-duty fabrics and soils better.

Interior Components: Speed Queen is known for showing off the interiors of their washers, which are built with heavy duty parts and made to be easy to repair. The Speed Queen TR5 has a shipping weight of almost 200 pounds, while the Maytag model weighs about 160 (the average residential top load washer is usually around 150 pounds). That alone should tell you that the Speed Queen is packing a lot of metal!
What About the Maytag vs Speed Queen TC5?
In 2019, Speed Queen released a new "Classic" washer that is more like their washers of the past, with an agitator and no lid lock. Here are the basic specs of the TC5003WN:
Price: $1,299

Warranty: 5 years parts and labor

6 Cycles: Normal Eco, Delicate, Permanent Press, Heavy Duty, Bulky/Sheets, Spin

3 Options: Extra Rinse, Extra Rinse w/ Pre-Soak, Heavy Soil

Load Sizes: Default (a medium fill), Deep Fill
Learn more in our Speed Queen TC5000WN review.
So, compared to the Maytag, the TC5 has a similar wash action but a shorter warranty. It defaults to one "medium" water level and you can select a Deep Fill option for large or heavily soiled loads. It has a Bulky/Sheets cycle instead of the Hand Wash cycle on the TR5. The max spin speed is 710 RPM, so it's pretty similar to the Maytag in that respect. You may prefer the Maytag since you're getting a longer warranty for a similar price!
Conclusion
Take a look at these commercial models from Speed Queen and Maytag when you go shopping and see if one of them will be right for your home and your budget. These are some of the best rated top load washer options available! Speed Queen is generally second to none when it comes to true commercial laundry technology for home use. The Maytag Commercial model has yet to out-sell Speed Queen (at least in our area) but is definitely a competitor for this appliance niche.
These agitator washers are not large enough to wash king-sized comforters or other huge, bulky loads, but they are definitely more durable than your average agitator washing machine. If you'd like to see larger options, check out our reviews of the largest agitator washers! We hope you enjoyed this article. Please leave us a comment below. We'd love to hear from you!
Editor's Note: This blog was originally written in September of 2016 and has been completely revamped and updated for accuracy as of the publication date noted above.