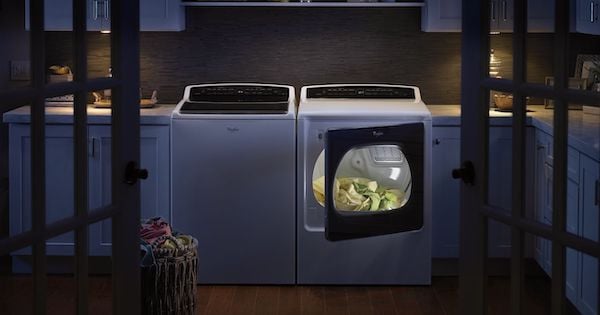 More and more, consumers are interested in finding appliances with quiet operation. Noisy refrigerators, dishwashers, and laundry appliances can be especially intrusive in apartments, or homes with open floor plans. If you have a second-floor laundry room or laundry closet, a quiet washing machine might be crucial for your sanity!
Normal sounds in new washing machines include clicking and humming, gurgling or running water sounds as the washer fills and drains, and the sound of the basket spinning up and down in short or long bursts. One of the major factors tied to noise reduction is vibration reduction - the two go hand in hand! Although it's unlikely that you'll find decibel levels for most washing machines (unlike with dishwashers, where there is plenty of competition to be the quietest dishwasher), there are several key features you can look for from different brands that will help you find quiet washing machine models.
Jump To:
Basic Overview: How Washers Handle Noise & Vibration
Sometimes, you want to cut through the marketing hype, right? Manufacturers aren't always very specific in why they've given their washers a "Super Ultra Quiet ++" rating. Here are the basics that all washers have:
Balance Rings: These balancing rings may be filled with liquid or ball bearings to help counterbalance a load of clothes and dampen vibration. (Whirlpool filed a patent on liquid filled balance rings in 1960, so they've been around for a while!)

Shock Absorption/Suspension: Wash tubs are suspended within the washer body by springs and rods. There may also be other methods of reducing or absorbing vibration like damper pads, "snubber rings," or even rubber straps.

Algorithms & Sensors: To handle out-of-balance loads, sensors check if the weight in the tub is unevenly distributed, and algorithms determine the best way to quickly rebalance the load.
Top load washers are typically loudest during agitation and when filling/draining the tub, although you will hear the knocking and vibration of an out-of-balance load during the high spins.
Front load washers are quieter overall. They are loudest during the high spin speed portions of the cycle, in part because they easily spin twice as fast as top load washers (extracting more water from your clothes so they spend less time in the dryer). Personally, I find the noises of top load washers draining and agitating to be more disruptive.
Typically, a washer will test that a load is balanced before ramping up to the spin portion of the cycle, or it will stop the spin cycle if it senses that the load is unbalanced.
Top load washers will fill the tub with water, then gently agitate the clothes for up to several minutes to redistribute them around the tub. Then it drains the water and tries to spin again. This process can take 7-10 minutes and can be a factor in longer wash cycle times. More advanced washers will stop the cycle entirely if they can't rebalance the load after several tries.

Front load washers fix balance issues by tumbling the clothes at different speeds to pull them around the wash tub so they are no longer clumped on one side. Then, it will spin up to high speeds. More advanced front loaders are better at adapting to load balance issues without starting the spin cycle all over again.
A quiet washing machine will use a combination of advanced balancing technology plus quality internal components for dampening normal vibration.
Doing Your Research: What to Watch Out For
Reading about other people's experiences with an appliance is helpful - to a point. The problem is that washer noise is also related to whether they are properly installed. A washer that isn't level is more likely to go out of balance, creating vibration and even the dreaded "WUMP WUMP WUMP" noise. If someone DIY'd their install, or if their washer was installed by a delivery team that doesn't specialize in appliances like we do, it's possible that the noise they're experiencing isn't typical of that washer at all.
Something interesting I've discovered in my research is that people will sometimes post videos of their new washer going through a cycle on YouTube, which could be useful if you're concerned about noise! Looking at the product reviews by organizations that actually test the products in a standardized way, such as Reviewed, Digital Trends, and Consumer Reports, is also a great way to narrow down your options.
In general:
Agitator top load washers are likely to be noisy (Speed Queen is the exception). Impeller top load washers are a mixed bag.

Cheaper top load washers tend to be noisier - if noise is a concern, be wary of budget brands like Amana and Hotpoint, and the cheapest offerings from Maytag and Whirlpool.

Laundry centers that combine a top load washer with a unified dryer also tend to be noisy. If you need to fit a washer and dryer in a small space, stacking a front load washer on a matching dryer is the better option.
What Different Brands Offer
Several brands offer washers with specific noise-reduction and vibration-reduction features - of course, they all have catchy names that can be hard to keep straight, so we'll go over all of the options here for your reference! LG and Samsung are at the top of their game for full-sized quiet washing machine models, with competition from Electrolux and GE as well.
In general, most front load washers incorporate counterbalance ball bearings or liquid balancing rings, but additional features to look for include direct drive motors, dampers, and sound dampening panels. Front load washers tend to be quieter than top load washers - Speed Queen is one exception among top loaders, as they've designed their commercial grade TR series agitator washers to be quieter than the competition.
Skip to the brand you're interested in:
LG
This appliance manufacturer offers a couple of great technologies available in portable, top load, and front load washer models: LoDecibel Quiet Operation and the TrueBalance Anti-Vibration system. This has made LG a top choice for quiet washers. You can find LoDecibel technology on a variety of LG products, including some of their refrigerators. When it comes to washing machines, LG combines a direct drive motor with several great noise-dampening features.
The TrueBalance system combines a vibration sensor, ball balancers, and a two-stage damper. The ball balancers are common in front loaders, and act as a counterweight to the load of clothes as the washer spins. Vibration sensors detect excessive vibration so that the washer can adjust its spin speeds. The damper system features three two-stage dampers that reduce side-to-side, forward-and-back, and up-and-down motion (even at low levels of vibration) and help prevent vibration from being transferred to the floor.
The direct drive motor reduces vibration because it eliminates belts and pulleys. The motor and drum are mounted on the same shaft, so there is only one center of rotation. Combining these moving parts means your washer's motor isn't working against the wash basket.
Samsung
Samsung offers VRT (Vibration Reduction Technology) and also added VRT Plus to its lineup, which makes its washers 40% quieter than the standard VRT from Samsung. When Samsung came out with its first washer with VRT in 2007, it claimed that it was the quietest washer ever during the spin cycle. The VRT Plus system shows that they have continued to innovate!
The VRT Plus system incorporates counterbalancing ball bearings and a direct drive inverter motor. Like the LG system, two-stage dampers reduce drum movement and vibration transfer while spinning. With VRT Plus, a vibration sensor detects odd vibrations caused by an unbalanced load. The sensor transmits a signal to a digital sensor processor, and this then adjusts the motor to reduce the vibration, "calming" the washer drum.
Samsung often makes the cut for our review of the best front load washers of the year - check it out!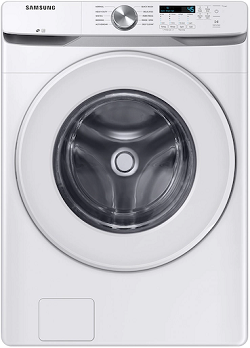 Electrolux
Electrolux is a great option for front load washers. They claim "no other washer has less vibration," and their Perfect Balance system is inspired by the same technology used to stabilize skyscrapers. It keeps oversized loads balanced for smooth, quiet vibration and minimal vibration. This means they won't disturb other areas of your home, even when you install them on the second floor.
Electrolux washers also come with a Second Floor Guarantee. Basically, if there is washer movement in excess of one inch despite the washer being leveled, installed according to local approved building codes, and run a minimum of 10 cycles, you can return the model - talk with your local appliance salesperson to get all of the details!
Check out our Electrolux front load washer review for an example of a Perfect Balance System model (pictured below)!
Bosch - Compact Washers
Bosch is known for offering the quietest dishwasher models, and they've made headway in creating quiet washing machine models as well! They're also one of the few appliance manufacturers that consistently list decibel levels for various appliances, even their refrigerators!
The EcoSilence Drive washing machine is Bosch's ultra-quiet option. This direct drive motor is brushless, using magnets instead to turn the drum. This results in a quieter, faster, and more efficient washer: there is less energy wasted due to friction, and this decrease in friction also results in less wear and tear. Some EcoSilence Bosch washers include a 10-year warranty on the motor! Anti-vibration panels are also built into the sides of these washers, improving stability and absorbing the vibration transmitted from the movement of the drum.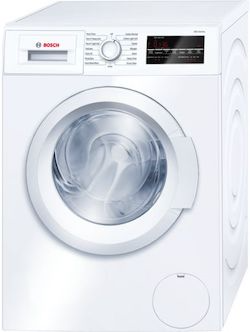 Whirlpool
Whirlpool offers several levels of sound packages that incorporate sound-absorbing material around a compact motor and the wash drum or wash basket. The levels include Quiet Wash, Quiet Wash Plus, and Quiet Wash Ultra. There is limited information available on how exactly these levels differ, so check out videos of washers with these sound packages in operation if you can, or ask an experienced salesperson! Their agitator washers tend to be on the noisier side.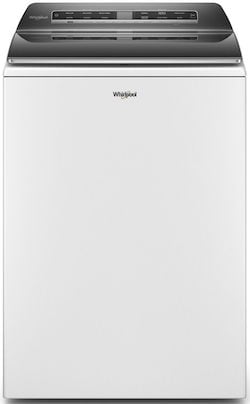 Speed Queen
Speed Queen doesn't have a special name for their noise reduction technologies - but they're proud to let you know that their 2018 TR series of top load agitator washers operates at just 43 decibels during agitation thanks to an inverter drive motor with a pulley system to move the wash basket powerfully yet quietly. That decibel measure is impressively low among top load washers! Their suspension system is also the heaviest-duty around. Read our Speed Queen washer reviews here.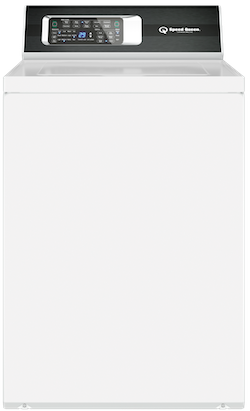 GE Appliances
GE's top load washers are average as far as noise, but their new-for-2020 front loaders have an upgraded balancing system (as well as an industry-first: the Ultra Fresh Vent system to prevent odors, mold, and mildew). Along with a more heavy-duty interior parts to reduce vibration like a tougher drive motor shaft, Dynamic Balancing Technology aims to intelligently re-balance a load without needing to pause the cycle. Read our GE front load washer reviews here.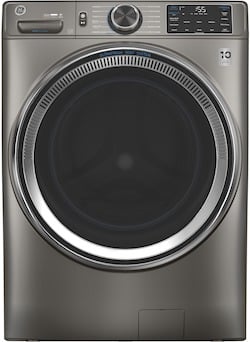 We hope this information will help you find the quiet washing machine you need! Remember that sometimes, different manufacturers will compete with other brands in categories like quiet operation, or start offering quieter washer technology without giving it an official name, like Speed Queen does.
In general...
Consider a front load washer

Look for a direct drive motor - these washers tend to have quieter operation while being more efficient and durable

Remember that leveling your washer is crucial to getting the best performance and least vibration!

A stacked front load washer and dryer will be quieter (and usually perform better) than a laundry center, if space is a concern

You may be able to find videos of a washer in operation if you are concerned about noise
Have you found a quiet washing machine? Does it feature any of the technologies we wrote about? Leave us a comment below - We'd love to hear from you!
Editor's Note: This blog was originally written in March of 2019 and has been completely revamped and updated for accuracy as of the publication date noted above.