1. LG WT7150CW - Impeller Washer - 5.0 cu ft - $949
First on our list of top load washer reviews is a model from LG. If laundry is your least favorite household chore or if you have a large household, you can do fewer loads with an extra-large capacity washer! The LG WT7150CW, at $949 in white color, features a 5.0 cubic feet capacity tub. A 10-year parts warranty covers the direct drive motor, and you also get a 3-year warranty on the stainless steel tub. Use LG's SmartDiagnosis app to troubleshoot any issues.
This model is a solid contender for the best top load washer with a huge capacity and Energy Star certification. TurboDrum™ Technology provides a good wash without being harsh on your clothes! The LG TrueBalance™ Anti-Vibration System makes it a good option for laundry spaces near bedrooms or other living areas, too! 6Motion™ Technology includes six unique motions that combine with each other to provide a better wash according to what the load needs.
A premium washer can make laundry a much easier chore. With a glass SlamProof lid, a SmartRinse Jet Spray system, and the great features we outlined above, this top load washer is an amazing upgrade!
Features:
8 Wash Programs: Normal, Heavy Duty, Deep Wash, Waterproof, Bedding, Delicates, Speed Wash, Tub Clean


9 Wash Options: Soak, Extra Rinse, Signal, Delay Wash, Control Lock, Water Plus, ColdWash™, Rinse+Spin, Spin Only


Glass SlamProof lid

TurboDrum™ Technology

6Motion™ Technology

SmartDiagnosis app for troubleshooting

10-year parts warranty on direct drive motor

Energy Star rated
Dimensions:
Height: 44.5"

Width: 27"

Depth: 28.375"
Click here to read over 480 real customer reviews of this product!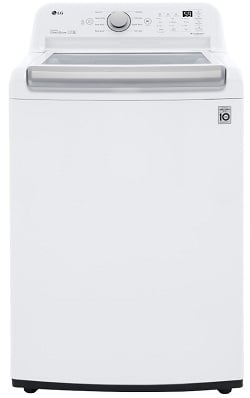 2. GE GTW465ASNWW - Agitator Washer - 4.5 cu ft - $798
The next product on our list of the best top load washers for 2023 is the GE GTW465ASNWW, a 4.5 cubic feet capacity washer available at $798. It's a jump down in price from the first product on our list and has a more average capacity that makes it a good option for medium-sized households looking for a basic agitator model. It is a standard 27" wide model so it's a good fit for tight spaces.
You'll notice that this washer uses traditional rotary dials but modernizes the controls a bit with cycle status indicator lights. Although the controls are simple, you have some great options at your fingertips, including water level option selections (or you can let the machine sense and set the optimum depth) and an Auto Soak option to help loosen stains before the wash begins. So although this top load washer maintains a traditional and familiar look, it has some great modern features for your convenience!
We know that not everybody is looking for an ultra-high-tech appliance, and this basic agitator model from GE is one option out there that won't overwhelm you with tons of complicated features and settings! Note that although this washer is designed for use with High Efficiency (HE) detergents, it is not Energy Star rated.
Features:
14 Wash Cycles: Active Wear, Bulky Items, Casuals, Colors/Normal (Deep Clean, Normal, Light), Delicates, Jeans, Rinse/Drain & Spin, Speed Wash, Towels & Sheets, Whites (Heavy, Normal, Light)


7 Wash Options: Water Level (Low, Medium, High, Max, Precise Fill/Auto), Auto Soak (15 Min-2 Hrs), 2nd Rinse, 2nd Rinse + Extra Spin, Deep Fill, Deep Rinse + 2nd Rinse, Extra Spin

Rotary electronic controls with cycle status lights

PreciseFill lets you select from four water depth/load size options or let the machine set it automatically

Dual-action agitator reverses the wash action for a thorough clean

Stainless steel drum
Dimensions:
Height: 44"

Width: 27"

Depth: 27"
Click here to read over 6,915 real customer reviews of this product!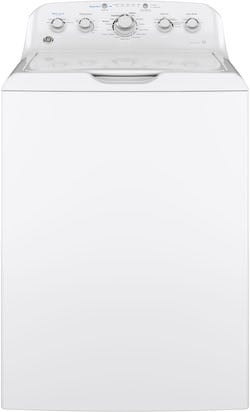 3. Amana NTW4516FW - Agitator Washer - 3.5 cu ft - $577
Our next model comes from Amana. This company is known for its dependable but still reasonably priced American-made products. One of them is the popular Amana NTW4516FW, an agitator top load washer at 3.5 cubic feet, which would fit families with 2-3 people. Priced at $577, it features traditional easy-to-operate dial style controls. While it's not Energy Star rated, it still uses less water per wash than older machines. It's designed to use concentrated HE detergents.
Choose your soil level, water temperature, and other options like Deep Water Wash that is good for heavily soiled loads and Extra Rinse for removing extra soil or detergent. This model will give you peace of mind if you have clothes that have delicate fabrics which can be easily damaged in the regular cycle with its Delicates Cycle feature from Amana. One of the cool features of this model from Amana is the Late Lid Lock that activates, locks the lid when the washer starts spinning, and unlocks when you pause or stop the washer. This is perfect for those who have kids at home! It uses a slower spin speed and gently cleans the delicate clothes. It has a maximum spin speed of 700 RPM.
If you're looking for a mid-sized model that has the features you need, you should definitely take a look at this well-priced option from Amana. Expect it to be noisier during operation than more expensive models, and try to avoid overloading it as this can cause balancing issues - resulting in premature wear and tear.


Features:
8 Wash Cycles: Normal/Casual, Normal/Regular, Normal/Heavy, Delicate, Bulky Items & Sheets, Drain & Spin, Rinse & Spin, Clean Washer with Affresh

4 Water Levels: Auto Sensing, Auto Sensing + Extra Rinse, Deep Water Wash, Deep Water Wash + Extra Rinse

5 Wash Temperatures: Tap Cold, Cold, Cool, Warm, Hot

Dual Action Agitator

Late Lid Lock

Max RPM: 700
Dimensions:
Height: 42"

Width: 27.5"

Depth: 27"
Click here to read over 3,205 real customer reviews of this product!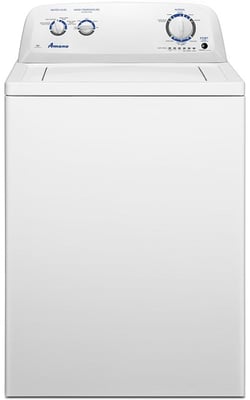 4. GE Profile PTW600BSRWS - Impeller Washer - 5.0 cu ft - $898
The next washer we'll look at is another one from GE family specifically from GE Profile, but this model is a high-efficiency style top load washer. The GE Profile PTW600BSRWS is available in Diamond Gray at $998 or white at $898. This feature-packed washer is worth checking out! It's also Energy Star rated and uses an impeller to boost capacity. Use the electronic controls and rotary dial to choose your cycle and settings. A digital display shows the time remaining, and indicator lights show where your washer is in its cycle.
You have 12 cycles at your disposal. One of the great features is the Auto Soak option that lets you pre-soak your laundry for 15 minutes to 2 hours to make the stains loosen up a bit before starting the spin. Another thing to enjoy on this appliance is the Deep Fill feature that allows you to customize the water levels and adds more water enough to fill the washer's tub by just pressing a button. GE also offers the Quick Wash option that cleans and wash your clothes in under 24 minutes. It performs by accelerating the speed cycle to save your time especially if you are in a hurry and don't want to wait for a longer time to wash your clothes.
Plus, this washer has tons of smart features as it has built-in Wi-Fi, offers extra downloadable cycles and customized stain removal technology, and boasts Adaptive Smart Technology for more optimized cleaning and fabric care! FlexDispense automatically releases the fabric softener, power detergent, or tide PODs that you added to the dispensers at the right times throughout the cycle.
This premium top load washer indeed has a lot to offer! Plus, GE offers a 10-year limited parts warranty on the motor to back up their durability.
Features:
9 + 3 (downloadable) Wash Cycles: Bulky Items, Colors/Normals, Delicates, Drain + Spin, Jeans, Quick Wash, Sanitize with Oxi, Towels, Whites, Active Wear, Stain Pre-Treat (App only), Water Station (App only)

7 Wash Options: Auto Soak, Deep Fill, Delay Wash, Multi-purpose Control Lock, My Cycle, Power/Care/Auto, Tangle Control

FlexDispense

Sanitize Cycle w/ Oxi removes 99.9% of household bacteria to deep clean your clothes

Energy Star rated

Electronic touch controls plus a stainless steel rotary dial

10-year limited warranty

Max RPM: 800
Dimensions:
Height: 46"

Width: 27.875"

Depth: 28"
Click here to read over 535 real customer reviews of this product!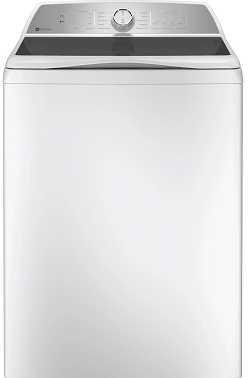 5. Maytag MVWP575GW - Agitator Washer - 3.5 cu ft - $1,099
Maytag's reputation for dependability ensures that one of their models makes our list. Tested to have two times the lifespan of typical washers and selling for $1,099, the Maytag MVWP575GW agitator washer is built to last with Maytag's Commercial Technology. At 3.5 cubic feet, it's not the largest model on the market, but the dual-action agitator is worth it to people who want rougher cleaning action and shorter cycle times.
Four of its seven cycles, highlighted in blue on the control panel, use a deep water wash to handle heavy soils. You also get four wash options. Rather than touch-button controls and digital screens, this Maytag model keeps it simple with turn-dial controls and indicator lights. The powerful 1/2-horsepower motor helps this washer handle anything!
It has a 10-year limited parts residential warranty that includes all parts and labor for the first five years. Refer to the manufacturer's warranty for full details. This is also a washer with a shallower than typical depth at just 26", which could be useful for a laundry closet or the narrow doorways sometimes found in older homes.
Features:
7 Cycles: Bulky/Towels, PowerWash, Delicates, Mixed, Normal, Rinse & Spin, Drain & Spin

4 Options: Off, Presoak, Extra Rinse, Presoak & Extra Rinse

Stainless steel wash basket

5-year limited parts and labor warranty

Max RPM: 700
Dimensions:
Width: 27"

Depth: 26"

Height: 42.5"
Click here to read over 560 real customer reviews of this product!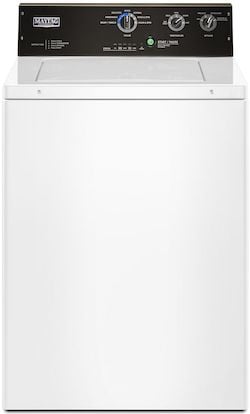 6. Whirlpool WTW4955HW- Agitator Washer - 3.8 cu ft - $749
Another option for the best top load washer for people that want a simpler model is the Whirlpool WTW4955HW, which has a 3.8 cubic feet capacity, priced at $749 in white.
The rotary dial controls allow you to select the cycle, soil level, water temperature, rinse options, and water level. With 12 cycles at your fingertips, you can customize the washer's settings and wash actions for specific fabrics and load types, like Bulky Items/Sheets or Drain & Spin. If you're in a hurry, the Quick Wash cycle handles small loads in under 30 minutes. You can easily soak and wash at the same time with the soaking cycles! The clearly labeled dials make choosing your cycle and selections fast and easy!
This model has a smooth spiral stainless steel wash basket that gives an extra protection to your clothes. With the 360 Wash Agitator combined with its two-way wash action, soil and dirt will be thoroughly removed. Take advantage of the late lid lock that allows you to put the remaining clothes at the last minute.
Features:
12 Wash Cycles: Normal, Colors, Colors with Soak, Delicates, Quick Wash, Rinse & Spin, Clean Washer with affresh, Drain & Spin, Bulky/Sheets, Whites, Whites with Soak, Heavy Duty

4 Rinse Options: Auto Sensing, Auto with Extra Rinse, Deep Water Rinse, Deep Water with Extra Rinse

Quick Wash cycle finishes in under 30 minutes

Smooth Spiral Stainless Steel Wash Basket

Water Level Selection

Rotary dial controls with indicator lights
Dimensions:
Height: 44"

Width: 27.5"

Depth: 27"
Click here to read over 560 real customer reviews of this product!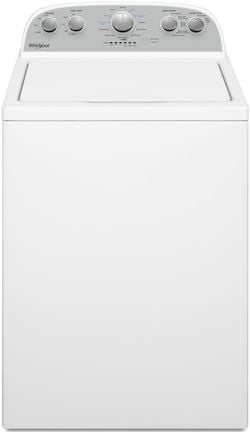 7. Speed Queen TR7003WN - Agitator Washer - 3.2 cu ft - $1,429
Some say to save the best for last. If you want durability, this Speed Queen is arguably the best washing machine on the planet! Speed Queen is a well-known household name in the laundry industry, known for their tough, commercial grade products. The Speed Queen TR7003WN is one of their best top load washer offerings for 2020, available in white at $1,429. It's at the smaller end of average capacity at 3.2 cubic feet, although you can fill the wash tub to the brim with no problem.
This top load washer features touch panel controls rather than rotary dials, plus a digital display of the time remaining. Some consumers worry that touch controls won't last, but Speed Queen has designed these controls to last 25 years! If you'd still prefer dial controls, Speed Queen's other top load washers have this feature. On a related note, this washer comes with a premium seven-year full coverage warranty for serious peace of mind!
If you prefer a top load washer that's built for durability, Speed Queen should be on your list of brands to research! The TR7 has the most customizable cycles and options out of their entire lineup, so you can provide the best fabric care for just about anything, from jeans to underwear to raincoats. It's still an upgrade as far as efficiency and cleaning without prematurely wearing out fabrics thanks to Speed Queen's Perfect Wash system. Read more about Speed Queen washers here.
Features:
9 Wash Cycles: Heavy Duty, Favorites, Perm Press, Bulky, Normal Eco, Delicate, Handwash, Rinse & Spin, Spin

8 Special Cycles: ECO Heavy Duty, ECO Delicate, Waterproof, Super Soiled, Whites, Wool, Athletic, Denim

8 Options: Control Lock, Soak, Extra Rinse, Delay Start, Prewash, Speed Cycle, Signal On/Off, Adjust Cycle Time

4 Load Sizes: Small, Medium, Large, Auto Fill

Bleach and fabric softener dispensers

Warm wash/warm rinse option

Extreme-tested touch panel controls with time remaining display

Durable stainless steel tub

Max RPM: 820
Dimensions:
Height: 43"

Width: 25.6"

Depth: 28"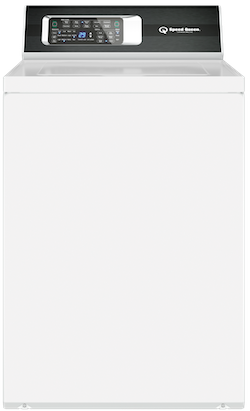 That finishes up our list of some of the best top load washer options for 2023. For extra-large capacities, take another look at the LG model (#1 on our list) and the GE models (#2 & #4). If you prefer impeller washing for its gentler motion, #1 from LG and #4 from GE Profile may be of interest. For durability, nothing beats the Speed Queen, although the competing Maytag commercial washer (#5) is trying to catch up.
What features do you look for in a top load washer? Leave us a comment below - We'd love to hear from you!
Editor's Note: This blog was originally written in March of 2018 and has been completely revamped and updated for accuracy as of the publication date noted above.