Now, let's dig into our reviews of the best front load washer models! They are numbered for your convenience but are listed in no particular order.
1. LG WT7500CW - 5.2 cu ft - $1,049
First on our list of top load washer reviews is a model from LG. If laundry is your least favorite household chore, or if you have a large household, you can do fewer loads with an extra-large capacity washer! The LG WT7500CW, at $1,049, features a 5.2 cubic foot capacity. A 10-year parts warranty covers the direct drive motor and you also get a lifetime warranty on the stainless steel drum. Use LG's SmartDiagnosis app to troubleshoot any issues.
The LG WT7500CW is a solid contender for the best top load washer with a huge capacity and Energy Star certification. TurboWash technology cuts wash time compared to previous LG washers, and 6Motion Technology mixes up the wash motions to improve cleaning results in a way that's gentle on your clothes. LoDecible Quiet Operation makes it a good option for laundry spaces near bedrooms or other living areas, too!
A premium washer can make laundry a much easier chore. With a glass SlamProof lid, LG Steam technology for wrinkle reduction and quick refreshes, and the great features we outlined above, this top load washer is an amazing upgrade for 2019!
Features:
Capacity: 5.2 cu. ft.

Glass SlamProof lid

TurboWash Technology cuts wash time

SmartDiagnosis app for troubleshooting

6Motion Technology uses six different wash motions for optimum cleaning while being gentle on clothes

10-year parts warranty on direct drive motor

Energy Star Certified

LoDecible Quiet Operation
Dimensions:
Height: 44.5"

Width: 27"

Depth: 28.4"
Click here to read over 140 real customer reviews of this product!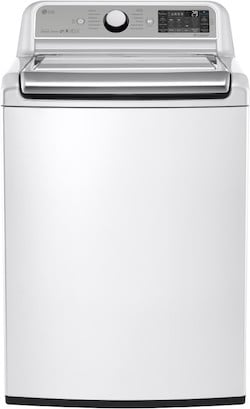 2. GE GTW460ASJWW - 4.2 cu ft - $699
The next product on our list of the best top load washers for 2019 is the GE GTW460ASJWW, a 4.2 cubic foot capacity washer available at $699. It's a jump down in price from the first product on our list, and has a more average capacity that makes it a good option for households looking for a basic model.
You'll notice that this washer uses traditional rotary dials, but modernizes the controls a bit with cycle status indicator lights. Although the controls are simple, you have some great options at your fingertips, including water depth option selections (or you can let the machine sense and set the optimum depth), and lots of wash cycles to provide the best care for different fabrics. So although this top load washer maintains a traditional and familiar look, it has some great newer features for your convenience!
We know that not everybody is looking for an ultra-high-tech appliance, and this basic model from GE is one option out there that won't overwhelm you with tons of complicated features and settings! Note that although this washer is designed for use with High Efficiency (HE) detergents, it is not Energy Star certified.
Features:
Capacity: 4.2 cu. ft.

Rotary electronic controls with cycle status lights

PreciseFill lets you select from four water depth options or let the machine set it automatically

Auto Soak option loosens stains by soaking items for two hours before starting the cycle

Dual-action agitator reverses the wash action for a thorough clean

14 wash cycles, including Jeans, Delicates, Active Wear, and more

Stainless steel drum

Speed Wash cycle
Dimensions:
Height: 44"

Width: 27"

Depth: 27"
Click here to read over 2,200 real customer reviews of this product!
3. Frigidaire FFTW4120SW - 4.1 cu ft - $599
Our next model comes from Frigidaire. The Frigidaire FFTW4120SW top load washer is another average-capacity model at 4.1 cubic feet. Priced at $599, it provides an updated control panel style with electronic touch controls and a digital readout combined with a rotary dial. It's designed for use with High Efficiency detergent, although it isn't Energy Star rated.
Choose your soil level, water temperature, and other options like soak or extra rinse before starting one of the 12 wash cycles. Indicator lights and an optional chime let you know how far along the cycle is. A fabric softener dispenser lets you add your favorite fabric softener at the beginning of a cycle instead of stopping the washer during the rinsing stage.
If you're looking for the best top load washer with easy-to-use settings and cycles, you should definitely take a look at this budget-friendly option from Frigidaire. Little features like the Easy Close glass lid and cycle-complete chime add convenience to your laundry experience.
Features:
Capacity: 4.1 cu. ft.

12 wash cycles, including Quick Wash, Hand Wash, Active Wear, and Heavy Duty

Stainless steel drum

Five soil level options plus multiple cycle options

Fabric softener dispenser

Electronic touch controls with digital readout

Pole agitator type

Easy Close glass lid
Dimensions:
Height: 43.3"

Width: 27"

Depth: 28.1"
Click here to read over 85 real customer reviews of this product!
(Before we continue with our review of the best top load washing machine models for 2019, we want to invite you to download our Washing Machine Buyer's Guide packed with valuable information about the entire buying process. Click below to download!)
4. Maytag MVWB835DC - 5.3 cu ft - $999
Maytag's reputation for dependability ensures that one of their models makes our list. The Maytag MVWB835DC is a high-efficiency top load washer available in metallic slate at $1,099 or white at $999. Looking for the best top load washer with an XL capacity? Compare this 5.3 cubic foot capacity Maytag option with the first product in our review from LG! This washer is Energy Star rated and uses an impeller to boost capacity.
Add your fabric softener, detergent, and oxygenated additives like OxiClean to the optimal dispensers, and the washer will add them to the load at the right times throughout the cycle. You have 11 cycles at your disposal, including the PowerWash cycle, Sanitize Cycle to deep-clean your washer, and others for handling bedding, delicates, and preventing wrinkles. Use the touch-button controls and rotary dial to choose your cycle and settings. A digital display shows the time remaining, and indicator lights show where your washer is in its cycle.
This premium extra-large top load washer boosts cleaning performance while being energy-efficient, so it's tough on stains and easy on your utility bill! Plus, Maytag offers a 10-year limited parts warranty on the motor and stainless steel wash basket to back up their durability.
Features:
Capacity: 5.3 cu. ft.

Power Impeller fights stains while providing greater capacity

PowerWash cycle provides best cleaning in its class

Optimal dispensers for detergent, fabric softener, and oxygenated additives

Sanitize Cycle removes 99.9% of household bacteria to deep clean your washer

Energy Star qualified

11 wash cycles, including Bedding, Soak, and Sanitize with Oxi

Electronic touch controls plus a rotary dial

Automatic water level sensor sets optimum water level based on load size

Adjustable end-of-cycle signal volume

SmoothClose glass lid

Stainless steel drum
Dimensions:
Height: 43"

Width: 27.5

Depth: 28"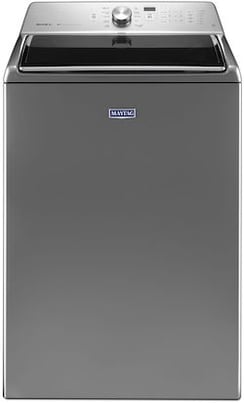 5. Whirlpool WTW7500GW - 4.8 cu ft - $899
Our next model is truly different. The Whirlpool WTW7500GW, available at $899 in white and at $999 in Chrome Shadow, offers something unique in the world of top load washers: a built-in water faucet inside of the tub. This allows you to prewash items to rinse away loose soils, or even hand wash certain items in a way that's convenient with no mess! With an above-average 4.8 cubic foot capacity and tons of cycles and options, this washer can handle anything you throw at it!
With automatic features like precision dispensers and adaptive wash technology, this washer cleans deeply while being gentle on fabrics. In a hurry? The Quick Wash cycle finishes in under 40 minutes! Want to make sure that stain comes out on the first wash? Use the Presoak option to add a 30-minute soak time before the wash cycle starts. Plus, smooth and intuitive touch controls, a digital display, and Slow-Close frameless glass lid give this washer a premium look and feel.
The many customizable options and cycles of this washer make it a good choice for people who want to choose the best settings for every load. The built-in faucet is a standout feature that is hard to find in the current washer market, and is a unique way to streamline pre-washing and hand-washing. If you want to avoid over-washing and unnecessary wear and tear on your laundry without sacrificing cleaning performance, the Whirlpool WTW7500GW might be the best top load washer for you!
Features:
Capacity: 4.8 cu. ft.

Built-in water faucet in tub

Intuitive touch controls and digital display

Impeller type

Smooth Wave stainless steel drum

Energy Star Certified

Quick Wash cycle finishes in under 40 minutes

Precision dispenser system for detergent, fabric softener, and bleach

Up to 26 custom wash cycles

Adaptive wash technology adjusts water levels and wash actions based on load size and cycle

EasyView frameless glass lid with Slow-Close technology
Dimensions:
Height: 42"


Width: 27.5"

Depth: 28"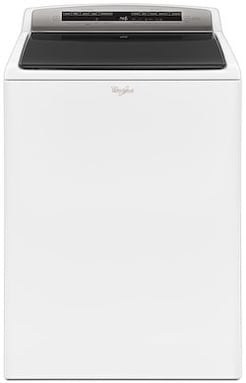 6. Whirlpool WTW5000DW - 4.3 cu ft - $749
Another option for the best top load washer for people that want a simpler model is the Whirlpool WTW5000DW, priced at $749. It has a large 4.3 cubic foot capacity thanks to the impeller-type mechanism that takes up less space than an agitator. The rotary dial controls allow you to select the cycle, soil level, water temperature, rinse options, and presoak on/off for each load.
With 12 cycles at your fingertips, you can customize the washer's settings and wash actions for specific fabrics and load types, like Bulky Items/Sheets or Deep Water Wash for stained items. If you're in a hurry, the Quick Wash cycle handles small loads in under 30 minutes. Turn on the Presoak option to help loosen stains and soils before the wash cycle begins. The clearly labeled dials make choosing your cycle and selections fast and easy!
This large-capacity top load washer keeps your choices within easy reach and can handle a range of different items and cleaning needs. It's a great option for households that have to deal with heavily soiled items regularly!
Features:
Capacity: 4.3 cu. ft.

12 cycles, including Bulky Items/Sheets and Deep Water Wash

Quick Wash cycle finishes in under 30 minutes

Smooth Wave stainless steel tub

Presoak option

Impeller type

Adjustable soil and water temperature settings

Automatic water levels based on the size of the load

Rotary dial controls with indicator lights
Dimensions:
Height: 42"

Width: 27.5"

Depth: 27"
Click here to read over 10,600 real customer reviews of this product!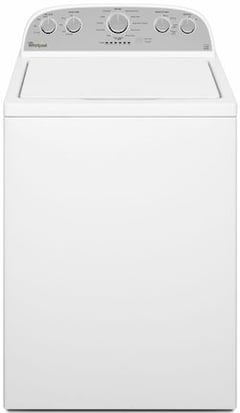 6. Speed Queen TR7000WN - 3.2 cu ft - $1,069
Some say to save the best for last. If you want durability, this Speed Queen is arguably the best washing machine on the planet! Speed Queen is a well-known household name in the laundry industry, known for their tough, commercial grade products. The TR7000WN is one of their best top load washer offerings for 2019, available in white at $1,069. It's at the smaller end of average capacity at 3.2 cubic feet, but what it lacks in size it makes up for in durability.
Although Speed Queen has a lot of no-frills washers available, this top load washer features touch panel controls rather than rotary dials, plus a digital display of the time remaining. Some consumers worry that touch controls won't last, but Speed Queen has designed these controls to last 25 years! On a related note, this washer comes with a premium seven-year full coverage warranty for serious peace of mind!
If you prefer a top load washer with basic settings that's built for durability, Speed Queen should be on your list of brands to research! It's still an upgrade as far as efficiency and cleaning without prematurely wearing out fabrics thanks to Speed Queen's Perfect Wash system.
Features:
Capacity: 3.2 cu. ft.

Eight cycles

Four temperature settings

Bleach and fabric softener dispensers

Extreme-tested touch panel controls

Durable stainless steel tub

Time remaining display
Dimensions:
Height: 43"

Width: 25.6"

Depth: 28"
Click here to read over 150 real customer reviews of this product!
That finishes up our list of some of the best top load washer options for 2019. For extra-large capacities, take another look at the LG WT7500CW (#1 on our list), Maytag MVWB835DC (#4), and Whirlpool WTW7500GW (#5). If you prefer impeller washing for its gentler motion, the Maytag MVWB835DC and the Whirlpool models on our list may be of interest. For durability, nothing beats the Speed Queen!
What features do you look for in a top load washer? Leave us a comment below - We'd love to hear from you!
Editor's Note: This blog was originally written in March of 2018 and has been completely revamped and updated for accuracy as of the publication date noted above.