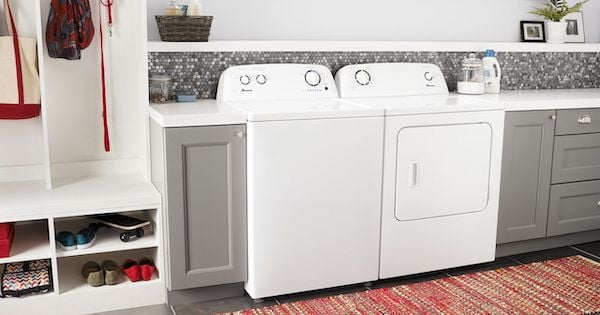 Amana is a trusted appliance brand founded in Iowa that has been producing appliances in the US since 1934. Amana is now a subsidiary of Whirlpool Corporation. They are known for their dependable, reasonably priced American-made products and this washer is one reason why. If you are researching new washer models and looking for a great value, put Amana on the list - and check out our washing machine buying guide if you want even more information!
In this Amana washer review, we'll put the spotlight on the popular, well-priced Amana NTW4516FW top load washer. Let's take a closer look.
The Amana NTW4516FW is a traditional style top load washer with easy to operate dial style controls and a 3.5 cubic foot capacity. If you like simple, this model fits the bill. The mid-sized capacity should work well for most households, and should meet the laundry needs of around 3-4 people. It's not Energy Star rated, but will still use less water per wash than older machines.
However, just because it is simple doesn't mean you lose out on features. This machine features a dual action agitator, six temperature settings and a good number of cycles, including:
Casual

Delicates

Bulky/Sheets

Normal

Deep Water Wash

Drain & Spin

Rinse & Spin

Clean Washer with Affresh®
Clean Washer is a great feature that many consumers overlook. The manufacturer recommends that you run this cycle every 30 washes or so to keep the inside of your washer fresh and clean. They suggest that you use it with an Affresh® Washer Cleaner tablet or liquid chlorine bleach to thoroughly clean the inside of your washer.
Additionally, there are three soil levels (heavy, regular, delicate) and five temperature selections, plus options like Extra Rinse. Auto load size sensing technology improves the washer's performance and how it treats your fabrics. The Deep Water wash option is a great choice for heavily soiled loads.
This machine features a porcelain tub, a late lid lock and a dual action agitator that rolls clothes through the bottom of the washer to ensure maximum cleaning results. A line of LED lights indicate where the machine is in the cycle. It has a maximum spin speed of 700RPM and simple dial controls.
Click here to read over 1,300 reviews of this product!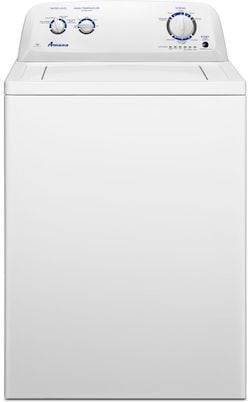 We hope you enjoyed this Amana washer review. Don't overlook this awesome value if you are in the market for a new top loading washer. This product is a great value at $399 and goes on sale frequently during manufacturer promotional periods around holidays. Curious about whether Amana makes a front load washer? Check out our article on Amana front load washer options. You can also compare
Please feel free to leave us a comment below. We'd love to hear from you!
Editor's Note: This blog was originally written in November of 2017 and has been completely revamped and updated for accuracy as of the publication date noted above.