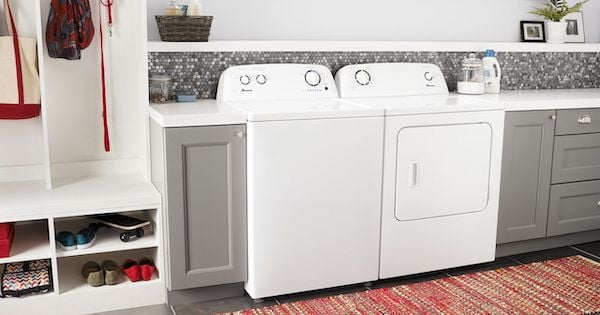 Amana is a trusted appliance brand founded in Iowa that has been producing appliances in the US since 1934. If you're wondering who makes Amana, Amana is now a subsidiary of Whirlpool Corporation. They are known for their dependable, reasonably priced American-made products, and this washer is one reason why. If you are researching new washer models and looking for a great value, put Amana on the list - and check out our washing machine buying guide if you want even more information!
In this Amana washer review, we'll put the spotlight on the popular, well-priced Amana NTW4516FW top load washer. Let's take a closer look.
Table of Contents:
The Amana Top Load Washer - $499
The Amana NTW4516FW is a traditional style top load washer with easy to operate dial style controls and a 3.5 cubic foot capacity. It's been Amana's top load washer offering for several years now. If you like simple, this model fits the bill. The mid-sized capacity should work well for most households and should meet the laundry needs of around 2-3 people. It's not Energy Star rated, but will still use less water per wash than older machines.
However, just because it is simple doesn't mean you lose out on features. This machine features a dual action agitator, a good number of cycles, and a Deep Water Wash option. The Clean Washer cycle is a great feature that many consumers overlook. The manufacturer recommends that you run this cycle every 30 washes or so to keep the inside of your washer fresh and clean. They suggest that you use it with an Affresh® Washer Cleaner tablet or liquid chlorine bleach to thoroughly clean the inside of your washer. Affresh tablets (owned by Whirlpool, which also owns Amana) contain a few different ingredients to target odors and detergent buildup. Cleaning your washer effectively costs about $1-2 per cleaning cycle based on the cost of Affresh tablet packs.
Auto load size sensing technology improves the washer's performance and how it treats your fabrics. The Deep Water wash option is a great choice for heavily soiled loads, and you can also run the automatic load size sensing and deep water wash with an extra rinse. Amana labels these selections as "Water Level" selections, but they're really a mix of extra rinse and max fill options.
The late lid lock gives you extra time to add forgotten items, and the dual action agitator rolls clothes against the bottom of the porcelain tub to ensure maximum cleaning results. It's designed to use concentrated HE detergents. A line of LED lights indicate where the machine is in the cycle. It has a maximum spin speed of 700 RPM and simple dial controls.
Cycles & Options:
8 Cycles: Normal/Casual, Normal/Regular, Normal/Heavy, Delicate, Bulky Items & Sheets, Drain & Spin, Rinse & Spin, Clean Washer with Affresh

4 Water Levels: Auto Sensing, Auto Sensing + Extra Rinse, Deep Water Wash, Deep Water Wash + Extra Rinse

5 Wash Temperatures: Tap Cold, Cold, Cool, Warm, Hot
Click here to read over 2,790 reviews of this product!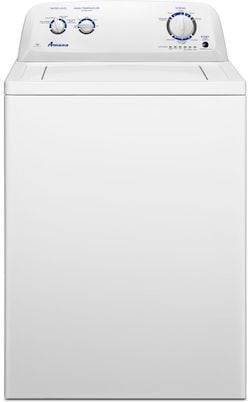 Who Should Buy This Washer?
This washer could be a good option for...
Small households of 2-3 people with light to medium laundry needs (the small tub size makes it not ideal for large families; and it's not large enough to wash queen size comforters)

People who want simple controls and prefer agitator washers

People who mainly wash cottons/denim/medium-weight fabrics (this washer's rough wash action is not ideal for delicates and lightweight stretch fabrics)

People who want a simpler machine that allows them to make DIY repairs
The problem with going for a budget machine is that the reliability over the long term can be uncertain. This Amana washer can be found for as low as $300 on sale, which is about as cheap as it gets aside from Hotpoint washers (GE's value line). Typically, washing machines (and most other major appliances) should last 7-10 years, but with a very cheap machine, it can be hard to know. Sometimes, they last forever - We certainly don't get many service calls for these. It can be safest to assume that a model at this price point will last 3-4 years. If you are comfortable with making DIY repairs, then you might be fine with this risk.
Other options include:
You could consider a secondhand washing machine or shopping your local appliance retailer's selection of clearance/scratch and dent models to get a deal on a higher-quality model. Maytag, Whirlpool, and Samsung offer some impeller washer models that can go on sale for around $500 if you can swing a slightly higher price.

Like agitator washers? Consider Speed Queen for serious reliability (and high owner satisfaction). GE top load washers include several agitator models with larger capacities.

Prefer the agitator but want a larger capacity? Maytag is likely the answer. They are pretty much always stars of the show in our largest agitator washer reviews with 5 and even 6 cubic foot capacity models!

Want a larger tub capacity while spending under $900? There are a range of impeller top load washers with MSRPs and sale prices under $900 that have tub capacities of 5.0 cubic feet or more.
We hope you enjoyed this Amana washer review. Don't overlook this value-priced model if you are in the market for a new top loading washer. This product is a great value at $499 and goes on sale frequently during manufacturer promotional periods around holidays.
Curious about whether Amana makes a front load washer? Check out our article on Amana front load washer options. You can also check Hotpoint washers for similar low-priced models.
Please feel free to leave us a comment below. We'd love to hear from you!
Editor's Note: This blog was originally written in November of 2017 and has been completely revamped and updated for accuracy as of the publication date noted above.