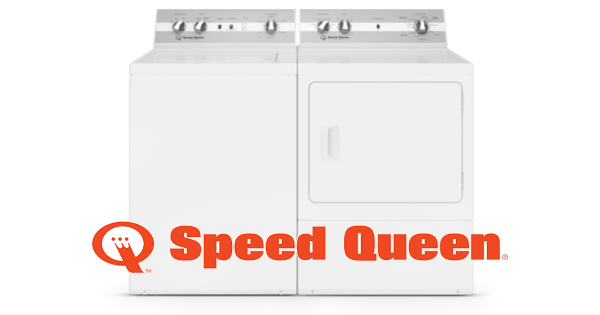 If you aren't deep in the laundry industry or a hardcore Speed Queen fan, you might have missed the controversy over Speed Queen's new top load models released in 2018. They had to make changes to meet energy efficiency requirements, and some of those changes involved the wash action of their top load models. This departure from what their fans were used to resulted in some backlash. Long story short, the new wash action is gentler overall, which is not necessarily a bad thing - but it wasn't ideal for some of Speed Queen's customer base. (Despite this controversy, as of this writing all of the TR series of washers have over 4.5 stars from customer ratings on their website.)
The TC5000WN is a return to tradition with a lot of the features that people loved about Speed Queen's 2017 and earlier washers. We'll compare in-depth the differences between the 2018 TR5000 model and the 2019 TC5000 model below! (Speed Queen also released a front load model for 2019 - click the link to read our review!)
Watch our quick video overview of the TC5000!
Speed Queen TC5000WN Overview
The TC5 has a familiar design. You'll find that is has a 3.2 cubic foot capacity stainless steel tub with no lid lock and no automatic load sensing. It uses a transmission like pre-2018 Speed Queen models, and has a 1/2 HP variable-speed motor that can spin the tub up to 710 RPM. It also has the dual action agitator that moves independently from the tub rather than the unified agi-tub design introduced with the 2018 TR models.
It comes with six cycles and three options. What's interesting about this washer is that it has no automatic load size sensing - it defaults to one water level, and you can select the Deep Fill option if you want to fill it to the max. So ideally you should only be washing medium to large loads in this machine to get the most out of that water (which you should do in general for any washer).
The warranty covers 3 years parts and labor, 5 years on the motor, 15 years on the transmission, and a lifetime on the inner/outer tub. The Energy Guide states that it will use about 82 kWh of electricity per year for an estimated energy cost of $9, not including water usage and most likely when using the Normal Eco cycle.
The matching dryer is the Speed Queen DC5000WE (electric) and model DC5000WG (gas).
Cycles & Options
6 Cycles: Normal Eco, Delicate, Permanent Press, Heavy Duty, Bulky/Sheets, Spin

3 Options: Extra Rinse, Extra Rinse & Pre-Soak, Heavy Soil

4 Wash Temperatures: Cold, Cool, Warm, Hot

Deep Fill Option

No lid lock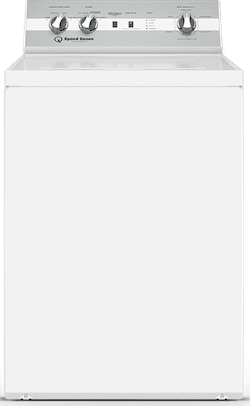 The TR5000WN vs TC5000WN
The new TR series of machines that Speed Queen released in 2018 have several changes, such as an "agitub" wash system where the agitator does not move independently from the tub. Instead, the tub and agitator twist back and forth in tandem to push clothes through the water. This is a gentler cleaning action overall than what people were used to from old Speed Queen models.
We'll compare the TR5 to the TC5 since they are at a similar pricing tier (the TR5000WN retails for $999). Let's see...
Cycle Differences:
The TR5 has a Hand Wash cycle that's even gentler than the Delicate cycle

The TC5 has a Bulky/Sheets cycle (TR5 does not), and options for Extra Rinse with Presoak and Heavy Soil (TR5 does not)

TR5 has load fill settings - choose the water level or select automatic load sensing

TC5 has no load settings besides a Deep Fill option - No automatic load sensing; tub fill defaults to a "medium fill"

Cycle times are similar, although the TC5 will generally be a bit faster
Build Differences:
TR5: 1 HP variable speed reversing motor - The most powerful motor on the market at the time of its release!

TC5: 1/2 HP 2-speed motor with transmission

Both options have belt-driven motors rather than direct drive

TR5: 820 RPM maximum spin speed (higher final spin speed means less time in the dryer!)

TC5: 710 RPM maximum spin speed

TC5: No lid lock; regulations required that the TR5 have the lid lock after 5 minutes

TR5 has "agi-tub" wash system where agitator and tub move in tandem - TC5 has agitator that moves independently from wash tub
Warranty Differences:
TC5: 3 years parts and in-home labor, 5 years on the motor, 15 years on the transmission, lifetime on the outer drain tub and stainless steel wash basket

TR5: 5 years parts and in-home labor, lifetime on the outer drain tub and stainless steel wash basket
(Pictured below: An exploded view of the TR5.)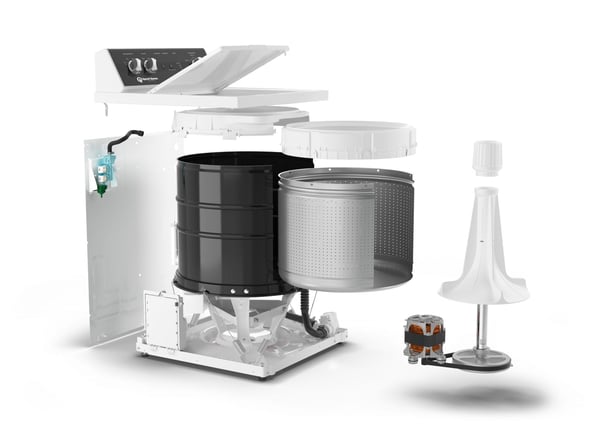 Who Should Buy the TC5?
If you value reliability at the top of your list and prefer heavy-duty traditional style washers, this machine is for you. Farmers, auto mechanics, and other people with dirty jobs that result in heavy-duty fabrics with serious soils can get the most benefit from this type of washer.
If you have a more average wardrobe where the heaviest-duty fabrics are usually jeans and the occasional coat, you may be better off with the gentler wash action of the TR5 (or the other TR models or a Speed Queen front loader).
So, what do you think about this new "throwback" model from Speed Queen? Leave us a comment below - We'd love to hear from you!