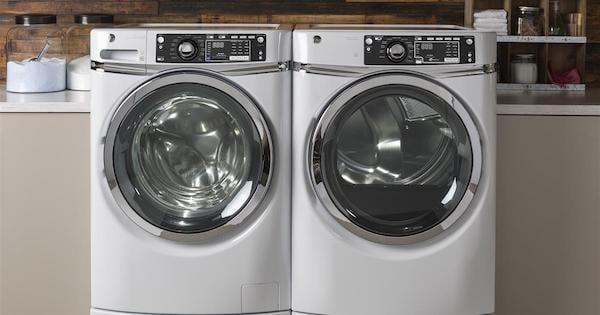 If you are in the market for a new washer, you are probably trying to learn about every style and option available to you (for more information on buying a new clothes washer, check out our washing machine buying guide). Front load washing machines are certainly worth consideration. If you are used to a traditional top load style, a front loader may offer you a whole new perspective on doing laundry. A front load washing machine can be more expensive than a comparable top load washer, but that gap is closing as washer technology improves.
We'll help you learn about the benefits and features commonly found in front load washing machines to help you decide if this washing machine type is right for your needs. Let's dig in!
Front Load Washer Benefits -
Very large wash tubs: Households of four or more people tend to require a large capacity washing machine, and front load washing machines tend to have more interior space than top load models.

Energy efficiency: Front load washers use less water, even compared to Energy Star rated top load washers, and their ability to spin at very high speeds helps extract as much water as possible from the clothes, saving on drying time and energy.

Installation flexibility: You can stack a dryer on top of a front load washing machine, so you can save space in your home and fit the laundry pair in a smaller footprint. Check out our overview of a popular Maytag stackable washer dryer to discover one of these stackable pairs! Plus, many front load washers can be installed under counters. Most have front controls, so you can use the top of the washer for storage.
Front Load Washer Downsides -
Bending over to load clothes: The loading area of a front load washing machine is low to the floor and requires more bending when loading and switching loads to the dryer. Drawer bases are available to raise the loading area to a more comfortable height and provide storage for detergents and other cleaning additives, but they add hundreds of dollars to the cost. However, this lower loading height also means many front load washers are ADA compliant, which can be a benefit for people with physical disabilities.

Must be loaded correctly: Front load washers require a special suspension system, because the way that they spin pulls the wash basket from side to side. Over-loading a front load washer can increase vibration and even knock the washer out of balance. Many new front loaders have anti-vibration technology to help deal with this issue.

Must be cleaned regularly: Front load washing machines tend to develop odors in the tub if not cared for properly. Proper use and care, such as running a self-cleaning cycle periodically, will keep this from happening in most cases. Some models will even remind you to run the cleaning cycle after a certain number of wash cycles!
Many people also regard front load washing machines as being gentler on clothes. In general, this is true, but there are plenty of new top load washers that are designed to go easy on your fabrics while still giving great cleaning performance. If you often end up pausing a wash cycle to add a fallen sock or other forgotten garment, you may want to look for a front load washing machine with a small pocket door for adding garments or an indicator light that will let you know when the cycle can be paused to throw in a few more items. After a certain point in the cycle, opening the washer door would mean spilling a lot of water out on the floor!
Review: Whirlpool's Entry-Level Front Load Washer
One example of an affordable front load washer is the Whirlpool WFW560CHW with direct drive technology. This is the upgraded for 2019 version of the popular Whirlpool WFW75HEFW entry level washer. This machine is priced at $899 with a 4.3 cubic foot capacity tub, and is packed with lots of quality features. This model is Energy Star rated and comes with Whirlpool's intuitive controls: What to Wash and How to Wash buttons simplify the controls for a more streamlined experience while still giving you custom wash options.
Under "What to Wash," you can choose from Regular, Delicates, Bulky Items, Whites, Colors, or Towels. Then under "How to Wash," you can choose from Normal, Wrinkle Control, Heavy Duty, Sanitize with Oxi, Cold Wash, or Quick. Other options include Clean Washer, Drain & Spin, Cycle Signal On/Off, Extra Rinse, and Pre Soak.
Whirlpool's Adaptive Wash Technology senses and adapts wash actions, time, and temperature based on the cycle selection and other factors. The Smooth Wave stainless steel wash basket is durable but gentle on fabrics, designed to get a thorough clean while preventing fabrics from fraying or snagging. A time remaining display makes it easy to check in on the progress of your wash. No basic mechanical dial controls here - this entry level model features smooth touch button electronic controls.
If you want to experience Whirlpool's new bulk Load & Go dispenser, check out the similar Whirlpool WFW5620HW, available for the same price!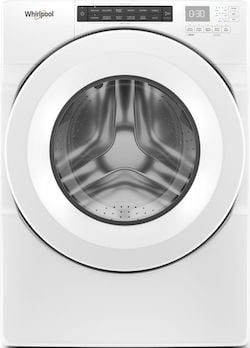 This is just one of many front load washing machines to choose from offered by top brands, including but not limited to Whirlpool, Maytag, Samsung, LG, and Electrolux (check out our Electrolux front load washer reviews to find out why Electrolux laundry products are so highly rated by consumers). We selected this Whirlpool model because it is one of our most popular products and is available at a great price point, but there are a ton of great options out there! Many brands offer nicely featured entry level models for as low as $799.
If your budget is under $500, you will probably have to stick with top load models. But if you're looking for a mid range or high-end washer, there are plenty of front load washers available that will fit your needs.
In general, a front load washing machine might be right for you if...
Your budget for a new washing machine is flexible

You're looking for lower water and electricity usage

You want a washer that is gentle on fabrics

You value aesthetic appeal

You want installation options like stacking or under-counter placement

You need an ADA-compliant appliance
We hope you enjoyed this article. What do you like about front load washing machines? Please leave us a comment below. We'd love to hear from you!
Editor's Note: This blog was originally written in February of 2017 and has been completely revamped and updated for accuracy as of the publication date noted above.